; email to Eligibility.PreNeed@va.gov; or mail to the National Cemetery Scheduling Office, P.O. Box 510543, St. Louis, MO 63151.

"VA will review applications and provide written notice of its determination of eligibility. VA will save determinations and supporting documentation in an electronic information system to expedite burial arrangements at the time of need. Because laws and personal circumstances change, upon receipt of a burial request, VA will validate all pre-need determinations in accordance with the laws in effect at that time."

It was noted that this does not allow veterans to choose a particular plot within the cemetery, but only the cemetery where they wish to be buried. In addition, this does not apply to Arlington National Cemetery, which is run by the Department of the Army, not the Department of Veterans Affairs.

As a reminder, eligible individuals are entitled to burial in any open VA national cemetery, opening/closing of the grave, a grave liner, perpetual care of the gravesite, and a government-furnished headstone or marker or niche cover, all at no cost to the family. Burial benefits available for spouses and dependents buried in a national cemetery include burial with the Veteran, perpetual care, and the spouse or dependents name and date of birth and death will be inscribed on the Veteran's headstone, at no cost to the family. Eligible spouses and dependents may be buried, even if they predecease the Veteran.

Veterans are also eligible for a burial flag and may be eligible for a Presidential Memorial Certificate. Information on VA burial benefits is available from local VA national cemetery offices, from the Internet at www.cem.va.gov , or by calling VA regional offices toll-free at 800-827-1000 . To make burial arrangements at any open VA national cemetery at the time of need, call the National Cemetery Scheduling Office at 800-535-1117


January 20, 2017--Bill Pawlyk Address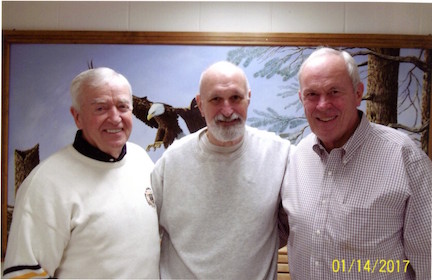 Vaughan, Pawlyk and Fiori
Mario Fiori and Denny Vaughan visited Bill Pawlyk recently.

Bill is in good 75 year old health and his spirit and enthusiasm has not diminished. I know he would enjoy hearing from his classmates so please publish the below address.

Mr. William J. Pawlyk, 982921
MCC-WSRU A337L
PO Box 777
Monroe, WA 98272-0777.

Denny Vaughan adds: Bill can now receive and send emails. Based on the prison system, he usually can only get into the email kiosk once a week. Just go to jpay.com Enter "William Pawlyk" , then enter his ID # "982921". There is a cost of $10 for 60 emails. You can also get it for much less, if you intend to only do a few emails.



March 31, 2016--Class of 1963 Virtual Cemetery

Mike Blackledge has created a virtual cemetery for our class on FindaGrave.com Click Here. He is diligently working to add the classmates from our Last Call page. If any of you already have FindaGrave listings for your loved ones including family members or know of other classmates there, contact Mike at mike@blackledge.com so he can link their entries to the new virtual cemetery.



January 27, 2016--Submit your funny stories

When I posted the photo of 1963 Boxing Plaque Click Here , I answered Mike Blackledge's email with a short story of my very short boxing career.

"During plebe summer I signed up for boxing instead of tennis because I liked all those sit ups while pounding on my stomach and wanted to prove that this 140 pound kid was a manly man. I figured I could go out for tennis in the Spring. I soon found out that boxing wasn't for me because my hand speed was nonexistent and I tended to get hit a lot. So after a few weeks and a broken nose I quit boxing and headed out to the tennis courts."

Mike has a couple of other boxing stories and thought it would make a good addition to our Traditions/Midshipman Memories page to collect other funny, embarrassing or disparaging stories from our boxing and wrestling PE classes. I add that any such stories from PE (swimming and gymnastics seem likely candidates) or from any other phase of Midshipman life would be fun to gather.

So if you have a tale to tell, preferably short, send it to Mike Blackledge at mike@blackledge.com and he'll gather them and provide me with a coherent compilation to post.
Steve



January 4, 2016--Facebook--USNA at Large


After posting the Admiral Kirkpatrick information from the USNA at Large Facebook page I received the following from Dick Nelson '64:

We would like to encourage all grads, especially the Great Class of 1963, to visit our Facebook page and participate. Our overall graduate community is rich in values, traditions, and love of our Naval Service and Academy. Our Facebook page is specifically oriented in that mode.

As you know, we run a (almost) daily biographical of one of our graduates who has contributed something special to our country, or done something "above and beyond." I'm the editor for this function, and significant research goes into each one, including relevant photos.

I am trying to provide some stories about our grads who ARE really "distinguished," and whose lives and deeds demonstrate that the Naval Academy is and was a vital institution for America's national security. In our "Really Distinguished Graduate Award," unlike the "Distinguished Graduate Award" of the Alumni Assn., you will find subject graduates featured, both deceased and alive, from all ranks---not just Flags. To access, type "USNA at Large" in the Facebook search window at the top left of your page, or go direct: https://www.facebook.com/UsnaAtLarge /

By the way, you guys are also all invited to join the USNA at Large online forum, where a wide range of important and relevant topics are vigorously discussed by email or Yahoo.com posting on a daily basis. We have had contributors from classes as far back as 1938 and as recent as last year's graduating class. It's a dynamic group, and a lot of good information is passed out on the Navy, Naval Academy, military retirement programs, etc. You can contact David Tuma '64 by email at: David_Tuma@me.com to join.

We hope to see more of '63 visiting Facebook's USNA at Large page or online forum!




May 9, 2014-- Dave Moore sent this info on how to get a flag flown at USNA and other sites


See Click Here for "Flag Flying Places" including the Naval Academy. To expand on the process for USNA, GySgt Eric E. Salcedo, Brigade Drill Master sent the following: Click Here




April 8, 2014--Jack and Kathleen Colyer Deeply Involved in Veteran Owned Wall Street Firm


I would like to share with you the ABC News - Second Tour story entitled "Veteran-Owned Wall Street Firm Employs Disabled Vets" and interview with Lawrence Doll, the Chairman of Drexel Hamilton, detailing his leadership in founding the firm, a service disabled veteran owned institutional broker-dealer.

The story was produced by Angel Canales of ABC News - Second Tour; it is the lead story on their blog at http://abcnews.go.com/us/second_tour. It is the banner headline on ABC News - Second Tour blog for one week; thereafter, the story will remain in the order listed on the blog.

The story is posted on ABC News' Facebook page and Drexel Hamilton's Facebook page https://www.facebook.com/DrexelHamiltonLLC​.

The ABC News main website will periodically show the banner to access the ABC News - Second Tour blog at http://abcnews.go.com.

The story is embedded on the Drexel Hamilton website http://www.drexelhamilton.com/ with the video and story ​http://abcnews.go.com/blogs/headlines/2014/03/veteran-owned-wall-street-firm-employs-disabled-vets/.

Thank you for your consideration of Drexel Hamilton's mission as we work to build a successful firm owned and operated by service-disabled veterans.

Jack and I welcome your comments as we work to expand Drexel Hamilton's multi-faceted business. kmarkey@drexelhamilton.com




December 12,2013: 1963-2013 Army-Navy Coin


Silver Dollar That Was To Be Flipped By Kennedy At The '63 Army-Navy Game Will Be Used 50 Years Later

ANNAPOLIS, Md.—The silver dollar that was to be flipped by President John F. Kennedy at the 1963 Army-Navy game in Philadelphia will be used for the coin toss 50 years later at the 2013 Army-Navy game on Saturday in Philadelphia.

Kennedy was assassinated in Dallas, Texas on Nov. 22, 1963, eight days before he was scheduled to participate in the ceremonial coin toss on Nov. 30 in Philadelphia at the Army-Navy game.

Though fans had been anticipating the Army-Navy game for months, it would have been cancelled had it not been for the late president's family insisting that President Kennedy would have wanted it played and on Nov. 26 the Pentagon announced that following a one-week postponement, Army-Navy would take place on Dec. 7.

The game was a classic with Navy (9-1) edging Army (7-3), 21-15, thanks to three touchdowns by Navy fullback Pat Donnelly. Army had the ball at the Navy two-yard line when time ran out.

A week after the win, an envelope showed up in the mailbox of Navy captain Tom Lynch. When he opened it, he found a silver dollar. Accompanying the coin was a letter from Secretary of the Army Cyrus Vance.< Attached is the letter and coin sent by Secretary of the Army Cyrus Vance to 1963 Navy football team captain Tom Lynch.




October 22, 2013, "Annual Register of the United States Naval Academy 1963-1964"


Yesterday while doing some research I came upon a most interesting book. It contains the complete Class of 1963 statistical data including class make up, attrition and class standing. Click Here to read it online.




October 18, 2013, USNA Cemetery and Columbarium


At the 50th Reunion, the Memorial Service to honor our deceased classmates will be a big part of the reunion. While none of us likes to consider the inevitable, planning is important, including ensuring wills and trusts are up to date. One option for burial or inurnment is the USNA Cemetery and Columbarium.So far we have four classmates or dependents buried and 21 whose cremains are inurned there. In general all graduates and their spouses are eligible for inurnment but only admirals,general officers or similar high offices can be buried. No advanced reservations may be made. I suggest you take a look at www.usna.edu/Cemetery/ if this option interests you.




September 27, 2013, From Jim DeFrancia


Jim reports that we now have NO cummerbunds or four-in-hand ties.
We do have bow ties and ladies scarves. $63 each or 2 of anything for $100.
Way down this page are pictures of each item and ordering information. Scroll down.




September 19, 2013, Latest 'Irish Pennants" from our Class President


Click Here for the Spencer's letter





August 24, 2013, A Little Nostalgia from Steve Coester


I found this link today to a 1965 film about USNA called "Ring of Valor" narrated by Robert Taylor. I remember an earlier version, but this one includes scenes from our four years at USNA including a spectacular three seconds of me playing tennis with (I think) Dick Danhoff. So if you have thirty minutes to spare see http://www.youtube.com/watch?v=mBbZn8epT-Y. A good prelude to our 50th Reunion!



August 19, 2013, A Story and Lesson that Could Save Your Life

Michael Blackledge suggest I post this story about my recent heart problem in hope that you will listen to your body better than I did. This all just happened last week and hopefully all is well, except I'm coping with some drug reactions at the moment. It was originally posted on Facebook where Blackie saw it.
Steve C. '63

I had a bit of a health scare but all is well. For the past four weeks I had several instances of severe middle back pain while playing tennis or other strenuous activity. A few times it almost buckled my knees. Finally on Friday 8/2/13 afer three or four "attacks", I quit tennis mid-match and went to my doctor who took an EKG which was normal, but he insisted that I have a nuclear stress test, which I had this past Tuesday 8/13. It showed blockage in my heart and the next morning I was directed to go straight to Wuesthoff Hospital for an angiogram. That procedure confirmed almost total blockage of the main artery to the left ventricle.

Two stents were installed.

After an overnight stay I was discharged on Thursday. I am feeling fine, have already walked several miles and ridden my bike several more without pain over the five days since the procedure.

The scary part is that other than the severe pain while exercising which I initially thought was muscular, I had almost no discomfort or difficulty breathing. The doctors were flabbergasted that I could play tennis with that blockage. They indicated that total blockage was imminent which would have caused heart failure and damage or much worse. They said that I was very lucky to be alive.

So the lesson for all of you is to do what I say, not what I did.....If you have unusual pain anywhere see your doctor. It may save your life.



July 13, 2013, Classmates' Deceased Data pages

In "Recently Changed Pages" you'll note there are several new Deceased Data pages for our classmates. They have minimal data and in some cases photos of the tombstones.

If you have any further information on any of our deceased send to scoester@cfl.rr.com and he'll include it on their page(s).



June 9, 2013, Classmates' Current Biographies

Several months ago, in anticipation of our 50th Reunion, we put out a request for new or updated current biographies to be published on this website. Response has been good and we're now up to 393 bios (and obituaries). That means over half of our graduating class has still not provided a biography. See /Current Bios/ for the list of those who have submitted bios and for examples of how to write one. No special format is required and you can include a current photo or two if you desire.

Send your new or updated bio to scoester@cfl.rr.com and he'll take care of the formatting and publishing.



June 7, 2013, Looking for Vietnam stories and photos

I (your webmaster) received the following in an email. I checked out Lisa Lark and she's for real. Our class has so many that served with great valor and distinction in the Vietnam War including our thirteen killed, our two POW, four Navy or Army Crosses, fifteen Silver Stars and innumerable other awards for valor. Hundreds served in theater and have stories to tell. If you want to share your experiences, contact Lisa Lark at lisaalark@googlemail.com. She is primarily looking for photos as described below but also personal stories. Here's her letter to me:

For those of you who don't know me, I have been working to honor and remember Vietnam veterans for the last 3 years. I have volunteered with the Vietnam Veterans Memorial Fund on their Call for Photos project, and have located more than 1,500 photographs of men and women who lost their lives in Vietnam. I am also the author of All They Left Behind: Legacies of the Men and Women on The Wall.

I am honored to be able to say that I have begun work on my 2nd book project. This project, scheduled for release in late 2014, will be a photographic history of the Vietnam War as told through the words and photographs of the men and women who served there. I want to make sure that all branches of service, all service responsibilities, and all moments of a tour are covered, from training to the flight home. This project will require nearly 500 photographs and thousands of words. That's where you come in.

I would like this project to be veteran driven, and to do that I will need volunteers. If you have photographs from your time in the military, whether in training, on leave, or in Vietnam and would be willing to donate them for use in this project, please let me know and I will send you specifications for photos. If you would be willing to fill out a survey about your time in the military let me know and I will send the survey to you.

I will consider every photograph sent in, and will use as many as I can in this project. There are certain visual specifications that must be met, and certain guidelines that we have to follow. Sending in a photo does not guarantee that it will be used in the project.

Please contact me if you have any questions, or if you would like information on how to participate in the project. Please feel free to forward this information along to others who may be interested in contributing.

Additionally, I am available for in-person interviews and photo scanning on evenings and weekends. Currently, I will be attending several Vietnam veteran association reunions. If your group would be interested in having me attend to work with your members please contact me.

Thank you for your time.
Sincerely,
Lisa A. Lark



May 27, 2013, Book Review of Steve Duncan's "Only the Most Able"

Steve wrote: I am happy to report that my new book, Only the Most Able: Moving Beyond Politics in the Selection of National Security Leaders, has received favorable Customer Reviews on Amazon.com. But, on this Memorial Day, I am particularly pleased with the Review which is attached. I have just learned that it will appear in the June issue of CHOICE, the American Library Association's monthly book review for academic libraries. The publisher believes that the Review will generate wide interest.



May 6, 2013, Classmates' Wedding Photos

I've just created a new page called Weddings. It will have our classmates' wedding photo and a current photo of the happy couple. Seems fitting as many of us near our 50th anniversary. See /classmates/Weddings/ for the new page that just has Yvonne and me on it right now.

Send your then and now photos along with bride's maiden name, place of wedding and date to scoester@cfl.rr.com. If you got married in the USNA Chapel and remember the time include that because I'll try to put the photos in chronologically. And if you want to include more than one marriage, feel free.



May 1, 2013, George Emery's New Book

"In Their Own Words: A New Look at the Naval War of 1812"

The emotions captured by the War of 1812: patriotic fervor, anxiety, the immediacy of the moment, the joy of peace… all and more abound in In Their Own Words. Whether encouraging peers, issuing orders to subordinates, lamenting a hero's death or reporting a glorious frigate action, these emotions spring from the stirring contemporary letters, newspapers and broadsides of the War of 1812 assiduously assembled and presented by Vice Admiral George W. Emery, USN (Retired).



March 29, 2013, Received this request from one of our non grad classmates:

I was a member of the class of 63. Never quite graduated and went back into the Navy and served aboard the USS Tusk (SS-426). After I served my remaining enlistment (I came in through NAPS), I attended and graduated from Johns Hopkins in Engineering. I am now retired and am a member of the SubVets in Severn Maryland.

I am the Vice-Commander. We are looking to have speakers at our monthly meetings. We meet the third Saturday of each month. We don't meet in the summer months.

If someone from our class or other years that live in the Annapolis/Baltimore area would be interested in speaking please contact me. Of course having a sub background would be very interesting. We are all submarine veterans having served on subs from WW2 to the Nautilus and other more modern nuclear subs. But other areas of Naval service with a good story would be great also.

Please let me know what ideas you may have or who you could recommend. Many thanks. Richard Brooke Lynch
443-518-8269 c
410-531-3220
3102 Evergreen Way
Ellicott City, Md 21042
rblynch@comcast.net


<
---


Items of Ongoing Interest

October 6, 2008- From Dick Whalen

A Great Opportunity for Classmates




Obtain high quality near original archival replica "giclee" of the USS Fitzgerald. These are printed on canvas and Dick is offering a maximum edition size of 100, signed and numbered by Dick for $600 plus shipping, for approximately 24x36 size. Can produce larger canvases on request by separate quotation.... probably up to a maximum of around 42" x 52". They are of a much higher fidelity and quality than a lithograph and are state of the art for high quality replica paintings. Giclees are superior to traditional lithography in several ways. The colors are brighter, last longer, and are so high-resolution that they are virtually continuous tone, rather than tiny dots. The range, or "gamut" of color for giclees is far beyond that of lithography, and details are crisper.

What an opportunity to honor our classmate Bill Fitzgerald and to own an heirloom print of our Class's only ship.

Contact Dick Whalen at seamanseye@cox.net or
757-496-0274 See Dick's whole collection on our Traditions page Tradition


September 27, 2008- USNA--63 Roster and personal information--from Steve Coester--Remember that it is up to you to keep your information accurate on the class roster, your company map and your current bio. Just send me an email at scoester@cfl.rr.com with any address changes or bio updates. I'll make sure they get added to the appropriate pages on USNA63.org. While you are at it, be sure to notify the Alumni Association of address changes at http://www.usna.com/. You'll have to log on and click on "Profile". Or just give them a call at 410-295-4000.


September 10, 2008- Mario Fiori's letter to the Class about Bill Pawlyk.

Click Here for the letter to the Class from Mario regarding Bill's situation and the status of his clemency effort. MS Word required.



December 9, 2007--Army-Navy Weekend and Poinsettia Bowl Photos taken by classmates.
Mike Krause and More Mike Krause
Steve Hoy
Phil Rooney
Mike Blackledge's Trip Report
Steve Leisge


January 7, 2008--Provided by David Puckett, Foundation President--CLASS TIES, SCARVES, AND CUMMERBUNDS AVAILABLE BY CLASS FOUNDATION
Recently we have had some questions about the ties offered by the Class Foundation, their design and symbolism.

The basic colors are blue and gold for the colors of the Naval Academy. We also added red for the Marine Corps, pale blue (sock-bag blue) for the Air Force and a small black stripe between the red and pale blue for the Army. This was done to recognize members of the Class of 1963 who upon commissioning served in the sister branches of the armed services. The main blue and gold stripes are six units wide and each of the three smaller stripes is one unit wide. That way you get a combination of 6 and 3, for the Class of 1963. There is then a 12-unit drop in Navy blue and the pattern repeats itself.

Class ties, both four-in-hand and bow, are available as well as scarves and cummerbunds. The price of each item is $63 or if you order any three items the discounted price is $163 and if you order all four the price is $200.

Orders can be placed with Ms. Jessi Crawford, % Lowe Enterprises, PO Box 12393, Aspen, CO 81812.

Here are photos of Cynthia DeFrancia and June and Chuck
modeling the items.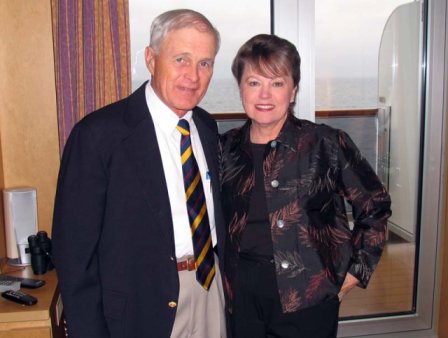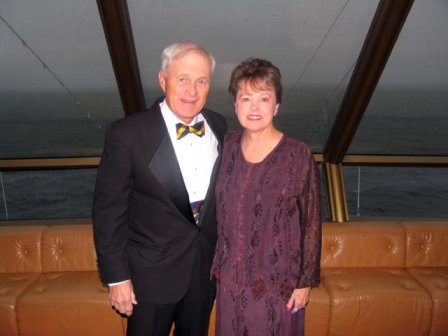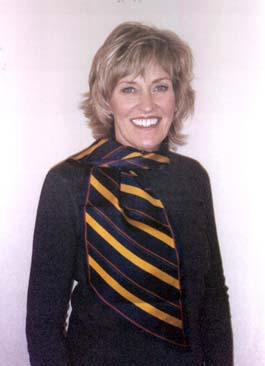 From Steve Coester--I have submitted memorials with photos and a link to our Last Call for all of our Vietnam fallen to The Virtual Wall Website. They've done a fine job and they recommend that you classmates add to their memorials. At the top of each memorial page is a button to press to add to the memorial.


A note concerning Last Call and obituaries:

I added a brief note concerning the death of classmate Dick Bryant who died in an accident prior to graduation. Click here.

If you look at Last Call you'll note that we have no obituary or other remembrance for over half of our deceased classmates.

If you have any formal information for any of these classmates or just want to express your memories of them drop me a line at Steve C. and I'll publish a page for them.



November 2, 2004--I received a message from the Alumni Association concerning available 1963 Lucky Bags. Read on:

I wanted 1963 to know that we have an extra FIVE 1963 LUCKY BAGS here at the Association. Would you see if anyone needs a replacement (lost one) or if a relative (son/daughter/grandchild, etc) would desire to have one? There's no reason for a LUCKY BAG to sit here unused when someone out there will cherish having it in their possession.

We always hold extras here in our LUCKY BAG Locker as a service to replace missing Lucky Bags of Lifetime members; but we have additional '63's onhand already for that purpose.

Just let me know. We will mail from here with our funds (using a reasonable book rate for postage).

Andrea Campbell
U. S. Naval Academy Alumni Association
Classes / Chapters / Parents Clubs
Distinguished Graduate Award Program
(410) 263-4448, ext 214
andrea.campbell@usna.com


From Steve Coester--The Alumni Association page has expanded the "Alumni Lookup" section: You can now search for classmates based on city, state and zip code as well as class year. Handy for getting groups together. See USNAAA and click on Online Community in the left column.

It is a good time to check your entry for accuracy and to update it in the "My Profile" section. Also remember to keep Mike Shelley and Steve Coester informed of any changes >



USS Fitzgerald Memorabilia Price List and Ordering Information.


Alumni Association Current News Service
News items about USNA, USNA Alumni, and the Sea Services. Newspaper and magazine articles, press releases, transcripts of broadcasts, etc.


June 20,2006-- From Steve Coester--I've created a new page on USNA63.org. It is a place to post your old photos from 1959-1963 and before and after. The page has subdivisions for each company and for plebe year, NAPS, our summers and after graduation. Right now the pages are empty except for an example under the 18th company guidon. Read the instructions on the page and send me your digital photos from yesteryear. See Old Photos


January 4, 2007-- I received this from Jim Ring. Contact Jim for further information at ringj@fhfb.gov : I spoke to LCOL. Worman, USMC, the liaison officer at Bethesda for the wounded and asked what we can do for them. His cell is (585) 752-5929.
Put on a catered meal on weekday or weekend.. They will provide a room and tables. The rest is provided by the party putting on the catered meal including silverware. They would invite family members. Could be for 30 wounded and family members.

Provide funds

Semper Fi Fund. Provides every family with money to help them while here. Designated for Marines and NavyCorpsman. http://www.SemperFiFund.org

Yellow Ribbon Fund - Provides family members free taxis, rental cars. http://www.yellowribbonfund.com/yellowribbonfund/

USO - USO hires caterers to provide catered meals. http://www.uso.org/

Armed Forces Foundation - Meets the family members when they arrive in town. http://www.armedforcesfoundation.org/

Navy-Marine Corps Relief Society - Pay bills of family members while here. http://www.nmcrs.org/index.html



March 29, 2007--From Mike Shelley--Our classmate Jeff Niss has supplied some information about Veterans Administration benefits for Vietnam veterans who contract diseases that may be connected to exposure to Agent Orange. Although this information comes from his own experience and cannot be considered authoritative, it may be useful should you consider making a claim.

Classmates Mike Cronin and Ken Sanger have supplied some additional information which appears after Jeff's letter below.
-----------------------------------------------------------------------------------------------------
Gents - I keep hearing about vets not aware of Agent Orange benefits. Here's an effort to get the word out.

I have had two types of cancer presumed to have been caused by Agent Orange from my in-country service in Vietnam. It would appear that the VA is now honoring claims for compensation from veterans who also served at sea in the areas near Vietnam. For example, the claim is successfully being made that water sprayed with the poison made its way into the ship's purification systems and into the drinking water.

Based on clinical research, the following diseases are on VA's Agent Orange list of presumptive disabilities: chloracne, Hodgkin's disease, multiple myeloma, non-Hodgkin's lymphoma, porphyria cutanea tarda, respiratory cancers (lung, bronchus, larynx and trachea), soft-tissue sarcoma, acute and subacute peripheral neuropathy, and prostate cancer. A regulation is being developed to add diabetes mellitus.

In addition, monetary benefits, health care, and vocational rehabilitation services are provided to Vietnam veterans' offspring with spina bifida, a congenital birth defect of the spine. A new law authorizes health care and monetary benefits to children of female veterans who served in Vietnam for certain additional birth defects.

My advice, if you contract one of these diseases, is to work with an outside service organization, such as the American Legion. They will help with the paperwork and get you your compensation. Be patient - it takes forever. . The VA needs proof of service in Vietnam (DD214, etc) and proof that you have one of these diseases from your doctor or medical facility. My claim for the prostate cancer took six months. My claim for lung cancer was submitted in December and as of the end of March was just approved. I still have another hearing in June before it is considered permanent.

Be sure to also take advantage of the VA health care system. Although I have used my civilian doctors for the major procedures (more for convenience only), the VA doctors are real pro's and the benefit of zero co-pay for prescriptions is worth a lot. For example, after my latest surgery I was still losing weight. My doctor was concerned and told me to drink two cans of Ensure daily, costing about $2 per day. I called the VA and I now receive Ensure at no cost.
Regards,
From Mike Cronin:

Until recently it was true that VA compensation was used as an offset to military retired pay. A retired vet who later received VA disability compensation had his military retired pay reduced by the amount of the VA compensation. Since VA compensation is not taxed, the veteran did receive a tax benefit, but the dollar amount of monthly income before taxes did not change.

That has now changed. Several years ago Congress agreed to phase out that offset provision over ten years. Bottom line: if you have any disability that might be service connected you should apply to the VA and let them decide if you are entitled to compensation. If they decide you are at least partially disabled you will come out dollars ahead even before taxes are considered. Apply now. Compensation is dated from the day you apply even though the VA decision process can take years.

One final note. Military retirees can use VA medical facilities without risking their military retired health care (Tricare) benefits.

From Ken Sanger:

Some who receive disability compensation can double dip.

The following is from the VA website at http://www.dod.mil/prhome/mppcrsc.html

"The Department of Defense has two programs designed to reduce the reduction in retired pay due to receipt of Veteran Administration compensation, for certain disabled retirees.

Concurrent Retirement and Disability Payments (CRDP) provides a 10-year phase-out of the offset to military retired pay due to receipt of VA disability compensation for members whose combined disability rating is 50% or greater . Members retired under disability provisions must have 20 years of service.

Combat-Related Special Compensation (CRSC) pays added benefits to retirees who receive VA disability compensation for combat-related disabilities and have 20 years of service ."

And this from a 2006 document found on the above site:

"The Department of Defense is currently receiving and processing applications for the Combat-Related Special Compensation (CRSC) program. The CRSC program became effective May 31, 2003, for qualified retirees with combat-related disabilities. Payments are retroactive to June 1, 2003, for otherwise qualified members. The criteria of eligibility to receive CRSC payments have been expanded effective January 1, 2004, to include members with any percentage combat-related disability compensated by the VA.C"
---
Irish Pennants
Irish Pennants are loose threads that invite attention, or may need to be tied up or cut off. For the purpose of this web site, they represent miscellaneous thoughts, threads of discussion and points of view by classmates and colleagues. To submit [or respond] to Irish Pennants, just send an e-mail to webmaster@usna63.org without objection from the Class Secretary, they will be published on this site, invite rebuttal or response, and eventually [perhaps] fade away.
---
Carry On!
Class of 1963 facts and lore, Cannonball recipe, satire, humor
---
Humorous Thoughts for the 40th
---
You are here:
Navigate to:
Class News

Top of page

Wardroom


Site Map

USNA63