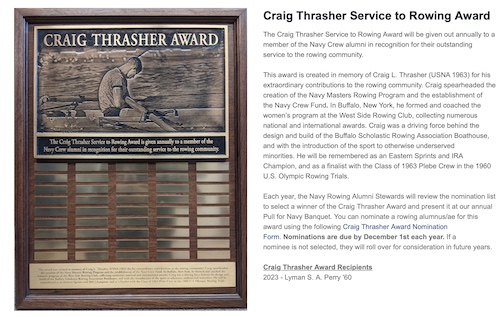 On February 26th, at the annual Navy Crew Banquet held at the Banquet Facility at the Navy-Marine Corps Memorial Stadium, the Academy will unveil a new perpetual award in honor of our deceased classmate Craig Thrasher. The plaque shown below with the image of Craig taken from a 1962 issue of Sports Illustrated will be permanently mounted in Hubbard Hall. Craig's wife Peggy and her immediate family will be hosted there by Navy Crew. I know that she would appreciate seeing some of Craig's classmates there. So it would be great if we had some "63 representation. Info on the Banquet and a link to buy tickets can be found by Clicking Here .
January 20, 2022--Upcoming Memorial Ceremony for USNA '63 alumni Erwin Templin

I'm reaching to you to share news of an upcoming ceremony honoring a fallen USNA Class of 1963 graduate which I believe might be of interest to your alumni group. The USS Hornet Sea Air Space Museum in Alameda, CA recently completed an extensive restoration of a Grumman US-2B Tracker aircraft in their collection. To commemorate the ship's service during the Vietnam War and honor the sacrifices made by Hornet crewmembers, the museum has fittingly restored their Tracker in the markings of a Grumman S-2D Tracker from Anti-Submarine Squadron 35 (VS-35) that went missing, presumably due to hostile fire, in the Gulf of Tonkin early in the morning of 22 January 1966 while flying a surface reconnaissance mission from USS Hornet (CVS-12). Among the lost crewmen was LT(jg) Erwin B. Templin Jr. from the Class of 1963.

The museum is planning to hold a memorial service and dedication ceremony for the restored aircraft to take place at 1300 on January 22, 2022, the 56th anniversary of the loss incident. I wanted to pass along this Facebook page listing the details of the event in hopes that classmates from Class of '63 in the Northern California area or beyond might wish to attend.

Click Here for the Facebook details. Best regards - and Go Navy, Beat Army!

Matt Robins
USNA Class of 2004
January 19, 2022--Steve Coester's Daughter

The daughter of our classmate Steve Coester has encountered a serious medical problem and does not have financial resources to support her treatment and recovery. Please read and consider the GoFundMe effort described at this link: https://gofund.me/316908b0. Even a small donation will help reach the fundraising goal. And if you can't make a donation, it would be great if you could share the fundraiser with others to help spread the word. Thank you!
January 18, 2022--Bob LaGassa Arlington Funeral

Bob was approved for an Arlington burial. It is set for Monday, June 13th at 11AM
January 11, 2022--Next DC Area Class Luncheon

The next luncheon has been pushed to February 10, 2022 as a precaution due to the current increase in COVID 19 cases.
December 30, 2021--Class of 1963 Death Statistics

With the passing of Bob LaGassa on December 29 The class of 1963 has now lost exactly one-third or 292 of our graduate classmates. Two-thirds remain. We are doing better than the national average for people born in 1941 where approximately half are still alive.
December 24, 2021--Robert Kottke's Wife's Obituary

Jan Thorpe Kottke (1945 - 2021) On October 26, 2021 Janet Thorpe Kottke passed away in her home on Maui surrounded by loved ones. Jan was born September 24, 1945 in Long Beach, CA. As the daughter of a Naval officer, she and her older brother Bill moved frequently throughout their childhood. Jan graduated from Punahou high school on Oahu in 1963 and from Stanford University in 1967. In 1969 she met and married Bob Kottke and the two have built a beautiful life and a loving family through 52 years of marriage.

Together Jan and Bob raised three sons and built the Manor schools in Southeast Virginia. Jan's purpose in life was to teach, and over nearly four decades her schools taught more than 5,000 young minds how to read with the books she wrote and published herself. Over time, her students grew up and sent their own children to her schools to ensure they also fell in love with learning. Part of her legacy is this enduring institution that nurtures children and prepares them for the world.

Jan loved her golden retrievers and spoiled them unabashedly. She was an absolute snob about beaches and forced her children and ten grandchildren to experience some of the most beautiful places on Earth. Her love of cooking brought her family together for too many fabulous meals to count.

Jan was a force of nature. She set an expectation for her sons to learn, to live, and to leave the world a better place. As she has. We cherish the beautiful memories we have of her and will miss her dearly.

Jan is survived by her loving husband Robert Arthur Kottke Jr; three children Karl William (Tina) Kottke, Peter Arthur (Maggie) Kottke, Ben Thorpe Kottke; and her ten grandchildren BaeJin Alexander Kottke, BaeYoung Robert Kottke, Jackson Reese Kottke, Calvin DePaulo Kottke, Violet Amanda Kottke, Pearl Wilson Kottke, Maximillian Hengelbrok Kottke, Skylar Marie Kottke, Makena Belle Kottke, and Grayson Kai Kottke. She is preceded in death by her parents, William Lupo Thorpe Jr. and Kathleen Glancy Thorpe and her brother William Lupo Thorpe III.

Jan's family will hold a small private ceremony. In lieu of flowers, the family asks that donations be made to a charitable organization of your choice or to the Children's Literacy Initiative (live-childrens-literacy-initiative.pantheonsite.io), a charity dedicated to early childhood reading. Furthermore, given the number of lives she touched, the family has made a memorial website available to collect stories, pictures, and reflections (www.kudoboard.com/boards/zyScbzvL).

Published by The Virginian-Pilot on Oct. 31, 2021.
December 21, 2021--Spencer's Christmas 2021 Irish Pennants

Dear Classmates, Family, and Friends of the Class of 1963,

The yule log is burning in the fireplace, the tree is up and the greenery hung. The air is cold, but the warmth of the Christmas season pervades everything, assisted by the glow following a great win over Army in the Meadowlands two weeks ago. Exams are over and the Brigade is now on leave at home with family and loved ones.

Christmas leave 1959. I remember how excited I was our Plebe year, after our win over Army, at the prospect of Christmas leave and going home for the first time since induction into the Brigade of Midshipmen and the Navy.. The Christmas tree in the Rotunda, the performance of the Messiah in the chapel, and Christmas dinner in the mess hall all served to deliver a warm anticipation of going home.

When I arrived in Charleston, South Carolina, I discovered that I was in great demand (really my uniform was in great demand) as an escort for the debutante season. "The Season" began a week before Christmas and ran until New Year's Day, with a break only for Christmas Eve and Christmas Day. I was to escort a different young lady each day of "the season". There were usually four events each day: the tea dance; the dinner; the ball; and the post- ball breakfast. The mothers of the debutantes spent a year planning the events and assuming responsibility for each of those events. Each mother bought three or so dresses for their daughter. During "The Season" they would congregate and trade dresses. This originated as a post Civil War economic measure that became a tradition, as well. I would call on Miss Suzie Q , whom I had never met before, as her escort for the evening only to discover when the door opened that the dress and I had been out together one or more times already. Only in Charleston!!

Christmas 2021. As we bask in the glow of family and friends, let us remember a horrifying pandemic year now drawing to a close with yet another wave of the pandemic upon us. Let us remember those who have left our ranks and now muster in a heavenly place They leave an empty place at the table and by the fire, but also leave great memories of their time with us as comrades- in- arms, husbands, fathers, and life long friends.

Let us also remember those at sea or in foreign climes who will not be home this Christmas. They stand the watch preserving freedom for us all.

From our house here in Annapolis, Andrea and I wish you and those in whose love you live a very happy holiday season and a joyous, healthy and prosperous New Year.

Stay safe. Stay well!

Quality '63

Spencer Johnson '63
December10, 2021--Spencer's Army-Navy Irish Pennants

Dear Classmates, Family, and Friends of the Class of 1963,

ARMY-NAVY. It is clear and crisp here in Annapolis. Tomorrow promises to be unseasonably warm for the 122nd meeting between Army and Navy to be played in the Meadowlands in New Jersey (opposite New York). Navy's record this year is 3-8 and Army's is 8-3. That said, Navy's schedule has been significantly more difficult than Army's, and including good showings against nationally ranked teams like Cincinati, Houston, and Notre Dame. Navy lost to Air Force and Army beat Air Force, which means that no matter who wins tomorrow, the Commander-in-Chief's trophy will remain at West Point at least until next year.

Two weeks ago, Army attempted to steal Bill the Goat. As luck would have it, they stole the wrong goat. They got a long retired 18 year old Bill who now has only one horn. That engendered a flurry of reminders about the solemn pact arrived at in 1992 after Navy stole several Army mules that this would not happen again. For Army, the lesson is that Intelligence, Surveillance and Reconnaisance (ISR) is everything to mission success.

No matter their respective records this season, tomorrow's game can be expected to go down to the last whistle. Game time is 1500 and can be seen on CBS stations. Go Navy!! Beat Army!!!

AROUND THE YARD. Last week our class Vice President, Jim Ring, attended the semi-annual Council of Class Presidents meeting here in Annapolis. Several take aways from the Superintendent's remarks to the group assembled include:

There is a Commission set up to review all the items on Federal property that are dedicated to Confederate soldiers and sailors and decide what to do with them . We have three; West Point has over one hundred. Buchanan House, the Superintendent's quarters, and Buchanan Road were established in the 1970s. The other is Maury Hall. The Commission has visited the Academy already and will present its findings in October 2022. The Pentagon has until early 2024 to implement the recommendations made.

The Columbarium will run out of space for new additions in about two years. This, combined with the flooding problems here, are soon to be addressed. In a recent flooding, the Superintendent found the niche containing his parent's remains was under water. This problem has a high priority for him. Additional space will be added to the Columbarium, or it may be moved to another drier location.

Critical Race Theory (CRT) is not taught at the Naval Academy and there are no plans for it to be taught. The Superintendent is against teaching it.

In 2001, the Service Academies changed from being places of attrition as we experienced them, to ones in which every student is built as a leader and expected to complete the course. This was in response to the intensive selection process for each student. Our 63 Center for Academic Excellence fit perfectly into this scenario.

In September 2020, about 100 Youngsters were accused of cheating on a physics online exam. These Youngsters had just returned to the Academy after it had shut down in the Spring due to the pandemic. All went before Midshipman Honor Boards. Four were found "not guilty." Of the rest, eight or nine were expelled, primarily because this was their second honor offense and/or they had bad conduct records. The rest have been counseled and given demerits, restrictions and other punishments. All received an F in leadership which will affect their class standings. All of these have signed their 2 for 7 commitment, which means they will stay at the Academy for their remaining two years until graduation and then spend at least five years in their commissioning services.The other choice open to them was to leave before starting the second-class year with no cost to them for their education to date. Each Service Academy has similar policies and counseling routines with regard to first-time honor offenses. Each case is reviewed separately and a decision arrived at as to the best course of action to be taken.

The new Terwilliger Center for Student Athletes is really a beautiful place and should be high on your list of places to visit the next time you are in Annapolis.

Thoughts and Prayers. I ask your thoughts and prayers for our classmate Bob LaGassa who is hospiced, suffering from a cancer induced by ionizing radiation to which Bob was exposed in his long service in nuclear submarines.

Captain Joseph B. Clancy, USMC. On Wednesday 15 December at 1400, we will lay to rest the remains of Joe Clancy in the Naval Academy Columbarium. Please join us if you can to give Joe a good send off.

Army-Navy Games Past The most memorable Army-Navy game I remember, aside our 42-7 win over Army our Plebe year, occurred in 1961. We were in Philadelphia in the old Franklin Field stadium. Army marched on first then we did only to stand in the cold waiting for the game to start. About ten minutes before the coin toss starting game activities, the "word" went around the crowd that the new president and his first lady were going to attend the game. About that time you could hear the sirens coming. The gates at one end of the field opened and two Philadelphia motorcycle policemen, with lights flashing and sirens blaring, drove through. They were followed by a long, black, stretch limousine with flags on the fenders and four secret service members trotting alongside, followed by two more Philadelphia motorcycle police with lights flashing and sirens blaring. They drove right onto the field and stopped on the fifty yard line. At that moment you could hear a pin drop in the packed stadium. Everyone was leaning forward expecting to see Jack and Jackie Kennedy step out of the limousine. When the door opened, out stepped Bill the Goat. AND - we won the game!

Stay well and keep safe.
BEAT ARMY!!!!!
Quality '63
Spencer Johnson 63
November 20, 2021--Spencer's Thanksgiving Irish Pennants

Dear Classmates, Family and Friends of the Class of 1963,

It is bridgecoat weather here in Annapolis. Today's high is in the 40's with clear skies and brisk winds. Winter is here.

Football Tomorrow is our last home game against East Carolina University. They are favored by six points so it ought to be a well fought game. Kick off is scheduled for 1530. Our tailgate tent is up. We are not catering this tailgate. Already the smells of simmering chili and baking cornbread are in the air in readiness for tomorrow's gathering. Our tent will be struck after this game and stored until next season.

We will gather in the back room of the West End Grill at the corner of West Street and Solomons Island Road to watch the Army-Navy Game on 11 December. We will gather at 1330 for lunch before the 1500 kick off. Army beat Air Force and will retain the Commander-in- Chief's trophy with a win over Navy. We can't let that happen. If you are in the area join us on game day. More about this later.

Milo P. Daughters. The Naval Academy Foundation recently received a gift of one million dollars from Ross and Michele Annable of North Carolina to establish a long term fund which will provide about 5% a year of the fund for the support of the 63 Center of Academic Excellence ( 63CAE) each year. The Annable's only connection to the Academy is through our late classmate Milo Daughters. Ross served on a submarine and reported to Milo for over a year. He thought very highly of Milo's leadership. The Annables are interested in making the world more equitable and believe providing access to education is the best way to do that. The 63CAE does that, and it seemed a fitting tribute to Milo Daughters whose leadership Ross so admired. The new fund is the Captain Milo P. Daughters '63 Fund for the 63Center for Academic Excellence. The Annables have requested that Milo's name be listed in the six striper position on our class striper plaque instead of theirs. I will see to that, and a letter expressing our thanks to the Annables for their great generosity.

Joseph B. Clancy, Captain, US Marine Corps. After several delays, schedulings and postponements, the ashes of our classmate Joseph B. Clancy will be laid to rest in the Naval Academy Columbarium at 1400 on Wednesday, 15 December. If you can make it, please attend to give Joe a good send off.

Thanksgiving. In 1980 I commanded USS Bigelow (DD 942). We were in our homeport of Mayport, Florida, for Thanksgiving. I received a phone call from the wife of a first class electrician who was very upset that her husband had the duty on Thanksgiving and would miss all the wonderful things she had planned for a Thanksgiving feast at home. Could I please excuse him from the duty on Thanksgiving day. I told her I couldn't do that, but invited her to join me and my family onboard the ship for Thanksgiving dinner. She came. As usual the ship's cooks outdid themselves in preparing a Thanksgiving dinner of turkey with all the trimmings, ham, roast beef and at least three differant choices of pie. Several days later I received a thank you note from the young wife full of praise for what she had experienced! She said that "the shipboard dinner was far better than what she could have done at home. Again many thanks for including her onboard! P.S. Could I also arrange for her husband to have the duty on Christmas Day?"

As you gather with family and friends this Thanksgiving, please take a moment to remember all those who are at sea or far from home and loved ones. They stand the watch that once we stood. We are grateful that they do for all of us. Their sacrifices should not go unremembered. or unthanked.

Beat East Carolina University !!!! Beat Army !!!!
Quality 63
Spencer Johnson '63
November 12, 2021--Reminder--Mike Cronin Funeral at Arlington

From Bob Forster:If you are not aware, Mike Cronin's Burial Service is on December 6th at 3pm at Arlington National Cemetery (photo identification required). Arrive 45 minutes early to Administrative building. Currently, masks are required inside in Washington DC. Also, mailed invitation states vaccinations required.

This note from Jackie was posted several months ago - You can still reach out to her:

From Jackie: Letting everyone know the burial for Mike Cronin will be on December 6, 2021 at 3:00 pm at Arlington National Cemetery. The services are open to the public. I have a block of rooms reserved in Rockville for any out of town guests. The reception will be at DAR headquarters on 17th Street in Washington DC after the service. There will be valet parking. I will need to know who will be coming for nourishment.....that is cocktails and a buffet of food. Please email the mcronin.wheelsup@gmail.com so I can get the invitations out. If you would like to contact me, please use the email mcronin.wheelsup@gmail.com.
October 19, 2021--Spencer's October 19 Irish Pennants

Dear Classmates, Family, and Friends of the Class of 1963,

The weather has turned crisp here in Annapolis. The day's high is in the 60s, dipping at night into the high 40s. The trees are slowly beginning to turn. Fall is here.

Football. This is homecoming weekend and Navy faces number two ranked Cincinnati. The University of Cincinnati is a 271/2-point favorite. They are unbeaten so far this season having won six games including a win over Notre Dame. Game time is noon and will be televised on CBS sports channels. We will have our tailgate as usual in stadium spot 12A. It will be catered. The food will be delivered at 1430 with our annual homecoming party held at the conclusion of the game until it gets dark. Price of the catered meal is $25.00. Please make checks to "The Class of 1963" and remember to throw in a few extra dollars to offset the costs of erecting and storing our tent. If you come before game time, please bring your own refreshments before going into the game around noon.

The Fifth Horseman and the New MAD: How Massive Attacks of Disruption Become the Looming Danger to a Divided Nation and the World at Large is the name of Harlan Ullman's latest book to be released on 14 December. Early rave reviews give the book very high praise for its content and its recommendations to better structure our response capabilities for future foreseen calamities.

One reviewer, ADM James Stavridis says:

"A must read that delivers both a dire warning and a range of remedial actions to face the looming existential danger of the new world MAD--Massive Attacks of Disruption. A pandemic, environmental disasters, cyber-attacks, economic shocks, and other major disruptions are no longer isolated events, but repetitive challenges. Dr. Harlan Ullman lays out both the problem and responses in crisp, understandable prose that will appeal to policy makers and citizens alike."

I have ordered my pre-publication copy through Amazon.com.

Homecoming Thoughts. While still a midshipman, I was introduced by a mutual friend to Mrs. Inez Kidd, the widow of Rear Admiral Isaac C. Kidd, who was a battleship division commander at Pearl Harbor and was killed on the bridge of his flagship, The USS Arizona, on 7 December 1941. He received the Congressional Medal of Honor for his actions that day. Mrs. Kidd and I became friends. In later years, if you returned to Annapolis, signed into the guest book in Alumni House and did not cross the street to see her at her town house residence, you might receive a post card reminding you to do so on all future visits. She and her grandson, Christopher, came to my wedding in the Chapel even years after graduation.

Mrs. Kidd remarked to me one day that she loved living in Annapolis. "Those midshipmen never look one day older and neither do I"

Although living in Annapolis these past twenty years, I have not been so lucky and the years are quickly catching up with me. But she was right in that we are not really getting older. We are still the midshipmen we were close to six decades ago. We haven't changed that much over the years. I am very grateful for that.

Whether you are in Annapolis for this homecoming weekend or at some distance, Welcome Home!

Beat Cincinnati, Beat Army !!!

Quality '63

Spencer Johnson '63
October 14, 2021--Next D.C Area Class Luncheon Nov.11 at 1130

October 8, 2021--Spencer's October 8 Irish Pennants

Dear Classmates, Family and Friends of the Class of 1963,

We are enjoying an Indian Summer here in Annapolis. The days are in the 70s and the evenings cool in the lower 60s. The parade season is well underway.

The fourth of six home football games will be played tomorrow against Southern Methodist University (SMU), a fifteen point favorite to win. Last week we saw a different Navy team that upset the University of Central Florida. 34-30. UCF was a 15 1/2 point favorite at game time. That gives great hope that tomorrow's game will go the same way.

A reminder that on Thursday morning the 14th at 1030 LCOL. Joel Gardner USMA (Ret) and his wife Beth will inurned at the USNA Columbarium. Full military honors will be rendered. A reception follows at the Naval Academy Club. Please make every effort to attend. Let their daughter Ellen, USNA '89, know if you plan to attend the reception. She can be reached at: ellen89navy@gmail.com. I look forward to seeing you there.

The Link in the Chain Our classmate Butch Whitworth, a Marine, passed away on 17 August 2021 at Corpus Christi, Texas. The recipient of his Mameluke Sword in the Link in the Chain sword donations to the members of the class of 2013, Capt. (Major select) Tony Paruso, USMC '13 decided to attend his September 10th internment and presented the colors to his next of kin. Seventeen members of the 17th company underwrote all her expenses and commissioned her as their official emissary to Butch's Final Formation. She accomplished her mission in an exemplary fashion, as reported by one member of the 17th company. Thereafter, she recounted the event in writing and included pictures and an MP4 show. The result was a groundswell proposal in the ranks of the 17th company to make her an honorary member of their goup. This is an outstanding example of the bonds we forged and share with the Class of 2013, our Link in the Chain Class. In many respects, they are our legacy.

That's all for this edition of Irish Pennants. Stay well!

Beat SMU! Beat Army!!

Quality '63.

Spencer Johnson '63
September 27, 2021--Spencer's September 27 Irish Pennants

Ahoy Classmates, Family and Friends of the Class of 1963!

Fall weather has descended on Annapolis. The days are sunny and clear with temperatures in the low seventies, and the evenings are appropriately cool. Perfect football weather.

With a better showing against Houston on Saturday, hopes are running high for a win over Central Florida University (CFU). Class Tailgating. We will only cater this year's homecoming game, 23 October. For all other home games, please bring your own provisions and perhaps some to share. The homecoming game starts at noon and runs to three PM. I will arrange to have the food delivered around 1430. The party will be after the game is over rather than before. We have four remaining home games before we fold our tent for the season. See you there.

Sixtieth Reunion. Please mark your calendars for 19-22 October 2023. That is our sixtieth reunion here in Annapolis. We will try to have as many events in our headquarters hotel to minimize travel for many of us that are more and more mobility challenged. We will attend the Navy-Air Force game that weekend. More in the coming months as plans develop.

Taps On 14 October at 1030 we will lay the remains of our former Class President, LtCol Joel Gardner, USMC (Ret), and his wife Beth to rest in the Naval Academy Columbarium. We would as large a class turnout as possible. A reception at the Officer's and Faculty Club follows the ceremony. If you can make this event, please RSVP to their daughter Ellen, Class of 1989, at ellengardner89navy@gmail.com.

Who Are Those Ladies? When we were midshipmen, there was a group of older ladies who seemed to attend everything in the yard. They attended chapel as a group with their hats, gloves and handbags. They attended all the musical club shows, and other events like the Messiah. I asked one day who they were and was told that they were all widows who's husbands were in the Class of 1907. When their husbands died, rather than live with their children, they decided to live together in a house a short walk from Gate Three. After all they spent their careers together in various naval stations and ports. They looked after each other. Where else could this have happened except at USNA?

Beat UCF!! Beat Army!!!! Quality '63

Spencer Johnson
September 17, 2021-Wreaths Across America


Dear Class Representatives and Friends of USNA

I humbly request you distribute the following information to your class members and chapters. Thank you for doing this in advance.

It's that time of year I start asking for sponsorship for the Wreaths Across America (WAA) at the USNA cemetery.

Nine years ago we started WAA at USNA at the request of a gold star Mom and Dad. We started out slow the first two years, but for the last 7 years, thanks to your generosity, we have been able to lay a remembrance wreath for each head stone and the entire columbarium during the wreath laying ceremony in December.

The wreaths are donated by each of you and I truly appreciate your kindness. Every year I hear stories from roommates who want to honor that bond formed so many years ago, grandchildren that can't be here but want to honor their grandparents, and gold star families who lost a loved one way too soon. They are so grateful that we can do this to honor and remember the special person they knew and loved.

The ceremony will be Friday December 10, 2021 TTD. ( probably about 0900) This is the day before the Army Navy game. At this point we are unsure of the complete details, due to Covid, and will wait until closer to the date to see what USNA will permit for attendance. We are hoping that things will be open and that we will be allowed to have as many as would like to attend to lay the wreaths.

Directions to donate are as follows: Go to:
-WreathsacrossAmerica.org/md0011
-Scroll down to "Sponsor Wreaths"
The site will then guide you to check out.
By going to this site for every two sold, the USNA cemetery will receive one wreath for free.

Please donate, we are looking for 2700 wreaths this year. The class of 1981 is once again sponsoring this effort and if you would like to check on the validity of this cause please feel free to contact the class of 81's president, James "Otto" Stutz, CDR (Ret.) at otto@1981.usna.com or via cell at 757-618-4487.

You can always contact me with any questions.
Thank you for your support.
Carol Turman
Coordinator Wreaths Across America USNA
2430 Kemper Rd
Crofton, MD 21114
H-410-451-4490
C-443-336-6541





September 12, 2021--Navy-UCF tickets

Ian Sargent has tickets, 50 yard line Upper Blue. Parking pass also possible. Sell at cost (season ticket holder). If you have any interest in tickets for any games further down the road. I may be able to find some. ianhsargent@gmail.com
August 30, 2021--Wyatt Whitworth Internment Service

A graveside memorial service will be held September 10, 2021 at 11 am at the Coastal Bend State Veterans Cemetery in Corpus Christi, Tx with full Honors.
August 27, 2021--Spencer's August 27 Irish Pennants

Dear Classmates, Family and Friends of the Class of 1963,

The Brigade is reformed, Classes started on Monday. All midshipmen are once again housed in Bancroft Hall. The new academic year is under weigh.

It was announced this week that the December 2020 Physics exam cheating scandal has been brought to a close, with one case yet to be adjudicated. Over 100 youngsters were suspected of using unauthorized web sites and other outside assistance to complete their exam submissions. Due to Covid 19 provisions, the exam was administered on line. Six midshipmen have been dismissed. Six more have resigned. Eighty-one have been assigned to five months of an honor concept remediation program, as well as appropriate disciplinary measures. The Superintendent intends a further review of the honor concept to better facilitate understanding and compliance with its tenets.

Please let me know, if you have not already, whether you intend to attend the first home football game against Marshall University on 4 September. I have to get a count to our caterer on Monday of next week. The food will be delivered at 1230. The game begins at !500. The price for the catered food is $25.00 per head. Please make checks out to 'The Class of 1963" and add an additional $10 or$15 to help defray costs of putting up and striking our tent. The COVID rules require the wearing of masks by all unvaccinated persons. Six feet distancing is in effect. Masks must be worn in all enclosed spaces in the stadium, including restroom facilities, so bring a mask. See you at the game. Beat Marshall!

Beating Army. In February 1971 I was in graduate school at the Fletcher School of Law and Diplomacy at Tufts University on the outskirts of Boston. My wife and I received an invitation to join the West Point Association of Graduates for West Point Night at the Boston Pops. The engraved RSVP card asked if there were any requests for the concert. I put down Richard Rogers symphony Victory at Sea. On the snowy evening of the concert, Arthur Fiedler opened the concert with Victory at Sea. I went home thinking that there was more than one way to Beat Army!

Beat Air Force and Beat Army!!!
August 23, 2021--D.C Area Class Luncheon

The luncheon is scheduled for 11:30am Wednesday, Sep 8th at the Army Navy Country Club. The cost will be $30.00 which includes tax, coffee and water. Drinks (wine, beer, sodas) are extra

Two Caveats: Wear a mask in entering the club and only 12 are allowed. That means we have to get a head count up front - first come first serve. Bob will publish an attendee list as we get close to 12 attendees. Priority will be the DTG on your email. "I think I can make it" and "Maybe" will not count.

Please RSVP to Bob. bforster5@verizon.net or Jim at jep.ring@gmail.com.
August 18, 2021--Mike Cronin Funeral at Arlington

From Jackie: Letting everyone know the burial for Mike Cronin will be on December 6, 2021 at 3:00 pm at Arlington National Cemetery. The services are open to the public. I have a block of rooms reserved in Rockville for any out of town guests. The reception will be at DAR headquarters on 17th Street in Washington DC after the service. There will be valet parking. I will need to know who will be coming for nourishment.....that is cocktails and a buffet of food. Please email the mcronin.wheelsup@gmail.com so I can get the invitations out. If you would like to contact me, please use the email mcronin.wheelsup@gmail.com.
August 14, 2021--Spencer's August 13 Irish Pennants

Dear Classmates, Family and Friends of the Class of 1963,

The "Dog Days of Summer" have descended on Annapolis. Ninety plus degree days punctuated by thunder storms are the order of the day. Plebe Summer is drawing to a close. The Brigade will reform shortly to begin academic year 2022. These days, Bancroft is air conditioned.

Football Season. The football team is hard at work practicing drills and plays for the upcoming season that opens on September 2 against Marshall University here at home. Initial reports are that the team is well manned with depth and talent at every position. It should be a great season.

Our tailgate tent will be up in our usual spot (12A). Bayside Bull will cater our tailgates with a price of $25.00 per person. Please make checks payable to the "USNA Class of 1963 " or use cash. Please let me know if you plan to attend a game and how many are in your party. I have to call in a head count to the caterer the Monday before each game.

Please put something extra in the glass jar on the table to help defray the costs of raising and striking our tent for the six home games we have on the schedule. This year that expense alone is $1600.00.

The Class of 2013 will join us with a barbeque grill of their own.

This year the NAAA distributed tickets and parking passes electronically. They do not print out. If you want to print out your tickets and parking passes, call NAAA at 1-800-874-6289. They will send you an email that enables printing. I did it and it works.

63CAE. The annual report on the 63CAE is posted on our Class website (USNA63.org). It was another record setting year for the 63CAE. Highlights include:

Total visits for the year were 50,838---an average of 1419 per week for academic year 2021. A new high.
There were 3,269 unique individual midshipman visits which is 73% of the Brigade. Ninety-nine percent of the Plebe Class used the 63CAE: Ninety-three percent of the Youngster Class.
Seventy-three percent of varsity athletes averaged 15.2 visits each this past year
Seventy-six percent of students with a 4.0 QPR averaged 15.6 visits each.
The Writing Center had 4655 individual one hour visits.
The reviews conducted prior to six weeks tests; twelve weeks tests; and final exams attracted 11,383 visits
The Speed and Reading Comprehension 4-6 week courses had 400 midshipmen engaged
The 63CAE staff swung easily from distance learning to in person tutorials and back as the COVID rules varied.

The academic attrition rate for academic year 2021 hovered around one percent. Well Done ,Classmates!!!

Bonds of Gold Pete Soverell has suggested that some classmates and widows may want to donate a class ring to be melted down for inclusion with the rings of the class of 2063. This can be done. The Alumni Association will keep the rings for us until ready for use. Each donation should be accompanied by a short narrative identifying the donor and describing his career choices and career highlights. If interested, please contact me and we can work out the details

Leadership . In 1980 I was in a Boston private shipyard overhauling my ship, USS Bigelow (DD942). I was invited to attend a monthly luncheon meeting of the Wardroom Club, a group of officers from all the sea services active, retired and separated. The luncheon was held in the Constitution Museum in the Boston Navy Yard.The focus was on tall tales and camaraderie. I was seated next to a retired WWII submarine commander who had been awarded the Congressional Medal of Honor. His name was Captain George Street, USN (Ret). About half way though the meal, Captain Street turned to me and said," You must be a very good Captain" I replied, " You have only known me for a matter of minutes, Sir. Why would you say that?" He answered "Because, you have a face the crew will trust!" It's all in the genes!

See you at the tailgates.

Beat Marshall! Beat Air Force! Beat Army !

Quality '63

Spencer Johnson '63
July 31, 2021--Spencer's July 31 Irish Pennants

Dear Classmates, Family and Friends of the Class of 1963,

We have had some hot and rainy days in Annapolis this summer, but it hasn't been a bad summer so far.

The Plebe Cless of 2025 enterred the Academy on 29 and 30 June, underwent a quarentine period and emerged to all the delights of Plebe summer. Parent's weekend is only two weeks away after which the Brigade will reform for the 2021-2022 academic year. The Academy is back in full swing and the yard is fully open to all visitors. We will soon see if the Delta virus re-imposes restrictions of any sort.

CAE While the final report for the academic year just concluded is not out yet, I am told that all but six members of the last Plebe class used the facilities of the CAE this past year. CAE usage is at an all time high and is now an intrinsic part of a Naval Academy education. Well done, classmates!

Football Season There are twelve gams scheduled as follows:

Sat. Sep 4 1530 Marshall University at home
Sat Sep 11 1530 US Air Force Academy. at home
Sat Sep 25 1159. Houston University at Houston
Sat Oct 2. 1530. University of Central Florida. at home
Sat Oct 9 1530. Souther Methodist University at home
Thu Oct 14 1830. University of Memphis at Memphis
Sat Oct 23. 1200. University of Cincinnati at home
Fri Oct 29 1159. Tulsa University at Tulsa
Sat Nov 6 1159 University of Notre Dame at South Bend
Sat Nov 20. 1530 East Carolina University at home
Sat Nov 27 !!59 Temple University at Philadelphia
Sat Dec 11 1500. US Military Academy at Meadowlands, New Jersey

Our class tent at site 12A will be up for all home games . We will cater the home games at a cost of $25.00 per person. Please let me know if you are coming to a home game and how many are in your party, especially if your company is having a reunion at one of the games, so that I can get a fairly good counr for the caterer (Baysidebull ) . Please be generous in your contribution to the class fund to help defray the costs of erecting and storing our tent and the the rental of our space. I will pay the catering fee out of class funds after I have deposited your checks. Make all checks out to the Class of 1963. See you at the games.

A June Week Story. I have a brother in the class of 1966. At our final June Week parade, my parents were present in the stands along with many other parents. My father, a man with a very dry wit, was seated beside an enthusiastic father of one of our classmates. He regaled my Dad with stories of his son's time at the Naval Academy and his many accomplishments in those four years. He became more excited as we "passed in review" for the last time. On seeing his son, he shouted "there he is.!! There he is!! He then turned to me Dad and said, "Can you see your son? to which my Dad replied "Which one?"

That's all the news for this addition. Stay tuned for all the scuttlebutt I can acquire.

Stay safe!

Beat Army and Air Force!!

Quality '63
July 22, 2021--Joel Gardner Inurnment at USNA

NEW DATE and TIME
Thursday October 14, 1030
Naval Academy Columbarium
Reception to follow
June 22, 2021--Death of Betty Fitzgerald

Betty Fitzgerald, wife of Vietnam KIA classmate Bill Fitzgerald died on 6/22/21. Her funeral service will be held on Thursday July 1st at 11:00 at the Berlin Corners Cemetery in Berlin, Vermont. Their daughter Linda Scholtz can be contacted at lyndascholtz@gmail.com.
June 17, 2021--USNA63 Deaths

John McCabe of the Second company passed away yesterday. His death was the 276th for our class. That leaves us with exactly 600 alive of the 876 who started with us July 7, 1959. The only good news is 68 percent of us are still living compared to about 53% for all Americans in our age group. Death is inevitable and our time approaches so enjoy the time remaining. Here is a graph showing the rate of our deaths since 1963.

May 18, 2021--Craig Thrasher's Memorial Service

Craig Thrasher's Memorial Service, originally scheduled for May 29th, will be held Saturday, July 24th at 11:00am in East Aurora, NY.
Craig Thrasher's Backyard
1021 Mill Road
East Aurora, NY 14052
Dress: Casual
If you plan to attend, please contact Peggy Thrasher at mrthras119@aol.com.
May 13, 2021--Next D.C. Area Luncheon Rescheduled

The luncheon is rescheduled for 11:30am Friday, May 21st at the Army Navy Country Club.
May 3, 2021--Next D.C. Area Luncheon

The luncheon is scheduled for 11:30am Tuesday, May 18th at the Army Navy Country Club. The cost will be $30.00 which includes tax, coffee and water. Drinks (wine, beer, sodas) are extra

Two Caveats: Wear a mask in entering the club and only 12 are allowed. That means we have to get a head count up front - first come first serve. I will publish an attendee as we get close to 12 attendees. Priority will be the DTG on your email. "I think I can make it" and "Maybe" will not count.

Respomd to Bob Forster bforster5@verizon.net
April 27, 2021--Joe Clancy Funeral Scheduled

Joe Clancy's funeral will be held September 21, 2021 at the Naval Academy Columbarium. Reception details in work. Joe passed away June 8, 2019.
April 14, 2021--Tom Buckley Visitation

Visitation will be Friday, April 16th at 9:30am at St. Mary of Sorrows Historic Catholic Church, 5612 Ox Road, Fairfax Station, VA 22039-9702 followed by a Mass of Christian Burial at 10:30am.

Tom's final resting place will be Quantico National Cemetery.
April 8, 2021--Spencer's Irish Pennants

Dear Classmates, Family and Friends of the Class of 1963,

Spring has arrived in Annapolis. The fruit trees are in bloom. The temperatures are approaching 70 everyday and the sun is shining brightly. The dark ages are over.

The Brigade. Things have eased up. Liberty was granted last weekend for the first time in over a month. While meals are picked up from King Hall they are still consumed in midshipman rooms in Bancroft. Food ordered from town can again be delivered. The restriction to rooms (ROM- restricted movement) except for two hours exercise a day is semi- lifted. Vaccinations have been administered. Classes have returned to a hybrid of virtual and in person instruction. Visitors are again allowed on the yard. Life is assuming a new normal.

Sports. Football Spring practice has been underway for over a week now. Xavier Arline, a plebe, is the top choice for quarterback with three others hard on his heels, two other plebes and a youngster. Tickets for next Fall's games are on sale now at tel: i-800-US4Navy. There are six home games scheduled. Our usual tailgate in spot 12A will be up and running for all home games, assuming the COVID 19 restrictions are behind us.

The football team has adopted as its slogan this year "Burn the Boats". This is a reference to the Spanish Conquistador Cortes order issued in 1519 during an attack on the Aztecs to prevent his soldiers from retreating to Cuba as had happened several times before. By burning the boats, there was no retreat possible. Everyone's focus had to be solely on achieving victory. The 2021 team will be equally focused on a winning season come September.

Basketball The Navy team captured the Patriot League championship. The Navy team was the number one seed going into the Patriot League tournament, only to lose its first game against Loyola Maryland, a team it had beaten three times during the season. The loss, 76-68, was largely due to the loss of two starters who were exposed to the COVID virus, including team captain and All-Patriot League pick, Cam Davis and forward Richard Njoku. Several other varsity team players may also have been effected. This knocked the Naval Academy out of an NCAA berth this year. All said, this is one of the finest basketball teams to take the court in recent years. There's a lot to be proud of and a lot to look forward to.

Baseball. The baseball team is off to another great start after 15 wins last season. Last weekend, navy played a three game series against Bucknell. They won two out of the three, scoring ten runs in the eighth inning of one game to win 15-10.

Track and Field Both mens', and women's teams are hot off the mark winning meets including the Nstar meet against Army.

Soccer and other varsity sports are also in play even though this may not be their regular season. This past weekend there were twenty varsity sports in the yard. All are doing well despite the interruptions in their season play.

Trust But Verify While on graduation leave at home in Charleston, S.C. in June 1963, I set out to participate in the military wedding of a high school classmate at Camp Lejeune, N.C. I carefully put all the buttons in my Service Dress White blouse, affixed my shiny new ensign shoulder marks, checked that I had my sword and belt, packed white shoes and socks, packed my new officer's cap in a plastic wrap, and put everything in my car for the drive to Camp Lejeune. About six hours later I arrived. I checked in with the mother of the bride to let her know that I was there. She smiled and told me that my mother had called. My white trousers would be up on the next Greyhound bus. Now I use the check list and venerate Mother's Day.

I hope everyone had a beautiful Passover/ Easter celebration. Please remember that the pandemic is still with us. Mask up and stay safe.

Quality '63

Spencer Johnson
March 26, 2021--Bob Easton Celebration of Life

Sue and Laura Easton have made arrangements to have Bob's Celebration of Life Service to be made available by Zoom as outlined below. The date of his service is this Saturday at 1300. A video of the service will be made available for anyone who might be interested. Information regarding the video will be made available at a future time. Time: Mar 27, 2021 01:00 PM Pacific Time (US and Canada)
Join Zoom Meeting
https://us02web.zoom.us/j/87693319820?pwd=TmhURWRmbEM5eEJOQld2bmtyZk9yZz09 Meeting ID: 876 9331 9820
Passcode: 779526Mee
+12532158782,,87693319820#,,,,*779526# US (Tacoma)
Dial by your location
+1 669 900 6833 US (San Jose)
+1 253 215 8782 US (Tacoma)
+1 346 248 7799 US (Houston)
+1 312 626 6799 US (Chicago)
+1 929 205 6099 US (New York)
+1 301 715 8592 US (Washington DC)
Meeting ID: 876 9331 9820
Passcode: 779526
Find your local number: https://us02web.zoom.us/u/kbQmn9xA8Q
March 18, 2021--Update on Joel Gardner Memorial

Greetings to Joel's friends, classmates, and colleagues, with the COVID vaccine rollout slowly progressing, we have moved the April 15 memorial date to:

August 12th, 2021
11 am
Naval Academy Columbarium

The memorial will be for both Joel and Beth as their remains are placed together at the Naval Academy,

Specific details for arrival, parking and security will be sent out closer to the date as they are changing regularly as we emerge from the COVID restrictions.

Many thanks for all your support over the past few months,

Ellen and Emily
March 16, 2021--'63 Plaque Presented to Courtney Rosenthal

Courtney Rosenthal generously took over maintenance of our class website after the death of her mentor Bill Kennedy. Here is her response after receiving our class thank you for her service:

"I want to thank you for the beautiful plaque.

From time to time, I think about my dear friend Bill Kennedy -- a true trailblazer on the Internet. (Did you know his Internet domain was the 92nd ever registered?)

One thing that saddens me is that he contributed so much to the net, but it was in pre-Google days, and not much has been captured -- other than his terrible -- and extremely offensive -- jokes that have been archived as USENET messages. That portfolio is inadequate to his legacy.

That's why I'm so proud to be able to support you and keep the usna63.org website running. Although it's quite dated by current design standards, it captures an important piece of history.

There is a type of web application called a Content Management System (CMS). If you've heard about Wordpress or Blogger or Medium or the like, those are CMSes. I think Bill may have invented the CMS without realizing it. The Electronic Lucky Bag, which keeps its content in a database and auxiliary files, and dynamically generates web pages on demand, is pretty much the definition of a CMS.

So I feel that this website is of interest to both naval historians and internet historians.

Spence, thank you so much for the note. Thank you all for the plaque, and the opportunity to serve both you and Bill's memory."
March 2, 2021--Spencer's Irish Pennants

Dear Classmates, Family, and Friends of the Class of 1963,

The sun is out today and temperatures are in the '50s after several weeks of snow, ice and mixed precipitation along with dark, gray and cloudy days.This may not be the end of the Dark Ages here in Annapolis, but it may be the beginning of the end.

The Naval Academy. The yard has been on lockdown since last Sunday following the announcement of a major outbreak of the COVID virus on campus. The number of cases doubled over the last weekend. Midshipmen are confined to their rooms except for two hours of exercise allowed a day in the company of one roommate. All varsity and intramural sports are in a state of limbo except for varsity basketball which has clinched the Patriot League championship title for the first time in 21 years. Because the basketball team has been isolated from the Brigade for the past week, they will participate as the number one seed in the Patriot League Tournament starting Saturday. Classes have all returned to virtual learning. All meals are eaten in rooms in Bancroft Hall.

Ninety-eight Midshipmen recovering from the COVID 19 virus have been moved to a hotel on West Street where they are restricted to their two man rooms and checked twice a day. This move was necessary to isolate these Midshipmen and yet leave sufficient room in the first wing of Bancroft for new cases to be quarantined, tested frequently, and initially treated. Those now quartered in the hotel are also in virtual learning classes as are the the 200 or so midshipmen living with family, sponsors, or friends within a thirty-five mile radius of the yard.

The yard is close to all visitors, including parents, reserve and retired personnel.

It is not known how many total COVID cases have developed so far. That information is considered classified.

The Brigade has not as yet been inoculated with the COVID 19 vaccine since the Naval Academy is in Phase Two of the Navy vaccine roll out plan.

Football. Navy is looking forward to a normal football season in the fall with six home games scheduled. Spring practice is scheduled to begin on 29 March, barring the virus interfering with that plan. Coach Niamatololo has remarked that this is one of the toughest schedules Navy has yet faced. Eight of the teams on the schedule qualified for bowl games last year. All things said, Coach Niamatololo expects a winning 2021 season. The schedule is:

Sept 4 Marshall at home
Sept 11 Air Force at home (20th anniversary of 9/11)
Sept 25 Univerity of Houston at Houston
Oct 2 University of Central Florida (UCF) at home
Oct 9 Sourthern Methodist University at home
Oct 14 (Thursday) Memphis at Memphis
Oct 23 Cincinnati at home
Oct 29 (Friday) Tulsa at Tulsa
Nov 6 Notre Dame at Notre Dame
Nov 20 East Carolina at home
Nov 27 Temple in Philadelphia
Dec 4 AAC Championship Game
Dec 11 Army in the Meadowlands, East Rutherford, New Jersey.
Tickets are on sale now for season ticket holders.

Other Sports Women's basketball has had its season disrupted ending 5-7 overall and 5-3 in league play. The Navy wrestling team beat Army for the first time in five years and for the first time in eight years at West Point. Several wrestlers defended titles in AIWA events. Men's lacrosse is off to a good start with at least two wins before the shut down.

Barbara Strasser, the widow of our classmate RADM Joe Strasser, has been named by the outgoing Secretary of the Navy, Kenneth J. Braithwaite, as the sponsor for the yet to be built USS Chesapeake (FFG 64). The ship is second in the new frigate class authorized for construction this year. Even though the keel has yet to be laid, it is not too early to raise a glass of campaigne to Barbara in anticipation of the christening event. Congratulations, Barbara!

Midshipman Standage The case of First Class Midshipman Chase Standage contesting the decision of the Superintendant and the Secretary of the Navy for dismissal in federal court was heard on 19 February. The Navy sought Standage's expulsion for inappropriate and, in some cases, racist speech posted online, constituting conduct unbecoming an officer and gentleman. US District Court Judge Ellen Hollander denied a preliminary injunction for Midshipman Standage which would have barred the Navy from separating him while his lawsuit is still being heard. She also said she thought the arguments that Midn. Standage's first and fifth amendment rights had been abused held little merit. The case was immediately appealed to the US Fourth Circuit Court of Appeals. Soon thereafter, it was announced that a settlement had been reached between the Navy and Midn. Standage. The defense claimed a victory but no details of the settlement have been released other than that each side is responsible for its own court costs. More when known.

The Columbarium is increasingly popular as the final resting place for many of our classmates and wives. We now have more than thirty class mates in the Columbarium. You cannot make a reservation for a niche. They are assigned at the time of need. If you are thinking of being inurned in the columbarium, or, if a flag officer, being buried in the cemetery proper, you can place a copy of your DD214 on file so that is in the binder and spread sheet at the Memorial Affairs Office, ready when needed. Your DD214 unlocks access and military honors rendered. Just send your DD214 to Mr. Anthony C. Whalen, CFSP, Memorial Affairs Coordinator, 101 Cooper Road, Annapolis, Maryland, 21402-5027; tel 410-293-5027; e-mail: awhalen@usna.edu. and ask to be put on file.

A Dark Ages Story. It was February of our Youngster year. It was a dark, drizzly, cold overcast day. It was also a Four N day for me. The uniform was reefers, carry raingear. In the rush to get from my room to in ranks, I could not find my gray gloves. Thay were not in my reefer pocket. In my haste, I grabbed a pair of black socks from my locker and put them on my hands in place of gloves I was the section leader for a group headed to DAGO, in our case French. Half way down Stribling Walk, who should appear from behing a monument but LCDR "Black Jack" Scoville, accompanied by not one, but two mates, thair notebooks at the ready. He ordered me to stop the section, and after I saluted him with my black sock hand, ordered me to "open ranks". He then proceded to fry every second classmate for dirty cap cover or shoes unshined. He then ordered me to close ranks. I saluted him again with my sock covered hand. He had a crooked smile on his face when he ordered me to "proceed on duty assigned". I guess he gave me credit for initiative or imagination. I immediately bought two more pair of gray gloves in the MID store. I later found my others in my bridge coat pockets.

If you have some stories you would like to share, please send them to me for use in future Irish Pennants editions.

Please get your COVID vaccine shots if you haven't already. Stay safe and stay warm.

Quality '63

Spencer Johnson
February 19, 2020--Spencer's Irish Pennants (from January 30)

Dear Classmates, Family and Friends of the Class of 1963,

It is crisp and cold here in Annapolis. We await the first real snow here in two years. Beginning at first light tomorrow we are forecast to receive 6 or more inches of snow, some freezing rain and ice. This is all part of a major storm that is expected to raise sixty foot seas in the Atlantic. All that said, we are snug by the fire here at home by the bay.

The Brigade began returning in groups on 9 January. On return they were all tested for COVID 19 and entered a period of isolation, then tested again. Classes, both virtual and in person, began on 19 January and will continue apace until the end of the semester. No Spring break this year is planned.

St Johns College dorms are not available this semester for midshipmen residence. Since the first wing of Bancroft Hall is still reserved for COVID isolation use, About 190 midshipmen are living with sponsors and families within a thirty-five mile radius of the Yard. They drive in every day, becoming day students. Who said dreams don't come true?

In Sports, the men's basketball team was off to a fast start, winning eight games, including one against Army, only to be beaten by Army (87-78) in overtime in the second game of their two day double header. The second game counted as a Patriot League conference game. Army and Navy will play two more basketball games this season. The women's basketball team has a more checkered record so far. Attendance at games is very limited, but, hopefully, that will improve in time.

Two members of the football team have been named to the Hula Bowl in Hawaii. Peter Nestowitz, a guard, and corner back Cameron Kinley both played in the Tropical Bowl in Florida in mid-January. Both are considered NFL prospects.

Commandant of Midshipmen The present Commandant of Midshipmen, Capt. Thomas R. Buchanan, USN, will be relieved this summer by Col. James 'J.P.' McDonough III, USMC. Col McDonough is presently the executive assistant to the Deputy Commandant for Plans, Policies, and Operations at U.S. Marine Corps Headquarters. An artilleryman, Col McDonough has commanded at every level, most recently the 10th Marine Regiment. No follow on assignment for Capt. Buchanan has as yet been announced.

Midshipman's Lawsuit Reopened. The outgoing Secretary of the Navy, Kenneth Braithwaite, as a last act before leaving office, concurred with the Superintendent's recommendation that Midn. Chase Standidge be dismissed from the Naval Academy for posting forty tweets on-line that were deemed racist, violence prone, and unbecoming to an officer and a gentleman. All Navy procedures now complete, U.S. District Court Judge, Ellen Hollander has reinstated the lawsuit filed against Secretary Braithwaite and VADM Sean Buck. She has also ordered that Midn. Standridge cannot be summarily dismissed until the lawsuit is resolved. The court will hold a hearing in Standidge's case on February 12. If dismissed, Standridge will not receive a diploma, will not be commissioned, and will have to pay a reported $175,000 in tuition reimbursement.

Ogle Hall. Ogle Hall the 280 year old house on the corner of King George Street and College Avenue, the home to colonial governor's and the Headquarters of the Naval Academy Alumni Association for the past 53 years, was put on the market on Thursday. The asking price is $4 million dollars. There are already a number of parties reported as interested in acquiring the historic property. The Alumni Association expects to move into its new headquarters building across King George Street from the Terwilliger baseball stadium in the late summer or fall of 2022. The Alumni association would rent Ogle Hall from its new owners until that time. I don't know if the cottage and 49 House are part of this package or will go on the market separately.

COVID19 The virus is alive and well. Please get your vaccine shots as soon as you can from the first available source. Please check with your closest Veteran's Administration and military medical facility as well as state and local providers to get your shots ASAP. The VA id supposed to be administering the vaccines as soon as they have them. Military medical facilities are administering shots after their uniformed priorities are met. Don't wait, this virus is going to be with us for awhile. We are the most vulnerable. Roll up your sleeve at the first opportunity.

Inauguration 1961. The Inauguration ceremonies last week reminded me of the Inauguration of John F. Kennedy in whose parade we marched. It is still the coldest day of my life. We stood in the snow filled streets for hours before marching off and onto Pennsylvania Avenue. You will remember that in those days, if there was a flake of snow anywhere to be seen, the uniform was "with overshoes". When marching with overshoes, my eyes were always on the heels of the fellow in front of me. If I touched his heel his overshoe would peel off like a banana peel. Everything went well until we got in front of the reviewing stand in front of the White House. There we were ordered to render "eyes left". At that point, the street began to fill with overshoes. We have one classmate (Mickey Mays ? ) who claims to have started the parade wearing two overshoes and ended it wearing three. What memories we share!

That's all the news. Stay warm and stay safe.

Quality '63
Spencer Johnson '63
December 23, 2020, 2020--Spencer's Irish Pennants

Dear Classmates, Family and friends of the Class of 1963,

It is cold and crisp here in Annapolis. Days are short and dark.The nor'easter storm that passed through a few days ago brought snow and freezing rain to the east coast, but fortunately passed north of Baltimore for the most part. We dodged the first real snow of the season

The Yard is silent. Deserted. There was no Messiah performance this year. COVID has taken its' toll in many areas and lingers on.

The Brigade is on leave after a disappointing 15-0 loss to Army on a cold foggy day at West Point. Last Saturday, Army defeated Air Force in Michie Stadium at West Point to capture the Commander-in-Chief's trophy after defeating both of the other Service Academies.

Despite rumors to the contrary, Coach Ken Niamatalolo has announced that he is not leaving Navy for another school. Next year should be a lot better on the gridiron for a number of reasons, not the least of which is a return to what should be a post COVID normal season.

Sadly, tragically, a first class midshipman died a few days after going on leave. Midn. 1/c John Johnson from Chapel Hill, North Carolina, was at a resort hotel in Utah with friends. He was practicing holding his breath underwater in the hotel pool. When he did not resurface after few minutes, his companions got him out of the water, but were unable to revive him. He was a mathematics major with a 3.9 GPA. This tragic death casts a pall over the holidays for the entire Naval Academy family.

Only in Charleston--A Christmas Story. I went to the Naval Academy from Charleston, South Carolina where my parents retired when my father left the Navy. Beginning my Plebe year, when I went home for Christmas leave, I found my services as an escort for the long standing debutante season in great demand. Charleston society may have heard of our dancing lessons and tea fights. Actually, they probably wanted my Naval Academy dress uniform to balance out others from West Point and the Citadel and all the tuxedos. The debutante season (the "Seezon") began a week before Christmas and ran through New Year's Eve. With the exception of Christmas eve and Christmas day, there were as many as four parties a day beginning with a tea dance, a dinner, the ball and the breakfast after the ball.

Mothers of the young ladies making their debute in Charleston society formed the Question Mark Club and planned all the events over the course of a year. An old post Civil War (referred to locally as THE WAWUH} tradition, designed to husband scarce resources, was for each mother to buy her daughter two or three dresses and gowns. Two or three times during the season, the mothers met and traded dresses and gowns. I had a list of young ladies that I was to escort to various of the parties or for the day. I might call on Miss Suzie Q, whom I had never met before, but when the door opened, I realized that the dress and I had already been out at least one or more times before. Some of those dresses may still be in circulation.

I was happily married seven years after graduation. My wife is from New Jersey.

We are entering the Dark Ages. Or from another perspective, with the vaccine in evidence, we are emerging from what seems a long dark age. There is light at the end of the tunnel. We still have a way to go, so stay safe and be careful.

Like us, you may be having a "Honeymoon Holiday", as Dave Puckett phrased it, celebrated with your spouse at home and distanced family on the telephone or by ZOOM.

Please take a moment to remember those no longer with us, those at sea or on distant shore for whom home and the holidays are far away. They are not forgotten. They have a place at the our table and in our hearts.

Our greetings to you and yours are especially warm this holiday season. From our house to yours, a very Merry Christmas, a happy extended Chanukah season, and a healthy and prosperous New Year.

Quality '63
Andrea and Spencer Johnson
November 28, 2020--Mike Blackledge's Book

Mike "Blackie" Blackledge's legacy publication "Blackledge Stories - and other BS" is now available to the public on Amazon.com. Begun as a tribute to his late wife Helen Margaret Faust Blackledge and his deceased son Douglas Faust Blackledge (USAFA '92), it grew over six years of writing and compiling into a tome of some 640 pages to include chapters by our classmates Steve Coester, Ken Sanger, Bill Pawlyk, John Kelly, and D.B.A. Moore, and positive blurbs by Steve Duncan and Jack Saux. John Kelly and his wife CiCi gave technical support. USNA Museum Historian Jim Cheevers provided his history on the Preparatory Schools and the Entrance Examinations, and credits our class with being the first for which the latter was not a requirement. The USNA 1922 Entrance Exam captured in the Appendix is a challenge. Classmate collections such as "PE for '63" and "Where Were You? (22 November 1963)" are captured as well. You can open this book anywhere and find a captivating story.

Mike's website: Click HERE
November 16, 2020--Cole Lindell Funeral Streamed

The funeral service for our classmate Cole Lindell was held on Saturday, 14 November. A video of the complete service is posted on the web site of the George Funeral Home and Cremation Center, Aiken, SC. Click HERE to see it
October 7, 2020--Proposed eligibility changes for National Cemetery

The Military Officers Association of America (MOAA) has provided information about proposed eligibility changes to Arlington National Cemetery. MOAA has encouraged stakeholders to submit comments on the proposed changes, which may affect some members of the Class of 1963. The public comment period opened Sept. 15 and will close Nov. 16. For details about the proposals, visit CLICK HERE.
September 20, 2020--Irish Pennants from Spencer for October

Dear Classmates, Family, and friends of the Class of 1963,

The weather in Annapolis is crisp and cool---perfect Fall weather after a very wet August and September. Perfect football weather even if games can only be seen on your TV screen.

Football

Air Force Navy plays Air Force tomorrow (1800 EST CBSSN) in the first game of the contest for the Commander-in-Chief's trophy this year. The game will be played in Colorado Springs at the Air Force Academy. This will be the first game of the season for Air Force. Only Air Force Academy cadets will be in attendance at the game.

Earlier, the Mountain West Conference, of which the Air Force Academy is a member, announced that their season would be played in the Spring. That decision has now been revoked and Air Force conference games will be played this Fall. When it appeared that Air Force would only play Navy and Army this Fall, forty Air Force football players (underclassmen) took a semester leave of absence from the Air Force Academy in order to extend their athletic elegibility for another year. The impact is that the Air Force defense will be missing a number of key returning players. The offense will too, but not to the same extent., Additionally, `the Air Force two year veteran quarterback may or may not play. He is listed as a "cadet not in good standing". As such has been allowed to practice with the team, but is not listed on the team roster. Whether he will "suit up" and take the field will remain a mystery until tomorrow.

The Navy team is well prepared and confident after their record setting second half two weeks against Tulane scoring 27 unanswered points to win the game 27-24. If Navy wins tomorrow, Coach Niumatalolo will have achieved 100 victories in his thirteen years as Navy head coach. His Air Force counterpart has scored 98 victories in his fourteen years at Air Force. Navy is favored by seven points. Tune in tomorrow at 1800 EST on CBSSN for what will be an exciting, hard fought, game.

Temple On 10 October, Temple University will play Navy here in Annapolis. This is the game that was scheduled to be played on 26 September, but postponed by Temple due the the COVID virus. It ha been announced that there will be no fan attendance at the game.

Class of 1963 Memorial Service at the Vietnam Memorial "The Wall"

In 1995, 25 years ago, we found out that the National Park Service allowed services at the Vietnam Veterans Memorial in Washington, D.C., as long as they didn't interfere with public access to the Memorial. The Class of 1963 Foundation decided that we should have a memorial service at the Wall. We organized a committee that soon became a group effort with many Classmates volunteering to help. We decided to hold the Memorial service on June 10; thirty years to the day that we lost our first Classmate in Vietnam, Carl Doughtie.

Only a few of our Classmates were still on active duty at the time. One, Larry Marsh, who was Assistant Chief of Naval Personnel for Personal Readiness and Community Support, agreed to be the Master of Ceremonies. He provided some Navy personnel to sing and play taps. We asked those who had a close personal relationship with each of the Class KIA/MIA to speak about him. Finally, we called Carl's parents living in North Carolina to come to the event. They came wih Carl's brother and nephew. Carl's parents expressed how pleased and touched they were with the service, because they had not heard from the Class and thought that we had forgotten about him. Family members of Bill Fitzgerald, Don MacLaughlin, Chuck Marik, and Ken Buell joined us as well.

The video made of the ceremony has not been available for viewing until now. The first eight minutes show Classmates and spouses gathering. Several of those captured on the video have since passed away. All of us look differently today. Classmates gave a eulogy for each of the thirteen who had their names inscribed on the Wall. Mike Cronin spoke eloquently about their loss. Eleven of the thirteen KIA/MIA were aviators. At the end of the ceremony, after pictures of those lost and a wreath had been laid at the Wall, and a bugler had sounded taps, eerily a small flock of Canada geese flew over the Wall in what could easily be interpreted to be a Missing Man Formation. The flight of the geese was captured on the video. View it for yourself and see what you think. Thanks to Steve Coester and Mike Shelley, the Memorial Service video is now on our website for your viewing.

Since many of us are mostly homebound during the pandemic, we have time to remember our Classmates who gave their all for their country and whose lives were cut short by the war.

Stories Solicited

The Naval Academy Museum is in the process of collecting stories of midshipman life in our time. Any and all remembrances and stories, especially of high jinks, while we were members of the Brigade are solicited. Please send them to Holly Powers (Holly.Powers@usna.com) with a copy to Mike Shelley (nstar@comporium.net) and Steve Coester Steve.Coester@1963.usna.com)to share with the Class.

That's all the news from Crabtown.

Stay safe and Beat Air Force!!

Quality '63,

Spencer Johnson
September 29, 2020--Exploring Naval Shipbuilding webcast

Jack Colyer and his wife Kathleen invite you and any interested members of the USNA Alumni to join us for one or all of the upcoming virtual NYCNL events. The invitation and details from the New York Council Navy League Shipbuilding Three-Part Series which begins September 29 night at 6:00 p.m. prior to the start of the Presidential Debate are at: CLICK HERE for the link to the event. Your interest is welcome.
September 21, 2020--Apollo 11 webcast

John Rocco has written a wonderful book called "How We Got to the Moon". It is receiving rave reviews. The book is a "children's" book but children of all ages will learn a lot from it. I strongly recommend it for yourselves, children and grandchildren.

On Oct. 7 the author John, a design engineer, Harvey LeBlanc, from back then and I are having a webcast to discuss the book and share a few tales. Harvey and I both contributed to the content of the book.

If you are interested in what one of your classmates did after being medicaled out of the service early in our carrers, join us.

September 20, 2020--Irish Pennants from Spencer

Dear Classmates, Family and Friends of the Class of 1963,

The weather is finally turning Fall like here in Annapolis with temperatures in the sixties. It is sweater weather--football weather, even if the games are only to be seen on TV.

New Addition At the suggestion of our classmate Jim Metcalf, and with the unanimous approval of our class officers, I am delighted to announce the addition, sadly posthumously, of Captain Wendell "Ray" Alcorn, US Navy, as an honorary classmate. Many of you knew Ray from our time in service together and from his frequent attendance at many class gatherings over the years in company with his sister-in-law Lou Shelley and her husband, our classmate, Mike Shelley. Ray graduated from Penn State University and received his wings in June 1963. He then flew A-4s in Vietnam, was shot down in 1965 while on a low level mission over hostile territory. He spent the next 2609 days (seven years) as a prisoner-of-war in eleven of Hanoi's fourteen prison camps. On release and repatriation, Ray continued his Navy career. His last assignment was as Commanding Officer of Naval Air Station Fallon, Nevada. There he is credited with th e expansion of Fallon and its becoming the home of advanced tactical training for naval air squadrons and air crews. Ray was awarded two Silver Stars, the Navy Air Medal, and two Bronze Stars all with Combat 'Vs" plus two Purple Hearts. On retirement, Ray served as the Nevada Director of Veteran's Affairs. Ray is one we can all be proud of as an honorary classmate. Ray passed away in March and will be buried at Arlington cemetery. Welcome aboard to Ray's widow, Karen, and their family.

Life in the Yard Moral in the yard has been reported as low. The Brigade is still reforming with some youngsters yet to return. The fourth battalion (375 midshipmen) is living in dorms at St. John's College. For the Plebe class and the summer detail there has only been yard liberty since the beginning of June. Classes are mostly virtual. Movement is limited. Meals are box lunches and of reported poor quality. Meals are eaten in rooms or at tables of no more than four in the mess hall or tents. Mental health is now an increasing concern. Feelings of isolation are wearing on all . The chaplains are extremely busy. A midshipman request to see a chaplain takes about five days to accomplish. (Schools with similar services report a six day waiting period.)

Seven hundred midshipmen a week are being tested for the COVID19 virus. Less than two pecent test positive. Those that do go into quarantine and those who have been traced as having been in contact go into isolation.The football team is tested twice a week. One varsity first team football player, one back up player, and one coaching staff member are reported as having tested positive. The football team has a psychologist on staff.

The yard remains closed to general visiting, including parents. One midshipmen was heard to remark "the football team can play Brigham Young University, but I can't hug my Mom".

With all this in mind, town liberty was granted for the first time last weekend. All midshipmen had to wear" tropical white long" summer uniforms, were forbidden to buy or consume any alcoholic beverages, could not congregate in groups larger than ten, and could not travel farther than twenty miles from the chapel dome. One regiment had liberty on Saturday and the other on Sunday. No one knows when leave may next be granted, or if granted, whether midshipmen will be allowed to return. Time will tell.

Football Navy plays Tulane on Saturday in New Orleans. Game time is 1200 (noon) Eastern Daylight Time. The game will be televised on ABC television. Following Navy's 55-3 loss to BYU last weekend and Tulane's win over Southern Alabama, Tulane is favored by 6 1/2 points. Coach Niumatalolo took complete blame for the BYU loss, saying that he had erred on the side of safety in not allowing contact scrimmages before the game. That has all changed. Practice has been full-bore and head-on since. Saturday's game should see a different Navy team take the field.

Temple University was scheduled for 26 September here in Annapolis. Temple has since asked to be rescheduled to 10 October because they, too, had been limited to non-contact practices by Philidelphia COVID virus prohibitions and would not be ready to play on the 26th.

On 3 October Navy plays Air Force in Colorado Springs at 6 PM Eastern Daylight Time. This will be the first contest for the Commander-in Chief's Trophy this year. Coach Niumatalolo voiced some concern about playing for the trophy this year since Air Force will play only a two game season--Navy and Army. Their conference, the Mountain West Conference, has opted to play their games in the Spring semester. Army has cobbled together a 12 game schedule and Navy an 11 game slate, if all games are played. To Niumatalolo that didn't look like an even playing field for the trophy. It would further demean the value of the trophy, the winning of which he characterized as the premier goal of any Navy season. Coach Niumatalolo blamed "the Pentagon" for deciding that the trophy would be contested, but later apologized for blaming the Pentagon. The three Superintendents are said to have decided to play for the trophy.

Beat Tulane!!

That's all folks! Please stay safe. This all may all get worse before it gets better.

Quality '63
Spencer Johnson
September 7, 2020--Maritime Heroes of 9/11: Hear Andrew McGovern's story

As members of the New York Council Navy League of the United States' Advisory Council, Jack Colyer and I extend an invitation to all "63 Classmates" to join us on Friday, September 11, at 6:00 p.m. (E.T./ New York) for this virtual event to hear stories of the sea evacuation of over 500,000 souls in lower Manhattan after the attack and fall of the Twin Towers.

There is no charge for the event; you need only Register. Click HERE for the link to the event.

God Bless America.

Carpe Diem.

With my best regards,
Kathleen
September 5, 2020--Spencer's Irish Pennants

Dear Classmates, Friends and Members of the Class of 1963 Family,

I hope this LABOR DAY Weekend finds you and yours safe and sound and enjoying the last days of summer. The weather here in annapolis is beautiful, even though we had a terrible day of fast moving thunder storms on Thursday, incuding a tornado that touched down just south of the Bay Bridge on the bay itself--a sea spout. That was a real rarity for Annapolis. While some damage resulted, including power outages, it could have been a lot worse.

The Brigade.

This week 375 midshipmen vacated Bancroft Hall and took up residence in eight dorms at St. Johns College. This action compensates for the 130rooms in Bancroft Hall that are set aside for those testing positive for the COVID19 virus and are quarantined or in isolation.The midshipmen at St.Johns are all from the 16th, 17th, 18th, 19th, and 20th companies (the fourth battalion). They are expected to remain at St. Johns through December unless their stay is extended. St Johns did not reconvene this semester, since all instruction is virtual in nature as it is currently for the midshipmen.

The same rules apply to those at St. Johns as to those in Bancroft Hall. Food is delivered in bags or boxes from the King Hall galley. No visitors are permitted. No town liberty is granted. Fourth Battalion Executive Department officers are also housed in the St Johns dorms.

We can say that haircuts have returned to the St. Johns campus in our life times. A real milestone at least until January.

Navy Football

Navy opens it's 2020 season against Brigham Young University (BYU) on Monday 7 September at 8 PM (2000) here in Annapolis. The game will be broadcast on ESPN. Please check your local listings for channel and time if not in the Eastern Standard Time (EST) zone. The midshipmen will be playing to an empty stadium. The Governor of Maryland denied a request from the NAAA to allow 1500 midshipmen to attend. There will be no tailgating. While some counties in Maryland increased their opening yesterday from phase B to phase C, Anne Arundel County elected not to do so, since the number of those testing positive are still on the rise in the county.

The next Navy home game currently scheduled is against Temple University on 26 September. On Thursday Temple announced that the university was cancelling all "in person" instruction due to an outbreak of 130 cases of the COVID19 virus amongst the returned student body. All Temple classes are now virtual. Thatcasts some doubt on the execution of the Temple football season as scheduled.

In anticipation of very limited attendance at home games in the future at best, and no tailgating in the Navy-Marine Corps Stadium grounds, I have told the NAAA to roll over our class funds reserving our tailgate spot from the 2020 to the 2021 season, when I think things will have returned to normal.

Please remember to get your flu shots when available, and stay safe.

Quality 63,
Spencer Johnson
August 28, 2020--A note from Jackie Cronin

I just attended the service for Tom and Fran Reemelin at the Naval Academy. They are now side by side in a niche in the columbarium.

I wanted to let the classmates know that as of today, Mike is still waiting to be in the cue to get his burial date at Arlington. It seems the wait for notice is about 5 months, and then I will get a date, which should be about 1 year from his death. In the meantime, I am putting together a video to honor his life, and will send it out once I am finished. I will keep everyone in the loop as to his Arlington burial.
August 24, 2020--Spencer's Irish Pennants

Dear Classmates, Family and Friends ofr the Class of 1963,

Greetings from Annapolis where summer is drawing to a close. It is almost Labor Day. Where does the time go? There is a lot happening here--and not happening too. Much has been cancelled due to the virus. The latest is the cancellation of the sail and power boat shows to be held the first and second weekends in October here in Annapolis. That will have a real negative economic impact on the city's hotels, restaurants and other commercial activities.

Naval Academy The Plebe Class (2024) has completed a modified plebe summer in good form and is now integrated with the returning Brigade. There were no Plebe parades due to the Corona virus, no Plebe parents weekend, although Plebes were allowed three hours on the Sunday afternoon of what would have been parent's weekend to call home, Zoom, or otherwise touch base with family and friends. The yard is still closed to general visiting. Midshipmen are not granted town liberty and must remain in the yard at present. The Second Class parent's weekend which was to have been held the second weekend in September has been postponed indefinitely.

The Brigade is reforming with first and second class midshipmen back in the yard. As the case with the new Plebe Class, all returning midshipmen are tested for the virus, go into a fourteen day isolation period and are then re-tested for the virus. It is unofficially estimated that as many as eighty cases of the virus have been reported so far.

Youngsters are coming back slowly. indeed the Youngster class may remain home until mid-September or even later. The new question for the ages may be, "Who had the last real Youngster year?"

To ensure social distancing in Bancroft Hall, there are no more than two to a room and as many as 500 midshipmen may be berthed in Annapolis rather than in Mother Bancroft. The Naval Academy is reported to be in negotiations with St. Johns College to use their otherwise unoccupied dorm rooms, since St Johns students are not returning to campus this semester. The mess hall (King Hall) has tents erected adjacent to it to expand seating space, meals are served in shifts and some meals are box lunches that are picked up or delivered to rooms.

Classes for all resumed last Wednesday. It is estimated that up to seventy percent of classes will be conducted virtually and about thirty percent in a classroom space where there will be no more than ten midshipmen in a recitation section or classroom. Youngsters still at home are attending class virtually, just as they did in the Spring when they did not return after Spring leave in March.

You will be proud to know that the 63 Center for Academic Excellence has not missed a beat, shifting to virtual tuition assistance in all subjects: calculus, chemistry, physics, cyber science, writing skills, and others. Over ninety per cent of Plebes have used the 63CAE last term and eighty-five percent of youngsters in the term last ended. You can see the complete report on 63CAE usage submitted by the Director, Bruce Bukowski on our 63 web site. Well Done to the 63CAE faculty crew for their agility in taking the COVID 19 situation in stride and BZ to the Class of 1963 for all your continued support to this important endeavor.

` In sports the Patriot League has cancelled all varsity sports competition. Naval Academy varsity teams almost all vie in the Patriot League so there is no Fall competition scheduled. There is talk of trying to reschedule these matches and competitions in the Winter and Spring beginning in January, but there is nothing definitive yet.

Football is a different story. The Notre Dame game scheduled to be played in Dublin on 29 August was moved to Annapolis on Labor Day weekend, until Notre Dame backed out, ending the longest continuous inter-sectional football rivalry in collegiate football history. With a space to fill and television contracts in place, the NAAA quickly scheduled Brigham Young University to play here in Annapolis on 7 September. But the stands will be empty and no tailgate activity allowed. The NAAA is trying to get an authorization from local officials to allow the Brigade to attend the game, but there is no answer on that yet. The American Athletic Conference, of which Navy is a part, has not as yet cancelled their football season as have others, so there is hope that a number of games will happen as scheduled. For the remaining four home games it is estimated that no more than thirty percent of the usual crowd will be allowed to attend. For Navy, that is about the size of the number of season ticket holders. It is estimated that there will be no general ticket sales if the games take place and tailgating will not be allowed in the stadium grounds. Season ticket holders are being given several options:1 retain your tickets in hopes that the home games will be played 2. take a refund for your tickets, 3 donate your tickets to the NAAA and receive a brass plate on a seat in the midshipmen section with your name on it. You will find Chet Gladchuck's letter to season ticket holders on our '63 website with all pertinent information. I have heard from several classmates who have donated their season tickets to help off-set what will be a major setback in football generated revenues that this season will bring to the detriment of all other Navy athletic endeavors which football revenue supports.

The football team has been in the yard since early July. They underwent a fourteen day quarantine period spent in weight training and conditioning as well as "skull" drills (aka chalk drills). Every precaution is being taken to keep the players healthy, including very limited contact (i.e., no scrimmages with first string offense and defense players against each other). Blocking and tackling against dummies. Walk through and run through drills are the order of he day. Showers are taken back in Bancroft, not communal facilities. Only the necessary players needed to conduct a game will dress out. The coaching staff has put what promises to be a great team together despite all the COVID restrictions.

Army and Air Force have indicated their desire to contest the Commander-in-Chief's trophy this year. But it remains to be seen what kind of season each will have in addition to meeting the other two service academies.

It is expected that whatever Navy football games are played will appear on television, either ESPN of CBS.

That's all the current news from Annapolis. Stay tuned for further developments as conditions change and new restrictions are imposed or lifted.

Please stay well. I know of only one classmate who has succumbed to the virus so far, and that is one too many.

Beat Army and Air Force!

Quality '63

Spencer Johnson
August 22, 2020--Spencer asked me to post this message from Chet Gladchuck, NAAA

Click HERE for this message To Friends of Navy Football.
August 19, 2020--Tom and Fran Reemelin Memorial Services

Because of the Corona virus there has been lots of confusion. Here is the latest from Tom and Fran's children.

"Hi there!

We wanted to reach out to you as there seems to be some misinformation going around about our parent's committal ceremony and reception. We have been limited to about 50 people to attend the committal ceremony at the Naval Academy and at this point we have that many people RSVP'd to attend. The reception to follow will be at the Annapolis Waterfront Hotel for a luncheon. That luncheon will have seating indoors or out for guests to choose where they are most comfortable. The bond created through our dad's class of 1963 at the Naval Academy were so important to our parents, thus the choice to be interred at the Columbarium at the Naval Academy. We would like as many classmates who would like to attend the Luncheon to please join us. Due to Covid Restrictions and to create the safest environment we need firm RSVP's (by Friday, August 21, 2020 at noon). This will allow the hotel to effectively plan for proper social distancing.

Our hopes are that the reception is a place where people will be able to gather, share stories, and remember our parents. We hope that many of you will be able to attend. Please feel free to reach out to me if you have any questions.

Warm Regards,

Tyler Bruner (daughter) (404) 805-1704
tylerr25@aol.com
Mark Reemelin ( son)"

Here is a repeat of the committal details:

Friday, August 28th at 10:30 am Service of Committal United States Naval Academy Columbarium Annapolis, Maryland
July 22, 2020--Tom and Fran Reemelin Memorial Services

We have planned the following events to honor our parents Tom Reemelin & Fran Reemelin. We hope you will be able to join us. ❤️ Friday, August 7th at 11:00 am Celebration of Life First United Methodists Church of Palmetto 330 11th Ave. W. Palmetto, FL 34221

Friday, August 28th at 10:30 am Service of Committal United States Naval Academy Columbarium Annapolis, Maryland Reception to follow

Current health safety meadsures will be followed and we ask that all guests wear masks. Please feel free to reach out to me for more details.
July 9, 2020--Craig Thrasher's Death. I received the following from Hugh Schall, Craig's crew mate.

It is with a heavy heart that I want to inform you that Craig Thrasher passed away today, while under hospice care at home with family . He was a boat mate, sometime a coach, a classmate, and great friend. If it wasn't for Craig, there wouldn't be a "Navy Masters Rowing Program". In addition, Mike Pero, Dick Omohundro, and Craig, but especially Craig, were responsible for establishing the Navy Crew Fund. The fund was established to provide equipment and other items for the Navy crew, that wasn't forth coming from the NAAA funds. The three of them were instrumental in raising a lot of money, but without the initiative of the '63 plebes, under Craig's leadership and hard work, it's not likely the fund would exist today. Only three of Navy's oarsmen in history, Craig, Dick Omohundro, and Jim Fontana ever received a full page pictures in "Sport's Illustrated (SI)". In 1961, SI ran an article on crew, and all three of them had full page pictures. I have attached a copy of Craig's picture. He will be missed.

A small service is planned for the family at the end of the month, and a Celebration of Craig's Life is planned for the future at a time TBD.