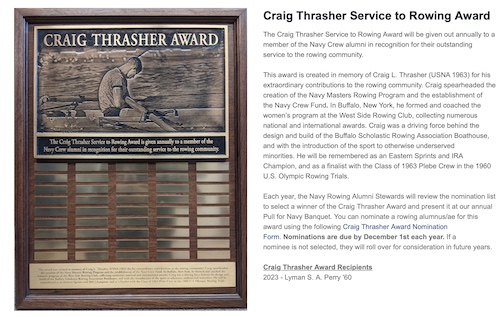 On February 26th, at the annual Navy Crew Banquet held at the Banquet Facility at the Navy-Marine Corps Memorial Stadium, the Academy will unveil a new perpetual award in honor of our deceased classmate Craig Thrasher. The plaque shown below with the image of Craig taken from a 1962 issue of Sports Illustrated will be permanently mounted in Hubbard Hall. Craig's wife Peggy and her immediate family will be hosted there by Navy Crew. I know that she would appreciate seeing some of Craig's classmates there. So it would be great if we had some "63 representation. Info on the Banquet and a link to buy tickets can be found by Clicking Here .
January 20, 2022--Upcoming Memorial Ceremony for USNA '63 alumni Erwin Templin

I'm reaching to you to share news of an upcoming ceremony honoring a fallen USNA Class of 1963 graduate which I believe might be of interest to your alumni group. The USS Hornet Sea Air Space Museum in Alameda, CA recently completed an extensive restoration of a Grumman US-2B Tracker aircraft in their collection. To commemorate the ship's service during the Vietnam War and honor the sacrifices made by Hornet crewmembers, the museum has fittingly restored their Tracker in the markings of a Grumman S-2D Tracker from Anti-Submarine Squadron 35 (VS-35) that went missing, presumably due to hostile fire, in the Gulf of Tonkin early in the morning of 22 January 1966 while flying a surface reconnaissance mission from USS Hornet (CVS-12). Among the lost crewmen was LT(jg) Erwin B. Templin Jr. from the Class of 1963.

The museum is planning to hold a memorial service and dedication ceremony for the restored aircraft to take place at 1300 on January 22, 2022, the 56th anniversary of the loss incident. I wanted to pass along this Facebook page listing the details of the event in hopes that classmates from Class of '63 in the Northern California area or beyond might wish to attend.

Click Here for the Facebook details. Best regards - and Go Navy, Beat Army!

Matt Robins
USNA Class of 2004
January 19, 2022--Steve Coester's Daughter

The daughter of our classmate Steve Coester has encountered a serious medical problem and does not have financial resources to support her treatment and recovery. Please read and consider the GoFundMe effort described at this link: https://gofund.me/316908b0. Even a small donation will help reach the fundraising goal. And if you can't make a donation, it would be great if you could share the fundraiser with others to help spread the word. Thank you!
January 18, 2022--Bob LaGassa Arlington Funeral

Bob was approved for an Arlington burial. It is set for Monday, June 13th at 11AM
January 11, 2022--Next DC Area Class Luncheon

The next luncheon has been pushed to February 10, 2022 as a precaution due to the current increase in COVID 19 cases.
December 30, 2021--Class of 1963 Death Statistics

With the passing of Bob LaGassa on December 29 The class of 1963 has now lost exactly one-third or 292 of our graduate classmates. Two-thirds remain. We are doing better than the national average for people born in 1941 where approximately half are still alive.
December 24, 2021--Robert Kottke's Wife's Obituary

Jan Thorpe Kottke (1945 - 2021) On October 26, 2021 Janet Thorpe Kottke passed away in her home on Maui surrounded by loved ones. Jan was born September 24, 1945 in Long Beach, CA. As the daughter of a Naval officer, she and her older brother Bill moved frequently throughout their childhood. Jan graduated from Punahou high school on Oahu in 1963 and from Stanford University in 1967. In 1969 she met and married Bob Kottke and the two have built a beautiful life and a loving family through 52 years of marriage.

Together Jan and Bob raised three sons and built the Manor schools in Southeast Virginia. Jan's purpose in life was to teach, and over nearly four decades her schools taught more than 5,000 young minds how to read with the books she wrote and published herself. Over time, her students grew up and sent their own children to her schools to ensure they also fell in love with learning. Part of her legacy is this enduring institution that nurtures children and prepares them for the world.

Jan loved her golden retrievers and spoiled them unabashedly. She was an absolute snob about beaches and forced her children and ten grandchildren to experience some of the most beautiful places on Earth. Her love of cooking brought her family together for too many fabulous meals to count.

Jan was a force of nature. She set an expectation for her sons to learn, to live, and to leave the world a better place. As she has. We cherish the beautiful memories we have of her and will miss her dearly.

Jan is survived by her loving husband Robert Arthur Kottke Jr; three children Karl William (Tina) Kottke, Peter Arthur (Maggie) Kottke, Ben Thorpe Kottke; and her ten grandchildren BaeJin Alexander Kottke, BaeYoung Robert Kottke, Jackson Reese Kottke, Calvin DePaulo Kottke, Violet Amanda Kottke, Pearl Wilson Kottke, Maximillian Hengelbrok Kottke, Skylar Marie Kottke, Makena Belle Kottke, and Grayson Kai Kottke. She is preceded in death by her parents, William Lupo Thorpe Jr. and Kathleen Glancy Thorpe and her brother William Lupo Thorpe III.

Jan's family will hold a small private ceremony. In lieu of flowers, the family asks that donations be made to a charitable organization of your choice or to the Children's Literacy Initiative (live-childrens-literacy-initiative.pantheonsite.io), a charity dedicated to early childhood reading. Furthermore, given the number of lives she touched, the family has made a memorial website available to collect stories, pictures, and reflections (www.kudoboard.com/boards/zyScbzvL).

Published by The Virginian-Pilot on Oct. 31, 2021.
December 21, 2021--Spencer's Christmas 2021 Irish Pennants

Dear Classmates, Family, and Friends of the Class of 1963,

The yule log is burning in the fireplace, the tree is up and the greenery hung. The air is cold, but the warmth of the Christmas season pervades everything, assisted by the glow following a great win over Army in the Meadowlands two weeks ago. Exams are over and the Brigade is now on leave at home with family and loved ones.

Christmas leave 1959. I remember how excited I was our Plebe year, after our win over Army, at the prospect of Christmas leave and going home for the first time since induction into the Brigade of Midshipmen and the Navy.. The Christmas tree in the Rotunda, the performance of the Messiah in the chapel, and Christmas dinner in the mess hall all served to deliver a warm anticipation of going home.

When I arrived in Charleston, South Carolina, I discovered that I was in great demand (really my uniform was in great demand) as an escort for the debutante season. "The Season" began a week before Christmas and ran until New Year's Day, with a break only for Christmas Eve and Christmas Day. I was to escort a different young lady each day of "the season". There were usually four events each day: the tea dance; the dinner; the ball; and the post- ball breakfast. The mothers of the debutantes spent a year planning the events and assuming responsibility for each of those events. Each mother bought three or so dresses for their daughter. During "The Season" they would congregate and trade dresses. This originated as a post Civil War economic measure that became a tradition, as well. I would call on Miss Suzie Q , whom I had never met before, as her escort for the evening only to discover when the door opened that the dress and I had been out together one or more times already. Only in Charleston!!

Christmas 2021. As we bask in the glow of family and friends, let us remember a horrifying pandemic year now drawing to a close with yet another wave of the pandemic upon us. Let us remember those who have left our ranks and now muster in a heavenly place They leave an empty place at the table and by the fire, but also leave great memories of their time with us as comrades- in- arms, husbands, fathers, and life long friends.

Let us also remember those at sea or in foreign climes who will not be home this Christmas. They stand the watch preserving freedom for us all.

From our house here in Annapolis, Andrea and I wish you and those in whose love you live a very happy holiday season and a joyous, healthy and prosperous New Year.

Stay safe. Stay well!

Quality '63

Spencer Johnson '63
December10, 2021--Spencer's Army-Navy Irish Pennants

Dear Classmates, Family, and Friends of the Class of 1963,

ARMY-NAVY. It is clear and crisp here in Annapolis. Tomorrow promises to be unseasonably warm for the 122nd meeting between Army and Navy to be played in the Meadowlands in New Jersey (opposite New York). Navy's record this year is 3-8 and Army's is 8-3. That said, Navy's schedule has been significantly more difficult than Army's, and including good showings against nationally ranked teams like Cincinati, Houston, and Notre Dame. Navy lost to Air Force and Army beat Air Force, which means that no matter who wins tomorrow, the Commander-in-Chief's trophy will remain at West Point at least until next year.

Two weeks ago, Army attempted to steal Bill the Goat. As luck would have it, they stole the wrong goat. They got a long retired 18 year old Bill who now has only one horn. That engendered a flurry of reminders about the solemn pact arrived at in 1992 after Navy stole several Army mules that this would not happen again. For Army, the lesson is that Intelligence, Surveillance and Reconnaisance (ISR) is everything to mission success.

No matter their respective records this season, tomorrow's game can be expected to go down to the last whistle. Game time is 1500 and can be seen on CBS stations. Go Navy!! Beat Army!!!

AROUND THE YARD. Last week our class Vice President, Jim Ring, attended the semi-annual Council of Class Presidents meeting here in Annapolis. Several take aways from the Superintendent's remarks to the group assembled include:

There is a Commission set up to review all the items on Federal property that are dedicated to Confederate soldiers and sailors and decide what to do with them . We have three; West Point has over one hundred. Buchanan House, the Superintendent's quarters, and Buchanan Road were established in the 1970s. The other is Maury Hall. The Commission has visited the Academy already and will present its findings in October 2022. The Pentagon has until early 2024 to implement the recommendations made.

The Columbarium will run out of space for new additions in about two years. This, combined with the flooding problems here, are soon to be addressed. In a recent flooding, the Superintendent found the niche containing his parent's remains was under water. This problem has a high priority for him. Additional space will be added to the Columbarium, or it may be moved to another drier location.

Critical Race Theory (CRT) is not taught at the Naval Academy and there are no plans for it to be taught. The Superintendent is against teaching it.

In 2001, the Service Academies changed from being places of attrition as we experienced them, to ones in which every student is built as a leader and expected to complete the course. This was in response to the intensive selection process for each student. Our 63 Center for Academic Excellence fit perfectly into this scenario.

In September 2020, about 100 Youngsters were accused of cheating on a physics online exam. These Youngsters had just returned to the Academy after it had shut down in the Spring due to the pandemic. All went before Midshipman Honor Boards. Four were found "not guilty." Of the rest, eight or nine were expelled, primarily because this was their second honor offense and/or they had bad conduct records. The rest have been counseled and given demerits, restrictions and other punishments. All received an F in leadership which will affect their class standings. All of these have signed their 2 for 7 commitment, which means they will stay at the Academy for their remaining two years until graduation and then spend at least five years in their commissioning services.The other choice open to them was to leave before starting the second-class year with no cost to them for their education to date. Each Service Academy has similar policies and counseling routines with regard to first-time honor offenses. Each case is reviewed separately and a decision arrived at as to the best course of action to be taken.

The new Terwilliger Center for Student Athletes is really a beautiful place and should be high on your list of places to visit the next time you are in Annapolis.

Thoughts and Prayers. I ask your thoughts and prayers for our classmate Bob LaGassa who is hospiced, suffering from a cancer induced by ionizing radiation to which Bob was exposed in his long service in nuclear submarines.

Captain Joseph B. Clancy, USMC. On Wednesday 15 December at 1400, we will lay to rest the remains of Joe Clancy in the Naval Academy Columbarium. Please join us if you can to give Joe a good send off.

Army-Navy Games Past The most memorable Army-Navy game I remember, aside our 42-7 win over Army our Plebe year, occurred in 1961. We were in Philadelphia in the old Franklin Field stadium. Army marched on first then we did only to stand in the cold waiting for the game to start. About ten minutes before the coin toss starting game activities, the "word" went around the crowd that the new president and his first lady were going to attend the game. About that time you could hear the sirens coming. The gates at one end of the field opened and two Philadelphia motorcycle policemen, with lights flashing and sirens blaring, drove through. They were followed by a long, black, stretch limousine with flags on the fenders and four secret service members trotting alongside, followed by two more Philadelphia motorcycle police with lights flashing and sirens blaring. They drove right onto the field and stopped on the fifty yard line. At that moment you could hear a pin drop in the packed stadium. Everyone was leaning forward expecting to see Jack and Jackie Kennedy step out of the limousine. When the door opened, out stepped Bill the Goat. AND - we won the game!

Stay well and keep safe.
BEAT ARMY!!!!!
Quality '63
Spencer Johnson 63
November 20, 2021--Spencer's Thanksgiving Irish Pennants

Dear Classmates, Family and Friends of the Class of 1963,

It is bridgecoat weather here in Annapolis. Today's high is in the 40's with clear skies and brisk winds. Winter is here.

Football Tomorrow is our last home game against East Carolina University. They are favored by six points so it ought to be a well fought game. Kick off is scheduled for 1530. Our tailgate tent is up. We are not catering this tailgate. Already the smells of simmering chili and baking cornbread are in the air in readiness for tomorrow's gathering. Our tent will be struck after this game and stored until next season.

We will gather in the back room of the West End Grill at the corner of West Street and Solomons Island Road to watch the Army-Navy Game on 11 December. We will gather at 1330 for lunch before the 1500 kick off. Army beat Air Force and will retain the Commander-in- Chief's trophy with a win over Navy. We can't let that happen. If you are in the area join us on game day. More about this later.

Milo P. Daughters. The Naval Academy Foundation recently received a gift of one million dollars from Ross and Michele Annable of North Carolina to establish a long term fund which will provide about 5% a year of the fund for the support of the 63 Center of Academic Excellence ( 63CAE) each year. The Annable's only connection to the Academy is through our late classmate Milo Daughters. Ross served on a submarine and reported to Milo for over a year. He thought very highly of Milo's leadership. The Annables are interested in making the world more equitable and believe providing access to education is the best way to do that. The 63CAE does that, and it seemed a fitting tribute to Milo Daughters whose leadership Ross so admired. The new fund is the Captain Milo P. Daughters '63 Fund for the 63Center for Academic Excellence. The Annables have requested that Milo's name be listed in the six striper position on our class striper plaque instead of theirs. I will see to that, and a letter expressing our thanks to the Annables for their great generosity.

Joseph B. Clancy, Captain, US Marine Corps. After several delays, schedulings and postponements, the ashes of our classmate Joseph B. Clancy will be laid to rest in the Naval Academy Columbarium at 1400 on Wednesday, 15 December. If you can make it, please attend to give Joe a good send off.

Thanksgiving. In 1980 I commanded USS Bigelow (DD 942). We were in our homeport of Mayport, Florida, for Thanksgiving. I received a phone call from the wife of a first class electrician who was very upset that her husband had the duty on Thanksgiving and would miss all the wonderful things she had planned for a Thanksgiving feast at home. Could I please excuse him from the duty on Thanksgiving day. I told her I couldn't do that, but invited her to join me and my family onboard the ship for Thanksgiving dinner. She came. As usual the ship's cooks outdid themselves in preparing a Thanksgiving dinner of turkey with all the trimmings, ham, roast beef and at least three differant choices of pie. Several days later I received a thank you note from the young wife full of praise for what she had experienced! She said that "the shipboard dinner was far better than what she could have done at home. Again many thanks for including her onboard! P.S. Could I also arrange for her husband to have the duty on Christmas Day?"

As you gather with family and friends this Thanksgiving, please take a moment to remember all those who are at sea or far from home and loved ones. They stand the watch that once we stood. We are grateful that they do for all of us. Their sacrifices should not go unremembered. or unthanked.

Beat East Carolina University !!!! Beat Army !!!!
Quality 63
Spencer Johnson '63
November 12, 2021--Reminder--Mike Cronin Funeral at Arlington

From Bob Forster:If you are not aware, Mike Cronin's Burial Service is on December 6th at 3pm at Arlington National Cemetery (photo identification required). Arrive 45 minutes early to Administrative building. Currently, masks are required inside in Washington DC. Also, mailed invitation states vaccinations required.

This note from Jackie was posted several months ago - You can still reach out to her:

From Jackie: Letting everyone know the burial for Mike Cronin will be on December 6, 2021 at 3:00 pm at Arlington National Cemetery. The services are open to the public. I have a block of rooms reserved in Rockville for any out of town guests. The reception will be at DAR headquarters on 17th Street in Washington DC after the service. There will be valet parking. I will need to know who will be coming for nourishment.....that is cocktails and a buffet of food. Please email the mcronin.wheelsup@gmail.com so I can get the invitations out. If you would like to contact me, please use the email mcronin.wheelsup@gmail.com.
October 19, 2021--Spencer's October 19 Irish Pennants

Dear Classmates, Family, and Friends of the Class of 1963,

The weather has turned crisp here in Annapolis. The day's high is in the 60s, dipping at night into the high 40s. The trees are slowly beginning to turn. Fall is here.

Football. This is homecoming weekend and Navy faces number two ranked Cincinnati. The University of Cincinnati is a 271/2-point favorite. They are unbeaten so far this season having won six games including a win over Notre Dame. Game time is noon and will be televised on CBS sports channels. We will have our tailgate as usual in stadium spot 12A. It will be catered. The food will be delivered at 1430 with our annual homecoming party held at the conclusion of the game until it gets dark. Price of the catered meal is $25.00. Please make checks to "The Class of 1963" and remember to throw in a few extra dollars to offset the costs of erecting and storing our tent. If you come before game time, please bring your own refreshments before going into the game around noon.

The Fifth Horseman and the New MAD: How Massive Attacks of Disruption Become the Looming Danger to a Divided Nation and the World at Large is the name of Harlan Ullman's latest book to be released on 14 December. Early rave reviews give the book very high praise for its content and its recommendations to better structure our response capabilities for future foreseen calamities.

One reviewer, ADM James Stavridis says:

"A must read that delivers both a dire warning and a range of remedial actions to face the looming existential danger of the new world MAD--Massive Attacks of Disruption. A pandemic, environmental disasters, cyber-attacks, economic shocks, and other major disruptions are no longer isolated events, but repetitive challenges. Dr. Harlan Ullman lays out both the problem and responses in crisp, understandable prose that will appeal to policy makers and citizens alike."

I have ordered my pre-publication copy through Amazon.com.

Homecoming Thoughts. While still a midshipman, I was introduced by a mutual friend to Mrs. Inez Kidd, the widow of Rear Admiral Isaac C. Kidd, who was a battleship division commander at Pearl Harbor and was killed on the bridge of his flagship, The USS Arizona, on 7 December 1941. He received the Congressional Medal of Honor for his actions that day. Mrs. Kidd and I became friends. In later years, if you returned to Annapolis, signed into the guest book in Alumni House and did not cross the street to see her at her town house residence, you might receive a post card reminding you to do so on all future visits. She and her grandson, Christopher, came to my wedding in the Chapel even years after graduation.

Mrs. Kidd remarked to me one day that she loved living in Annapolis. "Those midshipmen never look one day older and neither do I"

Although living in Annapolis these past twenty years, I have not been so lucky and the years are quickly catching up with me. But she was right in that we are not really getting older. We are still the midshipmen we were close to six decades ago. We haven't changed that much over the years. I am very grateful for that.

Whether you are in Annapolis for this homecoming weekend or at some distance, Welcome Home!

Beat Cincinnati, Beat Army !!!

Quality '63

Spencer Johnson '63
October 14, 2021--Next D.C Area Class Luncheon Nov.11 at 1130

October 8, 2021--Spencer's October 8 Irish Pennants

Dear Classmates, Family and Friends of the Class of 1963,

We are enjoying an Indian Summer here in Annapolis. The days are in the 70s and the evenings cool in the lower 60s. The parade season is well underway.

The fourth of six home football games will be played tomorrow against Southern Methodist University (SMU), a fifteen point favorite to win. Last week we saw a different Navy team that upset the University of Central Florida. 34-30. UCF was a 15 1/2 point favorite at game time. That gives great hope that tomorrow's game will go the same way.

A reminder that on Thursday morning the 14th at 1030 LCOL. Joel Gardner USMA (Ret) and his wife Beth will inurned at the USNA Columbarium. Full military honors will be rendered. A reception follows at the Naval Academy Club. Please make every effort to attend. Let their daughter Ellen, USNA '89, know if you plan to attend the reception. She can be reached at: ellen89navy@gmail.com. I look forward to seeing you there.

The Link in the Chain Our classmate Butch Whitworth, a Marine, passed away on 17 August 2021 at Corpus Christi, Texas. The recipient of his Mameluke Sword in the Link in the Chain sword donations to the members of the class of 2013, Capt. (Major select) Tony Paruso, USMC '13 decided to attend his September 10th internment and presented the colors to his next of kin. Seventeen members of the 17th company underwrote all her expenses and commissioned her as their official emissary to Butch's Final Formation. She accomplished her mission in an exemplary fashion, as reported by one member of the 17th company. Thereafter, she recounted the event in writing and included pictures and an MP4 show. The result was a groundswell proposal in the ranks of the 17th company to make her an honorary member of their goup. This is an outstanding example of the bonds we forged and share with the Class of 2013, our Link in the Chain Class. In many respects, they are our legacy.

That's all for this edition of Irish Pennants. Stay well!

Beat SMU! Beat Army!!

Quality '63.

Spencer Johnson '63
September 27, 2021--Spencer's September 27 Irish Pennants

Ahoy Classmates, Family and Friends of the Class of 1963!

Fall weather has descended on Annapolis. The days are sunny and clear with temperatures in the low seventies, and the evenings are appropriately cool. Perfect football weather.

With a better showing against Houston on Saturday, hopes are running high for a win over Central Florida University (CFU). Class Tailgating. We will only cater this year's homecoming game, 23 October. For all other home games, please bring your own provisions and perhaps some to share. The homecoming game starts at noon and runs to three PM. I will arrange to have the food delivered around 1430. The party will be after the game is over rather than before. We have four remaining home games before we fold our tent for the season. See you there.

Sixtieth Reunion. Please mark your calendars for 19-22 October 2023. That is our sixtieth reunion here in Annapolis. We will try to have as many events in our headquarters hotel to minimize travel for many of us that are more and more mobility challenged. We will attend the Navy-Air Force game that weekend. More in the coming months as plans develop.

Taps On 14 October at 1030 we will lay the remains of our former Class President, LtCol Joel Gardner, USMC (Ret), and his wife Beth to rest in the Naval Academy Columbarium. We would as large a class turnout as possible. A reception at the Officer's and Faculty Club follows the ceremony. If you can make this event, please RSVP to their daughter Ellen, Class of 1989, at ellengardner89navy@gmail.com.

Who Are Those Ladies? When we were midshipmen, there was a group of older ladies who seemed to attend everything in the yard. They attended chapel as a group with their hats, gloves and handbags. They attended all the musical club shows, and other events like the Messiah. I asked one day who they were and was told that they were all widows who's husbands were in the Class of 1907. When their husbands died, rather than live with their children, they decided to live together in a house a short walk from Gate Three. After all they spent their careers together in various naval stations and ports. They looked after each other. Where else could this have happened except at USNA?

Beat UCF!! Beat Army!!!! Quality '63

Spencer Johnson
September 17, 2021-Wreaths Across America


Dear Class Representatives and Friends of USNA

I humbly request you distribute the following information to your class members and chapters. Thank you for doing this in advance.

It's that time of year I start asking for sponsorship for the Wreaths Across America (WAA) at the USNA cemetery.

Nine years ago we started WAA at USNA at the request of a gold star Mom and Dad. We started out slow the first two years, but for the last 7 years, thanks to your generosity, we have been able to lay a remembrance wreath for each head stone and the entire columbarium during the wreath laying ceremony in December.

The wreaths are donated by each of you and I truly appreciate your kindness. Every year I hear stories from roommates who want to honor that bond formed so many years ago, grandchildren that can't be here but want to honor their grandparents, and gold star families who lost a loved one way too soon. They are so grateful that we can do this to honor and remember the special person they knew and loved.

The ceremony will be Friday December 10, 2021 TTD. ( probably about 0900) This is the day before the Army Navy game. At this point we are unsure of the complete details, due to Covid, and will wait until closer to the date to see what USNA will permit for attendance. We are hoping that things will be open and that we will be allowed to have as many as would like to attend to lay the wreaths.

Directions to donate are as follows: Go to:
-WreathsacrossAmerica.org/md0011
-Scroll down to "Sponsor Wreaths"
The site will then guide you to check out.
By going to this site for every two sold, the USNA cemetery will receive one wreath for free.

Please donate, we are looking for 2700 wreaths this year. The class of 1981 is once again sponsoring this effort and if you would like to check on the validity of this cause please feel free to contact the class of 81's president, James "Otto" Stutz, CDR (Ret.) at otto@1981.usna.com or via cell at 757-618-4487.

You can always contact me with any questions.
Thank you for your support.
Carol Turman
Coordinator Wreaths Across America USNA
2430 Kemper Rd
Crofton, MD 21114
H-410-451-4490
C-443-336-6541





September 12, 2021--Navy-UCF tickets

Ian Sargent has tickets, 50 yard line Upper Blue. Parking pass also possible. Sell at cost (season ticket holder). If you have any interest in tickets for any games further down the road. I may be able to find some. ianhsargent@gmail.com
August 30, 2021--Wyatt Whitworth Internment Service

A graveside memorial service will be held September 10, 2021 at 11 am at the Coastal Bend State Veterans Cemetery in Corpus Christi, Tx with full Honors.
August 27, 2021--Spencer's August 27 Irish Pennants

Dear Classmates, Family and Friends of the Class of 1963,

The Brigade is reformed, Classes started on Monday. All midshipmen are once again housed in Bancroft Hall. The new academic year is under weigh.

It was announced this week that the December 2020 Physics exam cheating scandal has been brought to a close, with one case yet to be adjudicated. Over 100 youngsters were suspected of using unauthorized web sites and other outside assistance to complete their exam submissions. Due to Covid 19 provisions, the exam was administered on line. Six midshipmen have been dismissed. Six more have resigned. Eighty-one have been assigned to five months of an honor concept remediation program, as well as appropriate disciplinary measures. The Superintendent intends a further review of the honor concept to better facilitate understanding and compliance with its tenets.

Please let me know, if you have not already, whether you intend to attend the first home football game against Marshall University on 4 September. I have to get a count to our caterer on Monday of next week. The food will be delivered at 1230. The game begins at !500. The price for the catered food is $25.00 per head. Please make checks out to 'The Class of 1963" and add an additional $10 or$15 to help defray costs of putting up and striking our tent. The COVID rules require the wearing of masks by all unvaccinated persons. Six feet distancing is in effect. Masks must be worn in all enclosed spaces in the stadium, including restroom facilities, so bring a mask. See you at the game. Beat Marshall!

Beating Army. In February 1971 I was in graduate school at the Fletcher School of Law and Diplomacy at Tufts University on the outskirts of Boston. My wife and I received an invitation to join the West Point Association of Graduates for West Point Night at the Boston Pops. The engraved RSVP card asked if there were any requests for the concert. I put down Richard Rogers symphony Victory at Sea. On the snowy evening of the concert, Arthur Fiedler opened the concert with Victory at Sea. I went home thinking that there was more than one way to Beat Army!

Beat Air Force and Beat Army!!!
August 23, 2021--D.C Area Class Luncheon

The luncheon is scheduled for 11:30am Wednesday, Sep 8th at the Army Navy Country Club. The cost will be $30.00 which includes tax, coffee and water. Drinks (wine, beer, sodas) are extra

Two Caveats: Wear a mask in entering the club and only 12 are allowed. That means we have to get a head count up front - first come first serve. Bob will publish an attendee list as we get close to 12 attendees. Priority will be the DTG on your email. "I think I can make it" and "Maybe" will not count.

Please RSVP to Bob. bforster5@verizon.net or Jim at jep.ring@gmail.com.
August 18, 2021--Mike Cronin Funeral at Arlington

From Jackie: Letting everyone know the burial for Mike Cronin will be on December 6, 2021 at 3:00 pm at Arlington National Cemetery. The services are open to the public. I have a block of rooms reserved in Rockville for any out of town guests. The reception will be at DAR headquarters on 17th Street in Washington DC after the service. There will be valet parking. I will need to know who will be coming for nourishment.....that is cocktails and a buffet of food. Please email the mcronin.wheelsup@gmail.com so I can get the invitations out. If you would like to contact me, please use the email mcronin.wheelsup@gmail.com.