Navy Great George Tracy to be Inducted into National Lacrosse Hall of Fame
<![if !supportEmptyParas]> <![endif]>
June 2, 2008
<![if !vml]>
<![endif]> <![if !vml]>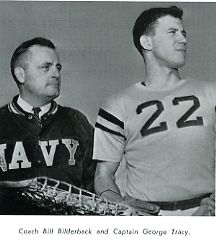 <![endif]>
<![if !supportEmptyParas]> <![endif]>
Navy attack men Sonny Glassner, Dud Hendrick, Bill Oatway,and George Tracy (Ted Wilandt missing)
<![if !supportEmptyParas]> <![endif]>
<![if !vml]>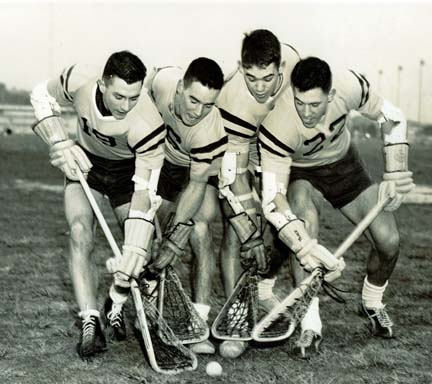 <![endif]>
<![if !supportEmptyParas]> <![endif]>
<![if !supportEmptyParas]> <![endif]>
ANNAPOLIS, Md. - George Tracy, one of just 33 three-time All-Americans in
Navy lacrosse history, has been selected for induction into the National
Lacrosse Hall of Fame. Tracy will join Roberta Brennan (Boston Women's
Lacrosse Association/U.S. National Team), Lynn Craun (James Madison '75),
Pat Dillon (Towson '72), Tom Marechek (Syracuse '92), Chris Sailer
(Harvard '81), Dom Starsia (Brown '74) and Dick Watts (Johns Hopkins '56)
for the induction ceremony on Nov. 8, as the 51st class will be honored at
the Grand Lodge in Hunt Valley, Md.
<![if !supportEmptyParas]> <![endif]>
"I am very grateful that I was able to participate in a Navy lacrosse era
so gifted with exceptional coaches and extraordinary athletes, each of
whom is a member of my personal hall of fame," said Tracy.
<![if !supportEmptyParas]> <![endif]>
A member of the Class of '63, Tracy is the 12th Navy player to be inducted
into the National Hall of Fame and the third in the last three years. He
is one of five Navy players in the National Hall of Fame who played for
legendary head coach Willis Bilderback, who himself was inducted into the
National Hall of Fame in 1973.
<![if !supportEmptyParas]> <![endif]>
Along with playing for Bilderback, came the distinction of playing for the
Naval Academy during the period earmarked the "Decade of Domination" which
saw the Midshipmen win eight consecutive USILA national titles between
1960-67. As one of the premier attackman in the country, Tracy guided the
Midshipmen to championship crowns in 1961, '62 and '63. During those
three years, Navy amassed a 27-4 (.871) record which featured three-year
sweeps over the likes of Johns Hopkins, Virginia, Maryland and Princeton.
<![if !supportEmptyParas]> <![endif]>
Affectionately known as "Trace," Tracy, along with the late Donald
MacLaughlin and Pete "The Shot" Taylor, collaborated as the trio "TMT" to
become one of the most potent scoring arsenals in the country in the early
'60s. Between 1961-63, the trio helped Navy averaged 13.2 goals per game
with the Mids being held to single digits just five times in 31 games.
Tracy produced 64 points over the span of three seasons, scoring 41 goals
including a season-high 18 during his junior campaign.
<![if !supportEmptyParas]> <![endif]>
Christened in 1959, Navy-Marine Corps Memorial Stadium first called itself
home to select Navy lacrosse games in 1961. Tracy and attackman Patrick
FitzPatrick scored two goals apiece to lead the Midshipmen to a 9-7
victory over rival Maryland in Navy's debut on April 29, 1961.
<![if !supportEmptyParas]> <![endif]>
Tracy was elected by his peers to serve as the Navy lacrosse captain in
1963 and later that year scored the winning margin (South - 3 goals) in
the North-South Senior All-Star Game. Additionally, he was the recipient
of the Stuart Oxnard Miller Memorial Lacrosse Cup, which was awarded to
team's most valuable player. He also pioneered televised (WBAL) box
lacrosse in Maryland as a member of The Collegians, the 1962 Maryland Box
Lacrosse Champions.
<![if !supportEmptyParas]> <![endif]>
Following his collegiate career, Tracy played 15 years on the club level
in five different states. He has been inducted into the USNA Athletic and
US Lacrosse Greater Baltimore Chapter halls of fame. Additionally, he was
awarded the Navy Commendation Medal, Vietnam Service Medal (three stars)
and National Defense Service Medal.
<![if !supportEmptyParas]> <![endif]>