Shipmate Column
April-May 2018
---
CLASS OF 1963
Pres: CAPT W. Spencer Johnson IV, USN (Ret.)
Sec'y: Michael H. Shelley
164 Sweetwater Lane, Pisgah Forest, NC 28768
h: 828-506-2201 e: nstar@citcom.net
Web site: http://www.usna63.org.


For any classmate you can go to the Classmates Page and enter his name to read his current biography if available.
---
---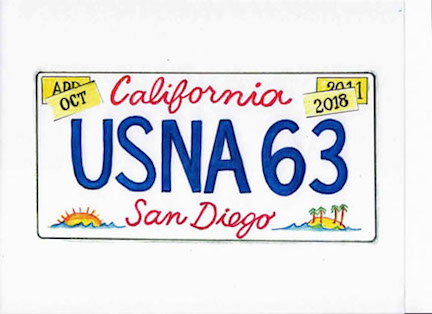 The 55th reunion of the Class of 1963 will be 25-27 October 2018. Be there!
---
&nbsp I am sorry to report the death of our classmate Abel Adolfo Garcia on 22 December in Livermore, CA. You can read his obituary in the Last Call section of our web site by clicking HERE .
---
&nbsp Hank Dalton checked in this month, with information about himself and his USNA alumni son and grandson.
&nbsp Fifty-some years on, here's my first contribution to Shipmate. After I retired from the Navy in 1991, I worked for eleven years in the nuclear cleanup part of the Department of Energy. When I was in DC interviewing for the job, I saw Mario Fiori at the monthly class luncheon. He was then working at DOE and very kindly gave me valuable advice. I spent five years at the DOE headquarters in Washington, DC, after which Penny and I moved to Louisville, CO, where I spent six years at the DOE's Rocky Flats site. There I oversaw the contractor in treatment, storage and removal of the fissile materials from the site and site safeguards and security. That was followed by some (very) limited consulting for a few years. I spent two terms (eight years) on the Louisville City Council. Penny was heard to say that if she had known she would end up the wife of a small-town politician, she might have re-thought marrying me.

Marc and Hank Dalton



&nbsp On the legacy side, our son Marc ('87) is Commander (since September 18) of the Reagan Carrier Strike Group/CTF 70 in Yokosuka. This photo was taken during our Christmas visit. (We used to be the same height.) His eldest, Chase ('14), a recent Nuclear Power School grad, is serving in Abraham Lincoln (CVN-72) in Norfolk.
&nbsp A special note: RADM Marc Dalton is the first child of the Class of 1963 to attain flag rank.
---
&nbsp Could you use a do-it-yourself adventure? Consider following the example of Jim Spruance, who sent this account.
&nbsp Last fall, I decided to embark on a spontaneous solo excellent adventure: specifically, an Amtrak rail expedition to visit some of the great "flyover" cities of the middle earth. I purchased an Amtrak USA 45 Day Pass with 18 segments. My only previous land "transcontinental" ventures were driving, in my non-AC Corvair Monza ("unsafe at any speed") to my first destroyer in Long Beach in the summer of '63, and a return from Hawaii (via Indio, CA) to the East Coast by train in the spring of '76.
&nbsp There were many lessons learned which I am happy to share, but suffice it to say the travelling flexibility that I anticipated was nil. It seems that there is only one passenger train daily through the hinterlands and that Amtrak Rail Pass, which requires a manual reservation, only books a limited number of those coach seats -- just like a great airline deal. To avoid backtracking, I used bus connections between some cities and didn't venture further west than Denver. Stops included: Washington, DC; Chicago; Omaha; Denver; Colorado Springs; Raton, NM; Kansas City, MO; St. Louis; Dallas; Ft Worth; Oklahoma City; Austin; Houston; New Orleans; Birmingham; and home to Virginia Beach. That was seven AIRBNBs, five hotels, two onboard overnights, and a few partial nights trying to hold on to a double seat in coach. In 32 days I never got rained on, but I packed too many warm clothes for November. The devil was in the details and the logistics.

Departing from Norfolk with a roller bag and a bedroll for overnights in coach class




Jim Metcalfe in the Quiet Coach



&nbsp I got off to a great start on the early/only train out of Norfolk on October 30. On board, I spotted a friendly face, our classmate Jim Metcalfe enroute to BWI airport. We chatted amiably before being severely chastised for being audible in the "quiet coach." I had a lovely dinner in Louisville, CO, with 13th Companymate Hank and Penny Dalton, stayed overnight, and had a grand tour of Colorado Springs with another 13th Companymate, Dave and Margie Frost. I used the Shipmate listing of alumni chapters to connect with helpful grads and joined two in a Kansas City pub for the Navy-SMU game. In Houston, it only took me five bus connections Saturday morning to attend that game.

Dave Frost at the Air Force Academy's noon meal formation



&nbsp I saved my final two Amtrak segments for a round trip to Philadelphia where Pam Pruden and I joined 13th Companymates Sam Garde and Bernie Kelley and Bernie's wife Jo for cocktails at their Rittenhouse condo and a great dinner out after a less than great Army game.
&nbsp If you haven't traveled Amtrak recently, this is not like the Orange Bowl Special we took to Miami on New Year's Day of 1960. It is an excellent adventure. I would be happy to share details with others looking for similar adventure. I can be reached at 757-646-1225.
---
&nbsp "Intent to Deceive," a new novel by Dave Oliver about a beautiful Russian double agent, an American submarine captain, and Kazakhstani nuclear warheads, was published in late February. It is available on Amazon in hard copy or e-book formats.



---
&nbsp Here's the latest trip report from Len Eaton:
&nbsp In December, Jana and I joined 12 other people in Santiago, Chile for a trip that included Chile, Uruguay, Argentina, and Brazil. Eric Benson '71 and I soon became friends sharing our Naval Academy experiences and swapping age-old sea stories from the USMC and USN while our wives rolled their eyes. Eric is a Blue and Gold Officer in North Carolina, and I learned a lot about present day candidates for the Naval Academy. The visit to the Iguazu Falls, which lies on the border of Argentina and Brazil, was a highlight of our trip. The 275 falls represent the largest waterfalls in the world.
&nbsp Thanks to Eric Benson for sending me this photo from their visit to the falls.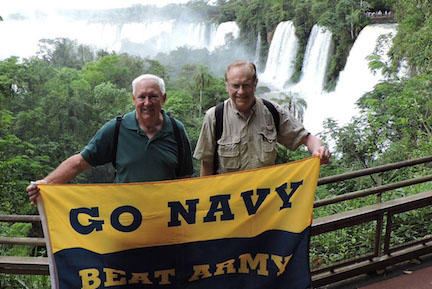 Eric Benson '71 and Len Eaton '63
---
&nbsp In January, I saw a photo of Jim Fisher at a live steam model railway event in Mississippi. Intrigued, I asked him to describe his participation in that pastime as operator of the "Seashore Railroad."
&nbsp The hobby is interesting, fun and, at times, frustrating. We make small scale steam locomotives run like the big ones. It is sometimes necessary to machine parts and pieces and always fun to make something that weighs ten pounds work like something that weighs a hundred tons or more!

Jim Fisher




The Sierra Nevada Mogul operates at 25-40 psi



&nbsp I have 12 engines currently in my Roundhouse. I built only one of them. The rest I purchased over the last ten years. They all have a creation story. The yellow engine is a Pearce Sierra Nevada built by Ian Pearce in the U. K. in 1996. If you look at my info page, www.fb.me/seashorerailroad, I am posting the stories of all of my engines over time. Most of the engines run at 30-35 psi with safeties set to pop at 40. I have an Aster Climax that needs 50-55 psi to pull properly. It has two safeties, one pops at 60 the other at 65.



&nbsp Our "Steam" classes at the Academy were always hard work for me. Now I am enjoying playing with "steam" machines that are really finicky and demanding. They are beautiful when everything is in sync and horribly frustrating when they aren't!
---
&nbsp In an earlier column I included news and a photo from a Colorado elk hunt hosted by Jim DeFrancia on his ranch near Steamboat Springs last October. Mike Krause later sent a better photo of the three happy '63ers who each bagged an elk, and I thought you'd enjoy seeing it.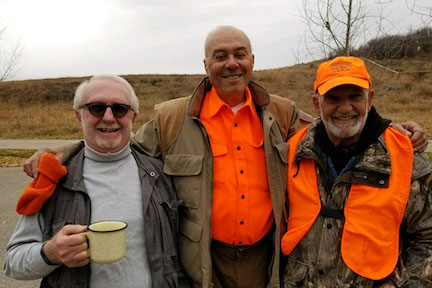 Jim DeFrancia, Mike Krause, and Mike Bonsignore
---

&nbsp We are all familiar with "The Wall," the Vietnam Veterans Memorial in Washington, DC. You may not know about The Virtual Wall, an online source of information about those whose lives were lost in that war. Doug Tozour asked me to mention it here, so that you will know about its value. The Virtual Wall enables searching for individuals by name, state, city/town, and date. Visit the site by clicking HERE .
---
&nbsp Alan McAnally has been in touch with his 21st Companymates about plans for their participation in our 55th reunion this October. As a result, he confirmed this information about John Asher.
&nbsp John reports that his 21-year Global Sales Advisory Services business ( www.asherstrategies.com) is still going strong. His team has trained over 80,000 salespeople in 22 developed countries. Clients include LMCO, GD, Gulfstream, Goldman Sachs, Alibaba, and China Mobile. His latest book ("Close Deals Faster") was published in October; the Amazon inventory reserve was sold out on the first day!
&nbsp John was recently married to Debb Borchardt, wife of the late Andy Borchardt, USNA74. Andy was a JO when John was the skipper of the Pollack. Debb and John's late wife Carole were great friends. So, John and Debb had known each other over 40 years when they got married. John is based in the Logan Circle area of DC and invites all classmates to lunch at the downtown Army-Navy Club when you are in town. (jasher@asherstrategies.com/703-625-4321)
&nbsp I sold my own sales consulting businesses in 2016 and am very familiar with John's significant impact in the sales world.
---
&nbsp The 23rd Company held its annual fishing adventure at the Grosse Savanne Lodge in the Louisiana bayous in October. Zimm Zimmerman sent this photo of the hardy fishermen. In the front row are Mike Krause, Steve Hoy, Harry Hirsch, and Mike Rubel. In the back row are Mike Bonsignore, Bill Bradford, Bob Maier, Keith Reynolds, Steve Leisge, Flack Logan, and Zimm Zimmerman.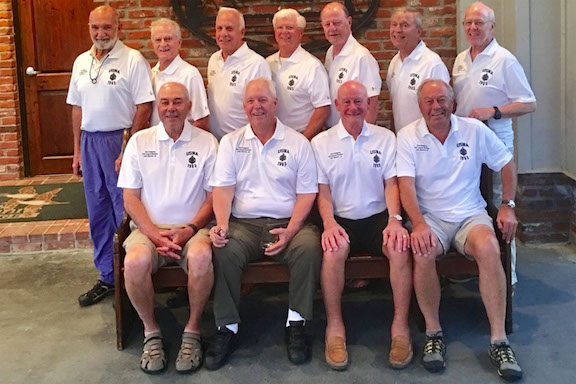 23rd Company fishermen in Louisiana
---
&nbsp Jim Oakes sent this note mentioning two major leaders from World War II.
&nbsp I recently went to the Golden Gate National Cemetery in San Bruno, CA, to pay my respects to a fallen relative. Also buried there are two famous WW II fallen warriors who were USNA grads, namely Admirals Nimitz ('05) and Spruance ('06). (There are many other USNA grads buried there, I'm sure). Their wives are both buried next to them. We all know about Nimitz, but remember that Spruance was the U.S. commander for the Battles of Midway and the Philippine Sea, two key battles in the war. I submitted an article to Shipmate many years ago about meeting Admiral Nimitz at his home on Treasure Island in San Francisco Bay as a new Ensign in 1963 while serving aboard the USS Midway (CVA-41).

Nimitz photo inscribed to Jim Oakes












---
&nbsp As you read above, Hank Dalton made his first-ever submission to our column. I invite you to make you own first contribution to this news exchange. Follow Hank's excellent example!



---