Shipmate Column
April 2006
---
CLASS OF 1963
Pres: CAPT W. Spencer Johnson IV, USN (Ret.)
Sec'y: Michael H. Shelley
25 Sweetwater Lane, Pisgah Forest, NC 28768
h: 828-862-4245 e: nstar@citcom.net
Web site: http://www.usna63.org.


For any classmate you can go to the Classmates Page and enter his name to read his current biography if available.
---
&nbsp I'm very sorry to begin this month's report by telling you of the loss of three more members of the Class of 1963 family. Bill Beck died due to a heart attack on 5 February in Largo, FL. Memorial donations may be made to the Brooklyn Prep Scholarship Fund, c/o Fr. Jack Alexander, S.J., Loyola Hall, Fordham U., Bronx, N.Y. 10458. Fred Meyett passed away in Norfolk on 7 February from complications relating to liver disease. Donations in his memory may be made to Haygood United Methodist Church, 4713 Haygood Road, Virginia Beach, VA 23455. I also learned that Jim Lamb's wife, Ellen, passed away in mid-January. We extend our sympathy to these families and will keep them in our thoughts and prayers.
---
&nbsp Merrill Dorman has supplied a wedding photo showing his daughter Alice and 20 - count 'em! - 20 Naval Academy alumni.
&nbsp Although Jim Metcalfe sent input on my all Navy family published in Shipmate last year, I have been long overdue to check in myself. My #2 son-in-law, LT Kevin Barnard '01 - and, I am proud to say, a submariner -- has sent a note to his Class Secretary proclaiming his good fortune marrying my younger daughter Alice and proudly announcing his new son Jeb, born 28 August 2005. He also sent a picture of Jeb, his father, and his grandfather (me), which I expect will be printed with the '01 class report. This has inspired me to forward a picture of the 20 USNA grads who attended Alice and Kevin's wedding almost three years ago.

USNA alumni at the Dorman-Barnard wedding


From left to right standing in the back row: Andy Little '01, Don Nash '69, Bill Carmichael '63, John Whelan '60, Lawrence Brandon '01, Frank Murphy '76, Dave Cote '01, Steve Zavadil '70, Dwayne Sand '90, and Dave Ratte '84; bending over in the middle row from left to right: Kevin Brown '01, Jack Kasiski '79, Kevin Barnard '01 (the lucky groom), Phil Keith '01, Larry Johnson '71, and Tim Trampenau '90 (#1 son-in-law), and kneeling in the front row left to right; Steve Long '01, Patrick Salmon '01, Merrill Dorman '63 (proud Dad), Alice, and Andy Mild '01. A very distinguished looking group if I do say so. My son LCDR Ben Dorman VMI '91 (also a submariner) was busy looking after the ladies.
---
&nbsp A tip of the hat to Charlie Johnson '66 for submitting this photo from a December event in the Big Apple.
&nbsp This picture was taken at an annual Service Academies Christmas Party at the New York City Tennis and Racquet Club. Navy, West Point, Air Force, Citadel, and VMI participated. It's always a very swell affair. In the picture, left to right, are Rob Black (Blackie, USMC) our current NAANY president; Robbie Newton (your class' Brigade Boxing Champ twice); Bill Palafox; Mike Kraus, now one of your class trustees; and Erwin (Fred) Storz. Fred was part of your class' great football team who gave my class the still well appreciated Christmas carry-on!

Christmas party in New York City



---
&nbsp Tom O'Brien and Jim Ring told me about their lunch with Denny Vaughan in Washington in January. They enjoyed their visit to the Old Ebbitt Grill, where Jim bought Denny's lunch to make good on a wager they had on the Redskins-Seahawks playoff game. Tom supplied this snapshot.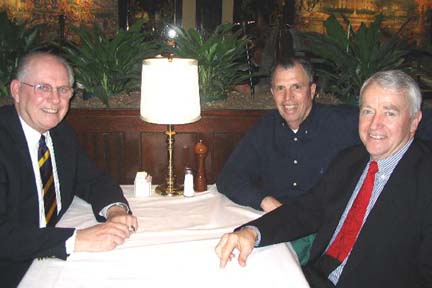 O'Brien, Ring, and Vaughan
---
&nbsp Dave Riley and some of his companymates were at the latest Navy-Notre Dame game. Here's his report:
&nbsp For the past eight years, when Navy plays Notre Dame in South Bend, members of the 17th Company gather there to cheer the Blue and Gold. Present in 2005 were Ralph Kimberlin, Mike Obsitnik, Rags Ragano, Mike McDermott, Bruce Webb, and me. Ralph arranged for gratis tickets from a Notre Dame alumnus. Mike Obsitnik couldn't stay for the game since he had a scheduled business meeting in Germany, but he did drive down from Michigan to join us Friday for dinner. At our first gathering in 1999 our group got so boisterous at dinner following the game that the restaurant asked us to tone it down or leave.

Kimberlin, Riley, Obsitnik, Ragano, McDermott, and Webb


Most of our classmates probably know the history dating back to World War II of Navy meeting Notre Dame on the gridiron each year. Notre Dame's appreciation and respect for Navy continue after all these years. We were welcomed everywhere, and the Fighting Irish team honored our team at game's end. Even though Navy has historically come up short against Notre Dame, our team always plays hard and the camaraderie extended by Notre Dame makes these games a very enjoyable experience.
---
&nbsp Although Phillip Marsden lives in warm, sunny Coronado, CA, he took full advantage of this year's ski season in the Rockies.
&nbsp During a skiing trip this January, I and two skiing buddies from Coronado, Guy Zeller and Jim Kauffman, were fortunate to be invited to dinner at Cynthia and Jim DeFrancia's beautiful home in Aspen, CO. We joined members of the Class of '63 Foundation Board who were having their annual meeting there. Besides the three of us and the host and hostess, attendees on that night included Judi and Dave Puckett, Sandy and Ken Metviner, Laurie and Sonny Glassner, Charlsie and Doug Davidson, Jane and Stu Settle, Valerie and Tim Cook, Bruce Webb, Mike Krause, Steve Duncan, and Harry Salmon. As the photos attest, we all had a wonderful time and enjoyed the excellent food and camaraderie.

Jim and Cynthia DeFrancia




Foundation Trustees in Aspen




Jim DeFrancia, Ken Metviner, Steve Duncan, Jane and Stuart Settle, Sonny Glassner




Sandy Metviner, Jim Kauffman, Charlsie Davidson, Phillip Marsden, Cynthia DeFrancia




Valerie and Tim Cook, Steve Duncan, Jane Settle




Ken Metviner and Phillip Marsden




Guy Zeller, Doug Davidson, Jim Kauffman


In February, I was fortunate to join five classmates for a ski week in Colorado. This is the fifth year that this group -- Gary Thomas, Bob Tieslau, Dave Moore, Sandy Stoddard, and Ed Hutcheson -- has gathered for a week of skiing. Using a rented house in Dillon as our central base, we sampled the snow at Keystone, Breckenridge, Vail, and Beaver Creek. We were blessed with great snow at all the resorts including one day with 8-10" of powder. After skiing we were treated to the culinary skills of this group as every night one would take the lead in preparing a delicious dinner for all, enhanced by Bob Teislau's wine from his private vineyards. Here is a photo of the six of us. Left to right are Hutcheson, Stoddard, Marsden, Tieslau, Moore, and Thomas. Another highlight of the week was testing Dave "Navy Davey" Moore's amazing memory about details from our tenure on the banks of the Severn. We all agreed that this was one of the best weeks of skiing any of us has ever had.

Apres Ski in Colorado




Tieslau, Stoddard, Marsden, and Moore




Gary Thomas, Ed Hutcheson, Sandy Stoddard



&nbsp Several of Phillip's photos are only available in this web version of Shipmate
---
&nbsp Not to be outdone by Phillip's skiing exploits here's a few photos from Steve Coester's February 5 ski trip to Keystone, CO. Steve and Yvonne joined sixteen others of the Coester Clan for a week of skiing and reunion.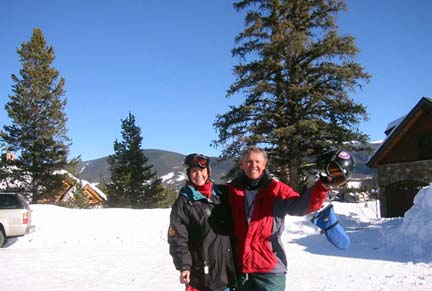 Yvonne and Steve Coester at Keystone Ranch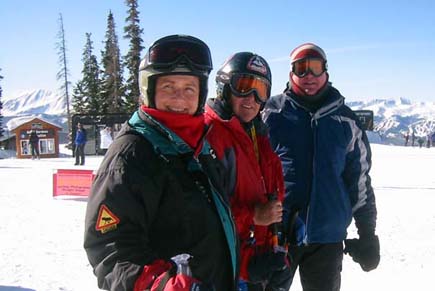 Yvonne, Steve and son Dean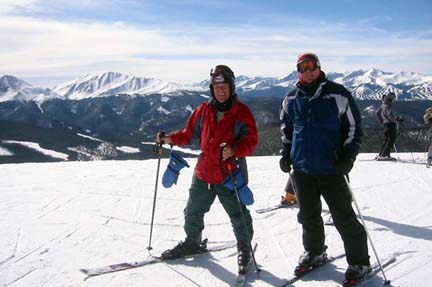 Steve and Dean on Keystone (with Breckenridge in background)
---
&nbsp A brief note from Virginia Beach resident Jim Metcalfe brought an interesting photo:
&nbsp In this picture are Assistant U.S. Attorney George Metcalf (note no "e"), AUSA Jim Metcalfe (spelled with a distinguished "e"), and U.S. Attorney General Alberto Gonzalez. George has been an AUSA in the Eastern District of Virginia longer than anyone else now serving. Yours truly is No.2.

Justice Department leadership



---
&nbsp That's all for now, folks. Remember that this monthly report is a News Exchange. You just took some out; now it's your turn to put something in. Let me hear from you soon!



---