Shipmate Column
April-May 2020
---
CLASS OF 1963
Pres: CAPT W. Spencer Johnson IV, USN (Ret.)
Sec'y: Michael H. Shelley
27 Cambridge DR, Brevard, NC 28712
h: 828-506-2201 e: nstar@citcom.net
Web site: http://www.usna63.org.


For any classmate you can go to the Classmates Page and enter his name to read his current biography if available.
---
---
---
&nbsp We have a full basket of news about our class and classmates this month. Sadly, we begin with news of three recent deaths.

Roger E. Tetrault died on 27 January. His widow, Linda, can be contacted at 5950 Riverside Drive, Punta Gorda, FL 33982. In 2013, Roger was honored as a Distinguished Graduate of the Naval Academy in recognition of his lifetime commitment to service, personal character, and distinguished contributions to our nation.

Ken Metviner sent this report:
&nbsp Several of our classmates attended Roger's memorial service at his Peace River Botanical and Sculpture Garden in Punta Gorda, FL. Our group included David Puckett, George Tracy, Steve Longo, Pete Savage, Joe Fossella, and me. One interesting fact about Roger is that his subordinates at several of his jobs were former three-star generals and admirals who spoke at the service, heaping lots of praise on our distinguished classmate. Roger's widow, Linda, said the event was a celebration of a life worth celebrating.

Puckett, Savage, Fossella, Metviner, Tracy




Metviner, Longo, Savage, Puckett



---
&nbsp Jack E. Saux passed away on 28 January. His widow, Yvonne, can be contacted at 424 Rosa Avenue, Metarie, LA 70005.
---
&nbsp Norman J. Shackelton, Jr. died on 16 February. His widow, Judy, can be contacted at 5633 Travis Pointe Court, Westerville, OH 43082-7201
To inform your memories of these three men, please take a few minutes to review their full obituaries in the Last Call section of our web site by clicking HERE .
---
&nbsp Here is an announcement from our 55th Reunion committee about a permanent tribute to the USNA Class of 1963.



&nbsp We are pleased to announce that our Class of 1963 plaque has been permanently mounted at The Mt. Soledad National Veterans Memorial in La Jolla, CA. We began to design this attractive black granite plaque three years ago in preparation for our 55th Class Reunion in San Diego in the fall of 2018. This initiative by the 55th reunion committee, with strong support from our Class officers, resulted in a fitting tribute to the aspirations and accomplishments of our classmates. In addition, at the 55th class reunion the director of the Class of 1963 Center for Academic Excellence (CAE), Dr. Bruce Bukowski, formally accepted a copy of this plaque to be mounted in the Class of 1963 CAE in Annapolis.


The original plaque at Mt.Soledad is mounted on a wall in a location that overlooks the Pacific Ocean and Marine Corps Air Station Miramar. We urge all of you, both San Diego residents and visitors, to take the time to visit Mt. Soledad and view the plaque. It is a beautiful location and is considered one of the most unique memorials in America as it is the only memorial that honors veterans, living or deceased, from the Revolutionary War to the current war on terrorism.
---

&nbsp The Class of 1963 Center for Academic Excellence (CAE) at the Naval Academy continues to provide invaluable services to the Brigade of Midshipman. These have been recognized in a recent report of CAE activities and student participation.

Donors to the CAE received this communication from the Naval Academy Foundation in February:
&nbsp Thank you for your generous support of the Naval Academy's The Class of 1963 Center for Academic Excellence, endowed by J. Ronald Terwilliger '63 and Classmates. In 2018-2019, your funding paved the way for a record-breaking year, including the highest rate of student attendance in its history. The CAE's student-centered approach to education encourages midshipmen to meet USNA's high academic standards, provides the resources to help them do so and empowers graduation and retention rates ranking the Academy among the top colleges in the nation. We created a review of the past academic year as a demonstration of our thanks and to remind our loyal donors that you help the Academy meet the academic needs of all midshipmen. Please enjoy reading about the truly remarkable work accomplished by the CAE. (Click HERE to see the review)
---
&nbsp Our Classmate Jim DeFrancia received the following note from John Rudder, the Foundation's Vice President of Development:
&nbsp Congratulations to you and your '63 classmates around the extraordinary efforts to support the CAE. The Academic Dean, Andy Phillips, regularly tells audiences once the CAE was stood up, it shifted us from an "attrition" model at USNA to a "development" model, providing the resources needed to get students through USNA who really wanted to be here. He calls it "the most important gift USNA has ever received."



---
&nbsp Class of '63 authors continue to produce successful books for diverse audiences. Here's some information about two recent publications.
&nbsp Steve Duncan's newest book, "FIRST DUTY: Presidents, the Nation's Security and Political Self-Interest" was recently published. Using the WW II leadership of Winston Churchill as the standard, he has examined the political will of each of our modern Presidents in balancing national security interests and political expediency in dealing with the wars and other security crises of their day.



&nbsp Steve's book is available in several formats. To order the hard cover, click HERE . For the paperback and kindle versions, click HERE .
---
I've recently seen a delightful children's book, The Adventures of Charlie Chipmunk, written by our classmate Mike Rubel. It comprises 160 pages and is beautifully illustrated with 110 original images. Both hardcover and softcover versions are available. I recommend you check it out on amazon.com or, for discount pricing, click HERE to visit Mike's fine web site. [[www.booksbyrubel.com]] For a 20 percent discount use code mike63 on his web site.
---
&nbsp Pete Carrothers was among four alumni of Arkansas State University's ROTC program who were inducted into its prestigious Hall of Heroes on 16 November 2019. The Hall of Heroes provides an opportunity for Arkansas State University to pay tribute to ROTC alumni who have distinguished themselves through heroic service, government service, and outstanding representation of the university. Before entering the Naval Academy, Pete attended Arkansas State for two years and was a member of the ROTC, recognized as the outstanding sophomore cadet. Following USNA graduation and commissioning, he served as a Naval Flight Officer, completing 66 reconnaissance missions over North Vietnam. His decorations include the Distinguished Flying Cross and three Air Medals with Combat "V." Leaving the Navy in 1969, he worked for Proctor and Gamble for five years, followed by 21 years with Frito-Lay as Vice President of Product Supply and later as Vice President of Logistics. He spent seven years as the managing director of Imperial Sugar Company in Sugar Land, TX, before retiring in 2001.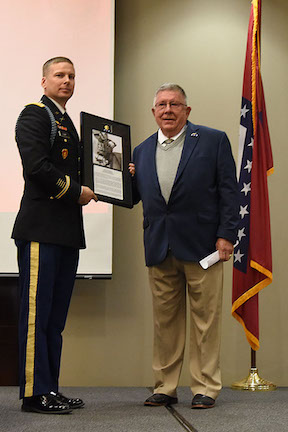 Pete Carrothers is recognized
---
&nbsp Ken Carlsen sent this update from his home in Colorado.
&nbsp I concluded 30 years of active duty in October 1993 while serving as Director of Operations U.S. Space Command here in Colorado Springs where I continue to live. Upon retiring from active duty I immediately went to work for MCI. Subsequent employment was with OAO, a small private company and Lockheed Martin. I retired from Lockheed in 2011. In January 2017 my wife of 50 years, Carole, was diagnosed with ALS, Lou Gehrig's Disease. She passed away a year later on January 18, 2018 and was laid to rest In Arlington National Cemetery on September 6, 2018. This photo is of me celebrating my 80th birthday on New Year's Eve with my three granddaughters. I share a birthday with my youngest granddaughter, Cara, who turned 2 on New Year's Eve.

Ken Carlsen and his granddaughters



---
&nbsp Following renewed contact and an exchange of emails about current world affairs, Mike Schery sent me this photo of himself and his wife, Maureen. They moved to The Villages, FL, a few years ago. I remember the occasional confusion we encountered with mail and other communications when Mike Schery and Mike Shelley were neighbors in the First Battalion in Bancroft Hall.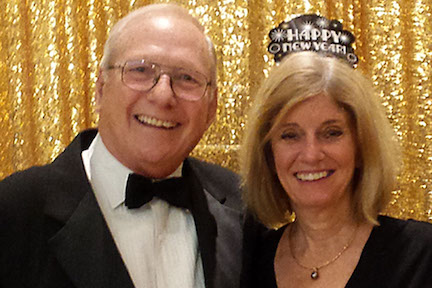 Mike and Maureen Schery
---
&nbsp Daryl Rabert sent this news of a very significant new athletic facility at the Academy.
&nbsp The weekend of November 22-23, Ron Terwilliger invited Forest Siburt, Mickey Mays, and me along with Ron's family to the opening of the Terwilliger Center for Student Athletes at the Naval Academy. The Center was not yet completed, but the tour by the contractor reps gave us great look at the work-in-process and videos of the finished product. The facility will provide an outstanding, state-of-the-art center for student athletes. We can all thank Ron for his many contributions to USNA.

Siburt, Rabert, Mays, and Terwilliger


To top off the weekend, I got to have dinner with Jim Lloyd, during which we talked about our Marine Corps days and watched Navy beat SMU. It was great to see Ron, Forest, Mickey, and Jim. We need to have more reunions/get togethers!
&nbsp A preview of the Center for Student Athletes was provided in this late 2019 press release:
&nbsp With the large 20 million dollar project underway, fly-through renderings of the Ron Terwilliger Center for Student-Athletes have been released to the public, courtesy of USNA and Dimensional Innovations. The new facility will become an impressive display of storytelling and technology, educating prospective students on the history, legacy and opportunities of the Naval Academy. "As simplistic as it sounds, this all started with the vision that one of the most beautiful opportunities to create a facility was above the weight room. That space was calling for something of significance," Chet Gladchuk, athletic director, said. "Over time, the concept was born about sharing the story regarding the importance of the physical mission of the Naval Academy." The combination of multimedia, artifacts and information coupled with state-of-the-art athletic facility equipment will set the standard for future universities and colleges across the United States.
&nbsp To view the video, click HERE .
---
&nbsp This social note came from Jim Oakes:
&nbsp On 12 February, Mike Rubel drove over to La Quinta, Ca. from Newport Coast to spend a night with me at my monthly condo rental at PGA West. We hooked up with Lew Blackwell, who lives close by, for dinner. After sumptuous canapes and plentiful wines we adjourned to Enzo's restaurant. After dinner we went to the Arnold Palmer Restaurant for a nightcap. We continued our story telling and a young man sitting with his father behind us overheard USNA mentioned repeatedly and asked if we were grads. It turned out that he was a 2017 grad named Travis Blue and his dad, Doug, was with him. Travis was a shortstop on the Navy baseball team and was all Patriot League at that position his 1st class year . He is currently a Navy helicopter pilot stationed at NAS North Island in San Diego. Needless to say we had a lot more conversation about current Academy and Navy life. I concluded that '63 was the last class to have a real Plebe Year. Small world!

Rubel, Blackwell, and Oakes



---
&nbsp Several months ago you learned here about the dedication of a new building at National Security Agency headquarters at Fort Meade, MD, honoring Jim Lasswell's late father, Col. Alva Lasswell, USMC. Additional recognition was afforded in November when Alva Lasswell was one of four persons inducted into NSA's Cryptologic Hall of Honor. Here is part of the press release about the ceremony:
&nbsp Brothers James and John Lasswell attended on behalf of their late father, Col. Alva Bryan Lasswell, who "coupled cryptanalytic and language skills with analytical insights" to help turn the Pacific war in favor of the United States during WWII. "As a Marine, he was torn. He really wanted to be on one of those islands in the Pacific, yet his skills that he had trained for over years were all about the Japanese language, the Japanese intellect and what they were thinking, so he was obviously the best [person] for what he did," James Lasswell said. "Later, when he left the intelligence world, he was unable to talk about what he had done. Going back to the Marines who had been on the islands, [they asked him] 'where were you?' I felt for him in that ceremony." Added John Lasswell: "It's a great relief that he gets the recognition that he deserves."
&nbsp Pictured below are Gen. Paul M. Nakasone, Commander, U.S. Cyber Command and Director, National Security Agency, with the Lasswell brothers Jim '63 and John '67.



---
&nbsp Thanks to everyone who contributed news this month. Now it's YOUR turn. We hope to hear from you soon.



---