Shipmate Column
December 2004
---
CLASS OF 1963
Pres: Stephen M. Duncan
Sec'y: Michael H. Shelley
25 Sweetwater Lane, Pisgah Forest, NC 28768
h: 828-862-4245 e: nstar@citcom.net
Web site: http://www.usna63.org.
Remember that you can click on any underlined Classmate's name to view his Current Biography.
---

&nbsp Let's get right to it -- Roger Mehle sends this news of 24th Company folks:
&nbsp Washington, DC, area 24th Company classmates dined together again on 18 September, this time at the Shamrock Restaurant near Gettysburg, PA. Attendees were: the Gardners, Gowenses, Keffers, Mehles, Morgans, Nick Nerangis, John Nielsen, the Thompsons, and the Wards. The dinner is becoming a sort of regular thing -- every four to six months, with a different person coordinating it each time. This one was coordinated by John Gowens .

The dinner featured an unexpected guest -- a member of the famed Washington Redskins Hogettes -- "Nickette," our very own Nick Nerangis , in full Hogette regalia! Nick had quietly excused himself soon after we were all seated, and "Nickette" appeared about 15 minutes later. I'll bet a lot of our football-loving classmates know about the Hogettes, but I'll also bet that very few know that one of classmates is one!

We told John Nielsen that "Nickette" was the drag we had arranged for him -- talk about a "brick"! -- but "Nickette" was the toast of the Shamrock Restaurant. He/she gave autographs to the delighted restaurant patrons and sold $500 of raffle tickets for the charity auction of a pick-up truck specially "designed" by Joe Gibbs! (The Hogettes have been very successful in fund-raising for children's charities over the years.) "Nickette" told us that he is pictured, with some of his porcine colleagues, in the August issue of Playboy; a good excuse to buy it, huh? Finally, a classmate we can be proud of!

I brought my Reef Points to dinner to see how people's memories had fared for the required Plebe facts and doggerel. Some were able to struggle through the first part of "How's the cow?" and "Why didn't you say 'Sir'?" Mostly, however, there were blank stares all around. No Plebe Year -- or Alzheimer's? You be the judge.

Several pictures of the dinner are posted on Tren Ward 's Web site at http://www.whalencompany.com/downloads/24th_at_Shamrock/

&nbsp I encourage you to visit Tren's web site to see all of the photos, a few of which also appear with this column on the Class of 1963 site below.To whet your appetite, here is a picture of Nickette supplied by Roger.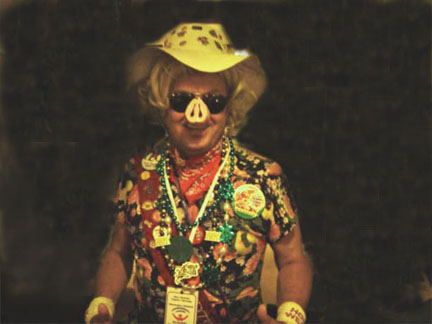 Redskins Hogette Nick Nerangis
---

&nbsp Frank Hilton recently sent me a forwarded note containing an important health item from one of our classmates. Here's the text, FYI:
&nbsp I recently learned that my prostate cancer makes me eligible for some VA benefits. The Congress has deemed that any service man or woman who develops prostate cancer and served in Vietnam is considered to have developed the cancer because of exposure to Agent Orange. I remember the yellow clouds but not the exposure. Anyway, I don't know how widely this is known, but pass it on to other veterans if you wish.
---

&nbsp Jim Metcalfe alerted me to the Naval Institute's publication of our classmate Harlan Ullman 's latest book, "Finishing Business: Ten Steps to Defeat Global Terror." He noted that Harlan had showcased some elements of the book when he spoke to the USNI Forum 2004 in Crystal City, VA, on 7 September.



The book's description on the Naval Institute web site says, "Ullman warns that the United States is fighting a war it does not understand and waging it in the wrong places against the wrong people with flawed objectives. He advises that our country will not be safe until we understand that terror is only a tactic. The real threat comes from its underlying causes and political motivations." The book, with a foreword by Newt Gingrich and an afterword by Wesley Clark, is endorsed by Zbigniew Brzezinski, Brent Scowcroft, John Lehman, and others.

Harlan is a senior fellow at the Center for Naval Analyses and a senior advisor at the Center for Strategic and International Studies in Washington. Widely published, he is a columnist for the Washington Times and regular contributor for Fox News, the BBC, and Japan's NHK.
---

&nbsp Thanks to David Robinson for sending me a copy of a Navy News Service press release about the reassignment of "The Class of 1963 ship" USS FITZGERALD (DDG-62). I've copied most of it below, and done some minor edits of my own. (Having had a good Plebe Year, and being a traditionalist, I remain convinced that a ship should be reffered to as "she," not "it.")
&nbsp YOKOSUKA, Japan (NNS) -- USS FITZGERALD (DDG 62) arrived at her new forward-deployed port in Yokosuka, Japan, on 30 September. Rear Adm. James Kelly, USS KITTY HAWK (CV 63) Carrier Strike Group commander welcomed FITZGERALD to the Forward-Deployed Naval Forces (FDNF).

"It is simply fantastic to welcome FITZGERALD to the FDNF team," Kelly said. "Being part of that team means being at the forefront of our nation's defense. It also means working in a challenging area of responsibility and enjoying a terrific quality of life that is unsurpassed in the Navy. I'm positive that every single member of the FITZGERALD crew will be as proud as I am that they are part of the FDNF team."

Before arriving in Yokosuka, FITZGERALD participated in a personnel exchange dubbed "Super Swap." In the DD-DDG cross-desk, FITZGERALD transferred 140 sailors from USS O'BRIEN (DD 975) -- previously forward-deployed to Yokosuka until May 2004 -- and sent 95 of her own sailors to help with O'BRIEN's 24 September decommissioning.

"Many times, when a ship arrives at a new duty station, there is a long period of adjustment to new ways of doing business," said COMDESRON 15 Capt. Samuel Perez Jr. "Not with FITZGERALD; the crew swap that took place will enable them to quickly begin to operate at the high tempo FDNF is used to."

Forty-five percent of FITZGERALD's crew is comprised of former O'BRIEN sailors, who continue to empower the FDNF with their first-hand knowledge of the local area, the Western Pacific, and "tip of the spear" U.S. 7th Fleet operations. Forty percent of FITZGERALD's crew remained with the ship.

"Everybody was really looking forward to getting here. It has been a long, busy summer in San Diego," said Cmdr. Bradley Smith, FITZGERALD commanding officer. "We did the entire ship's interdeployment training cycle over the summer. The goal has always been, here in Yokosuka with the FDNF, to be ready to work."
---

&nbsp One more state has joined the 1963 license plate roster. Jack McDonald sent this photo and a note from the Granite State.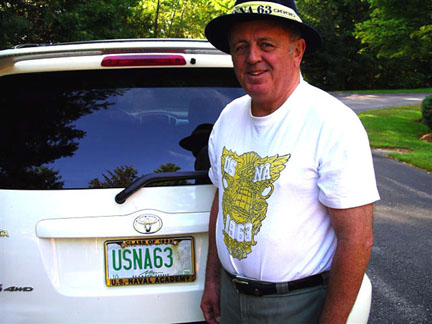 Jack McDonald shows his spirit
&nbsp Here is New Hampshire's entry in the "USNA63" license plate review. Bob LaGassa originally had the plate but gave it up when he moved from New Hampshire. Now that he's back in the state I'm sure he would like it back, but I'm not about to give it up. The auto is my new Toyota Highlander Limited, which I got this summer. I'm not sure if I reported our son's safe return from Iraq in early May. At a family gathering on Mother's Day he surprised us with his announcement that he was remaining on active duty (as a Reservist) and was going to be stationed at Ft. Devons, MA. It's not only great to have him back from Iraq, but really great to have him just two hours away. Before Iraq he was living in Arkansas.
---

&nbsp I was delighted to hear from Pete Savage , who reestablished contact from his quarters afloat.
&nbsp Katherine and I are now living on board VENTURE, our Oyster 62 sailboat, which is currently moored in Annapolis. We'll be in Back Creek until the first week of November when the insurance company will allow us to head South of Hatteras without paying an exhorbitant additional premium.

Katherine and I decided to take a sabattical from high tech companies, to spend some time on our sailboat, VENTURE, and to do a few things we (I)'ve always wanted to do. We sailed the Marion, MA, to Bermuda race last year, winning our class despite being rated as a "spinnaker" boat, when our brand-new spinnaker, made by a famous sailmaker, self destructed in eight knots of wind, after flying for only two hours immediately after the start of the race.

Another objective was to sail VENTURE to the Caribbean, the British Virgin Islands, Puerto Rico, Vieques, and Culebra.... and back to the States. We headed east and south in early March this year, from Florida to Tortola, BVI. While in Tortola, we sailed overnight to St. Maarten to join up with John and Nancy Riley, shipmates from our TULLIBEE (SSN 597) days. At 0345, with Katherine and I asleep below, and an experienced hired crew on deck, we were hit by a unlit Cuban coastal freighter. The glancing blow at the bow did substantial damage, but no one was hurt and VENTURE was not taking on water. I now fully understand the old saying: "A collision at sea can ruin your whole day!"

&nbsp Pete promised to send an extended account of his voyage, with photos, for an upcoming issue of Shipmate.
---

&nbsp Lou and I have enjoyed spending time with 1963 couples visiting our part of Western North Carolina. Earlier this year, we rendezvoused with Nancy and Chuck Adams when they came from their home in Chapel Hill to show their Beagles in the Asheville Kennel Club show. They have been very active and successful in raising and showing their dogs in numerous competitions. Carla and Jeff Miles stayed with us in October enroute to what he said would be an "adult Florida vacation." Jeff later told me that he had enjoyed being with Mickey and Donald, and assured me that what happens at Disney stays at Disney.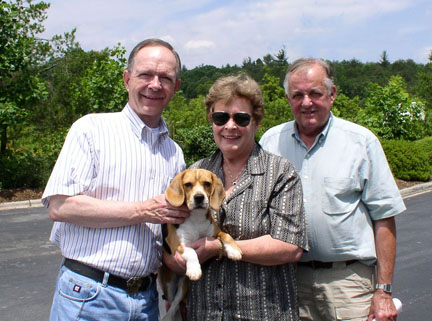 Mike Shelley, canine competitor, Nancy and Chuck Adams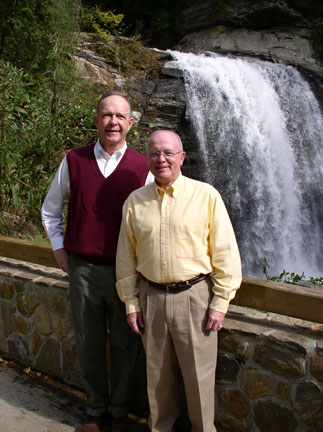 Shelley and Miles in Pisgah National Forest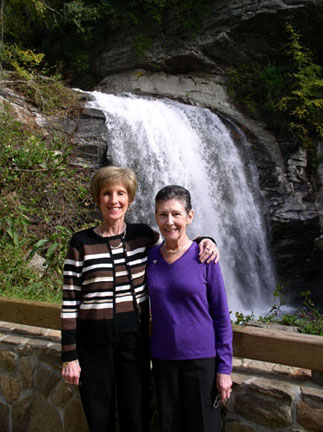 Lou Shelley and Carla Miles
---

&nbsp Writing from La Quinta, CA, Dave Moore reported a chance encounter with a classmate recently.
&nbsp One day in September, I was showing some house guests around the local real estate developments. While we were at Indian Palms Country Club, a couple walked in and the man asked " Who is the Naval Academy guy? " after seeing my license plates. They turned out to be Helen and Dick Anderson . Last November they bought a place on the 18th fairway at Trilogy in La Quinta. They still have their home in Tustin,CA, but spend half a week, on weekends, at Trilogy.

&nbsp In October, Dave traveled to Albuquerque for the annual hot air Balloon Fiesta. (The man really gets around!)
&nbsp After four years of owning a hot air balloon, SKY DRIFTER, Don Palen made it from Rhode Island to "the big show" in Albuquerque. Another aeronaut from France contacted Don through the internet and served as co-pilot for the ten-day Balloon Fiesta. John Morgan, Bill Bradford , and I served as his ground crew following in the footsteps of Ray Heins , Tony Isger , and Denver Key who had done the same on the east coast. The event is much more colorful and exciting in person than in the photos you have seen. .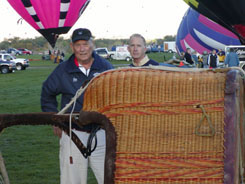 Don Palen and Dave Moore

&nbsp Dave submitted this very full account from the festival.
&nbsp After tuning up at a balloon festival on Lake George , NY, Don headed west. A little truck transmission problem in Oklahoma slowed him down and he arrived in Albuquerque at midnight on 1 October. His French co-pilot, Philippe Losley, arrived ten minutes earlier and was waiting in the hotel parking lot. Don was too late to register and participate on Saturday but he flew on Sunday using volunteers from Albuquerque along with the 750 other balloons. Bad weather cancelled flying on Monday and Tuesday. John Morgan had been in Colorado Springs for the USAFA-Navy game and was headed home when he got word of Don being in John's old home town. So John steered his 38ft RV motor home to Kirtland AFB and stayed over for three days.

Lana and I arrived on Tuesday night after a two-day (11 hours) drive via Flagstaff. George Nolan has retained his house in Albuquerque even though he bought another in Las Vegas. George still has his two youngest daughters living in Albuquerque and as of last week he now has three of his five grandkids living there. So flies back to Albuquerque about every other weekend. We stayed at his home five nights and Don used it two nights.

On Wednesday, John and I crewed for Don. It was a perfect day and the famous "box" was working. The Balloon Fiesta is held on a giant field ( 200 acres ???) that was sodded last year. If the "box" is working, you ascend up to 500 feet and travel due south at 4-5 kts. Then you go up to 1300-1500, and head north at 1-2 kts. As you descend, you go back south to the big field. Worked like a charm the first day with minimal east/west wind components. Don always ends each flight with a bottle of bubbly and a famous toast among aeronauts.

Earlier that week, John Morgan had noticed his classmate from the RV Chapter, Bill Bradford drive into the campground in his 40-ft RV home. Bill and Dee sold their home near Miami and are now full time RVers.

Late Wednesday afternoon, John and Kay, Bill and Dee, Lana and I went to dinner in old town Albuquerque. Mexican food, of course, but in Albuquerque they believe in spicy food -- lots of green chili's.

Because of his co-pilot, Don fell in with the French balloon team. One of their members was five time national French champion and ranked #10 in the world. Don was right at home with all the hugging and kissing -- except I think he favored the French ladies.

Thursday morning John and Kay had to head on home to Las Cruces so Bill Bradford and I crewed for Don along with our Albuquerque volunteer. The "box" was not working so we launched from an old dirt quarry about a mile north. This was a practice day for the Friday "key grab". In addition to prizes for dropping bean bags on ground targets, the balloons that could reach keys on top of five poles could get cash prizes worth a total of $23,000. But Thursday was a practice and an east wind put Don in some lady's back two acre lot. Don gave her a bottle of bubbly and a buss on the cheek ; I think she appreciated the bubbly. We then went to a free brunch buffet at the Sandia (Indian) Casino along with the French team.

By Thursday, my son Chad had arrived from Bryce Canyon along with his girl friend and our granddaughter Savanna. Don's lady friend from Tampa also arrived so that was our new team. That night was the big "Glow-deo" with all the special shape balloons tethered and illuminated with flame every so often. There were about 80 such big balloons. The "Energizer Bunny" is the biggest of balloon while the "Space Shuttle" is the tallest. The green Tyrannosaurus Rex is up for sale for only $18,000 in case you want to join the fun. A good fireworks display followed the evening programs.

All this sounds like a lot of fun, and it was. But you've got to realize that reveille goes at 4:15 with coffee and donuts, etc. for pilots and crew at 5:30. (Of course, California body clocks are an hour earlier). By the time the balloon is packed away at 10:30 you are really dragging and ready for a nap. So there is not a lot of late night partying at these events.

A typical launch sequence might be Dawn Patrol of 12 - 15 balloons about 6;00 to put on a light show. Commercial balloons with their 8-12 person baskets go about 6:30. Sunrise at 7:07 but not yet over the Sandia Mountains. Special Shapes have their own morning launch on Thursday, followed by the rest of the balloons in two waves. There are balloons everywhere ! By the way, Don's balloon has a three man basket, has a 90,000 cu ft envelope (could hold 90,000 children's balloons) and stands 80 feet. His single burner has the BTU output of 200 home furnaces. The balloon weighs 265 pounds and the wicker basket with four full propane tanks and other gear totals 485 pounds. That's a grand total of 750 pounds.

On Friday the winds were strong and most pilots elected not to fly. Lana and I went to Santa Fe which is an hour north. Very interesting town with good art galleries. Got back to Albuquerque in time to have dinner with Don, his lady friend Becki, and the French team at Red Lobster.

Saturday morning was the big mass ascension of all balloons. Quite a sight and a photographers delight. It looked like the "box" was working and then suddenly the inversion layer collapsed, the wind increased and balloons went left and right. There were several hard landings. Don had finally convinced Becki to go up for a ride. He managed to find a nice grassy park and had a fairly soft landing. Getting the truck to the balloon is not always an easy proposition. Don seems to have a knack of getting the truck around obstacles the last two hundred yards so we did not have to carry the basket.

The last day, Sunday, Philippe had flown back to France, so Don took me and my son Chad up for a ride. George Nolan's youngest daughter Katie came with two grandkids to see us off. The "box" almost worked but wind from the east made most of the balloons land out. Lots of effort goes into looking for power lines. Don found us a nice grassy park and we had a soft landing. At the same time, the "Smokey the Bear" balloon was getting snagged on a 760 foot radio antenna. You probably saw the pictures on your TV. It was about a half mile from us. It looked very "iffy" for awhile but the 70 year old pilot and his 10 and 14 yr old passengers climbed down the ladder rungs OK. We had lots of fun and if you get a chance to crew for Don Palen the Moore family heartily recommends it (even if reveille is painful). It certainly makes a great follow-on to the Air Force game every other year. Don said Albuquerque was now his second most favorite balloon festival. Saent-Jean-sur-Richelieu located 30 miles south of Montreal has a festival in August and conditions there allow morning and evening flights.

P.S. On the way home we stopped in Winslow, AZ to see who was standing on the corner since 1999. Sure enough, there on old Route 66 is a mini park with is a life size statue of a young musician with guitar. The adjacent brick wall has a faux-store window painted to look like a store window with a clear reflection of a foxy blonde driving by in a flat bed Ford.
---

&nbsp

Ho, Ho, Ho!
Happy Holidays, folks!
Let me hear from you soon, please.

---