Shipmate Column
December 2006
---
CLASS OF 1963
Pres: CAPT W. Spencer Johnson IV, USN (Ret.)
Sec'y: Michael H. Shelley
25 Sweetwater Lane, Pisgah Forest, NC 28768
h: 828-862-4245 e: nstar@citcom.net
Web site: http://www.usna63.org.


For any classmate you can go to the Classmates Page and enter his name to read his current biography if available.
---
&nbsp This online column contains much more news and photos this month than I can include in the printed Shipmate.
---
&nbsp This has been another terrific season for Navy football. The Class of 1963 has been making a lot of noise at the games and enjoying well-attended tailgate parties before and after each contest. Thanks to Ellen Sherman for supplying two photos from the first tailgate of the year, on 2 September. Standing in front of the Class of 1963's new blue and gold tent are Ian Sargent, Mike Bracy, Bill Earner, Lew Blackwell, Paul Tobin, Jim Ring, Tom O'Brien, Pete Quinton, Al Sherman, Dan Hitzelberger, and an unidentified gentleman. Kneeling in front are Forrest Siburt, Watt Miles, Bob Forster, and Jeff Miles. The second image shows Steve Leisge, Mike Bracy, Al Sherman, Tom O'Brien, Forrest Siburt, and Jeff Miles.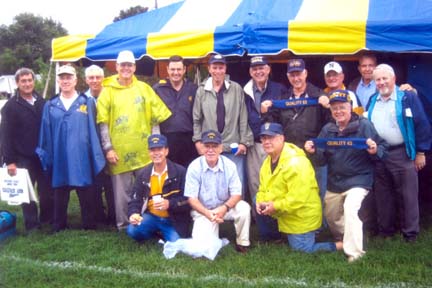 At the year's first tailgate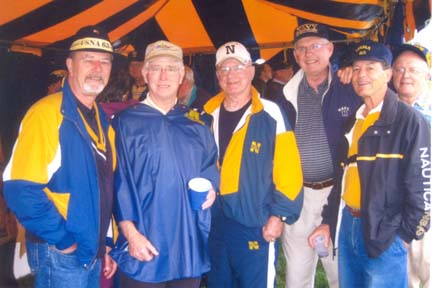 Inside the new Class of 1963 tent


Two weeks later, Navy travelled to the west coast and again enjoyed vital support from our classmates. Here is a report on 1963 activities from Jim Oakes:
&nbsp We had a '63 class dinner in connection with the Navy vs. Stanford football game on Friday, September 15, at the Stanford Park Hotel in Palo Alto, CA. The Stanford football team was staying there, so we bought them drinks and called their rooms all night to help our cause. Maybe it helped? The attendees were: Arlene Inch and Jim Oakes; Pat Leicher and John Newton; Sandy and Mike Harman; Gail and Craig Barton; Sue and Jim Delong; Lynn and Lew Blackwell; Lillian Karson and Kit's sister, Vicki Hughes; Patric and Bo Kearns; Marion and Chuck Maclin; Katherine and Pete Savage; Pat and Lee Pekary; Betty and Kent Maxfield; Jim Penrod; Frank Hilton; and Thomas Rossa. Everyone looked "fit as a fiddle" and we hoisted a few for all classmates not there. Winning the game so convincingly in the inaugural game in the new Stanford stadium put a nice cap on a great weekend. The last time Navy played Stanford at Stanford was October 9, 1954. Navy won 25-0. I was there
&nbsp I haven't yet received pictures from the dinner, but Jim did send a nice photo of himself and his lady, Arlene Inch, at the tailgate.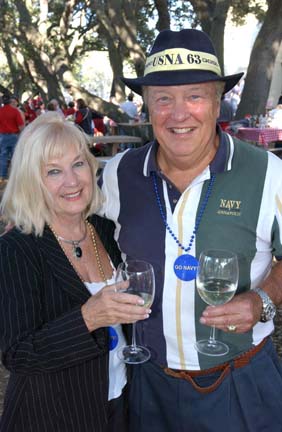 Arlene Inch and Jim Oakes
---
&nbsp I am sorry to report the death of Larry R. White, who passed away on 22 September in Lexington, KY. His obituary can be read at Deceased Data
---
&nbsp It was to good to hear from Alan McAnally, who sent an illustrated report from a noteworthy event this August.
&nbsp August 20th on Cape Cod was a special day for a special guy, Joe Collins. Hosted by his five children at Joe's Pocasset Golf Club, family, friends, business colleagues and "the Navy guys" all joined them for a pleasant and memorable evening. Yvonne and Jack Saux, Dolly and Tom Batzel, Wink Wilkinson and Carol Davisson, and Terry and Alan McAnally wouldn't have missed it for the world.

Joe Collins at his retirement party


Not many people retire from two distinguished careers, so there were plenty of anecdotes and laughs as we sent Joe off into the next phase of his life. When Joe left active duty in 1969 and he took a position at MIT in their Alumni Association. He also remained in the reserves, retiring in 1985 as an O-6. Joe had the good fortune to be passionate and committed to two fine institutions. A short 37 years later, realizing that his golf game needed more attention than MIT's fund raising, he retired this summer.

Jack, Wink and Tom used the celebration as an anchor for a week's vacation on the Cape with Joe and Suzanne, and Alan came down from Andover for a couple of days. Tom, Wink, and Alan and Terry played golf Sunday afternoon at the beautiful Donald Ross course, and joined everyone that evening for the Toast to Joe Collins. We had lots of laughs and special remembrances

Monday, using the logic that you can't get five guys from USNA together without at least trying to get on the water, we took a wonderful three-hour sail on the magnificent 74-foot schooner, Liberte. In this on-board photo are (front row) Carol Davisson, Suzanne Collins, Yvonne Saux (middle row) Wink Wilkinson, Terry McAnally, Dolly Batzel, Jack Saux (back row) Alan McAnally, Joe Collins, Tom Batzel. Moored in both Annapolis and Falmouth, there was a lot of talk about a 21st Company party and sail during our 45th reunion. I am sure we will be throwing out that idea to everyone in the next year.

Aboard for the schooner cruise



---
&nbsp Tom O'Brien has been on the road again, and filed this trip report in September.
&nbsp Ann and I recently completed a swing through New Hampshire, Vermont, and New York while visiting friends and buying sterling for our antiques business. We spent two nights with Zoe and Bob LaGassa in their lovely home in the Eastman Community in Grantham, NH, and were treated to their outstanding-as-usual hospitality. Bob again demonstrated his mastery of both garden and grill and prepared a wonderful meal that we lingered over for a couple of hours while catching up. Our second night there, we helped them celebrate their 43rd wedding anniversary at a nearby restaurant. Here are some photos from our visit. The crossed signal flags on the house sign are Bravo and Zulu; I'm sure our classmates remember what that means.

Zoe and Bob LaGassa with Ann O'Brien




Bob and Zoe LaGassa



---
&nbsp Here's an inspirational report from Phillip Marsden, who seems to be always in motion, never at rest.
&nbsp In late August Dave ("Navy Davy") Moore and I joined John Peterson and eight other stalwarts for a 7-day, 40-mile backpacking expedition in the High Sierras. The highlight of the trip was the ascent of Mt. Whitney, at 14,491 feet the highest mountain in the "lower 48." One photo shows Dave, me, and Steve Clarey (an old navy shipmate who joined us) on the trail down to Whitney Portal. The second photo shows John and me atop Whitney on a beautiful, sunny day when you could literally "see for miles." The third photo shows Dave, Steve, and John sharing a sumptuous lunch on the trail. The crisp clean air, beautiful vistas, and the wonderful camaraderie of this backpacking group made for a memorable trip.

Backpackers in the high Sierra




John Peterson and Phillip Marsden atop Mt. Whitney




Lunchtime on the trail



---
&nbsp This wedding news comes from Ollie Donelan :
&nbsp Sandy and I went to the wedding of Jennifer Abell (the youngest of Terry's four daughters) and Steve Smith at the Plump Jack Inn in Squaw Valley on 3 September. The bridesmaids were Tammy, Kim, and Allison Abell and Steve's sister. It was a beautiful wedding in really beautiful environment. It was good to see Terry and Sue's girls again, as well as their five grandchildren.

Ollie Donelan and Jennifer Abell Smith




Sue Abell (center) with Sandy and Ollie Donelan



---
&nbsp American Superconductor Corporation has announced the appointment of RADM (Ret.) David R. Oliver, Jr. to the company's Board of Directors. Dave is executive vice president and chief operating officer of European Aeronautic Defense and Space (EADS) Company's North American division. With more than $40 billion in annual revenue, EADS is the second largest aerospace firm in the world. Oliver oversees all marketing and business development activities of EADS North America.
---
&nbsp What a great variety of news and photos we have this month, thanks to the folks who sent them to be shared with you. Follow their example - Please!



---