Shipmate Column
January/February 2006
---
CLASS OF 1963
Pres: CAPT W. Spencer Johnson IV, USN (Ret.)
Sec'y: Michael H. Shelley
25 Sweetwater Lane, Pisgah Forest, NC 28768
h: 828-862-4245 e: nstar@citcom.net
Web site: http://www.usna63.org.


For any classmate you can go to the Classmates Page and enter his name to read his current biography if available.
---
&nbsp We begin this month's report with the sobering news that two members of the Class of 1963 family have passed away recently. George Nolan died on 29 November while in Placerville, CA, for a family reunion. He had been battling colon cancer with courage and grace. I want to share this photo of George and Bonnie which was taken a few months ago.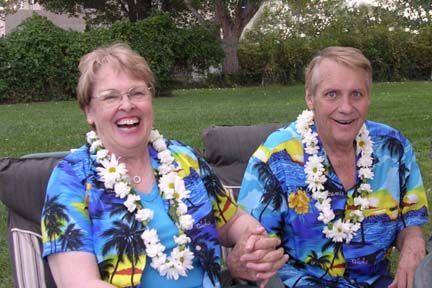 Bonnie and George Nolan


&nbsp At the end of November I also received the sad news that Suzan Alitt had passed away. Bruce and the family ask that any memorial contributions be made to the USNA Class of 1963 Foundation in her name.
---
&nbsp If you are reading this for the first time in February, remember that each of our Shipmate columns appears first at http://www.usna63.org.. This text was posted there in mid-December. Because of severe length restrictions for the magazine, the web version is usually much longer. This month, for example, it contains several additional news items and many more photos. Our web site continues to be busy: about 6,000 visits are logged each month.

We have a good variety of '63 sports news this month. The first comes from Jim Metcalfe, who sent this account from Homecoming weekend at USNA in November.
&nbsp Again this year, Carla and Jeff Miles hosted the Class of 1963 Homecoming party at their lovely home in Annapolis. It was a good, lively crowd composed of Sandy and Ron Klemick, Carol and Bob Harper, Jan and Pete Quinton, Spencer Johnson, Mike Cronin, Chester White, Fran and Tom Reemelin, Larissa and Bruce Webb and daughter Elena, Linda and Charlie Stubbs, John Kelly, Jan and Phil Rooney, Kate and Jim Ring, Jennifer and Bill Earner, Anne and Tom O'Brien, Sharon and Bob Forster, Lynn and Paul Tobin, and Lisa and Jim Metcalfe. At the game earlier that day I saw Arlene and Forrest Siburt, Mike Bracey and wife, Fern and Ian Sargent, and Pete "PJ" Chaney. Also visiting our tailgate party was Spencer Johnson '93, Harvard Law '01, who is back in the DC area and looking for employment for his considerable talents.

Passed Midshipman Spencer Johnson with Carla and Jeff Miles


Here is a photo of a ghost from the past -- Midshipman Spencer Johnson in working whites with Dixie cup on his head and name stenciled across the front of his uniform. He is flanked by our hosts Carla and Jeff. That's Tom O'Brien in the background.
---
&nbsp I heard from Jim again recently, this time reporting that his son Jimbo, a Naval Reserve Supply Corps officer, has been mobilized and will soon deploy to Afghanistan. He is slated to be assigned to an Army training team which will go around the country teaching Afghan army soldiers how to organize and run a national army. It's hard to imagine a naval officer doing that in a landlocked country.
---
&nbsp Navy's fourth consecutive football victory over Army was enjoyed by our classmates at the game in Philadelphia and at several parties across the country. Let's begin with Phillip Marsden's report from the largest annual 1963 party.
&nbsp The 2005 Class of '63 Army/Navy game festivities were a two-day event hosted by Karen and Steve Hoy at their beautiful home in the Bear Creek development in Murietta, CA. On Friday, 11 classmates played the challenging Bear Creek course.

Southern California golfers


The winning team anchored by Bill Hughes, Roy Warren and David Moore edged out the outstanding team of Lew Blackwell, Jim Thornton, John McCabe and John Dolby. Left well out of the money was the Goat Team comprised of Steve Hoy, Mike Krause, Glenn Takabayashi, and Kit Karson. Following the golf, the intrepid golfers enjoyed cocktails and dinner together with their wives.

On game day Saturday, our loyal band of supporters watched Navy beat Army at the Hoy's Bear Creek home. The Hoy's graciously hosted the game this year, giving June and Chuck Stone a year off after hosting the event for the last 10 years. In attendance were Helen and Dick, John Dolby, Sue and Bob Easton, Pat and Jim Fontana, Maureen and JJ Hogan, Karen and Steve Hoy, Dottie and Bill Hughes, Charlotte and Don Jacobs, Lillian and Kit Karson, Kathy and Mike Krause, Kay and Ted Krohne, Phil Marsden, Betty and John Middleton, Lana and Dave Moore, Terri and John Ryan, June and Chuck Stone, Grant Telfer, Sandi and Jim Thornton, Gail and Vern VonSydow, and Vicki and Roy Warren. The attached photos provide evidence of our outstanding spirit.

Beat Army party at Karen and Steve Hoy's home




Karen and Steve Hoy




Dave Moore, Kit Karson, Grant Telfer, Roy Warren




Jim Fontana, Helen Anderson, Dottie and Bill Hughes




Don Jacobs, JJ and Maureen Hogan, Mike and Kathy Krause




Lillian and Kit Karson, Chuck and June Stone




23rd Company - Krause, Hoy, Hogan, Thornton, Von Sydow




Bob & Sue Easton




Fontana, Middleton




Hogan, Jim Thornton




Jim Pat Fontana, Vern Vonsydow, Steve Hoy, Jim Thornton




Jim Fontana, Dick Anderson




Phillip the Photog




Ted Krohne, Vern Von Sydow




Vern & Gail Von Sydow



---
&nbsp Meanwhile, on the East Coast, Sherry and Don Freese watched the Army game with a large group of Navy fans at Ricky T's Sports Bar in St. Petersburg Beach, FL. One of the co-owners of that establishment is Jack Krayniak, son of Jack Krayniak '63, who died of cancer in 1988. Don took 1960-1962 Lucky Bags to the party so that young Jack could see the photos of his dad. Don submitted some pictures taken at Ricky T's. He also sent a photo of himself with his two cars; they wear Florida license plates NAVY 63 and 63 NAVY.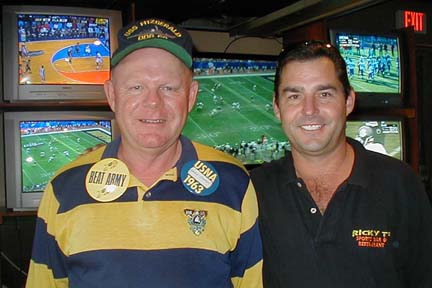 Don Freese and Jack Krayniak.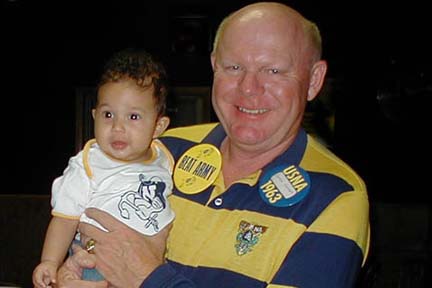 Don Freese and grandson Alexander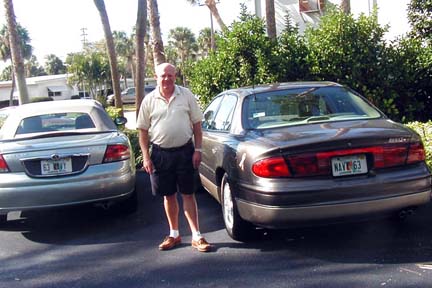 Two cars, two NAVY license plates
---
&nbsp To the north, several DC-area classmates watched the game from the Army-Navy Country Club in Arlington, VA. Our class Vice President Jim Ring reported
&nbsp We had a pretty good turnout for another Navy win -- Janice and Dick Kuntz, Fran and Tom Reemelin, Mike Cronin, Kent Maxfield, Forrest Siburt, Frank Edrington, and me. The Class of 2006 joins the USNA Classes of '63, '64, and '77 who were at USNA to see Navy beat Army all four years. The Classes of '43, '44, and '45 also saw Navy beat Army during their time there, but they were at USNA for only three years. Thus, '63 was the first class to see Navy beat Army four years in a row.
---
&nbsp Continuing the sports news, this is Glenn Laury's report on a charity golf tournament: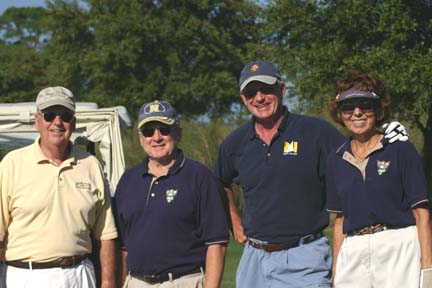 Tom Hall, Denver Key, Glenn and Debbie Laury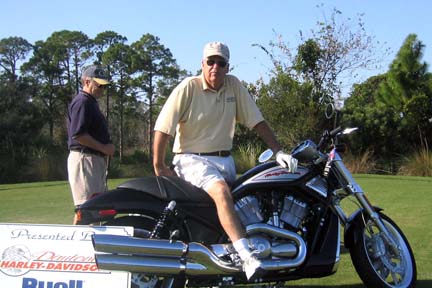 Key, Hall, and Harley
&nbsp Here are some pictures from the first annual Support Our Florida National Guard Charity Event and Golf Tournament that was held on October 17 on the signature Jack Nicklaus course in Palm Coast, FL. The beneficiary of the event was the Florida National Guard Foundation, a tax-exempt charity formed in 1983 to provide financial assistance to deserving Florida National Guardsmen and women. The proceeds from this event, however, are earmarked exclusively for those needy Guardsmen serving in Iraq and Afghanistan and/or to the families of those deserving service men and women. Barbara and Tom Hall took time from their busy schedule to come down from Washington, DC, and Denver Key canceled his class that day to come down from Jacksonville. Both Tom and Denver were thinking, "What will I do with a Harley?" (the hole-in-one prize) No worry...none of us were even close to the pin.
---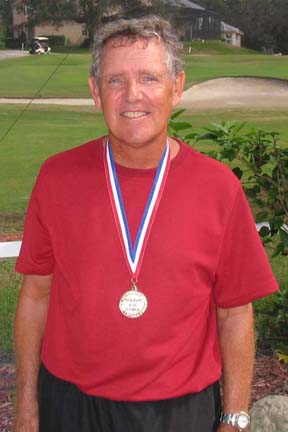 Tennis champ Steve Coester


&nbsp Steve Coester won the Gold Medal in the tennis men's 60s singles competition at the Florida Seminole County Golden Age Games in November. He also teamed with a high school classmate to take the Bronze Medal in doubles. At the State finals in December, Steve advanced to the second round of singles play before losing 6-2, 7-6 (7-5)
---
&nbsp Alan McAnally checked in from his home in Andover, MA.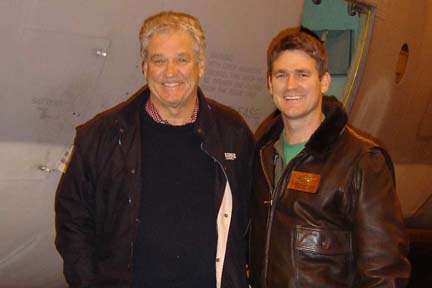 Alan and Chris McAnally
&nbsp It's been a while since I dropped a line to Shipmate. I want to share this photo, along with both Terry's and my happiness in having our son Chris, his wife Vivian, and our two granddaughters move near us for the first time. They transferred to Maine and NAS Brunswick in May, where Chris is the safety officer for VR-62. The squadron, flying C-130's, provides rapid response, global air logistics and support to U.S. Maritime Forces. Since commissioning in 1993, he has lived far from his roots in New England. We love the fact that he and his family are only an quick two-hour drive from our home. We look forward to enjoying their time up here and spoiling the little girls whenever we can.
---
&nbsp J.J. Calande asked me to pass along this reminder:
&nbsp Due to my disability from my severe stroke back in January 1986, not driving myself and the long distances involved in getting to meetings, I have not joined the Connecticut chapter of the USNA Alumni Association until recently. Due to the extraordinary efforts of our chapter president, Dave Stryker '61, I have joined and will attend the next meeting at the O'club at the USGA academy with my new lady. Carol is also totally and permanently disabled so we have this opportunity to remind all of you to consider the needs of those with disabilities when planning your functions. My first concern that I put to Dave was whether or not the selected meeting place was handicapped accessible, i.e., did it have a wheelchair ramp for entrance without stairs or steps? You normally wouldn't be concerned about such details unless you required them but I bring it up here because as we age, our members or members of their families might need such facilities. I figure that once inside, the disabled member can probably get around. Stairs are the big concern along with the location of the restrooms of course. So for those of you who might be serving on your chapter or other local organization's Board of Directors selecting your meeting places, I give you this info to consider for your members who might need it.
---
&nbsp Pete Carrothers submitted this interesting story relating to his 1966-67 WESTPAC tour in a Vigilante squadron.
&nbsp On a recent tour through the Naval Aviation Museum in Pensacola, I mentioned to one of the docents that I was disappointed that there were not any squadron plaques in the Cubi Bar restoration from the 60's and early 70's. He said that was because the Cubi Bar O Club burned in the mid-70's and destroyed all the plaques. Everything that was sent to the Museum when the base was decommissioned was from after the fire. This triggered Nancy, who is a professional grade wood carver, to carve an exact replica of the original plaque of RVAH-7 Vigilante squadron from the 66-67 West Pac cruise. It took her about three months of carving to complete but she wanted to do it exactly the same way the Filipino's originally did it, by hand with simple carving tools. It is as exact a replica as humanly possible, except that it was carved in Philippine mahogany versus the original monkey pod mahogany which we couldn't get our hands on.

RVAH-7 WESTPAC '66 - '67




At the Naval Aviation Museum in Pensacola


After a suitable wetting down party in Annapolis this summer involving the squadron officers at the Skipper's home it was donated to the Museum, where it was mounted over the entrance into the Cubi Bar Cafe. To the best of my knowledge, this is the only plaque in the Museum from the 60's/early 70's. This should bring back memories to anyone who stepped through the hallowed doors of the original Cubi Point O Club. FLY NAVY !!

RVAH-7 C.O. P.J. Ryan '50


This picture shows our Skipper, P.J. Ryan '50, with the plaque at his home in Annapolis this past summer. He was Captain of Navy's football team, an Academic All American, was awarded two Silver Stars in the Vigilantes over North Vietnam, was skipper of one of the carriers (I forget which one...), and is one of the greatest leaders I have ever had the pleasure of serving under, or working with.
---
&nbsp We know a lot about the accomplishments of our classmates, and it's always good to be able to report some of the amazing things that our spouses are doing. Thanks go to Watt Miles for sending this news about a very accomplished lady.
&nbsp In response to my email to former roommate Bill Haslet, he mentioned that his wife is working him hard at her bookstore. He suggested I google her to get the story. It turns out that her store is sort of the home store for Good Dog Carl, a renowned children's storybook character. Here is an excerpt from a story in Publishers Weekly about Carl turning 20: "Among those gearing up to host the author and the birthday boy in early October is Chauni Haslet, owner of All for Kids Books and Music in Seattle, a longtime devotee of (author Alexandra) Day and Carl. In fact, she asserts, "Carl is actually our store mascot. Whenever he comes in, he gives everyone a playful, welcoming sniff and then goes off to the back room to see if we have treats for him."

It turns out that Chauni is sort of a local, and children's books industry, hero for keeping her store open and selling children's books exclusively. The big box retailers have driven all but 200 such stores in the U.S. out of business. But she keeps fighting because the big box stores only sell what sells in volume. She believes that many good children's books have only a small potential audience and it's important for both the authors and the audience to offer those books. If you want to read the whole story, google "Chauni Haslet" and read the Seattle Times article. Her bookstore is All for Kids.
&nbsp When I thanked Watt for the Haslet news I noted that children and dogs are the only combination equal to women and beer. He responded quickly:
&nbsp Children and dogs, and women and beer, eh? Man, am I blessed! One great daughter, two great daughters-in-law (learned that grammar lesson about plurals from "Forms 2"), 2.9 grandchildren, wonderful wife of 37-plus years. To quote from the summary I wrote in 1997 for my 25-year reunion at Harvard Business School: "Happiness in life, they say, is about old love, old money, and an old dog. Well, two out of three ain't bad. Anne and I ... are enjoying life in the empty nest with Heidi, our nine-year old Rottweiler." That's it. No fame, no fortune. My kids will shoot the breeze with me over a beer; I still enjoy dates with my wife; my dog licks my hand when I get home after travel. Life is pretty damn good,
---
&nbsp Will Settle sent a full account of his latest shopping expedition in Annapolis, from which I have taken the text below. It stirs some memories of shopping on Maryland Avenue and State Circle when we were Mids. Those are still good places to shop, but don't expect to find The Little Campus Restaurant, The Smoke Shop, or the Circle Theater. Long gone, all of them.
&nbsp Earlier this year one of my Naval Academy cuff links broke (actually, it was the West Point link). When I took it to a jeweler to repair, he pointed out that although they look like solid gold, they are actually made of pot metal sprayed with gold paint, and cannot be soldered. (This probably explains why they used to sell in the Midshipmen's Store for $2.25 a set.) In late October, while window-shopping on Maryland Avenue, I saw a pair of Academy cuff links, circa 1920s-1930s for sale in an antique shop. After some heavy negotiating with the proprietress of the "Good Stuff Antique Store," I got them for only $85. Later I noticed that the Tilghman Jewelers are offering gold-filled cuff links with class crests on them for $113. $50 for the links and $63 for your class crest, and they have ours in stock.

Still later, I bought a sweater at Johnson's and the man asked if I had ever been in before. I told him that I had purchased a cap from them in May of my senior year. He asked when I had graduated, and when I told him 1963, he said, "Well, let's see if you are in our book." Then he went in the back room and came out with a spiral binder notebook with the Academy shield on the cover, and 1963 in Magic Marker ink . It was full of notations of guys in our Class who had purchased caps and other uniform items from Johnson's. They must have sold over 150 caps to members of our Class. The standard price then was $14.75. Today, that same cap sells for $165.
---
&nbsp Thus ends another good report, thanks to the guys who supplied the news and images for me to share with you. As I say again and again, it's YOUR turn! Many of you who are regular readers of our news exchange have never contacted me with news about yourself. Stop procrastinating! You're reading this magazine during the Dark Ages, so you should be able to find time to write. We'd love to hear from you.



---