Shipmate Column
January/February 2010
---
CLASS OF 1963
Pres: CAPT W. Spencer Johnson IV, USN (Ret.)
Sec'y: Michael H. Shelley
164 Sweetwater Lane, Pisgah Forest, NC 28768
h: 828-862-4245 e: nstar@citcom.net
Web site: http://www.usna63.org.


For any classmate you can go to the Classmates Page and enter his name to read his current biography if available.
---
Bill Howard


&nbsp I am sorry to begin by reporting the loss of William L. Howard, who died suddenly on 11 November. Bill was predeceased by his wife, Candy, a year earlier. Classmates who attended the funeral services in Kilmarnock, VA, are pictured below. In front (L-R) are John McDermott, Frank Edrington, and Will Settle. Standing are Jerry Mulholland, John Kelly, Birney Pease, and Alex Daunis.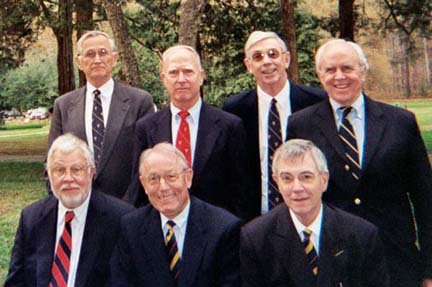 After Bill Howard's funeral
---
&nbsp Ken Sanger tells us about some recent alumni events in northern Idaho and shares remarkable news about his father and the USNA Class of 1935.
&nbsp Here is a photograph showing the group of alumni from the Northwest Idaho chapter who attended the Navy/Air Force game at a sports bar between Spokane, WA, and Coeur d'Alene, ID. My father, Ken '35, is under the 'A' in Navy, Pete Optekar is on his right, and I am two away on his left.

Northwest Idaho alumni gather for the Navy/Air Force game


&nbsp Pete had read an article in the local paper and thought it would be nice to have Dad attend the gathering. We went to Pete and Grace's beautiful home in Hayden before the game. This photo was taken in Pete's "tribute to the Academy" study.

Grace Optekar, Ken Sanger '35, Pete Optekar, Ken Sanger


&nbsp A few weeks later, a dozen alumni and wives came to Sandpoint, joining Dad and me at my home, then going to a local sports bar to watch Navy beat Wake Forest.

&nbsp Dad enjoys the events and the others enjoy his stories of the Academy, war, and liberty. The wives grill him on things like moving constantly, dating in the 1930s, not being allowed to marry until two years after graduation, meeting his wife at the Academy, etc.

&nbsp His class of 1935 is planning the academy's first ever 75th class reunion. It will be in San Diego and the class is using its class fund to pay all expenses for alumni, spouses, and children. Depending on the latest reported count, there are about 14 members still alive. There is a relationship between our class and '35 because two '35ers were at the Academy when we entered: Slade Cutter, who beat Army with a field goal (3-0) in 1934 and earned four Navy Crosses as a submarine commander in WWII, was athletic director and Ned Daugherty was the Director of the Department of English, History, and Government.
---
&nbsp The November-December issue of Shipmate magazine included an article about the major restoration of the Naval Academy chapel. Thanks to Frank Hilton for alerting me earlier to an October article in the Annapolis Capital about the project. The article can be seen on the Alumni Association's web site by clicking here. &nbsp For more details about the project, including several in-progress images, Click here. .

&nbsp Frank reminded me that chapel pew 63 is sponsored by, and contains a dedication plaque from, the Class of 1963.
---
&nbsp John McDermott tells us about his autumn visit to a companymate in Vermont.
&nbsp Carrying on the "when one or two shall meet..." tradition, my wife, Mim, and I accepted the generous invitation of classmate and companymate (15th, then 1st) Birney Pease and his wife Barbara to spend some time with them in their Northern Vermont "camp" (Most of us would call it a cottage, but Vermonter's call it a camp.) in Colchester, VT (a suburb of Burlington).

&nbsp Earlier in the summer, Birney and Barbara had stopped by our home in Sunset Beach, NC, for an evening on their way north from their winter home in Lauderdale by the Sea, FL. During a pleasant evening of dinner and drinks the plot was hatched for our visit to Vermont in the fall.

&nbsp So, in late September 2009 we shoved off for the three-day trek north. We arrived on September 29th to a warm welcome and a three-day whirlwind of tours of the highlights and areas of interest throughout Northern Vermont, as well as a day trip to Montreal, Canada. We departed on October 4th. This was our first trip to these spots, so the efforts of our hosts as tour guides were very much appreciated.

&nbsp We did manage to snap a couple of pictures. The first shows the four of us: from the left are Mim, Birney, me, and Barbara, in front of a neighbor's camp. In the other photo Birney and Barbara are standing on the front porch of their camp.

McDermott's and Pease's in Vermont




Birney and Barbara Pease


&nbsp As for me, I am happily reinventing my golf game on the Sea Trail Plantation golf courses (three of them) and driving Mim nuts by being around the house all the time now. Anyone who remembers which end of the club to hold is welcome to drop by for a round any time.
---
&nbsp Jim Ring made two contributions to this edition of our news exchange. Here is the first: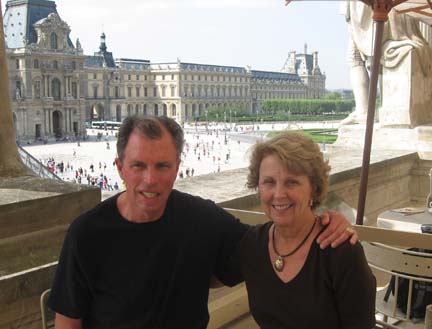 Kate and Jim Ring lunching at the Louvre
&nbsp For our 30th Anniversary In August, Kate and I joined friends in Dublin, Ireland, for a few days and then headed to Paris, where we joined Lynn and Lew Blackwell. I got to know Lew and Lynn well in Philadelphia in 1969 when Lew and I were attending Wharton. Lew and Lynn live in La Quinta in the desert in California. To escape the summer heat, they usually head to Europe. They were renting an apartment in Paris right across from Notre Dame Cathedral. Being the Francophiles they are, they showed us the wonders of Paris. We went to Versailles with their Parisian friends and saw the parade of fountains that spring to life during the summer. We also went on an English-speaking guided tour of the Louvre and spent time touring Paris, including lovely dinners that Lynn cooked for us in their apartment.

Lynn and Lew Blackwell, Jim Ring




Ring and Blackwell at Lafayette's tomb


&nbsp For our 30th, we went to dinner at the oldest restaurant in Paris, Le Procope, founded in 1686. It was the first restaurant to have a back door that enabled the patrons to escape the tax collectors. It also had the chapeau of one who used it to pay his bill -- Napoleon. One of the highlights of our visit was the tomb of Lafayette. It is a small, private cemetery in a quiet place with few visitors. The location was picked by his wife, so she could be buried next to the burial plot of her mother, grandmother, and brother, who were guillotined during the revolution and thrown in a mass grave with over a thousand others. It has a permanent American flag over Lafayette's tomb, since he was the first naturalized U.S. citizen. He and his wife did much to ensure our revolution would succeed. You might recall that in the previous summer, Lew and Lynn had met the great, great, great granddaughter of Lafayette and she had them place the wreath on the Arc de Triomphe during the 4th of July celebration in Paris. All in all, it was a great vacation with a truly fun couple, Lew and Lynn. What a blessing we have in so many great classmate friends, many of whom we barely knew at the Academy, but have become great friends years after.
&nbsp This second note from Jim is a testament to the enduring bond among our classmates and their families.
&nbsp In October, Jack Moran and James and Gay Moran Pfeiffer were my guests at the Navy- Air Force game. Gay and Jack are the sister and brother of our classmate, Dan Moran, one of our 13 classmates killed in Vietnam. Their mother had been a big supporter of the Class of 1963 Foundation and left a sizable sum to the Foundation that went to the Center for Academic Excellence. Eric Bowman, the head of the CAE, gave us a great tour and then a great review of the program. The comment from all of us was that we wish we had this when we were in college. I then showed them around the yard to see the memorials on which Dan is honored (Mem Hall and the Vietnam Memorial). After that, we went to the Class tailgate and Spencer Johnson gave all three the caps from the Link in the Chain Honor Coin ceremony plus an honor coin. They were very appreciative. We watched Navy squeak by USAFA for their 7th win in a row. I tried not to be too obnoxious about the win, since James was in the Air Force and their son, Danny, is in the Air Force. Dinner at the Annapolis Yacht Club capped off our day. In an e-mail a few days later, Gay thanked me for the attention given to their family over the years, concluding, " Jack and I truly feel we are getting to know our brother all over again."
---
&nbsp An October article in the Mobile, AL, Press Register profiled our classmate Dr. Tom Pessoney, M.D., who is serving his community as the only full-time doctor of occupational medicine at a new occupational medicine clinic in Pascagoula, MS. The article recounted some highlights of Tom's remarkable career.

&nbsp After graduation from USNA, he served tours of duty aboard various submarines, including command of ABRAHAM LINCOLN (SSBN 602). He later served in the Naval Reserve while attending Georgetown Medical School. Tom returned to active duty in 1982 and completed a residency in occupational medicine.

&nbsp As a medical officer, he served aboard NIMITZ (CVN 68), was director of surface medicine on the Navy Surgeon General's staff, and was director of occupational and environmental medicine with the Navy Environmental Health Center overseeing the occupational medicine programs on both Navy and Marine Corps bases.

&nbsp Tom has been associate director and director of hospital-based occupational medicine programs for 12 years since retiring from the Navy in 1997. He and his wife, Andi, now reside in Ocean Springs, MS.
---
&nbsp Gail and Doug Tozour visited Israel in October, enjoying the Holy Land from viewpoints that few will ever have. Here's his well illustrated report.
&nbsp The trip was organized by friends of a village for Jewish orphans from around the world called Yemin Orde located near Haifa. The group I was with were all Jewish business people from the USA plus four of us Christians. We went from Tel Aviv to Haifa to Galilee and the Lebanon border to the Golan Heights and the Syrian border, where we saw a practice tank drill. During our travels we visited a secret air base and toured Kibbutz Kabri. The Golan Heights was the site of the famous tank battle in which 1,400 Syrian tanks were defeated by 120 Israeli tanks commanded by Gen Yoram Yair, a.k.a. "Ya-Ya. " (It seems that all their leaders have nicknames which everyone uses!)

&nbsp We also visited the exact spot where two Israeli soldiers were kidnapped by Hezbollah two years ago. The Syrians killed 12 Israelis to get a couple of hostages which to this day they refuse to acknowledge they have . Other highlights included: breakfast with a possible future head of the Knesset, Zeev Bielski, an amazing, smart guy who talked a lot about dealing with the Iranian challenge; Kabalat Shabbat at the Wailing Wall; and a trip to Masada and the Dead Sea.

Gail and Doug Tozour in Jerusalem


Here are some pictures from our visit. The first shows us at the Damascus Gate in Jerusalem. The next was taken on the Syrian Border just after a practice alert and pictures us with an Israeli gun crew. (I am wearing a shirt with a USNA63 class crest!) The scenic image shows General Ya-Ya explaining to us how and where on the Golan Heights he defeated the Syrian tanks. In the final one, Gail and I are relaxing in the Dead Sea following our climb up Masada!

A post-alert pause with an Israeli gun crew




At the Golan Heights




Enjoying a float in the Dead Sea



---
&nbsp Several of our USNA companies have held mini-reunions in the years between the quinquennial Class of 1963 All Hands reunions in Annapolis. Dave Bingemann has sent news of the latest such gathering of his mates who began in the 'Terrible Tenth" and graduated from the Eighth Company.
&nbsp Since 1994, we have been holding Company mini-reunions almost annually somewhere in CONUS. We try to split our get-togethers equally between the two coasts, and usually have roughly 50 percent of us attending each event.

&nbsp This year, 17 of us gathered in Santa Fe, NM, from 28 September to 2 October, hosted in grand style by Bonnie and Mike Spear. We toured Santa Fe old town with its great museums and the art galleries along Canyon Road, the newly reopened Puye Cliffs mesa and cliff dwellings, and famous Maria's New Mexican Kitchen with its 43 varieties of margaritas. But most importantly, we enjoyed good fellowship and the wonderful food and hospitality of the Spears in their scenic and warm southwestern home. The weather was ideal, Fall foliage was near full bloom, and the scenery was just spectacular. Those attending were the Spears, plus the Augurs, Bingemanns, Breens, Calvanos, Deegans, Dickersons, Earners, Leepers, Musicks, Oatways, Rulands, Schalls, Smalls, Bill Hahn, Dick Kell, and Bernie Patterson. With spouses and friends, we numbered 32 strong. We all had a terrific time.

&nbsp This photo of the entire group was snapped in the Spears' home.

The Terrible Tenth in Santa Fe


&nbsp In 2010 we return to the East Coast and plan to meet sometime in the Fall in Fredericksburg, VA, with hosts Betti and Matt Small doing the honors. &nbsp I think that the idea of annual Terrible Tenth reunions started at our 30th Class Reunion in 1993. We decided then that it was about time in our lives that we got together more often than once every five years. Mary and I volunteered to have the first one, in Ponte Vedra Beach, FL, in 1994. To date, we have gathered 10 times, not including our Class reunions and three funerals. We have tried to spread the locations around so that we have a good chance of seeing everyone at one time or other. Next Fall we will meet in Fredericksburg, VA, hosted by the Smalls.
---
&nbsp Don Freese told me about his son Marc's promotion to LtCol, USMCR, in October and provided a photo from the Oath of Office Ceremony on 6 November. His CO presided and Don administered the Oath of Office. His daughter and son removed the Major oak leaves and his wife and mother in law put on the LtCol devices. Remaining close to the Corps, Marc has a full-time civil service job at the Marine Corps Intelligence Agency.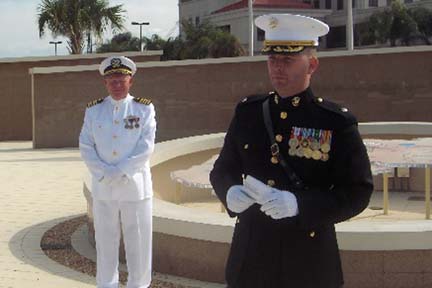 Don and Marc Freese at Quantico
---
&nbsp A growing number of our classmates have Class of 1963-themed license plates on their vehicles. These demonstrations of affinity and pride are taken very seriously by their owners. Here is a perfect example, sent by Bob LaGassa:
&nbsp While I was doing my duty updating the 2nd Company Directory, I saw the vanity plate page on USNA63.org and thought I'd make my contribution.

&nbsp When we lived in Annapolis and I was still on active duty, we were legally residents of New Hampshire, our home through most of my Navy career. I had the state's "USNA63" plate for years. At tailgates, Jack McDonald, who lived in New Hampshire and often came down for Navy home games, always harassed me about the plates and said he'd get them one day and never give them up. The year after I retired in Annapolis, the State of New Hampshire would not renew my plates because I was no longer a "resident". Sure enough, Jack snapped them up. He brazenly showed them off at subsequent tailgates while we lived in Annapolis.

&nbsp We moved back to New Hampshire in 1998 and the matter stewed in the back of my mind for years. Finally, in 2007, New Hampshire had grown to the point that they had to add a seventh digit/letter to license plates. I seized my opportunity and "scoffed up" "USNA-63" and "USNA +63" for our vehicles. Here is the photographic proof: our 2007 Corvette (that we toured the country with in the fall of 2007 -- 42 days and 13,000 miles) and our "go-in-the-snow" 2010 Subaru Forester.






&nbsp I'm sure you'll enjoy looking at the USNA '63 license plates and their owners pictured in the Pride and Tradition section of our web site. To see them, just Click Here.
---
&nbsp In October, Natalie and Steve Duncan spent a long weekend with Lou and me at our home in the mountains near Brevard, NC. We enjoyed having them as houseguests and showing them the Biltmore Estate in Asheville, an especially scenic part of the Blue Ridge Parkway (with autumn leaves in full display), our town's famous white squirrels, and some local restaurants. On their final evening with us, we dined in Brevard with Judy and Bill Hollenack, who retired here several years ago. Because Steve, Bill, and I are Fourth Companymates, the evening qualified as a mini-mini reunion. Here are two images from that very pleasant weekend.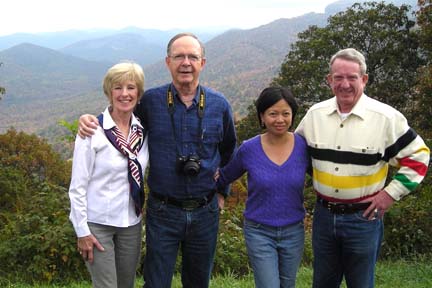 Shelleys and Duncans on the Blue Ridge Parkway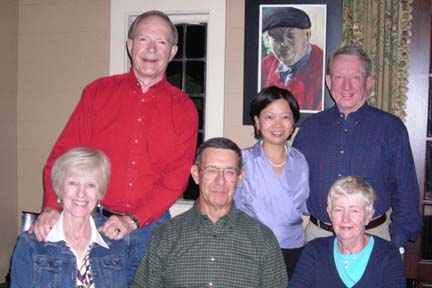 Lou, Bill, and Judy (seated) Mike, Natalie, and Steve (standing)
---
&nbsp That's all for now, folks! The winter months are upon us, and most people will be spending more of their leisure time indoors. Use some of that time for a good purpose by taking a few minutes to send me a note and a photo or two to share with our classmates. You'll feel better if you do.



---