Shipmate Column
January-February 2013
---
CLASS OF 1963
Pres: CAPT W. Spencer Johnson IV, USN (Ret.)
Sec'y: Michael H. Shelley
164 Sweetwater Lane, Pisgah Forest, NC 28768
h: 828-862-4245 e: nstar@citcom.net
Web site: http://www.usna63.org.


For any classmate you can go to the Classmates Page and enter his name to read his current biography if available.
---
---
---
&nbsp Regretfully, I begin this month's report with news that we have lost three members of the Class of 1963 family. We extend our sympathy to their families and many friends.


&nbsp Richard Patrick "Rick" Byrnes passed away after a period of declining health on 13 November. His widow, Pat, can be contacted at 1916 West Point Drive, Cherry Hill, NJ 08003-2917.


&nbsp Ludwig John Schumacher passed away peacefully at his home on 15 November. His widow, Carole, can be contacted at 1038 Bowstring Road, Monument, CO 80132.

&nbsp Our classmate Dick Jones lost his wife, Kay, to septicemia suddenly on 20 November. Dick can be contacted at 101 Cove Creek Court, Stevensville, MD 21666-3712.
---

&nbsp In the last issue, I reported about the dedication ceremony for the new facility of the Class of 1963 Center for Academic Excellence on 21 September. The 63CAE is located at the Levy Center, between the seventh and eighth wings of Bancroft Hall. Since my first report, I have received some photos from the event and a list of our classmates who accepted the invitation to attend the ceremony with their ladies: John Aucella, Eli Dabich, Doug Davidson, Steve Duncan, Mario Fiori, Sonny Glassner, Spencer Johnson, Jeff Miles, John Pfeiffer, Dave Puckett, Pete Quinton, Gary Smith, and Tom Taylor. Accepting to attend solo were Bill Earner, Kent Maxfield, and Jim Ring.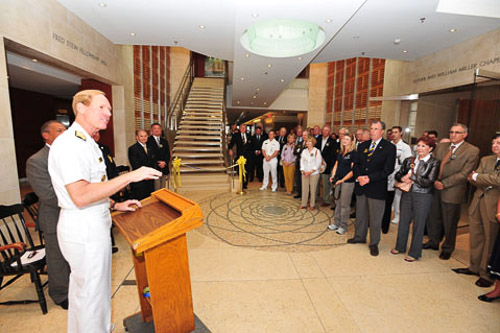 The Superintendent speaks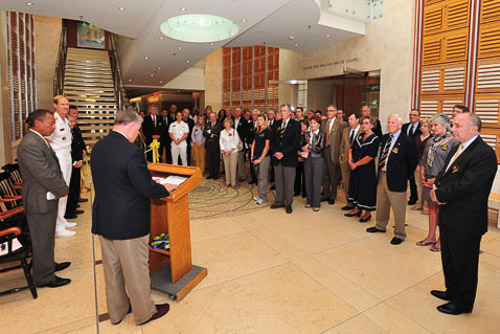 Spencer Johnson at the podium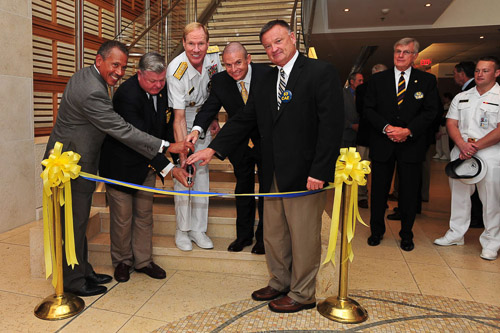 Cutting the ribbon
---
&nbsp This reminder comes from Ken Metviner, the fundraising chairman for our Class Foundation:
&nbsp Do not forget the 50th Reunion Big Raffle, with proceeds to benefit the 63CAE. There are three first prizes and a few surprise additional prizes. There is an absolute limit on the number of tickets to be sold and half of them are already gone, so if you want to take a chance on a great cause, contact your Company Rep, check out the 1963 Foundation page on our web site, or email Mike Krause, at msk7736@gmail.com .
---
&nbsp Spencer Johnson reports on an honor bestowed on one of our classmates by a foreign government.
&nbsp Here are some pictures of our classmate RADM Joe Strasser and his wife Barbara at the Chilean embassy in Washington, DC, on October 19th when Joe was presented with the Medal of the Naval Order of Merit, Officer's Degree. In presenting Joe with this prestigious award, Captain Marcelo Gomez, the Chilean naval attaché, cited Joe's many contributions to the Chilean Navy when he was the president of the Naval War College in Newport and the strong ties and friendships that he forged between the two navies beginning in 1962 when Joe made an exchange cruise with the Chilean Navy as a midshipman first class. The Chilean ambassador hung the medal around Joe's neck and there was great applause from all assembled. Joe then expressed his thanks in Spanish to the delight of all.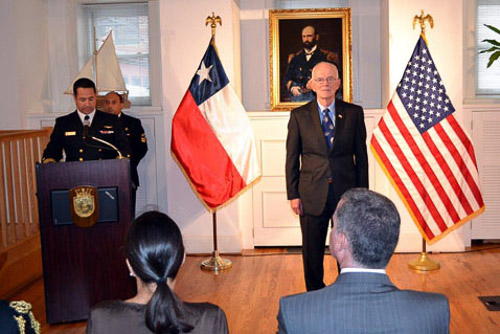 Reading the citation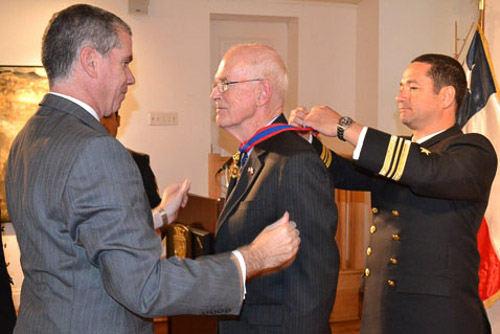 Receiving the medal
Joe and the Ambassador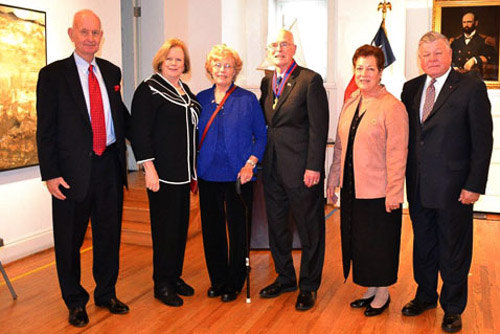 Roy and Susan Wallace '62, Barbara and Joe Strasser, Andrea and Spencer Johnson


&nbsp Frank Hilton reminded me that Joe will soon be retiring from the Board of USAA, after 14 years in that position.
---
&nbsp I reported in a previous column about some of our classmates being in Ireland this September for the Navy-Notre Dame football game. Two additional reports have arrived since then. This one came from Spencer Johnson:
&nbsp Seen at the Notre Dame game in Dublin were Dick Jones, Bill and Jennifer Earner, Nick and Kathleen Nerangis, Roger Tetrault, and Lanny Cox and his wife Pat. Andrea and I had a great weekend except for the score of the game. Andrea went to St. Mary's in South Bend as did her sister Michele. Michele's husband, Barry is a Notre Dame graduate. We met them in Dublin for the weekend and I was surrounded by those in green.
&nbsp Lew Blackwell tells us about his encounter with a colorful and somewhat infamous person after the game.
&nbsp I attended the game in Dublin this year with several friends, one a Notre Dame grad. During the game a man ran on the field and grabbed the game ball. He was finally tackled in the end zone and escorted off the field. This man is the "famous " Jungle Bird who jumped in front of the TV cameras during the awards celebration at the U.S. Open at the Olympic Club in San Francisco this year. After the game we ran across him outside the stadium -- he was more fun than the game. He's protesting destruction of the rain forests; who'd have guessed?
&nbsp Well, he told us after US Open he spent three hours in jail and was released. At the game in Dublin the police escorted him out of the stadium and let him go. In this case he was clearly non-violent and actually was very interesting to talk to.

Lew Blackwell (2nd from right) and "Jungle Bird" (2nd from left)



---
&nbsp This year's Army game will be played for unusually high stakes: the Commander In Chief's trophy. Army and Navy both having beaten Air Force on the gridiron this year, the winner of the game will take possession of the cherished hardware. Anticipating a Navy win, Lou Simpleman posed with the trophy when he was in Colorado Springs for this year's USNA-USAFA contest. Here's hoping that he'll be able to pose with it again during our 50th Reunion in Annapolis next October!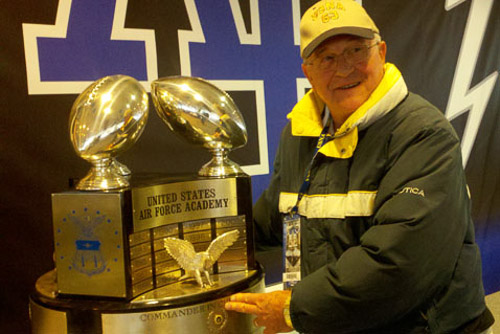 Lou Simpleman checks out the Commander-in-Chief's trophy
---

&nbsp Steve Duncan contacted me with news of his latest efforts.
&nbsp I am happy to announce the publication of my new book, ONLY THE MOST ABLE: Moving Beyond Politics in the Selection of National Security Leaders. Needless to say, the book is very timely. Much public attention will be focused in the weeks and months ahead on the Obama Administration's selection of its national security leaders for the second term and many important national security challenges will arise during the next four years. It is currently available on Amazon.com, but it can be purchased directly from the publisher (http://www.rowman.com; 1-800-462-6420; use code 4M12DUNB) until December 31 at a much better discount.
&nbsp Also, I would like to report that I now have an additional job. I signed on last summer as an Adjunct Member of the faculty of Johns Hopkins University's Center for Advanced Governmental Studies. I'm currently teaching a graduate course in National Security. I remain a Senior Fellow at the Potomac Institute for Policy Studies.
---
&nbsp Whoever said that one's seventies are not a time for great adventures did not know about the Class of 1963. Consider this trek by three of our classmates, as reported by Phillip Marsden.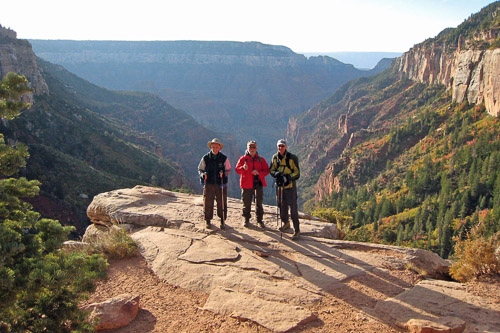 At the North Kaibab lookout
&nbsp Classmates John Peterson and Dave Moore joined me on a two day Rim-to-Rim hike in the Grand Canyon. We started on the North Rim, dropping 6,000 feet in 14 miles to Phantom Ranch on the Colorado River at the bottom of the canyon where we spent the night. The next morning we were up at 0430 to eat breakfast and break camp and begin the 5,000-feet, nine-mile ascent to the South Rim. The overall trail was spectacular as it went through many micro-climes, especially from the North Rim, where we started in 32 degree temperatures in a pine forest, and ended at Phantom Ranch in high desert with 95 degree temperatures. We all enjoyed the challenge and accomplishment of completing this unique trek, made even more memorable by being able to share it with good friends and classmates.

Three Amigos






---
&nbsp Members of the 23rd Company held their seventh annual reunion from 30 September to 4 October. True sportsmen all, they established their fly fishing base at the Watauga River Lodge and Outfitters in far northeastern Tennessee. A full and entertaining account of their preparations and time together, as documented by Harry Hirsch, can be seen on the 23rd Company page of our web site by clicking 23rd Co. Homepage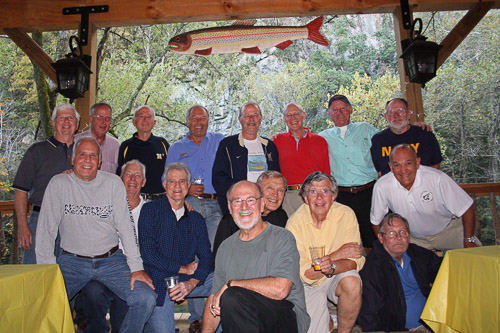 23rd Company reunion
---
&nbsp Dave Bingemann shares this account of his company's latest reunion:
&nbsp As I have done the last several years, I am submitting this report of our latest Terrible Tenth (8th Company) Reunion held this Fall. Since 1994, we have been holding Company mini-reunions almost annually somewhere in CONUS in between the five-year homecomings in Annapolis. We try to split our get-togethers equally between the two coasts, and usually have roughly 50 percent of us attending each event.
&nbsp This year, 17 of us gathered from 16 to 19 October in Charleston, SC, hosted in grand South Carolina style by Margarette and John Boley. We thoroughly enjoyed two full days of tours. The first day was spent taking a historical carriage ride tour of the city, followed by cocktails at the rooftop bar of the Market Pavilion Hotel, then on to a wonderful dinner cruise around the harbor. The second day was spent touring Middleton Place and gardens, one of the local scenic southern rice plantations that has been made into a museum. We all had a wonderful time. But most importantly during our get-together, we all enjoyed good fellowship and the Boleys' hospitality in Charleston, their home away from home. The weather was ideal, Fall foliage was just beginning, and the city, especially the historic district and great restaurants, was just a delight to visit.

Reunion in Charleston



&nbsp This photo of the entire group was snapped at the entrance to the carriage ride. Those attending were of course the Boleys, plus the Bingemanns, the Breens, Bridgeman, the Deegans, Ollie Doherty, the Donegans, the Earners, the Greens, Hahn, Kell and Sandra, Kleinfeldt and Lynne, Musick, Patterson and Cathy, the Rulands, the Schalls, the Smalls, and the Spears. With spouses and friends, we numbered 32 strong. We all had a terrific time.
&nbsp In 2013 we return to the East Coast, planning to reconvene in Annapolis at our 50th Reunion with hosts Bill and Jennifer Earner doing the honors.
---
&nbsp Daryl Rabert tells us about two friends who observed the Marine Corps birthday while getting in a round of golf.
&nbsp I am reporting in from St. Simons Island, GA, about the Marine Corps Birthday weekend. On Friday, November 9, Doug Tozour was on the Island so we celebrated the Marine Corps Birthday on the golf course. We had a great time, played some great golf -- except for the bunkers. Nevertheless, Doug and I have had previous experience with bunkers so we know how to get out of them with ease. After golf, we celebrated with a birthday cake. A belated Happy Birthday to all fellow Marines. Semper Fi!

Celebrating the Marine Corps birthday in Georgia



&nbsp A related item: I received the news that the Philadelphia Business Journal has named Tozour Energy Systems as one of the large company "Best Places to Work 2012." The firm is a full-service, $51 million HVAC and building automation company that employs 186 people in King of Prussia, PA, and 187 regionally. Congratulations to CEO Doug Tozour, who founded the company in 1979. Visit their web site at http://www.tozourenergy.com .
---
&nbsp Steve Coester submitted this news about a recent visit by friends from farther north in Florida.
&nbsp Tom O'Brien and his better half, Ann, had a three day antique silver show in Vero Beach, FL, in late October. Taking advantage of his O-6 perks, they were staying at the Patrick AFB Inn. They stopped by our house in Rockledge on the way down I-95 from Orange Park to PAFB. We had a glass of wine and some great catching up. It is amazing how one story led to another. We had a great time gossiping about how everyone met their future mates at the Academy. We took advantage of the O'Briens' vast knowledge of all things silver to have them look at the old Coester sterling that has moldered in a drawer for the past 49 years. Ann even volunteered to sell it for us since we have no use for it and know the kids wouldn't either.
&nbsp We headed to our favorite casual seafood restaurant, Grills Riverside. Good food, wine/beer, and never a loss of conversation made for a great evening with old friends. The first waves of wind and rain from Hurricane Sandy pounded the restaurant so we were forced inside instead of dining on the deck next to the Indian River. Tom is much bigger than me so I reluctantly had to let him wrestle the bill out of my hands. I hope they make it up in silver sales at the show. We owe them. Yvonne and I are just a mile off Exit 195 of I-95 so there is no excuse for anyone passing to not stop to see us.

Steve, Ann, and Tom




Steve, Yvonne, and Tom



---
&nbsp This previously unpublished photo came from Zimm Zimmermann: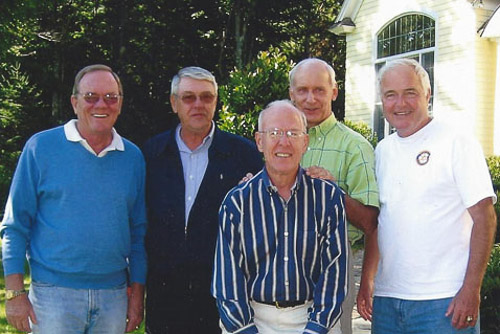 Visiting George Emery in Maine
&nbsp I recently came across this photo of '63ers at George Emery's Kennebunk, ME, home. It was taken sometime around 2006. Note that Bill Hughes, Lew Lewis, Tom Robertson, and George are all lined up in the Captains/Admirals row in the back and I, the lowly Lieutenant, am partially shoved out in front. Admiral Robertson is even enforcing my shove out!
---
&nbsp Jackie and Mike Cronin have provided several photographs taken during our Homecoming tailgate party in October and during the Class of 1963 party at the Annapolis home of Marla and Jeff Miles that evening. What a fine day it was!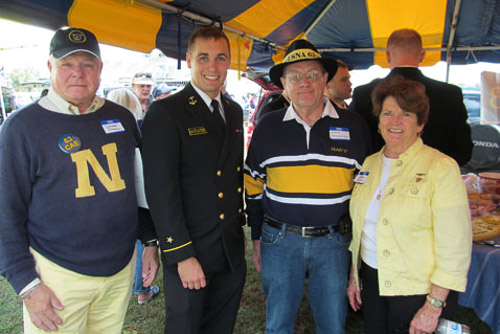 Spencer Johnson, Midn Dickson, Norm Shackelton, Eileen Dabich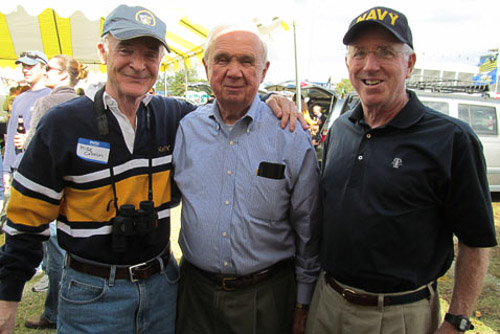 Mike Cronin, Eli Dabich, Mike Bracy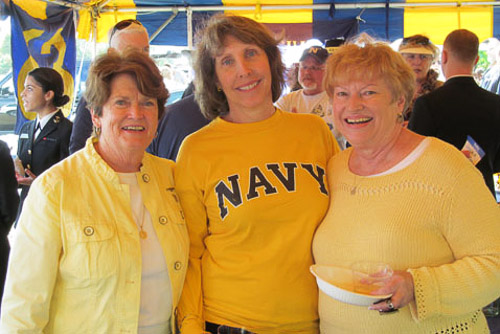 Eileen Dabich, Jackie Cronin, Jan Quinton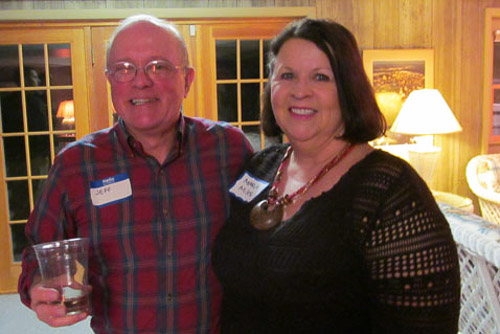 Party hosts Jeff and Marla Miles
Pete Quinton, Jennifer Earner, Jan Quinton, Sharon and Bob Forster, Jim Metcalfe
---
&nbspTake a break during the holiday season and make contact with a companymate or other classmate you haven't seen for a while. You will both be glad you did. Carpe diem!

Keep in touch with me, folks. I need your help to sustain our news exchange through the coming months. Thanks!



---