Shipmate Column
January-February 2014
---
CLASS OF 1963
Pres: CAPT W. Spencer Johnson IV, USN (Ret.)
Sec'y: Michael H. Shelley
164 Sweetwater Lane, Pisgah Forest, NC 28768
h: 828-862-4245 e: nstar@citcom.net
Web site: http://www.usna63.org.


For any classmate you can go to the Classmates Page and enter his name to read his current biography if available.
---
---

&nbsp "Flawless!" That eight-letter word was repeated countless times during and after our 50th Reunion. What a grand occasion it was! There is no way anyone could adequately recount the events and flavor of our time together. From registration on Thursday through the Memorial Service concluding the reunion on Sunday afternoon, everything went according to plan and upheld our class motto: "Quality '63."
&nbsp The schedule afforded a good balance between all-class events and a variety of company-based dinners and other gatherings. Most companies had their events on Thursday evening at restaurants and other venues in the Annapolis area. The class meeting in the Mitscher Hall auditorium on Friday morning covered several topics about class and class foundation business, concluding with the presentation of our Fiftieth Anniversary gift to the Academy. It was a proud moment for all of us when an oversized check for $6,336,038 was given to the Superintendent, VADM Michael Miller '74, for support of the Class of 1963 Center for Academic Excellence. Appearing in this photo are Ken Metviner, David Puckett, VADM Miller, Associate Dean of Academics Jennifer Waters, and Spencer Johnson.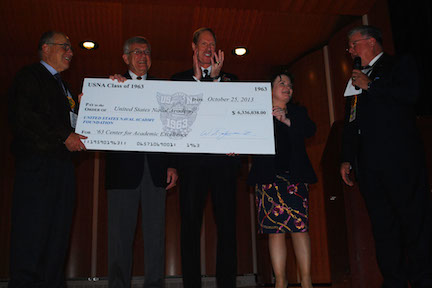 Presentation of our class gift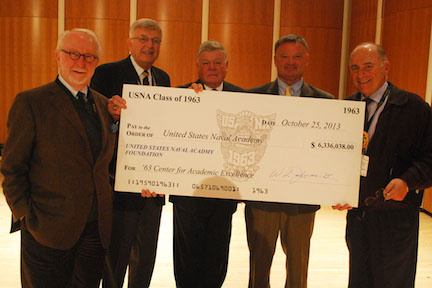 Jim DeFrancia, David Puckett, Spencer Johnson, 63CAE Director Dr. Bruce Bukowski, and Ken Metviner



&nbsp Our anniversary gift grandly demonstrates -- but does not end -- financial support of Academy priorities by members of the Class of 1963. To date, our generous giving totals $16,599,102 -- putting us in second place among all Naval Academy classes! Though our Class Foundation is dissolving, individual classmates are encouraged to continue giving for the 63CAE through the Naval Academy Foundation. See http://www.usna.com. for more information about the Foundation.
&nbsp After the class meeting, many of us visited the neighboring 63CAE to tour the facility and see the Major Donor plaque and the surrounding photo mural of images from our USNA days. How ancient the scenes must appear to today's Mids. Will they be able to identify the slide rule?



&nbsp The class banquet in Alumni Hall Friday evening was a grand affair. After cocktails upstairs, diners moved to the arena area and were seated at tables filling the basketball court and mezzanine levels. The dinner was first-rate -- more evidence of the great preparations by the reunion committee. This was our first chance to hear the "Class of 1963 singers" assembled and conducted by Dick Kuntz; they were terrific.
&nbsp Saturday's catered tailgate party at the stadium was another opportunity for chance encounters, good conversation, and plenty of very fine food and drink. Even the game went our way as Navy won over Pitt with a last-second (literally) field goal in front of the '63 seating section.
&nbsp Sunday brought the weekend to a leisurely close with a well-attended brunch at Loews Hotel followed by the Memorial Service in the Academy Chapel. Afterward, many people lingered on the Chapel steps, seemingly reluctant to see the end of our long-anticipated weekend together.
&nbsp There is already talk of a mid-term reunion two or three years from now, and several companies are beginning preparations for their own events even sooner.
&nbsp I encourage you to visit the 50th Reunion page on our web site to see and enjoy additional information and images from the reunion by clicking HERE .
---

&nbsp Three commercial imaging companies were at the reunion. I have received several inquiries about purchasing copies of their products. Here is contact information for each of them:

&nbsp For photos of USNA company groups made at the class dinner, contact Photo Op, LLC, at 6025 Ivy League Drive, Catonsville, MD 21228; 410-757-7103; photoop1@verizon.net .
&nbsp To review and order images made by roving photographer Debbie Latta at the parade and the dinner, visit her web site by clicking HERE .
&nbsp To obtain a DVD video of the entire Memorial Service in the chapel, and the Class of 1963 singers at the banquet, go to the web site of InFocus Studios by clicking HERE or phone 443-871-5624.
---

&nbsp A highlight of the class banquet was the drawing for prizes offered in the raffle to benefit the '63 Center for Academic Excellence. With exciting prizes and broad participation by our classmates, the raffle raised $33,560 for the 63CAE. Thanks are due to Mike Krause, who conceived and organized the raffle. Here is his recap of the results:
&nbsp Kent Maxfield won the 1962 Army game ball donated by Ollie Donelan. Bill Witcraft won two drawings: the week at Al and Sally Griggs' Lake House on Lake Sunapee in NH and the bottle of 2000 Chateau Lafite Bordeau wine donated by Ken and Sandy Metviner. Sandy Stoddard won the set of USNA Wedgwood china donated by Kathy and me. Grant Telfer won the weekend for two couples at Mike & Sheila Bonsignore's home with a gourmet dinner and wine from Mike's cellar in Montecito, CA, plus a tour of the Santa Barbara wine country. A special thanks to all who helped make the raffle a success, especially the donors.



&nbsp Sandy Stoddard, who won the 12-place setting of Naval Academy Wedgwood china, has offered the set to another classmate with the proceeds going to the CAE. As it turns out, Sandy and Bunny received a set of Naval Academy china in 1965 and have graciously offered the raffle prize to another classmate for $3,000 (or best offer). Offers below $3,000 will be entertained until February 1, 2014. Each place setting consists of a dinner plate with a scene of the Academy between 1850 and 1934; a cup and saucer; and a bread plate. The set is in the popular Staffordshire Blue motif. Pictures and details can be seen at www.usnawedgwood.com . Anyone interested in purchasing or making an offer to for this complete set of unique antique china should contact Mike Krause at msk7736@gmail.com
---
&nbsp This is a good time to review, and be proud of, the remarkable accomplishments of the Class of 1963 Foundation. We are grateful for the work of the Foundation trustees and officers in raising, managing, and distributing funds. They have applied their professional abilities and given countless hours of their time over many years. We thank them and salute their dedicated service. I asked the Foundation's fundraising chairman, Ken Metviner, to provide a listing of key statistics and grants. Here is his compilation:
&nbsp Our Class Foundation has done some quite commendable things over the 40 years of its existence, all of them thanks to the generosity of our classmates.
&nbsp The Foundation's scholarship program provided $848,000 in scholarship assistance to 95 children of deceased classmates. The first three students were enrolled in 1982. The average aid provided was about $9,000, ranging from a low of $650 to one student to a high of $33,890 to another with special needs. The program began with assistance of $1,000 per year in 1982 and finished over the last several years with assistance at $16,000/year. One student is in the program at this time.
&nbsp The Foundation distributed another $175,000 to a variety of programs and causes. These grants included:
$50,000 to USNA at our 30th Reunion
$37,500 for the Levy Chapel and Center
$25,000 for a Memorial Chapel Pew
$5,000 for Commissioning of the USS FITZGERALD
$6,000 for the Submarine Memorial at USNA
$2,500 for the U.S. Navy Memorial in Washington DC
$3,000 for the USS LIBERTY Memorial
$3,500 for endowment of flowers for the Chapel on Parent's Weekend
&nbsp In addition, funds were provided for selected aid to widows, Another Link in The Chain program, the search for the Bon Homme Richard, and various memorial services over the years.
&nbsp In sum, we raised and distributed over $1 million in memory of our deceased classmates and still have a corpus of well over $600,000 which will be added to the Legacy Gift for funding our namesake Class of 1963 Center for Academic Excellence (63CAE).
&nbsp All in all, a true "BZ" for 1963!!
---
&nbsp A day before the reunion began, our classmates who were members of Navy's crew team assembled for a ceremony at Hubbard Hall. Here is a brief excerpt from the news story in the Navy Crew Newsletter:
&nbsp On October 23rd, alumni, midshipmen and coaches gathered to celebrate the Class of 1963's 50th reunion with a shell dedication.
&nbsp The program recognized the Class of 1963 by naming a lightweight shell in their honor on their 50th USNA reunion. The Class of 1963 is one of our most supportive alumni groups. They helped to provide Navy's heavyweight, lightweight and women's crews with the best equipment available. Their collaborative effort is the basis of our Navy Crew Excellence Fund, from which the majority of our rowing shells are now bought. They have also started a 1963 shell endowment fund which will keep a "Class of 1963" shell in our boathouse forever.
&nbsp The article recounts the remarkable accomplishments of 1963 oarsmen and coxswains during their Midshipman years and afterward and refers to our Plebe boat as "legendary." To see the full, illustrated story in the 50th Reunion section of our web site, click HERE .
---
&nbsp Ben Redd reported that members of the 5th Company gave Watt Miles a token of their appreciation during the reunion for all that he has done for the Company in the last few years. These photos were taken at the time.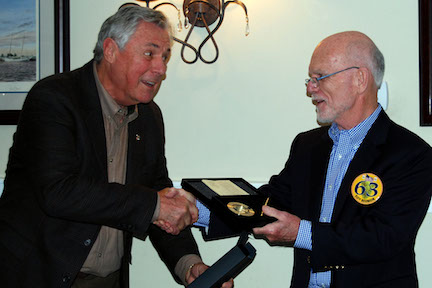 Ron Klemick and Watt Miles
---
&nbsp Daryl Rabert sent this news of the latest event in our continuing transfer of 1963 swords to members of 2013.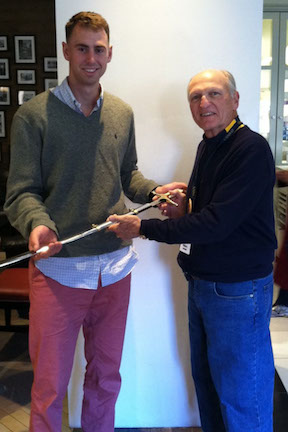 Daryl Rabert presents his sword to Ted Baumgardner '13
&nbsp Here is a picture taken as I presented my mameluke to 2nd Lt. Ted Baumgardner, Class of 2013 at Loews Hotel during our 50th reunion weekend. I do believe this is the latest, and perhaps last, sword presented to the Class of 2013. I was certainly happy to present my mameluke to Ted to maintain the link in the chain. He was happy to receive it and indicated that some of his fellow students in Basic School could not believe that we have this connection with the Class of 2013. (Thanks to Spence Johnson for holding my mameluke until Ted was available for the presentation.) The photo below, made at the time of the presentation, shows Ted and myself with fellow Marine Corps officers Ron Matthews (left), and Bill Cole(right).

Four Marines



---
&nbsp Lew Blackwell tells us about a special occasion soon after the reunion.
&nbsp On the Monday night following our 50th Reunion, Dr. Enrique Devoto and his wife Barbara hosted a wonderful dinner at their lovely home in Red Bank, NJ, to honor his brother Bill Devoto, our 10th Company classmate. Bill had a very successful career in the Peruvian Navy, retiring as Rear Admiral. Following the Navy, he worked for several mining companies traveling extensively around the world and now is fully retired in Lima. Shown at the dinner are Enrique Devoto, myself, Will Settle, Dick Cherry, Bill, and Ron Boeri. Note in the background an original Peale portrait of George Washington...we were in good company!

Honoring Bill Devoto



---
&nbsp Sam Garde submitted three scans of New York City newspapers from June 1963 showing capsule biographies of service academy graduates. To see all three scans and read the texts in higher resolution images in the Pride and Tradition section of our web site, click HERE.



---
&nbsp In mid-November, Phillip Marsden sent this very good news about Vern Von Sydow:
&nbsp Classmates, it is an honor for me to pass on the news that Vern Von Sydow has been honored by the AARP Educator Community for his continued service in the San Diego community to help at-risk youths. He was one of only three individuals so recognized this year. You can find the citation below.
&nbsp Vern's selfless efforts on behalf of these youths have gone on for many years and truly represent a sterling example of the highest ideals of public service. I am proud to be his classmate and consider him to be one of our Class's "Distinguished Graduates".
&nbsp Here is a description of the award, followed by the text honoring Vern.
&nbsp NRTA (AARP's Educator Community) is committed to learning, voluntary service and civic participation. More than a decade ago, the organization formed the With Our Youth! program to provide volunteer opportunities for community service projects with youth. For the first three years of the program, NRTA made a pledge to serve 1.5 million youth in 2,000 communities with a total of 45 million service hours through its affiliated state retired educators associations. The goal was exceeded.
&nbsp The recipients of NRTA's 14th Annual With Our Youth! awards were chosen for outstanding service to youth in the state, local, individual and impact categories by an independent selection panel.
&nbsp Vern Von Sydow has touched the lives of literally thousands of at-risk high school students. His math tutoring has helped turn dropouts into college students, and teachers credit working one on one with him as one of the key interventions to move students ahead. Years ago, he reached out to his Naval Academy class alumni network and asked for donations to start the Palomar Scholarship Foundation, which awards more than 20 scholarships per year to deserving young people. That seed money along with fundraising and donations has supported young people going to college for over 20 years.
&nbsp He is a role model to all teachers for his selflessness in retiring to save the jobs of younger teachers and in his work ethic. Despite being retired, he still comes to school every day to tutor at-risk kids in math. In particular he works with teen mothers to help them achieve their graduation goals. He comes in early and stays late yet always has time to devote to a student who needs him whether it be to teach them how to tie a tie for a job interview or just to listen to them when they are feeling down. He never fails to remind that mistakes are just another step in the direction of perfection.
&nbsp The scholarship fund is a fully functioning 501(c)(3) charity registered with the state of California, and he serves as the foundation's president. He is also on the Sweetwater Union School District's Superintendent's Advisory Committee helping to shape new education policy. During his teaching years, he established an internship program where at-risk teens work in jobs on the local naval base learning career skills and building relationships with naval mentors. The Navy Internship Training Program has served thousands of young men and women and has been recognized with a Golden Bell award from the governor of California.
---
&nbsp Phillip also forwarded an email he received from John Middleton, alerting us to a video compilation you are sure to enjoy. Here's a portion of John's text:
&nbsp I watched the ESPN Sports Center segments on the USNA as part of their tribute to Veterans Day. I was so taken with the spots that I called some folks at Annapolis to see if we could get an "Annapolis clips only " video -- wouldn't that be cool to have and share with family, etc.? Well, guess what -- the public affairs office had it. It's an hour and a half long but just great! Click HERE to see it.
---
&nbsp Jim Koehn checked in to tell us about his latest travel adventures.
&nbsp In August, Judy and I, together with two other couples, enjoyed a two-week Tauck tour and cruise throughout Alaska. We were able to visit many of the small towns along the west coast (Anchorage, Skagway, Ketchikan, etc., and down to Vancouver, BC) while seeing virtually every type of wildlife that the state has to offer. Two memorable events were watching a wolf confronting a caribou and experiencing a wild, open sea transit from Valdez to Whittier. Our small private boat sustained major damage caused by 10 foot swells and many became seasick -- except for the two Naval Academy grads (including Tom Ballentine USNA '65) and our wives.

Judy and Jim Koehn in Alaska



&nbsp We spent several days in the Denali Park which provided stunning views since the weather was very cooperative. Judy fell in love with a new-born puppy when we visited the Iditarod training facility at the Husky Homestead. The cruise itself, plane flights over the glaciers, train rides, and the variety of scenery were fantastic. If ever you get to make a trip to Alaska it is well worth the time; it's just amazing, especially for those like us who travel from the Mohave desert!
---
&nbsp One enjoyable aspect of reunions is that encounters with long-time friends often bring memories of happy events. As an example, here is a photo sent by Mike Blackledge: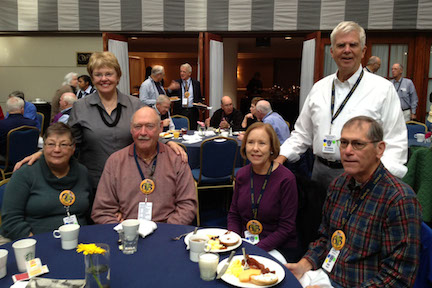 Weddings remembered
&nbsp From the Brunch at Loews, here is a noteworthy '63 marriage connection: seated in front of Bonnie Nolan-Blackledge, the widow of our classmate George F. Nolan, are Virginia and Tony Womble. Tony was a swordsman at the October 1966 wedding of George and Bonnie. Seated in front of Michael Blackledge are Sharie and Ron Saqui. Ron was the best man at the June 1966 wedding of Helen and Michael. The photographer was our classmate Dave Moore, who is credited for bringing Bonnie and Michael together in 2007.
---
&nbsp Have a good Thanksgiving, a fine holiday season, and a Happy New Year 2014! Keep those emails and pictures coming to me, and BEAT ARMY!



---