Shipmate Column
January-February 2015
---
CLASS OF 1963
Pres: CAPT W. Spencer Johnson IV, USN (Ret.)
Sec'y: Michael H. Shelley
164 Sweetwater Lane, Pisgah Forest, NC 28768
h: 828-862-4245 e: nstar@citcom.net
Web site: http://www.usna63.org.


For any classmate you can go to the Classmates Page and enter his name to read his current biography if available.
---
---
---
&nbsp We have a lot of news and information to share this month, much of it recounting summer travel and other active pursuits. Before we get to that, we note the loss of a classmate.



&nbsp I am sorry to report the death of David Frederick Leake, who passed away on 5 October. His widow, Lynn, can be contacted at P.O. Box 3710, Idyllwild, CA 92549.
---
&nbsp This note from Chuck Spadafora conveys some very good news about '63 support of USNA boxing.
&nbsp After a year's journey to get approval for a USNA boxing trophy, we have arrived. The Champions Trophy honors our four boxing coaches in 100 years of Brigade Boxing and recognizes our 11 team boxing national championships. It resides in the boxing loft on an appropriate pedestal.

A model of the Champions Trophy



&nbsp We will present a replica of the trophy to every boxing national champion going forward. I had the privilege of presenting the first one. Since the trophy was my idea, I guess they gave me first shot. We were in good company that evening as the Bellino, Staubach, Max Bishop, and other awards were also presented. Robbie Newton, Mike Krause, and other boxers supported the effort financially, so '63 is well represented in the ring.

Chuck Spadafora presents the first Champions Trophy to Midn Sean Hunt



---
&nbsp Spencer Johnson forwarded a note from Phil Rooney about some 7th Company mates who recently enjoyed a lunch together.
&nbsp Andrea and Spencer Johnson, Virginia and Brev Moore, and Jan and Phil Rooney had lunch at Anne and Skip Wright's house in Bethesda, MD, on October 20th. Skip's doing great, especially after his broken leg - hip replacement affair! Great to see him, and to get together with company mates! It was about a year ago that we were celebrating our 50th reunion here.

Skip Wright and Phil Rooney


I went to Iceland with Nimitz shipmate Paul Tully '62 in September, and caught some beautiful Atlantic salmon. This photo says it all!

Phil Rooney's Atlantic salmon



---
&nbsp Tom Reemelin tells us about a grand Italian vacation by three '63 couples.
&nbsp Thanks to master tour leaders (and sommeliers) Helen and Dick Anderson, Carol and Charlie Minter and Fran and Tom Reemelin spent five great weeks with them in Italy this fall. Staying in villas in Cortona (Tuscany), Moasca (Asti), Lecce and Torca (Sorrento) we enjoyed much wine drinking and tasting, feasting (including Charlie and Carol's peperonata and Dick's French toast), and generally taking in the wonderful sites and friendly people of Italy. This picture shows us after one of many very fine dinners together. Left to right in this photo are Charlie, Tom, Carol, Dick, Helen, and Fran.

Dining in Italy



&nbsp Some of the highlights included celebrating Dick and Helen's 50th anniversary with a five course gourmet dinner and tour of Assisi, helping pick vineyard grapes in Moasca with 99 year-old Augustino's family, driving and boating the Amalfi coast and the Isle of Capri, and reminiscing of 6th Fleet Staff duties and ship visits to Naples and Gaeta. We also celebrated the Minters' 49th and the Reemelins' 47th anniversaries. Aren't we so fortunate!
---
&nbsp Here's a text from Harry Hirsch about the 23rd Company's annual reunion. You'll be envious!
&nbsp For the eighth time in nine years, the only exception the 1963 50th Class Reunion in 2013, the 23rd company gathered from far and wide for its annual reunion. A 17-man complement mustered on Wednesday, October 22nd, 15 miles south of Lake Charles, LA, on the periphery of a pristine Gulf Coast salt water tidal marsh, about equidistant from Houston and New Orleans. The facility selected for this year's get together was the Grosse Savanne ("Big Pasture" in French) Lodge. It is one of only 24 Orvis endorsed hunting lodges in the world, encompassing 72,000 acres and offering guided salt and fresh water fishing, waterfowl shooting and even alligator hunting.

23rd Company in Louisiana



&nbsp The attendees were Mike Bonsignore, Bill Bradford, Len Eaton, Harry Hirsch, Steve Hoy, Niles Iannone, Mike Krause, Steve Leisge, Flack Logan, Bob Maier, Bob Nelson, Dick Ortwein, Keith Reynolds, Mike Rubel, Vern Von Sydow, Art Weidner, and Sherwood Zimmerman.
&nbsp All were delighted that Bob Nelson joined the group for the first time. Bob drove from North Dakota to be there and his joining the group was a highlight of the reunion. It was also very much appreciated that Niles Iannone made it, as he had to go to great lengths to attend this year.
&nbsp Fishing each morning was in one of three venues, fresh water; mainly large-mouth bass, tidal marsh; redfish, black drum, sheep head, or Calcasieu Lake, which connects to the Gulf; flounder, white trout and redfish. After returning from the morning fishing charters, the afternoons were open for individual activities, fishing on your own, skeet shooting or just relaxing at the lodge talking on the porch while sipping an adult beverage as the sun set over the bayou. Saturday we all watched Navy hopefully turn its season around with an impressive win over San Jose State. We also managed to catch a couple of the World Series games after dinner. The meals were all Cajun/Louisiana cuisine, shrimp, crawfish, gumbo, ribs and absolutely delicious redfish prepared with the morning's catch. As is typical with lodge fare, the servings were more than generous.
---
&nbsp Gaye and Steve Jacoby took a two-week, 740-mile Viking Russian River Cruise trip from St. Petersburg to Moscow in July. Steve sent this after-action report:
&nbsp It was our 30th cruise and the most rigorous to prepare for. It took three months to get a special visa that required each of us to fill out an 18-page personal history form that included everything except what we had for dinner at our high school prom. It was well worth the effort as the cruise was amazing. We saw beautiful palaces and many golden domed and brightly colored churches, visited Russian homes, and had one-on-one conversations with the people, which were a highlight of the trip. On board lectures provided detailed information about the history of Russia which we really enjoyed. We were also able to see all of the tourist points of interest and got a good insight into lives of the Russian citizens under socialism. I enjoyed making an impromptu performance playing the Balalaika at the Moscow Symphony two blocks from Red Square. Attending a Russian Ballet in St. Petersburg was a memorable highlight for us.

At the Peterhof Palace in St. Petersburg



---
&nbsp Dave Moore informed me that the Naval Institute Press has just published Dave Oliver's book, Against the Tide; Rickover's Leadership Principles and the Rise of the Nuclear Navy. For more information, and to order a copy, click HERE .



---
&nbsp This note from Mario Fiori tells us about our classmate Bill Pawlyk.
&nbsp I visited Bill on 4 and 6 October at Monroe Reformatory in Monroe, WA. Denny Vaughan joined me on the 6th and I have attached a photo of all of us. Bill, now 73, continues to work hard in his teaching and volunteer efforts. His health is relatively good except he did get a hip replacement in the beginning of the year and had three arterial stents to open up some of his clogged plumbing a few days ago. I do speak to him almost every week and he does enjoy getting visitors and mail. (Should anyone want to visit him, there is a process involved and I would be glad to assist.)

Mario Fiori, Bill Pawlyk, and Denny Vaughan



---
&nbsp Long-time Albuquerque resident Mike Blackledge sampled some of the pleasures of the eastern United States this summer. A highlight of his travels was a visit to our nation's capital. He filed this description of his memorable lodgings there.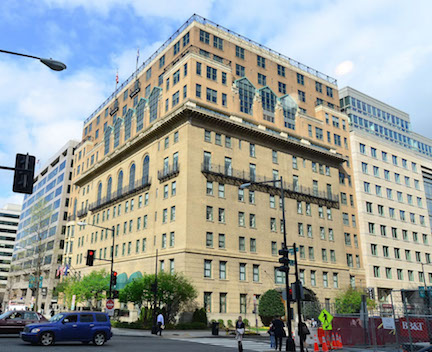 The Army and Navy Club in Washington, DC
&nbsp The Army and Navy Club is a hallowed institution located in the shadow of the White House, across the street from Farragut Square in the heart of downtown District of Columbia. Since its beginning, The Army and Navy Club has been the home away from home for the most illustrious names in America's political and military history. Many familiar faces from the pages of history books line the grand halls of the Club, where honor and achievement are proud traditions. The membership roll includes one of the first men to land on the moon, the first person to fly solo across the Atlantic, participants in the first around-the-world flight, as well as Presidents, Vice Presidents, members of Congress, and Cabinet officials - and my Fourth Companymate, Lou Simpleman, Colonel, USMC (ret.). Bonnie and I were afforded the opportunity to stay there during a few days in July of 2014 through the largesse of Lou and Jo Ann, who are members of the Club. Once Lou provided his entry (and Club number), we contacted the office directly, and found an antiquated reservation system that soon located a room for us on the third floor.
&nbsp The Army and Navy Club is what one would call "Old School." A Dress Code is enforced throughout the building; even at breakfast, gentlemen are to wear coats and a shirt with a collar. I was able to get away with no tie, but succumbed on the second day and went all out. Miss Bonnie was suitably attired, which is all that is required of the ladies.

Bonnie and Mike dining at the Army and Navy Club



&nbsp What was most striking to us was the Club Library on the 3rd floor. When we exited the elevator onto that floor, we were greeted by an expanse of library that seemed to go on forever, and indeed, as it turns out, this library is under the auspices of the Library of Congress. All types of military history and reference books are available (not to leave the building), and if you are looking for a particular year book of West Point or even the Citadel, this is the place to visit.
---
&nbsp Jim Ring told me that Sam Garde is a member of the Town Council in Milton, DE. Milton is the home of world famous Dogfish Head Craft Brewery. That's reason enough to detour and pay Sam a visit!
---
&nbsp Bill Hollenack told me about his cruise vacation here in the USA.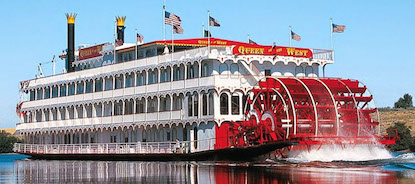 The Queen of the West
&nbsp Judy and I took a river cruise with American Cruise Line on the Queen of the West, a stern wheel paddle river cruiser. The trip began on September 20 at Clarkston, WA, and ended on September 27 at Portland, OR, via the Snake and Columbia rivers. This was the route Lewis and Clark took on their great journey west. It was a very enjoyable trip with lots of history.

Bill and Judy Hollenack with Sandy and Mike Harman



&nbsp When we docked in Portland we were met by my 4th Companymate Mike Harman. We spent a few very enjoyable days with Mike and Sandy at their home in Lake Oswego, OR, before returning home to North Carolina.
---

&nbsp Doug Tozour told me about a very fine aviation video devoted to the Consolidated PBY Catalina. It includes some beautiful photography of a restored PBY now owned by The Greatest Generation Naval Museum in San Diego. Click HERE to see it.
---

&nbsp George McLendon has joined the ranks of our classmate authors. Here is his note about his new book:
&nbsp My novel PAPA'S GIFT was released upon the unsuspecting public by my publisher, Black Rose Writing, on August 28 and now is available on Amazon in print and e-book formats. I really enjoyed writing it and so far it has two "five-star" reviews on Amazon. The story is written as literary fiction and the overall theme is grandparents passing along the stories of their life experiences to their granddaughter for her to have a heads-up to better her own life.
---
&nbsp Congratulations to two '63 couples who celebrated their 50th wedding anniversary in October. Ray Kutch supplied this news.
&nbsp This picture shows Judy and me (at the left) cutting our 50th Anniversary cake along with Sally and Win Orgera, who also celebrated their 50th on the same day, October 3rd. At the party at our home in Washougal, WA, were a number of USNA alumni including two more classmates, Jim Hall and Pete Soverel and his wife, Marion. Win and Sally came up from California. It was a great day and a great honor to be able to celebrate with classmates!

Cutting the anniversary cake




Pete and Marion Soverel with Jim Hall



---
&nbsp Thinking of our many classmates who piloted Douglas-built aircraft, Jim Metcalfe informed me that a new mural painting called "Fly Navy" was recently unveiled at the Museum of Flying in Santa Monica, CA. It depicts a 1958 cruise on the FORRESTAL, the only cruise that carried all Douglas aircraft. Pictured are the A4D Skyhawk, the A3D Skywarrior, the F4D Skyray, and a trio of A1D Skyraiders.



&nbsp The Museum of Flying is a private, non-profit air and space museum. Founded in 1974 as the Douglas Museum and Library, it was renamed the Museum of Flying in 1989. The Museum exhibits the history of aviation, focusing on aviation history in Southern California.
---
&nbsp That's all for now, folks. I hope you'll have a fine holiday season and a happy and healthy New Year 2015.



---