Shipmate Column
January-February 2018
---
CLASS OF 1963
Pres: CAPT W. Spencer Johnson IV, USN (Ret.)
Sec'y: Michael H. Shelley
164 Sweetwater Lane, Pisgah Forest, NC 28768
h: 828-862-4245 e: nstar@citcom.net
Web site: http://www.usna63.org.


For any classmate you can go to the Classmates Page and enter his name to read his current biography if available.
---
---
&nbsp I am sorry to report the death of our classmate Charles Francis "Chuck" Sell, who passed away on 6 November. His widow, Charlotte, may be contacted at 7231 Brookcrest Place, Annandale, VA 22003.
---
&nbsp Here is some very good news from '63 Class President Spencer Johnson:
&nbsp David Puckett and I recently met with the Naval Academy Foundation for our annual review of the finances for the 1963 Center For Academic Excellence (CAE). The good news is that our 6.7 million dollar investment for the '63 CAE earned $395,000 over the last fiscal year (July to July). Our annual infusion of $500,000 to the '63 CAE is largely offset by these earnings. We are still in a bull market and, hopefully, we can report the same thing next year. Additionally, a widow here in Annapolis, whose husband was USNA '46, has pledged $420,000 to the '63 CAE over the next four years. The Class of 1971 is working to raise 1.5 million dollars for their 50th anniversary gift, which will also go to the '63 CAE. The CAE has helped bring the academic attrition rate to less than two percent for the Brigade, and all present financial needs of the '63 CAE are being met. Well done, classmates!
&nbsp Contributions to the '63 CAE are always welcome. To donate, send your gift to the United States Naval Academy Foundation, Processing Center, P.O. Box 79169, Baltimore, MD 21279-0169. When making a donation, designate the '63 CAE on the memo line of your check. Thank you for your past and continuing generosity to the '63 CAE and our alma mater.
---
&nbsp I was pleasantly surprised to receive this news of Dan Hennessy from Ray Garfield '66.
&nbsp Dan Hennessy, my great friend, attorney, and partner, graduated Number 1 in the Class of 1963, then served in the Navy including on board a Destroyer off Vietnam. I thought you and all of your classmates would enjoy seeing this recent photograph of Dan with his son, Fr. Daniel Hennessy, L.C., who for the last several years has served as International Director of the Patrons of The Arts in the Vatican Museums.
&nbsp Dan and his wife Bettina reside in Dallas, and Dan continues to practice law, serving as General Counsel and a Principal in the firm of Garfield Public/Private LLC, a national developer of public facilities. Dan and Bettina have two sons and two daughters and seven grandchildren at last count.

Dan and Daniel Hennessy




---






&nbsp Our classmate Bob Abate was interviewed on CUNYTV75 in New York City on 8 November. The approach of Veterans Day on the 11th set the scene for Bob to discuss his background and his personal project to conduct oral history interviews with World War II veterans. He has conducted hundreds of interviews over the past 19 years. I invite you to watch the television video by clicking HERE . Such dedication, and what an accomplishment. BZ, Bob!
---
&nbsp The Naval Institute Press has just published the latest book by our classmate Harlan Ullman: Anatomy of Failure; Why America Loses Every War It Starts. It addresses the question of why, since the end of World War II, has the United States either lost every war it started or failed in every military intervention it prosecuted? Find out more about it at Amazon.com, and be sure to read the book's preface by clicking on the "Look Inside" tab there.



---
&nbsp Here's a note from Jim Oakes:
&nbsp Linda and Chuck Spadafora flew to San Francisco on October 19, heading to a wedding in fire ravaged Glenn Ellen, CA, which is in the wine country about an hour and a half north. I met them at a restaurant owned by a fellow Serra High School grad (think Tom Brady, Barry Bonds, and Jim Oakes!) We had a great New England Lobster lunch and got caught up with events since we last saw each other in La Quinta last March. Linda and Chuck had just flown in from Houston. They have a busy schedule ahead. After the wedding they were off to San Diego to visit a son and then on to Denver for a Marine Corps charity board meeting.

Jim Oakes, Linda and Chuck Spadafora



&nbsp A few days earlier, Jim had told me that he is still enjoying playing tennis and pickleball. He still has three "hobby" jobs: working for the San Francisco Giants, being a U.S. Tennis Association and Intercollegiate Tennis Association referee and chair umpire, and being a Financial Industry Regulatory Authority arbitrator.
---
&nbsp Ross Anderson's widow, Susan, recently came across a narrative account of an epic trip that Ross made from Tallahassee, FL, to Annapolis in a Model A Ford during Labor Day weekend of 1962. His traveling companion was 4th Companymate Vic Dean. They had quite an adventure -- and many breakdowns -- as they drove northward to begin 1/c year. The full text of the amusing story is in the Pride and Tradition, Midshipmen Memories, section of our web site; see it by clicking HERE .



---
&nbsp George Emery wrote to tell me of a book about our classmate Pete Soverel.
&nbsp Have you seen the book, The Conservator, published this November? A copy arrived in the mail a week ago compliments of the author and his subject, Pete Soverel. It's a mini-biography of Pete. The thrust is all that Pete has done and is still doing to save wild fish, notably the Steelhead and other wild Salmon in the Northwest and elsewhere. In the process the author spends a good deal of time on Pete's Vietnam heroics, his relationship with prominent Russian military officers, and his time in the Pentagon during the Reagan administration. I certainly enjoyed it, and I'm sure there our others in the class, particularly in the 24th Company, who would, too.



&nbsp You can find the book by searching the author's name -- John Sager -- on Amazon.com. Be sure to click the "Look Inside" tab and read the first two chapters of the book there.
---
&nbsp Thanks to Jim Ring for sending this photo from the 15 September luncheon gathering of Washington, DC, area classmates at the Army-Navy Country Club in Arlington, VA. Jim is at the head of the table. Left to right are Ed Hutcheson, Steve Leisge, Forrest Siburt, Harlan Ullman, Wilson Harris, Bill Earner, John Aucella, Dick Kuntz, Mike Cronin, Steve Duncan, Mario Fiori, Satch Baumgart, and Ed Brady.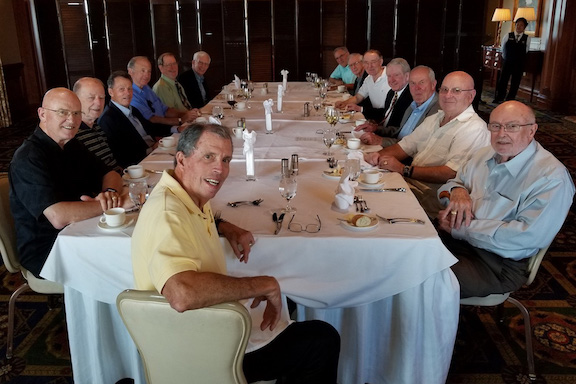 DC area classmates
---
&nbsp Mike Krause supplied this news and photo from an October elk hunt at Jim DeFrancia's Colorado ranch.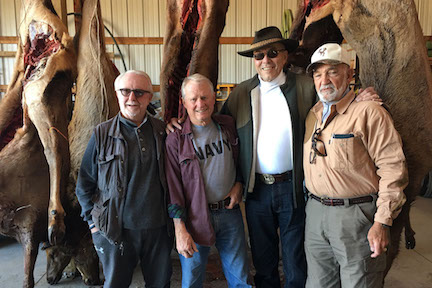 Elk Hunters in Colorado
&nbsp Pictured, L-R, are Jim, Marvin "Scoot" Childers, me, and Mike Bonsignore. Scoot is a retired Navy MD and Jim's good friend. Jim's former CO while he was assigned to the Embassy in Venezuela, Royal Collette (a retired O-6 SC), was also with us.
&nbsp All the hunters got an elk on Saturday, the first day of our hunt. We had to haul them off the ridge to a place we could load them into an end loader. Mike B also caught seven large "cutbow" trout (cutthroat/rainbow hybrids). As always, Jim and Cynthia were the perfect Host and Hostess at Marabou Ranch and at their beautiful home overlooking their spread and the Elk River that runs through the ranch. I guess those Plebe Summer days we spent on the rifle range with our Springfield rifles are paying off 58-plus years later!
---
&nbsp Here's another picture from the sportsman's world, sent by John Kallestad.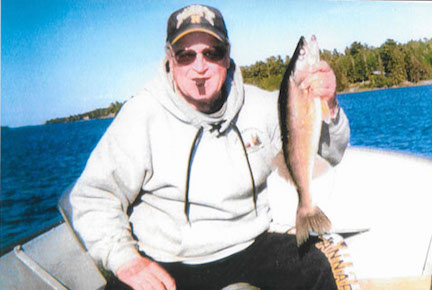 John Kallestad in Minnesota
&nbsp Fishing is fun, especially at Minnesota's Northwest Angle on Lake of the Woods. I find myself spending most summers on Minnesota's lakes pursuing Mr. Walleye. I have two sons, who in the last two years have graduated from college and married their school sweethearts. It is an empty nest here again. The good news, however, is that I now have time to do some serious planning for our 55th reunion in San Diego. I am thinking it will be our best reunion yet.
---
&nbsp A faithful contributor to our Shipmate reports, Jim Metcalfe filed this item:
&nbsp Once again in October, I took a Regent University Law School trial team to Stetson University College of Law in Gulfport, FL, for their annual National Pretrial Competition. This was my 6th trip to Stetson. I have been an Adjunct Law Professor at Regent since January 2012. I am always impressed with the trial competitions we have today. Nothing like this when I went to law school! I stopped by after the competition to visit with Fran and Tom Reemelin at their beautiful Palmetto, FL, home. We ate lunch at the local yacht club where Tom plays tennis regularly. Both of them look great. They enjoy living near one set of their grandchildren. Tom is the president of the local homeowners' organization, which keeps him busy.

Metcalfe and Reemelin



&nbsp Tom is not only a USNA classmate but also a Culver Military Academy classmate. Three of us CMA '59 guys entered the arms of Mother B. with the rest of '63: Tom, Fred Wielandt, and me. Fred left in the summer of '60 after an unsuccessful match with math. He went on to graduate from Indiana & was commissioned an Ensign through AOC. He earned his NFO wings and had a career in S-3s in San Diego, retiring as a CDR.
---
&nbsp I hadn't heard from Mal Wright for a while, but this month he set a good example for our classmates by providing a full report and many photos from "Minterland" in Washington state.
&nbsp Recently, Carol and Charlie Minter moved from their home in Delaware to Bremerton, WA, to be closer to family. They purchased a beautiful waterfront home and they have settled in. They were visited recently by Tom and Fran Reemelin, from Palmetto, FL, and Dick and Helen Anderson from Tustin, CA. While their guests were here, Charlie and Carol planned a "surprise" party for the Reemelins, who are celebrating their 51st wedding anniversary. We gathered at "Minterland" on Sunday afternoon, 24 September, for the festivities. We were especially glad to see Denny and LuAnne Vaughan, who came from the other side of Puget Sound and Bob and Pat Wildman, who came down to Bremerton from Whidbey (Wildman has stated that he considers it a "hardship" to leave his "island."). Dan and Geri O'Claray also came some distance, all the way from Sequim (pronounced "Skwim"), WA. It was a special pleasure to welcome and visit with Meredith and Laurie Musick. Meredith is recovering from a stroke which occurred last December. He is doing great. Of course, Lya and I were there -- we live only about 10 miles away. The weather was as good as it gets in the Summer/Fall in the Northwest. Charlie and Carol went out of their way to be splendid hosts: great chow, comfortable surroundings, and the company of classmates and spouses ("old tales be retold"). It could not have been better. Here are several pics from the event.

SEATED: Wright, Musick STANDING: O'Claray, Anderson, Wildman, Reemelin, Vaughan, Minter




Pat and Bob Wildman




LuAnne and Denny Vaughan




Meredith and Laurie Musick




Dan and Geri O'Claray




Fran and Tom Reemelin




Dick and Helen Anderson




Carol Minter (right) and her daughter, Julie



---
&nbsp Be sure to keep checking the Reunions section of USNA63.org for updates about plans, preparations, and hotels for our 55th reunion in San Diego next October. The reunion committee plans to publish information in February or March about registering for the reunion. It will have all the info needed to sign up for all the events.



---