Shipmate Column
January-February 2020
---
CLASS OF 1963
Pres: CAPT W. Spencer Johnson IV, USN (Ret.)
Sec'y: Michael H. Shelley
27 Cambridge DR, Brevard, NC 28712
h: 828-506-2201 e: nstar@citcom.net
Web site: http://www.usna63.org.


For any classmate you can go to the Classmates Page and enter his name to read his current biography if available.
---
---
---
&nbsp I prepared this column in the days around Veterans Day. Appropriately, much of the information I received from our classmates in recent weeks relates to the service of our fathers' generation - The Greatest Generation.
&nbsp The release of the new movie "Midway" spurred interest in not only that crucial battle but other engagements in the Pacific during World War II. Several fathers of our '63 classmates (including Roger Mehle, Jim Metcalfe, Charlie Minter, Dave Moore, Ken Nisewaner, John Coye, and others) served with distinction in action against the Japanese. Reviewing an online collection of photos relating to Midway, I saw this caption: "Admiral Chester W. Nimitz is seen here presenting awards to naval personnel on the flight deck of the carrier USS Enterprise at Pearl Harbor on 27 May 1942. As Nimitz pinned the Distinguished Flying Cross on Lieutenant Roger W. Mehle for actions in a raid against the Marshall Islands on 1 February 1942, he told the young aviator, 'I think you'll have a chance to win yourself another medal in the next several days.' Nimitz, of course, was speaking of the upcoming Battle of Midway. As it happened, Lieutenant Mehle would find himself leading a section of Grumman F4F Wildcats of Fighting Squadron (VF) 6 defending USS Enterprise on 4 June"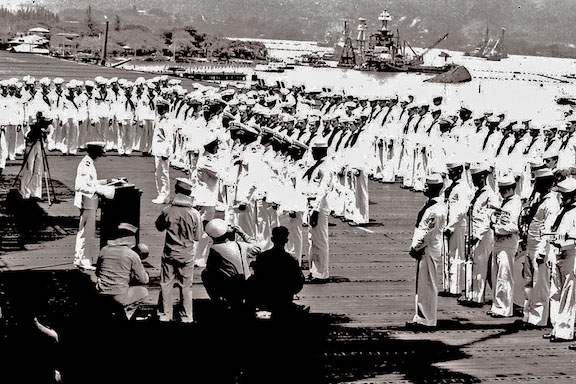 Nimitz presents awards



&nbsp In October, Dave Moore and I exchanged emails about the Leyte Gulf operations in 1944. Here's what he told me about his father, Ben Moore '27:
&nbsp In many ways Leyte Gulf and the few days thereafter were the high point of my father's career. He was the XO of FRANKLIN when it was hit by a kamikaze on 30 October. It hit the flight deck just aft of the island creating a 30-40 foot hole, destroyed 33 planes, killed 56. My father received the Silver Star for directing the fire fighting. A few days later in Ulithi, my father had the privilege of escorting ADM Halsey around the ship to inspect the damage. (The CO was busy preparing for a long-planned change of command). When FRANKLIN reached Bremerton in December my father detached to take command of THETIS BAY (CVE-90) and thus was not aboard FRANKLIN when it got hit really hard 60 miles off the coast of Japan on 19 March 45.

USS FRANKLIN (CV-13)



&nbsp Dave also shared some information about the father of our late classmate Ken Nisewaner. CDR Terrell Nisewaner '32 was Commanding Officer of the destroyer ALBERT W. GRANT at the Battle of Surigao Strait on 25 October 1944. A unit of DESRON 56, the ship was badly damaged after firing all its torpedoes at the Japanese battle line. Thirty-four men were killed or missing and 94 were wounded. CDR Nisewaner went below to pull wounded men from the oil-soaked, burning engine room. He was awarded the Navy Cross. Ken '63 was a third generation Navy Junior, named for his maternal grandfather, the famous aviator Kenneth Whiting whose name is honored at Whiting Field in Pensacola.

USS ALBERT W. GRANT (DD649)
---
&nbsp Bob Harper shared a note he had received from Jim Beesley '66, who had encountered our classmate John Coye aboard USS CONSTITUTION in Boston on 20 October. According to Jim, John's father, RADM John S. Coye '33, was a highly decorated Naval Officer in WWII with six submarine patrols as skipper of USS SILVERSIDES. He and his crew sank the third highest tonnage in the Pacific. He received the Navy Cross with two Gold Stars. John '63 left USNA in 1962 due to medical issues.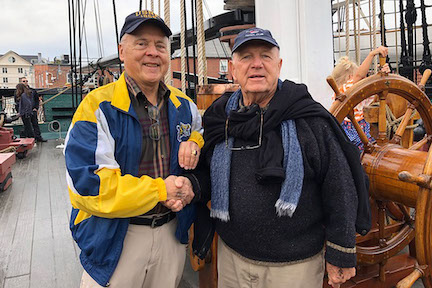 Jim Beesley '66 and John Coye '63
---
&nbsp Jack Colyer sent this news from New York City on Veterans Day.
&nbsp The Union League Club hosted a breakfast for the Medal of Honor recipients who were the Grand Marshalls of the city's parade today. Pictured with Kathleen are Woody Williams, the last living Marine Medal of Honor winner from Iwo Jima, and Bob Kerrey, who was a U.S. Navy SEAL in Vietnam. The other photo shows Kathleen and me with Woody.

At the Medal of Honor breakfast




The Colyers with Woody Williams



---
&nbsp Our classmate James R. Phillips, who was with us at the Academy for three years, passed away on 3 October. His widow, Karen, can be contacted at 24 Pease Road, Woodbridge, CT 06525.
---
&nbsp Mal Wright wrote in early October to report on his European travel with '63 couples.
&nbsp Just got back from a month traveling in Europe with a couple of 9th company classmates and wives so I thought I'd send you a couple of pictures. Shown in the first are Charlie Minter, Mal Wright, and Dick Anderson. The other shows Helen Anderson, Lya Wright, and Carol Minter. All of us were enjoying dinner at a Paris cafe. The six of us had a wonderful time traveling together through several locations in Northern Spain and much of France, mostly using VRBO's and a couple of rental cars in both countries. We enjoyed several days in Bilbao, Zaragoza, and Barcelona, Spain as well as in Narbonne, Bordeaux, and Normandy in France. Activities included sightseeing and multiple wine-tasting adventures and the thrill of driving on European country roads. We were led in the wine-tasting by Dick and Helen Anderson, both of whom are Sommeliers. Our last two days were spent in Paris where these photos were taken. It was a good trip, filled with a lot of adventures and the telling of many sea stories.

Streetside dining in Paris




Jolly '63 wives



---
&nbsp Thanks to Max Ricketts for sending this fine picture from the La Valencia Hotel in La Jolla, CA, in late October. Left to right are Lew Blackwell, Max, Edith Ricketts, and Lynn Blackwell.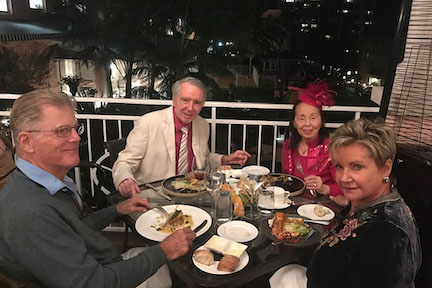 Dining in La Jolla
---
&nbsp Faithful correspondent Jack Hood sent news of a milestone event for his family.
&nbsp Ginger and I had quite a day on 28 September, one that made us feel our age. Our oldest granddaughter, Katie, tied the knot in Leesburg, VA. My son, the retired captain and father of the bride, lives in Leesburg. Beside his family, we had our son and his family from Anchorage, my sister and her husband from Iowa, plus Ginger's sister and her husband, from California, for the big event. Now we have three generations married, ours at 56 years, John approaching 30 years, and Katie just starting. Being on the short side of 80 now, it will probably take a week to recover once they all leave.

Ginger and Jack Hood with newlyweds Katie and Matt



---
&nbsp I hope you recall seeing the news about our classmate Jack Saux, who is a prolific author, in this October's class column. Jack's companymate Alan McAnally shared this additional information of note.
&nbsp When we were together at the 21st Company gathering on Cape Cod this summer Jack mentioned that if any classmates would like to donate copies of his much acclaimed "Clueless in New Orleans, Adventures in Adolescence" to a local school, he will donate and supply them at no cost; one would need only to cover shipping cost. Jack can be reached at jacksaux@hotmail.com .
---
&nbsp Mike Blackledge sent this news about a rendezvous of Fourth Company couples.
Dining in northern New Mexico
&nbsp Here is a photo taken at Hatcha's Restaurant in Mora, NM, on 13 October. Left to right are me, Jo Ann Simpleman, Bonnie Nolan-Blackledge, and Lou Simpleman. We have found a meeting location halfway between our two locations of Trinidad, CO (Simplemans), and Albuquerque, NM (Blackledges). Mora sits in the Northern New Mexico beauty of the Sangre de Cristo mountains. Following the abuse of a margarita, Bonnie and I ended up with two Park Model cabins (400 sq ft each) and invited Jo Ann and Lou down to take advantage of the locale before it all became winterized and locked. We taught them a bit of Hand and Foot cards. Bonnie led them off on Sunday to Sapello, NM, to Nuestra Senora de Guadalupe for services, followed by lunch at our favorite Mexican restaurant: Hatcha's in Mora. As Bonnie reminds us, "Here today, gone to Mora."
---
&nbsp The pride we feel about our ancestors' accomplishments is often supplemented by growing pride in our descendants. Here's an example of that, sent by Nick Nerangis.
&nbsp I see that some of our classmates are reporting their pride in their grandchildren. Let me jump in. My grandson Alex Limoges is a junior at Penn State University in State College, PA. He has loved playing ice hockey since his age was in the low single digits.
&nbsp He has distinguished himself in his chosen sport. He was a member of Team USA in age tournaments since his teen years. He skated for two years after high school in the amateur United States Hockey League. Since attending Penn State, he has attained national recognition having led the NCAA and the nation in scoring as a sophomore. He was MVP of his team last year and was also Team USA MVP in the world tournament in which the U.S. team went undefeated. He has been listed by the NCAA as one of the top three candidates for the Hobie Baker award, which is the college hockey equivalent of the Heisman Trophy. You know Kathy and I will be rooting him on in State College.
---
&nbsp Bob Harper sent this account of a late summer assembly of '63 classmates in Maine:
&nbsp The occasion was Sharon and Bob Forster's September visit to Anne and me in Winter Harbor, ME. We had seen that Dud Hendrick and Bill Anderson were just down the road in Deer Isle and arranged to visit while taking in the beautiful ocean scenery with the Forsters. This photo on the Andersons' lawn shows Elana and Bill Anderson, me and Anne, Bob and Sharon on our typical 70 degree day. It's notable that Winter Harbor only hit 80 degrees three times this entire summer. Much different than most of the country! We haven't gotten together with Dud yet, but a couple of months are left before we return to Maryland as snowbirds to Beat Army!

Rendezvous Down East on the Maine coast



---
&nbsp Lou and I spent a few days at Fernandina Beach, FL, in early October as guests of Mallory and Felix Degolian during their vacation at the home of her sister, who was traveling. One evening they hosted a beautiful dinner party with two local '63 couples, Tom and Julie Robertson and Andy and Cara Curtain. The evening was memorable with fine food, strong drink, charming ladies, and first-rate sea stories. I especially enjoyed spending time with Andy and Tom again for the first time in many years.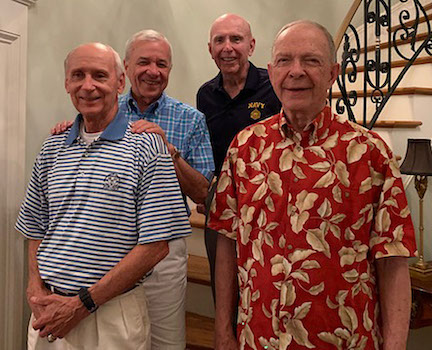 Robertson, Degolian, Curtin, and Shelley
---
&nbsp That's all for now, folks. Please keep sending me your news and photos to be shared in this news exchange.



---