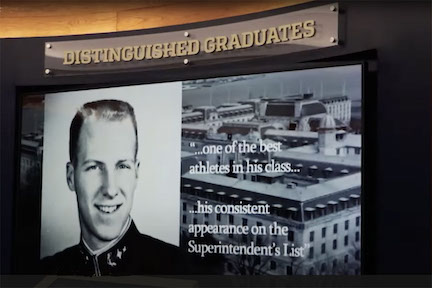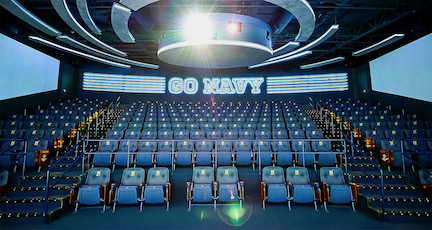 &nbsp As the donor of the lead gift for the Terwilliger Center for Student Athletes, Ron continued his unparalleled support of the Naval Academy and the Brigade of Midshipmen. As his classmates, we applaud and admire his generosity and dedication to the Academy and its mission.
---
&nbsp A timely note and photos came from Hilton Head, SC, resident Rich Weidman.
&nbsp This Veterans Day, as part of our USNA Low Country Chapter's annual observance, I had the honor of placing a Naval Academy flag next to the gravesite of three of our classmates who are buried in the Beaufort National Cemetery in Beaufort, SC. Herbert Swinburne, Wiley "Stoney" Grantham, and Russell Berry are among the almost 27,000 veterans buried here over the last 158 years.

Rich Weidman at Beaufort National Cemetery












---
&nbsp Derek Simmons tells us of a presentation honoring one of his Second Company classmates.
&nbsp On Veterans Day, Dana and I went to an appreciation ceremony at the Tryon Estates community in Columbus, NC, where one of the honorees was Austin Chapman. He was thanked for his years of service to the nation with the presentation of a "Quilt of Valor." The quilts were designed, made, and presented by women of the Western North Carolina branch of the Quilts Of Valor Foundation.

Austin Chapman



---
&nbsp Thanks to Watt Miles for alerting me to a profile of Dave Driskell published this November in the monthly magazine for residents of Fair Oaks Ranch, TX. Dave gave his OK for me to tell you about it. The article described Dave's early years, highlighted his Navy service and civilian career, and noted Fran Driskell's support for Dave and their family. Dave and Fran were credited for their community service through Rotary and other activities. Especially noteworthy is Dave's work since 2003 as a Blue and Gold Officer helping to guide USNA applicants through the admissions process. He was appointed BGO area coordinator in 2019, overseeing most of central and south-central Texas while supervising 47 BGO's. Appearing below are two of the several pictures that accompanied the article.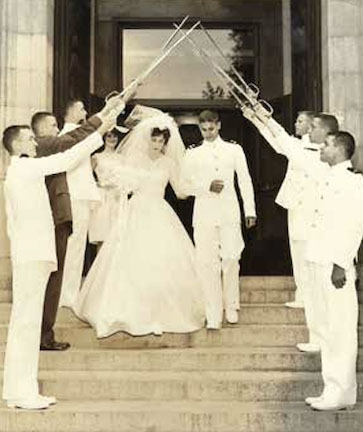 Dave and Fran Driskell on 6 June 1963



&nbsp The sword bearers at the Academy chapel were (left side, front to back) Hoot Gibson, Pete Vermaire, and Joe Frazar '65; (right side, front to back) Dave Maples, Austin Lett, and Fred Beckham.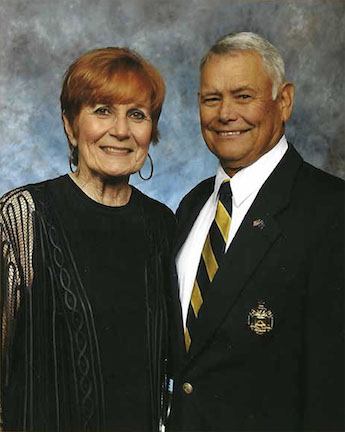 Dave and Fran at the 50th Reunion
---
&nbsp Mario Fiori reported that members of the 12th Company held a reunion in Annapolis the weekend of 7-10 October, including attendance at the Navy-SMU football game. He sent and described two photos from the event.
&nbsp In the companymates image are Fred Kaiser, Bill Witcraft, and Ron Wills in the front row. Shown in the second row are Grant Telfer, Bob Bennett, Randy Orlowski, Jim Czerwonky, Mario Fiori, and Roy Warren.

12th Company classmates



&nbsp The other photo includes wives and some children and grandchildren. What was particularly nice was the attendance by Lori Kate Smith (now Pyle) and her son, who have attended every company reunion since Casey was born 17 years ago. Gary passed away in September 2015. Lori Kate's new (May 2021) husband Cody attended and also one of Gary's daughters from first marriage, Kim Tagle, and her daughter, Rachel Tagle, also attended. Cody Pyle fit right in! In the front is Gary's granddaughter Rachel Tagle. Shown seated are Dee Wills, Vicki Warren, Sandy Orlowski, and Susan Fiori. Standing in the first row are Bill Witcraft, Linda Bennett, Klara Kaiser, Randy Orlowski, Pat Czerwonky, and Grant Telfer. Roy Warren is behind Grant. Standing in the second row are Fred Kaiser and his grandson Logan, Ron Wills, Lori Kate Smith and her son Casey Smith, Kim Tagle, Jim Czerwonky, and Mario Fiori. Cody Pyle and Bob Bennett are in the rear.

12th Company couples and family members



---
&nbsp Here is a nice photo of Kathleen and Jack Colyer in New York City on Veterans Day 2021. Jack supplied the caption.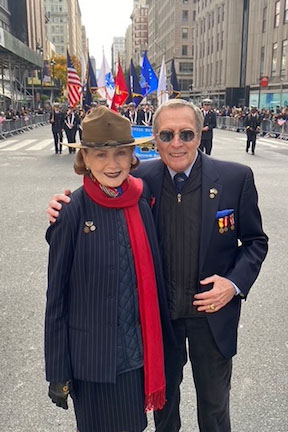 On the March for God & Country with the Union League Club
---
&nbsp Ben Redd checked in with a note about his recent travels and a nice photo of two '63 couples.
&nbsp We just got back home from a very successful 5th Company October reunion in Charleston. On the way back to Pennsylvania from Charleston, Joanne and I stopped to see Bob and Janice Van Buren in Aiken, SC. Bob and I had stayed in Annapolis following graduation being assigned to the Summer Plebe Detail. For the next year and a half, we went through (together) Nuclear Power School in Bainbridge, MD; Nuclear Prototype at Windsor Locks, CT; and finally Submarine School in Groton, CT. Following graduation from Sub School, we were assigned to different boats ... I to USS Thomas Jefferson and Bobby to USS Piper. From time to time we visit when we get a chance.

Bob and Janice Van Buren with Joanne and Ben Redd



---
&nbsp Bob Van Buren makes a second appearance in Shipmate this month. His email bringing the text and photo below arrived a few days after Ben contacted me.
&nbsp This photo was in the Veterans Day edition of the Aiken (SC) Standard. A ceremony was held in our community, Cedar Creek. Those pictured in this photo were selected representatives of each of the major services (L-R): USMC, USA, (Cedar Creek Marketing Committee rep.), USAF, USN. I was selected as the Navy rep. primarily because Jan and I are good friends of the Marketing rep. and also because I am the oldest USNA graduate in our development. We are each holding an envelope from the Marketing Committee containing a letter of appreciation for our service as well as a gift card from Chick-Fil-A. Note that I was wearing my USNA '63 class crest ball cap!

Veterans Day recognition



&nbsp My final item involving Bob is a correction to our Shipmate column this September in which three 11th Company roommates were misidentified. Here's the correct gouge. Left to right in this 2006 photo are Skip Wilkinson, John "Fitz" Fitzgerald, and Bob Van Buren.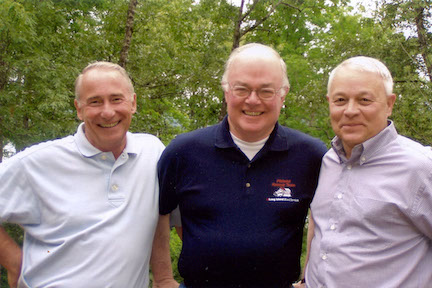 11th Company roommates
---
&nbsp Two of our classmate authors have recently completed noteworthy books, both of which have received very positive reviews.
&nbsp Dave Oliver alerted me about the publication of his latest book, A Navy Admiral's Bronze Rules; Managing Risk and Leadership, published by the Naval Institute press. Dave uses real-world case studies from his career to explore the inherent risks of leadership and the tools available to those who wish to shoulder those responsibilities.



&nbsp Harlan Ullman has authored a provocative book about the most immediate and greatest dangers to the nation. The Fifth Horseman and the New MAD: How Massive Attacks of Disruption Became the Looming Existential Danger to a Divided Nation and the World at Large is scheduled for publication on 14 December. Harlan issues a warning about so far unrecognized existential dangers to the nation and offers a plan of action to tame or break the Fifth Horseman and the new MAD.



---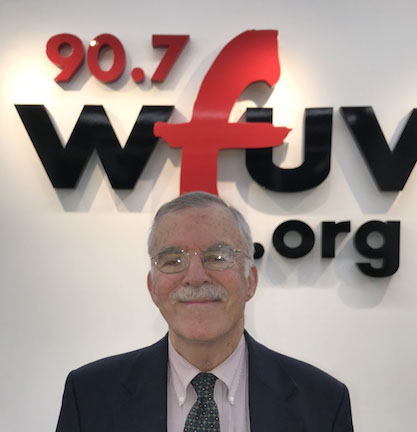 Veterans History interviewer Bob Abate


&nbsp For many years, our classmate Bob Abate has been dedicated to preserving the stories of World War II veterans by interviewing them and recording their stories on audiotape. He has talked with hundreds of veterans, capturing and preserving important personal and historical information. This is a personal project for Bob which he pursues using his own resources and many hours of his time. I just learned that he was interviewed in the spring of 2021 by Fordham University radio station WFUV. In that talk Bob described the genesis of his veterans history efforts and the impact that the preserved information has had on the veterans, their families, and others. You can hear the interview at by clicking Here To see a video interview conducted two months earlier, go to click HERE What a remarkable service Bob continues to perform.
---
&nbsp Jim Metcalfe tells us about the return of his son from Afghanistan.
&nbsp Lisa and I had lunch at Bubba's in Virginia Beach on 29 September, courtesy of our son Cdr. James M. Metcalfe, SC, USNR. We welcomed him back home from his 30 days active duty in which his duties involved logistics planning for a major worldwide exercise and then real world logistics planning for our departure from Afghanistan. Jimbo had earlier served as a Reservist called to active duty. He deployed to Afghanistan in 2006 where he was liaison to an Afghan Army Corps Headquarters.

Jim, Lisa, and "Jimbo" Metcalfe



---
&nbsp As we look ahead to the Army game on 11 December, here's a photo of one of Dave Puckett's great-grandchildren in appropriate Navy attire getting ready to cheer for a Navy football victory. Every fan counts!



---
&nbsp That's all for now. Have a happy and healthy New Year 2022!



---