Shipmate Column
July/August 2004
---
CLASS OF 1963
Pres: Stephen M. Duncan
Sec'y: Michael H. Shelley
25 Sweetwater Lane, Pisgah Forest, NC 28768
h: 828-862-4245 e: nstar@citcom.net
Web site: http://www.usna63.org.
Remember that you can click on any underlined Classmate's name to view his Current Biography.
---

&nbsp This month's report precedes a major change in Shipmate's usefulness as a communications channel. As of the next issue (September), the maximum length of class columns will be cut in half. Over many years, the Class of 1963 has sustained an active and lively exchange of news about our classmates and their families. Time and again, it has been difficult to fit our news within the space allocated for class columns and I have resorted to tight editing and the use of our web site for overflow. In the future, the web site version of our Shipmate column will be our primary means of disseminating news and the magazine will be of only secondary importance.

Our web-based column offers three advantages over the magazine: more space, full-color photos, and timeliness. Several weeks pass between submission of copy to Shipmate and the magazine's arrival in your mailbox. Beginning now, I will use e-mail to alert the 24 Company Webmasters when a new column is posted on our site; they will pass the word to you. When you finish reading the column at USNA63.org, be sure to explore the wealth (That's no exaggeration!) of additional information available there. And remember our talented, hard-working Webmaster, Steve Coester, who formats the Shipmate columns and handles all other maintenance of our site.
---

&nbsp I'm sorry to report the death of our classmate Dennis Hobbs, who passed away at his home in Prairie Village, KS, on 16 May. He is survived by his wife Tucky, two sons, a daughter, three grandchildren, and his mother. The family can be contacted at 5205 W. 84th Street, Prairie Village, KS 66207-1708.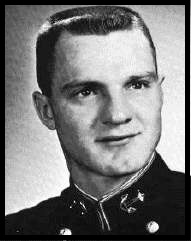 Dennis Hobbs
---

&nbsp There is a lot of news about Navy crew this month. We begin with a contribution from Chuck Adams, who sent a very full account of the formal dedication and christening of the Naval Academy's new eight-oared shell endowed by several members of our class.
&nbsp She had been out on the Severn for an early-morning workout, but the CLASS OF 1963 returned to Hubbard Hall in time for the 1 May christening ceremony that formally inducted the eight-oared shell into the Navy Crew fleet. Originally set for our Fortieth Reunion last September, the ceremony had been cancelled when the Hurricane Isabel storm surge flooded the boat house as well as good part of the rest of Yard. The turnout of Classmates for the ceremony was excellent, with Nancy and Chuck Adams, John Aucella, Jackie and Pete Browne, Felix DeGolian, Jim Fontana, Andrea and Spence Johnson, Ted Krohne, Dick Kuntz, Dick Omohundro, Mike Pero, Peggy and Craig Thrasher, Rich Wilson there to witness the proud event. CAPT Terry Raines USN, Chief of Staff to the Superintendent, accepted the boat, as well as a commemorative plaque and nameplate, for the Academy. MIDN 1/C Kacie Inman '04, of the Navy Women's Crew, did the actual christening by pouring a cup of water from College Creek over the shell's bow. The class gift of the shell is an endowment, so that when the current bearer of the name retires from Navy crew service, the name will be placed on another shell, so that from last autumn forward, there will always be a shell with the name CLASS OF 1963 in the Navy Crew fleet.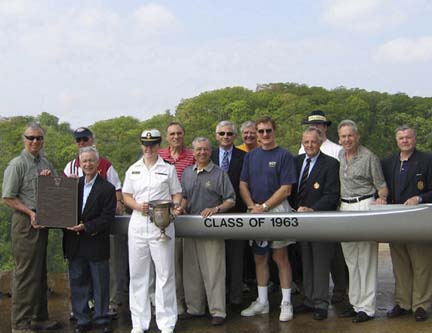 At the christening ceremony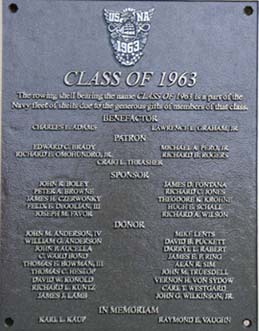 This bronze plaque will be mounted on a bulkhead in Hubbard Hall, the crew boathouse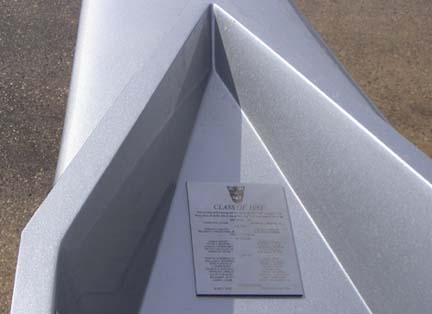 A smaller, stainless steel version of the larger bronze plaque, mounted on the bow of the shell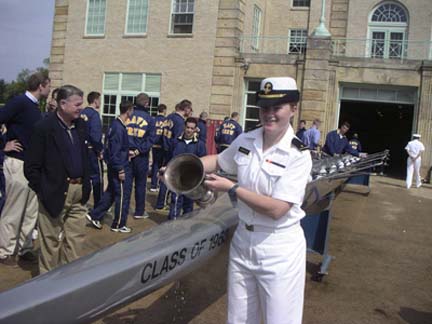 MIDN Inman '04 from the Navy women's crew performs the honors of christening the shell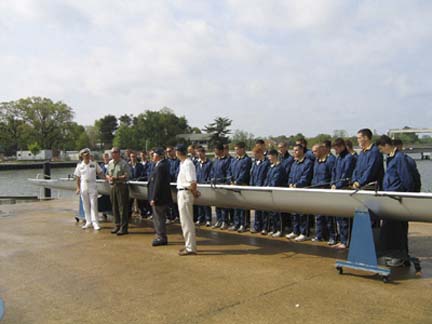 CLASS OF 1963 with Navy oarsmen behind the shell and our Classmate Craig Thrasher addressing other well-wishers
&nbsp CLASS OF 1963 is a beauty. She is a King Quantum shell, as I understand it, the best that today's state-of-the-art can provide in rowing shells. Unlike the Pocock shells that we rowed in some forty years ago, I could not find a single piece of wood in her construction. The hull is made of a composite material, as well as a good part of the rest of her fittings. The composite material makes her extremely strong and durable. She had a few dings, but those small injuries had been easily repaired with epoxy. The riggers, seat tracks, fin and rudder are metal. The rudder is not at the stern but just aft of the fin and is only about the size of two playing cards (bridge, not poker). There is an amplifier/speaker system installed so that the coxswain does not have to shout through a face-mounted megaphone but rather speaks into a microphone that broadcasts through a couple of speakers located at appropriate spots in the shell. The sweeps are no longer wooden either. They are mostly some type of composite material but still with wooden grips. There is plastic instead of leather on the surface where the sweeps contact the rowlocks.

The shell that our class has endowed is only the second endowed shell in the boathouse. However, the success of our effort has stimulated interest in other classes and similar groups to do the same, so that we may be seeing other endowed shells in the future. The fund-raising gurus of the Naval Academy Foundation see what we have accomplished as an example to be emulated by others.

The boat room in Hubbard Hall is full. Every rack cradles at least one and sometimes two shells. Unlike when we were midshipmen, the Navy fleet contains four and pair-oared shells as well as a few single and double sculls. Many of them have names. Some of the fours are housed in the boat room, but there a number of pairs, fours, doubles and singles resting on racks on the boat house apron and on the grass outside.

Hubbard Hall shows no ill effects from the flooding associated with the Hurricane Isabel storm surge. However, the boathouse is showing its age and definitely needs the renovation that is currently in progress.

It being a weekend, the boatman was not at the boathouse. His workshop, located off the boat room, was unlocked and wide open. Inside, his toolboxes were likewise unlocked and wide open, with no apparent concern that anything would be missing when he returned. When one considers the state of civilization today, it was a refreshing sight.

Many thanks to all who enabled the dream of a perpetual CLASS OF 1963 to become a reality. Together, we made it happen!
---

&nbsp Some of our classmates who were in Annapolis for the christening of the shell spent much of their time on the water, training for their participation in this summer's Henley races in England. One of them was coxswain Felix DeGolian, who sent this note to me:
&nbsp At last fall's reunion I weighed about 160 when I comitted to race at Henley this summer. The "Seniors" regatta (the Brits do not call it "Masters" as we do) will run the weekend of 10/11 July. Craig Thrasher has directed us to arrive on the 6th so we can get in a few more days of practice. Our upcoming trip to Annapolis for the christening will have us working with the crew coach from Wednesday afternoon until Sunday morning. Our guys are in pretty good shape for a bunch of middle-aged (?) men. Whether we can find the right rhythm with so little time to actually be in the boat together will tell the tale. More than one of the oarsmen tossed a remark my way about fat coxswains. I'm happy to report that I've been on a good exercise and dietary program since early November and I'm down to about 145. I told those big guys I'd make 140 by Henley and I think I will. I did choose to hire a trainer to work with me and she is not happy that I'm going below what she considers a reasonable weight. I told her she just doesn't understand teammate peer pressure, especially when your teammates consider you dead weight.
---

&nbsp Tom O'Brien wasn't at the Academy on May Day but was watching and cheering for Navy's crew team in a Washington state regatta. Here is his report:
&nbsp I was in Seattle on May 1st and missed the official christening of the "Class of 1963" shell. (I had once hoped to become a Navy rower and started with Plebe Crew in the Fall of '59, but something called "Plebe Year" interfered with that plan shortly thereafter.) Instead, Ann and I, along with my son's (USNA '89) family were cheering loudly as the Navy Varsity Eight rowed in the featured Windermere Cup Regatta race vs. the University of Washington and the Italian National Team shells. Unfortunately, the use of a borrowed shell, the narrowness of the unfamiliar Montlake Cut through which most of the 2000m race was rowed, and the sheer power of the home team conspired to provide for UW a two boat-length victory over a determined Navy team. The cheers of the 40,000 onlookers didn't hurt UW, either. All the shells (about 14 races' worth) received warm applause from an appreciative crowd after the end of the last race as they all rowed back into Lake Washington from the finish line in Portage Bay. Then began the Seattle Yacht Club's parade of boats/yachts that officially opened the Seattle boating season. It was quite a spectacle!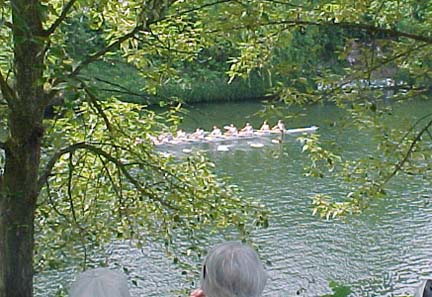 Navy eight in the narrows
---

&nbsp Will Settle, Secretary of the Class of 1963 Foundation, asked me to share with you this information about apparel now available through the Foundation.
&nbsp Among the 1963-related items for sale at our 40th Reunion were dress bow tie and cummerbund sets, bow ties, and four-in-hand neckties. The response was very strong, causing some items to be quickly sold out. A reorder for these high-quality items was placed and the new stock recently arrived. Newly available are Class of 1963 silk scarves featuring the Class rep stripe found on our neckties.

The 9" by 44" scarf, worn by Cynthia DeFrancia


All of these items have been paid for by the Class of 1963 Foundation, and instead of being sold are being given out as premiums for making contributions to the Foundation. Each single item will be sent to a donor for a contribution to the Foundation of $63. Two items can be had together for $125, three for $175, and all four for $225. Anyone wising to obtain Class of 1963 merchandize should address a letter with check enclosed to James M. DeFrancia, Treasurer Class of 1963 Foundation, 12020 Sunrise Valley Drive, Suite 100, Reston, VA 20191-3429

On a personal note, I'm proud to report that my son Alex Settle, 30, a PhD student in electrical engineering (computer architecture) at the University of Colorado in Boulder, received notice that he has been selected as a Fulbright Scholar. As a result Alex, his wife Mary, and their 5-year old son Benjamin will travel next September to Spain, where he will spend his third year of studies at the University of Barcelona, which reputedly is the principal center in Europe for this particular discipline. As you might imagine everyone in the family is delighted.
---

&nbsp Here's a bit of inspiring family news from Chris Munger
&nbsp My daughter Colleen received a kidney transplant on 10 March. The donor was my daughter-in law, Christine. The University of Maryland Medical Center in Baltimore, where the operations took place, is a fantastic facility. They do over 300 kidney transplants a year. When it came time to look for a donor, all three of my boys and all their cousins volunteered, but the best match was Christine. Needless to say, we owe a great deal to Christine for her heroic act. Marge and I are blessed with a great family and extended family. They supported us 150 percent during the past year.
---

&nbsp Travis Beard recently submitted his current biographical info for the Classmates section of our web site. Here's an excerpt:
&nbsp In January 2003, I lost my position with the Nuclear Management. Co. at Prairie Island and transitioned to my retirement (third) career. I've always been a woodworking hobbyist, so last summer I enrolled in nearby Dakota County Technical College's their program in Wood Finishing Technology. It's a full time program and I will graduate in mid-May. I work part-time in a co-op near our home in Cottage Grove, MN. We do furniture restoration. The three other guys I work with are past graduates of the same wood finishing program. I'm really enjoying my work so far.

Our plans for the future are not firm yet. We will probably stay here for another year or so, while I get some good experience in furniture restoration and my wife Joan winds up her careers. We're in the St. Paul phone book if anyone is in the area: we'll gladly be tour guides for the Twin Cities, even in the winter!
---

&nbsp This spring, Carol and Ray Ross spent three weeks traversing Florida, visiting old Navy duty stations from Jacksonville to Key West. Yvonne and Steve Coester caught up with them at the Patrick Air Force Base O Club for Sunday brunch and had a wonderful time rehashing old times as classmates in the 18th Company.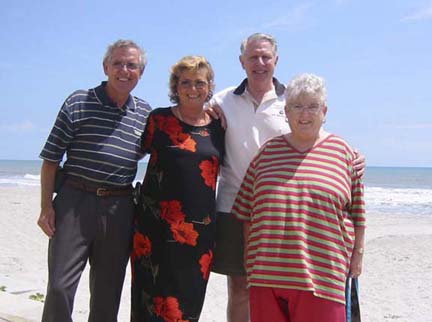 After Sunday brunch in Florida
&nbsp Noting that Steve's claim to have lived in the same house longer than any of our classmates has not been contested, Ray issued a challenge of his own. Ray and Carol have made 13 long-haul (i.e., 250 miles or more) moves in their 39 years together. He wants to know if anyone can tie or surpass that record. If you can, let me hear from you and I'll publish your claim in a future issue of this fine magazine.
Learning of Ray's claim, I asked him if any of the moves were particularly memorable. Here's his reply:
&nbsp They were all challenging. The only thing is that, with experience, you learn how to avoid the really costly mistakes. Moves are tough on kids; we raised ours that "strangers are friends you haven't met yet." They looked forward to each move, adapted to each new environment, learned how to pick dependable friends, and grew up to be healthy, well adjusted adults.

Probably the worst move was when I retired and moved from Orlando to San Diego. The plan was to let the boys drive the Buick towing the 22ft boat, and we'd follow. Number one son was stopped at a red light during a typical Florida summer thunderstorm. For some reason unknown even to this day, he shifted into reverse, rammed the boat's outdrive through our car's grill, and crumpled the hood so we needed two crowbars each time to check under the hood. This happened before we even left Orlando!! Suffice it to say, that was just the beginning of an ill fated trip that continued to get worse the farther west we went. (Chapter 2 is engine failure in the middle of Lake Powell with nobody in sight for 20 miles). But 20 years later we laugh about it at family reunions.
---

&nbsp In this e-mail, Eric Krieger neatly capsulized his current situation and activities:
&nbsp Lyn (She's getting to be habit forming after 39 years.) and I got rid of the pool, the stairs, and the kids and are keeping far busier than I would have dreamed. We live in a house near the mountains, with no stairs. Lyn tried sky diving off the landing in old house right before Christmas a couple of years ago and busted both ankles. Therefore, no more stairs. I'm still consulting but have a new job as QA Manager of the two New Mexico offices of an AE firm that services mostly DOE-related design and construction.
---

&nbsp Phil Marsden has made a big change:
&nbsp I have retired from my second career in the aerospace industry. Martha and I are staying in our lovely Coronado home. We are looking forward to more vacation travel, some community service, and I may dabble in occasional consulting. My last business trip to Boston in support of the Navy's DD(X) program gave me a chance to compare notes with Brian Perkinson, one of Northrop Grumman's top DD(X) managers.

Phillip Marsden and Brian Perkinson


A couple of weekends ago I had a chance to run with my son, David, in the annual Bay Bridge Run-Walk over the Coronado Bridge. The picture shows us stopping to catch the view at mid span. Sharp eyes will see that I was fortuitously issued the race number of "663". David had to settle for "664".

Phillip and David Marsden



---

&nbsp Pete Soverel tells us about a ceremony which afforded permanent recognition of our late classmate Steve Toth.
&nbsp I attended the 45th reunion of my high school class (St. George's School, Newport, RI) this May. Steve graduated from St. George's in 1958 and attended VMI for one year before joining our class at the Naval Academy. The school has a memorial area in the chapel dedicated to St. George alumni who have been killed in action since World War I. On Sunday, May 16, the school dedicated a plaque commemorating Lt. Steven Spencer Toth, USN, who was killed in action during the Israeli attack on USS LIBERTY. His sister, Josie Toth Linen, attended the ceremony. I read Steve's Silver Star citation at the memorial service. It was a very well done and moving ceremony.
&nbsp Here is a photo of the memorial plaque in the school chapel.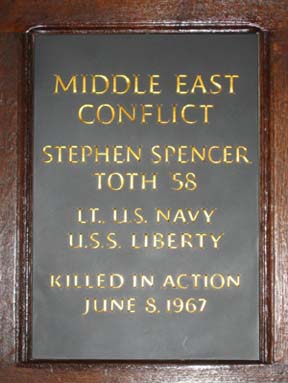 Memorial to Steve Toth
&nbsp Later, Pete teamed up with Ken Metviner to tell us about their day trip to observe fisheries conservation efforts. Ken provided the picture and Pete sent the narrative.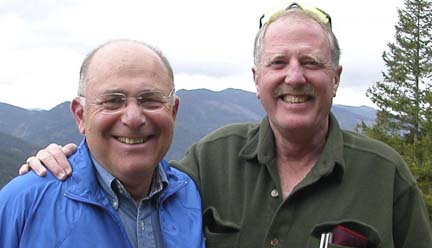 Ken Metviner and Pete Soverel
&nbsp Ken (with his wife Sandy and daughter Tracy) and I went to Salmonberry Falls on the Salmonberry River (central Oregon coast) where the Wild Salmon Center (www.wildsalmoncenter.org) which I founded has a major conservation project. The purpose of the visit, other than reacquainting with Ken whom I had not seen since graduation, was to show him what the Wild Salmon Center does in the hopes that eventually I might interest USNA grads to help support a worthy cause. During April and May, steelhead (anadromous rainbow trout) jump the falls (about a 10 foot leap) to access the upper Salmonberry River where they spawn. It is a very difficult and challenging jump. We were watching, not fishing. After an easy 40 minute walk from the car to the falls, we made our way down a very steep trail to the falls itself. During the time we were there, about 30-40 steelhead tried to jump the falls. None were successful, in part because the river was very low so when they jumped into the water column at the head of the falls, the water was not deep enough for them to get a purchase with their tails to power over the falls. It was a very pleasant trip. Later that evening we all went to dinner at a local Portland Restaurant owned by Tracy and her husband where we were joined by other 24th company classmates Don Grant and Ray Kutch. I started the Wild Salmon Center in 1992. I had been involved in salmon/steelhead conservation issues for a number of years and grown increasingly frustrated with all the efforts going into restoration projects -- that is, trying to fix salmon systems that were already broken. I patterned the WSC on Conservation International which set out to protect the most important biodiversity sites in the tropics -- tropical rain forests and tropical reefs -- before they were irreparably harmed. This seemed like a sensible model for salmon conservation -- insure that those places that were still working and were home to wild salmon were protected and did not get overlooked in the rush spend money trying to fix places that were already messed up. This approach led us to Russia--declining population, unspoiled watersheds, one land owner (the government), no dams, no logging, no hatcheries.
&nbsp I encourage you to visit the web site noted above to see more about the Wild Salmon Center's remarkable range of domestic and international activities.
---

&nbsp Thanks to Mike Krause for this photo and news from springtime in Southern California:
&nbsp I wanted to pass along a photo of a group of classmates who met to play a round of golf at Chuck Spadafora's club, The Palms in La Quinta, CA. The golf event was followed by a dinner on the patio at Lynn and Lew Blackwell's home in La Quinta. It was a great time, and in my case offered an opportunity to remove the Connecticut Chill from my bones. In terms of golf, Mike Rubel won all the money as usual. While we were in San Diego, Kathy and I had dinner with Maureen and JJ Hogan, and spent the Easter weekend with Karen and Steve Hoy in Bear Creek. I am glad to report everyone is doing well and everyone seems to be aging gracefully!

Golfers in La Quinta


From left to right, here are the players: Chuck Spadafora, Steve Longo, Kathy Krause, Steve Hoy, Karen Hoy, Mike Krause, Sandi Thornton, Jim Thornton, Lew Blackwell, Mike Rubel, Sally Orgera, Win Orgera, and Dave Moore.
---

&nbsp From Orange Park, FL, Denver Key sent news of a gathering of his companymates this May:
&nbsp We just had a mini-reunion of four 14th Company classmates here in Orange Park, FL, so I thought I would use the occasion to send a picture and update.

Fourteenth Company in Florida


The picture includes from left to right, Tony Isger, Dick Brown, Frank Radik, and me. Frank and Tony have both retired from the airlines, Dick is semi-retired but still does some property management in and around Newport Beach, CA, and I'm still hard at work teaching physics and astronomy at the local community college. (Where did I go wrong?!) The picture was taken at Tony's house where we enjoyed a fabulous gourmet meal he prepared for us. Since retiring from the airlines, Tony has become serious about his cooking hobby, and has returned to school to learn more about it. The rest of us were grateful beneficiaries of his talent. Frank drove up from Key Largo for the occasion and Dick (and Jan) arrived in Jacksonville aboard the Nantucket Clipper after a cruise from Charleston.
---

&nbsp An April press release announced that Steve Duncan has been appointed as the first director of the newly established Institute for Homeland Security Studies at the National Defense University in Washington, DC. The Institute will be a full educational and research component of the University and will provide homeland security/homeland defense education to civilian and military leaders from the Department of Defense, the Department of Homeland Security, other federal departments and agencies, congressional staffs, state governments, and private industry.
---

&nbsp

And that's it for now, folks!. No room for more.





---