Shipmate Column
July-August 2019
---
CLASS OF 1963
Pres: CAPT W. Spencer Johnson IV, USN (Ret.)
Sec'y: Michael H. Shelley
164 Sweetwater Lane, Pisgah Forest, NC 28768
h: 828-506-2201 e: nstar@citcom.net
Web site: http://www.usna63.org.


For any classmate you can go to the Classmates Page and enter his name to read his current biography if available.
---
---
---
&nbsp With sadness, I begin this month's report with news that two of our classmates have crossed the bar.

Robert R. "Bo" Newell passed away on 11 May. His widow, Nancy, can be contacted at P.O. Box 331, Wintergreen, VA 22958.
---
Richard E. Omohundro died on 28 May. Dick's widow, Ann, can be contacted at Sheridan Assisted Living, 11705 Evening Walk Dr., Lakewood Ranch, FL 34211.

&nbsp Please be sure to remember these classmates by seeing their obituaries in the Last Call section of USNA63.org by clicking HERE.
---
&nbsp This news of a memorial celebration comes from Phillip Marsden.
&nbsp Eighteen members of the '63 community gathered on 6 April with Betty Ray Wilson and close to 100 other guests to help celebrate the rich and rewarding life of our classmate Rich Wilson, who died on 4 December 2018. The event was held at a beachfront venue in Del Mar, CA, on a sparkling, sunny day. After time for food and socializing, participants gathered inside to share numerous stories about Rich's influence on their lives. It was clear that he was highly regarded as a husband, father, neighbor and Naval Officer. Rich was an inspiration and mentor to many and an excellent representative of our Class of 1963. This photo shows Betty Ray (with her hands clasped) joined by June Stone, Felix DeGolian, Lew and Lynn Blackwell, Karl and Marirose Kozak, Lee and Sue Cargill, Rich and Sue Andrews, Jay Roberts and Karen Miles, Ted Krohne, Phillip Marsden, Donna Kaup, Lee Tillotson, Don Grant, and Ray Kutch.

Remembering and celebrating Rich Wilson



---
&nbsp Tom Robertson provided this account of the memorial gathering for another of our classmates.
&nbsp Colonel Denny Tomlin, U. S. Marine Corps, was honored and remembered 25 March at Fleet Landing in Jacksonville Beach where he and Cindy moved about a year ago, unaware of how serious Denny's pancreatic cancer was. It was a standing-room-only congregation for the celebration of Denny's life, aside from the family mostly fellow residents who are predominantly retired Navy and Marines. There was hardly a space to stand in this crowd so appreciative of Denny's kind and energetic taking charge of activities there at the Landing. His son Drew painted a colorful and emotional picture of his Dad and of the special family relationship they all enjoyed. I think the folks there learned lots about Denny and his astonishing career as a Marine, natural linguist, and intel specialist. Marines in uniform added just the right amount of color and Hurrah to the occasion.


&nbsp Cindy will remain at Fleet Landing where she and Denny have made many good friends in the short time they resided there. In Denny and Cindy's life and career there is much for the Class of '63 to be proud of. Hurrah!
---
&nbsp I recently saw "Apollo 11", the new film about the first manned lunar landing in 1969. The movie consists almost entirely of high-quality archival images, many never before seen publicly, without narration other than dialog from news broadcasts, the astronauts, and those who conducted and supported the mission. It was a treat to see the film and remember the tension and excitement of that historic mission 50 years ago. I highly recommend it to you.


&nbsp Near the beginning of the movie there are scenes in the Launch Control Center firing room, including a brief glimpse of our classmate Steve Coester, who was a member of the liquid hydrogen loading team. Also, the film extensively covers the major prelaunch problem at T-3 hours that could have scrubbed the historic launch, a liquid hydrogen leak that Steve had a major part in resolving. He spent more than 30 years in the space program, including work as Supervisor and System Specialist of the Space Shuttle Main Propulsion System. Steve participated in 115 manned and unmanned launches.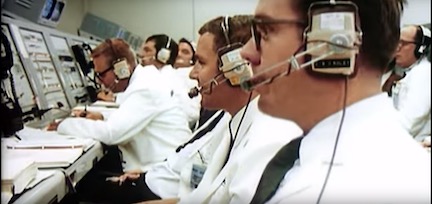 Steve Coester (2nd from right) in the Apollo 11 firing room
---
&nbsp Looking for some good summertime reading? Our classmates Bo Kearns and Lee Cargill are authors of recently published books, one a novel and one a nonfiction history. Hugh Schall sent this note about the publication of Bo's first novel this May.
&nbsp Georgia and I and some friends went to Book Passages in Corda Madera, CA, to attend Bo Kearns 'book launch. Bo did a great job speaking about his book and the background for the story. I am sure that he did our "dinner speaking" events at the Naval Academy proud. I would have given him excellent marks, even though he wasn't in midshipman formal attire. Here is a picture from the event.

Bo Kearns at his book launch






&nbsp Seeking information to share with our Shipmate readers, I asked Bo to provide some details about the book and himself. Here's his response:
&nbsp My first novel, Ashes in a Coconut, has been published and is up on Amazon. Nineteen more and I'll be caught up with Pete Deutermann! The story's set in 1983 Indonesia where I lived for three years as an international banker. Reviews have referred to the book as"a thriller" and "an intriguing page-turner." Book Passage, a SF Bay Area independent bookstore hosted the book launch event. It was good fun and a good turnout including classmates Hugh Schall and Craig Barton.
&nbsp In addition to fiction, I write feature articles for the Sonoma Index-Tribune and NorthBay biz magazine. When not writing, I'm a beekeeper, avid hiker, UC Naturalist and supporter of conservation causes. My wife Patric and I live in the wine country of Sonoma with our rescue dog, Jake. The gates always open for the Class of '63! www.bokearns.com

Bo Kearns



---
&nbsp In an earlier Shipmate column, I reported on Lee Cargill's new book "Survival Uncertain" in which he traces his life and the lives of his seven groomsmen since his and Sue's wedding in June 1963. There was not enough space to include Lee's description of his book in the magazine that month, so I am repeating the information below.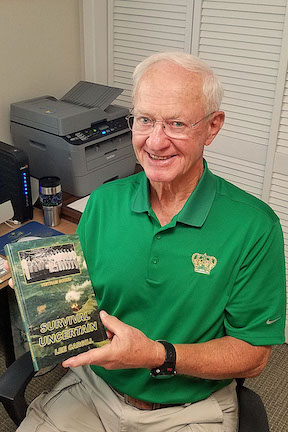 Lee Cargill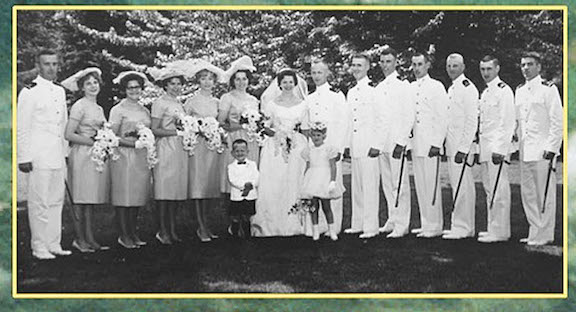 The wedding party
&nbsp The groomsmen (from left to right in the photo on the cover) were Jim Patterson, John Bender (best man), Jim Ring, Joel Warshaw, Jud Pearson, Nick Daramus, and Jack Fischer. These men were included because their stories are interesting, but more importantly, they represent our entire class. For that matter, they represent several classes of USNA grads as well as all who served in Vietnam. It has been my privilege and honor to have put it down on paper. Thus far, the feedback I have received has been quite good.
&nbsp Regarding how to purchase the book, I have a web site (http://www.survival-uncertain.com/ ). Also, I will be getting it listed on Amazon. All profits will be donated to benefit the character development of youth.
---
&nbsp This illustrated note from David Puckett arrived just before the deadline for this month's column.
&nbsp Here's a little news from Toledo, OH. Judi and I were able to take 16 members of our family to the Army Navy game this fall including our great grandchild Ellery Farley. In May, our granddaughter Allison Puckett graduated from Regis University in Denver. Judi and I drove out, stopping in St. Louis to see my First Class year roommate, Ron Schowalter, and his wife Sue. We had a great visit as expected. We reminisced about our hitchhiking home during second class summer. After the graduation on Sunday we visited with Audrey and Jim Williamson. We shared stories about our times together in the 9th company and our many visits over the years.

The Puckett family at the 2018 Army game




David with Ron Schowalter




David with Jim Williamson



---
&nbsp I reported above that two of our classmates had "crossed the bar." After that expression occurred to me, I reviewed Alfred Lord Tennyson's 1889 poem Crossing the Bar. It's solemn but inspirational, so I'll end this month's column by including it here for your consideration.

Sunset and evening star
And one clear call for me!
And may there be no moaning of the bar,
When I put out to sea,

But such a tide as moving seems asleep,
Too full for sound and foam,
When that which drew from out the boundless deep
Turns again home.

Twilight and evening bell,
And after that the dark!
And may there be no sadness of farewell,
When I embark;

For though from out our bourne of Time and Place
The flood may bear me far,
I hope to see my Pilot face to face
When I have crossed the bar.
---
&nbsp

---