Shipmate Column
June-July 2006
---
CLASS OF 1963
Pres: CAPT W. Spencer Johnson IV, USN (Ret.)
Sec'y: Michael H. Shelley
25 Sweetwater Lane, Pisgah Forest, NC 28768
h: 828-862-4245 e: nstar@citcom.net
Web site: http://www.usna63.org.


For any classmate you can go to the Classmates Page and enter his name to read his current biography if available.
---
&nbsp Because it has been two months since the last issue of Shipmate, I have gathered more news and photographs than can be included here. Be sure to read the online version of our report on the '63 web site. It's longer and has more photographs, all in color.
---
&nbsp Jim Ring provided this report on the service academies Classes of 1963 Valentines Dance on 18 February at the Army Navy Country Club in Arlington, VA:
&nbsp As usual, the USNA contingent of couples beat USAFA and USMA by a wide margin. We had 16 couples, USAFA had 10, and USMA had 4. Part of the problem is that USAFA and USMA had smaller classes than we did at that time. USAFA had a few couples from Atlanta. This was the seventh year for the dance - how about you out there coming to town and staying with a classmate for the next time? It is a lot of fun.

Phil Rooney did a great job organizing the event and Andrea and Spencer Johnson did their usual top-notch job of providing flowers for the ladies and the tables. Spencer is a master as the MC for our Class. Also, Larry Marsh had the highlights of one of the Army-Navy football games during our time. It was a big hit with the Navy contingent but not so much with our Army buddies. We were happy to see some new faces at our local events - Harlan Ullman and his spouse Julian and Tony Trabandt and his spouse. It turns out that Tony was a commissioner of the Federal Energy Regulatory Commission at the time that Colette Mehle was an assistant general counsel there.

Attendees from USNA 63 were Larry and Barbara Marsh, Jim and Kathleen Ring, Phil and Jan Rooney, Paul and Lynne Tobin, Dan and Karen Koczur, George and Judith Fister, Malcolm and Sarah Schantz, Jeff and Carla Miles, Jerry and Betty Mulholland, Harlan and Julian Ullman, Richard and Janice Kuntz, Satch and Gayle Baumgart, Spencer and Andrea Johnson, Tony Trabandt and wife, Mike and Jackie Cronin, and Roger and Colette Mehle.
---
&nbsp From his home in Salem, SC, Skip Wilkinson sent two then-and-now pictures for our enjoyment.
&nbsp Bob Van Buren, John Fitzgerald, and I got together last year and I took this picture on our back deck. Then I found a picture of the three roommates that someone took back at USNA. I think some of our old companymates will enjoy the comparison. It seems just like yesterday when these two photos were taken. Has it really been that long since second class year? I guess the photos and gray hair tell the story. Stay well, everyone!

2/C year -- Bob Van Buren, John Fitzgerald, and Skip Wilkinson




2005 - Wilkinson, Van Buren, and Fitzgerald



---
&nbsp It was good to hear from Ward Bond, who sent this note:
&nbsp I write from San Francisco where I have spent a great deal of my time the last 15 years. San Francisco over these years has been installing Talking Signs(r) technology, an infrared wayfinding system for people with visual disabilities, which is made by my company. Congress funded an evaluation project in last year's Transportation Equity Act that provides funding of $2 million for a city that will install Talking Signs on all of its buses and throughout its mass transit system. The impact of providing orientation access for the target populations will be evaluated and reported to Congress in 2009. If anyone is interested in bringing Talking Signs to their city, they can contact me at www.talkingsigns.com.

I am living in my hometown, Baton Rouge, and love it. Louisiana has the highest number of native residents in the country, 80 percent. This is either because we find other places unbearable or other places find us unbearable. (Though Confederacy of Dunces is set in New Orleans, all Louisianans deep down are part Ignatius Reilly.)

The standout in my personal life right now is my granddaughter, Megan, 10, who lives with her mom (Julie, my daughter) and dad, Michael Stinson. They live in Mt. Pleasant, MI, a college town in the center of the state. It is America 50 years ago. Great schools, great people, great pace...safe, optimistic, a place to build a home. I just turned 66 but I feel 19.
---
&nbsp Mike Corgan says he will soon be returning to Iceland:
&nbsp During my sabbatical from the International Relations Department at Boston University in the Fall 2006 Semester I have been invited to return to the University of Iceland. I will again teach in their Political Science Department, this time in the new MA program I helped set up when I was there on a Fulbright in 2001. Not so incidentally, the Alumni Association is offering a tour to Iceland in September 2006 and I expect to meet up with it at some point, especially to see if any classmates are along. Yfirvinna herin! (Beat Army).
---
&nbsp The Atlanta Journal-Constitution has printed several articles about Ron Terwilliger's attempts to purchase the Atlanta Braves major league baseball team. As of this writing in early May, the outcome is uncertain. Ron is chairman and chief executive of Trammell Crow Residential, one of the nation's largest developers of apartments and condominiums. He owned a pro soccer team, the Atlanta Attack, in 1989-91.
---
&nbsp Dave Moore passed along this golf and social report prepared by Steve Hoy:
&nbsp We had a great outing in late March at Chuck Spadafora's golf course (The Palms Golf Club), in La Quinta (Palm Springs). It's an outstanding course that we all enjoyed playing. Chuck did a great job arranging teams and talking a few of his talented fellow members to play in each of our groups, then arranging to have drinks and hors d'oeuvres served after golf. Chuck also managed to play as a threesome with my wife, Karen, and Sally Orgera, then arranged for a blind draw of one player from another group, who just happened to be Glenn Takabayashi, who had just completed an outstanding round of golf. As a result, Karen Hoy, Sally Orgera, Glenn and Chuck took first prize. Due to the outstanding play of Bill Hughes and John McCabe, our group took 2nd place, edging out the four other teams.

Lew Blackwell and Chuck arranged dinner in a private room at Clint Eastwood's Hog Breath restaurant. There were 22 of us at dinner, including Lew and Lynn Blackwell, Bob and Sharon Borlet, Bill and Dottie Hughes, John McCabe, Mickey Mays, David and Lana Moore, Win and Sally Orgera, Mike and Jan Rubel, Chuck and Linda Spadafora, Jim and Sandi Thornton, and Denny and Lu Ann Vaughan. The meal and company were great. We missed several of our other regular golfing pals, including our recently deceased and very special friend, Jack "Kit" Karson.

A great evening in Palm Springs


Here is a photo of our group, thanks to Lynn Blackwell. In the top row are Bill Hughes, Steve Hoy, Win Orgera, Jim Thornton, John McCabe, David Moore, Denny Vaughan, Lew Blackwell, Karen Hoy, and Mike Rubel. The second row includes: Dottie Hughes, Sandi Thornton, Sally Orgera, Chuck Spadafora, Lu Ann Vaughan, Jan Rubel, Lana Moore, and Lynn Blackwell. In the bottom row are Bob and Sharon Borlet, Linda Spadafora, and Mickey Mays.
---
&nbsp Frank Hilton sent this news about one of the recipients of scholarship assistance from the Class of 1963 Foundation.
&nbsp On April 22 of this year, Flagler College in St. Augustine, FL, awarded degrees to approximately 500 graduates. Its historic campus dates back to 1888 when railroad tycoon Henry Flagler opened the luxurious Hotel Ponce de Leon. The 2,000-student private liberal arts college is quite young, founded in 1968, and lies with the restored Ponce as its centerpiece, reminiscent of the Naval Post Graduate School's campus history as a former railroad resort. Among those receiving degrees that day was Kathleen Elise King, daughter of our late classmate, George King. Kathleen was awarded a Bachelor of Arts degree in Business Administration with a minor in Arts History. Kathleen joins sisters Laura and Julie as well as brothers John and Charles as college graduates whose father's classmates contributed to their education through the Class of 1963 Foundation. The four-year total was equivalent to a bit more than one full year's tuition, room and board, fees, and books. We know that George's Polly is proud of Kathleen's accomplishment and we are pleased that we could honor our Classmate by assisting Kathleen's education.
---
&nbsp Thanks to Tom Reemelin for sending a St. Patrick's Day photo with news of Mike Bracy.
&nbsp In March, Fran and I and Eileen and Eli Dabich went to Mike Bracy's house in Trappe, MD, for his annual St. Patrick's Day party. Mike and Ella do the most supah St. Patty's party you've ever seen - complete with an Irishman ( a leprechaun?) -- playing the bag pipes, lots of green, Irish coffees, and super folks! For about three years, Mike has been living in his and Ella's personally designed home overlooking the Chesapeake Bay. His house has all the bells and whistles including an elevator, emergency generator, swimming pool, workout room, and wine cellar. Most of all, Mike and Ella have designed their home so their guests, family, and friends can enjoy themselves in great comfort. Here's a snapshot of me and Eli flanking Mike while he holds his favorite sign - Irishman for Hire!

Hire an Irishman on St. Patrick's Day



---
&nbsp For a timely example of "Don't Give Up The Ship," read this good news from Lanny Cox:
&nbsp As many of our friends know, my daughter Emily has been intent upon winning an appointment to USNA ever since she first visited the Yard as a little girl in 1988 during our 25th Reunion. As a junior in high school she attended the Naval Academy Summer Seminar and that experience convinced her to make her dream a goal. Now, as a 21 year old college junior, her dream of becoming a member of the Brigade of Midshipmen is about to come true. After receiving her third letter of rejection from the USNA Admissions Office last year, she rededicated herself to achieving her goal and will become a member of the Class of 2010 on June 28th. I plan to be there to administer the Oath of Office.

Emily Cox, USNA '10



---
&nbsp Here are a couple of images from Mike Krause, forwarded to me by Zimm Zimmerman. They show some distinguished gentlemen at a Navy League dinner in New York City this March.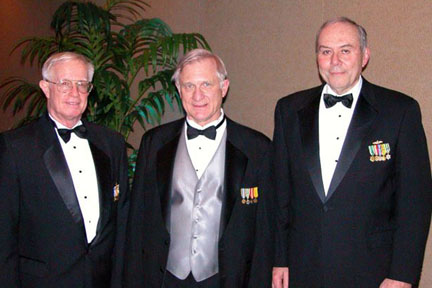 Rob Black, Erwin Storz, and Mike Krause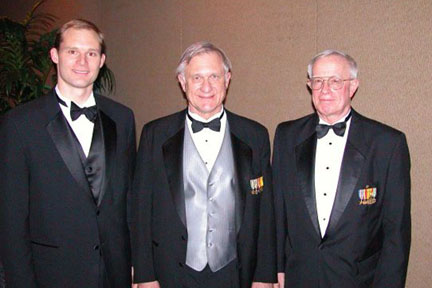 Eric Storz (son), Erwin Storz (father), and Rob Black
---
&nbsp Phillip Marsden supplied a fine photo of some of our classmates in San Diego this spring. Here's his report:
&nbsp This year's San Diego Crew Classic finals were held on a beautiful, sunny, San Diego day. As in years past, Jim Fontana was the host for the San Diego Alumni chapter's tent that provided a meeting place with shade, food, and beverages. Classmates and friends who turned out Sunday to cheer on Navy's women's eight in their race included: Jim Fontana, Jim Lasswell and Cindy Jensen, Steve Longo and Carol Racine, Bill and Dottie Hughes, Grant Telfer, Phillip Marsden, Rich Wilson, Lynne Lasswell and Mary Calhoun. The photo shows the stalwart seven in good cheer.

'63 at the San Diego Crew Classic



---
&nbsp Mike Blackledge filed this brief account of a visit from a fellow Fourth Companymate and his wife.
&nbsp Annapolitans Bonnie and Dan Hitzelberger attended their son-in-law Jason Cronin's retirement ceremony in Monterey, CA, on 7 April. Jason (USNA '87) had been Assistant Dean for Eastern European Languages at the Monterey Foreign Language School for his final shore duty. After visiting some of Bonnie's family in southern California, the Hitzelbergers headed east, stopping briefly in Albuquerque. Here is a picture taken when I had breakfast with them at the New Albuquerque Grill on the 19th. This was the same Restaurant/Motel that hosted the 4th Company Mini-Reunion just last October.

Bonnie and Dan Hitzelberger with Mike Blackledge



---
&nbsp It's not often that we hear from the Class of 1960, who ensured our later success by administering a true Plebe Year to '63. (Whether or not it was the last Plebe Year is still open to debate.) Thanks to Bob Traister '60 for this exotic photo and the accompanying text.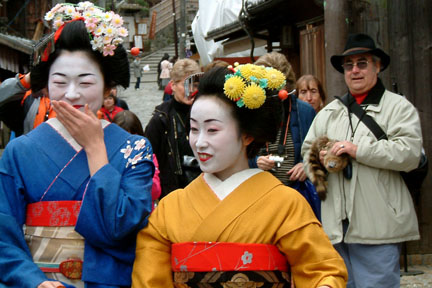 Tour leader Jerry Saber in Japan
&nbsp I am not sure who the two people in front are but in the back the man holding the live animal is none other than Jerry Saber '63 leading his tour through the streets of Kyoto, Japan. I and my wife were fortunate to join Jerry's tour. The Class of '63 can be proud of Jerry who, after proper tutoring as a Plebe by my class, is one of the most knowledgeable people concerning life in Japan.

I would like to boast that I have known Jerry since he was a plebe. I could then claim that I had imbued him with all his fine qualities. But, alas, that is not so. I met Jerry in the late 1980's when I was on some sort of boondoggle in the Far East. He brought me to some of the finest shopping bazaars in Japan and sent my wife and me on numerous excursions to discover Japan's hidden cultural gems. Last March we joined a Jerry-led tour group to Japan. As you can see in this photo we didn't visit just shrines! One never knows where two will meet.
---
&nbsp That's all for now, folks! Having had a full mail bag this month does nothing for the next issue of this news exchange. I need your help!



---