Shipmate Column
July-August 2022
---
CLASS OF 1963
Pres: CAPT W. Spencer Johnson IV, USN (Ret.)
Sec'y: Michael H. Shelley
27 Cambridge DR, Brevard, NC 28712
h: 828-506-2201 e: nstar@citcom.net
Web site: http://www.usna63.org.


For any classmate you can go to the Classmates Page and enter his name to read his current biography if available.
---
---
---
&nbsp With respect for our departed classmates and family members we begin this month's column on a sad note. Reported below are the deaths of two of our classmates. Please honor them by visiting the Last Call section of our web site to read their obituaries and other information preserved there. We also learned of the loss of two other members of the Class of 1963 family who are named below.

William D. Davidson died on 25 April. Doug's widow, Charlsie, may be contacted at 4012 Spring Island, Okatie, SC 21403.
---
Ronald J. Klemick passed away on 14 May. Ron's widow, Sandy, may be contacted at 321 Lady Marion Court, Cary, NC 27518.
---
Sue Cole, widow of our classmate Ben Cole, died suddenly on 22 April. Condolences may be sent to Sue and Ben's daughter, Debbie Kiriakides, at 18 Saint Augustine Drive, Greenville, SC 29615.


&nbsp We also learned that Shelley and Cole Lindell's son, Will, passed away on 19 May. Shelley can be contacted at 121 Troon Way, Aiken, SC 28903.
---

The Naval Academy Columbarium on Hospital Point


&nbsp Bob Harper wrote to say that he had attended the service for John Middleton at the Naval academy on 8 April. He said that after members of John's family recounted special memories, several of our classmates spoke briefly. The first was Ted Batzel who talked of John's accomplishments, friends, and classmates. Other speakers included Jim Ring, Spencer Johnson , and Bob himself. The Class of 1963 was well represented by Mario Fiori, Ted Batzel, Jace Singler, Spencer Johnson, Jim Fontana, Wink Wilkinson, Steve Duncan, Jeff Miles, and Bob Harper .
&nbsp John Asher, a 21st Companymate of John's was unable to attend the service but visited the columbarium to pay his respects a few days later. He added a poppy and an American flag to the niche marker. Bob Keen , the 21st Company webmaster, provided the photo below.



---
&nbsp Bob Maier sent this report about the latest annual gathering of 23rd Company classmates. They continue to maintain a remarkable tradition.
&nbsp This spring, the 23rd Company resumed their annual fishing trip/reunions, after two Covid cancellations in 2021, with a gathering at Grosse Savanne Lodge in southwest Louisiana.  It was our 12th reunion, and the fourth held at Grosse Savanne, which has turned out to be the perfect setting for great fishing, awesome dining, and tall tales retold.  The 18 attendees originally slated to attend whittled to 13, nonetheless a fine turnout from all over the country.

The 12th reunion of 23rd Company classmates



&nbsp Here are two group pictures from our reunion. The first shows us in our matching reunion attire. Left to right in the front row are Flack Logan, Steve Hoy, Bill Bradford, and Zimm Zimmerman. Standing are Bob Maier, Mike Krause, Steve Leisge, Harry Hirsch, Bill Palafox, Keith Reynolds, Mike Rubel, Dick Ortwein, and Mike Bonsignore.



&nbsp This picture shows the entire group as we were about to enjoy a fine dinner together. Left to right are Messrs. Bradford, Leisge, Palafox, Rubel, Krause, Zimmerman, Bonsignore, Logan, Ortwein, Hirsch, Hoy, Maier, and Reynolds
&nbsp We arrived in late March shortly before a large weather front swept across the country, and most fishing on the first day was performed in blustery conditions in the marshes, but many boats reeled in their limits and released many more.  The second day began under a tornado watch, but the sailors brave in battle fair wanted some Bass, so with only low berms and grasses for protection, the group again caught and released very nice numbers before ducking for cover in the lodge as the front passed.
&nbsp Prior to the reunion, the theme was set as "Don't let the Old Man In," referring to a Toby Keith song in a Clint Eastwood movie, and folks were asked to submit prose reflecting the theme.  The submissions were run through an editing machine that rejected the more ribald text and combined the rest to produce an "Ode to Twenty-Three" that was read during the final evening's festivities.
&nbsp Our company reunions have become a strong tradition and much anticipated event in the 23rd. Planning for Number 13 is already underway.
&nbsp Bob sent a copy of the completed "Ode." It is too long to include here, but I'll share the first and last verses as a sample for you. The first verse: "We came from places far and wide/And met one steamy hot July/We formed the lasting legacy/The class of Nineteen Sixty-Three" The last verse: " Now our numbers less than then/We still gather once again/Because the men of Twenty-Three/Won't let the old man in you see" The other verses range from the laundry smokestack to service in Vietnam and elsewhere over the years. Well done, gentlemen!
---
&nbsp Seeking to have his Naval Academy class ring resized, Jerry Huss contacted me in January. I referred him to the Alumni Association staff member who handles such things. He, in turn, put Jerry in touch with a recommended class ring manufacturer. Jerry's ring has now been resized and he wrote to share his experience in case it might be useful to others.
&nbsp My class ring arrived back from Herff Jones on May 5th, and I am very pleased with the result and the services they provided.
&nbsp When I started this process, I had the choice of going with a local jeweler or handing the job over to a known Naval Academy ring manufacturer. I checked with a few local jewelers, but I was not comfortable with using any of them, so I reached out to you. I knew from my own research that our ring manufacturer, Dieges and Clust, was sold to Herff Jones in 1980. Your source at the USNA Alumni Association provided the name of Robert Vaz, an Account Manager at Herff Jones. Bob got back to me within a day of my contacting him and provided all the information and forms I needed. One of the items he sent to me, demonstrating the fact that Herff Jones had received all the documentation (and most likely all the manufacturing hardware) from Dieges and Clust, was my original class ring order form dated February 7, 1961. I had forgotten that we ordered our rings way back in Youngster Year.



&nbsp Once I had made the decision to mail my ring to Herff Jones, I needed to get it insured through USAA. To do that, I needed to obtain an accurate and up to date appraisal. I took my ring to a well-known jeweler in Los Altos, CA, who came back with a total retail replacement value of $4,637.81 -- not bad for my $185 investment back in 1961.
&nbsp I mailed my ring to Herff Jones and paid them $134 to resize it. It took them about a month to get it into their schedule. I don't know how they do the work, but it fits well and looks great. The original detail remains, and there is no evidence that my ring has been resized.

Jerry's ring with its white star sapphire



---
&nbsp Our late classmate Mike Cronin was a prisoner of war in North Vietnam from January 1967 until March 1973. We have obtained a lengthy transcript of an interview with Mike about his experiences before and during his captivity. It is a detailed and frank recounting of the torture and other extreme hardships he and other prisoners endured at the hands of the North Vietnamese. It has been added to the Traditions/Lest We Forget section of our web site. I encourage you to read it there, or at the source by clicking HERE
---
&nbsp There is one other account I want to share with you, something quite unlike the interview of Mike Cronin . This is an unusual story of an uncertain Midshipman who was recognized and encouraged by his Battalion Officer. "Twisdale: Conversations with the Colonel" by George Grider is an engaging remembrance of his Plebe Year struggles and an unexpected relationship with LtCol Robert Twisdale, USMC '43, the Third Battalion Officer. It is posted in the Pride & Tradition: Midshipman Memories section of our web site. Click HERE to see it.
---
&nbsp There is room for some extra photos this month, so here are four images from our past Shipmate columns. The first and most recent was published in 2012. It shows retired Marines Daryl Rabert, Walt Breede, and Jim Lloyd in coordinated attire at the Ring Dance for the Class of 2013, our Link in the Chain class.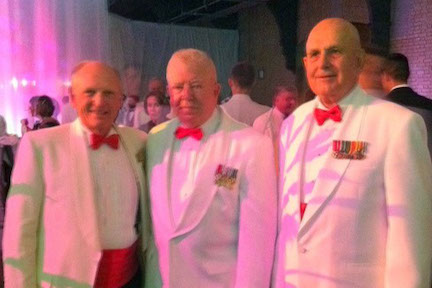 Marines at the Ring Dance



&nbsp The next two photos were published in the May 2010 issue. No date was given but they appear to be from our 30th reunion. In the first image are Ninth Company members Tom Hall, Sonny Glassner, Phillip Marsden, George Leever, and Joe Waterfill . The other picture shows Fourth Companymates Mike Harman, Jim Koehn, Tom Haney, and Sonny Langley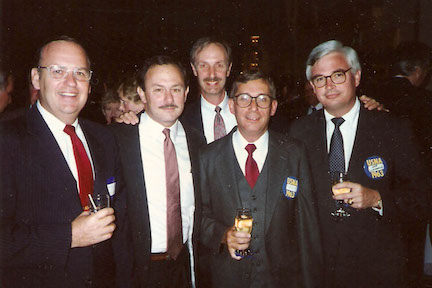 Ninth Companymates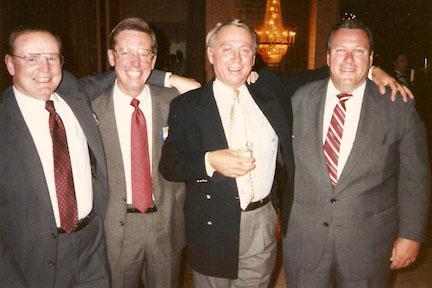 Fourth Companymates



&nbsp The final image is a picture of classmates and wives that I took in the early 1980's at our home in Northern Virginia. The occasion was an Army-Navy game party. Classmates in the front row are Mike Lents, Phil Gubbins, Bob Harper, and Jerry Mulholland. In the rear are Jim Ring, Charlie Minter, Tom Reemelin, Ned Ruckner, Dave Byrnes, Steve Reynolds, Norm Shackelton, John McClure, Bob Forster, and Bernie Conatser.


.
---
&nbsp We'll close this month with a challenge. Jim Koehn saw mention of great-grandchildren in a previous column and thinks that he and Judy may be leading in the number of '63 descendants. He says they currently have seven grandchildren (They lost a granddaughter in 2010.) plus six great-grandchildren and three more due in the next few months. Can any of us equal that?
---
&nbsp
&nbsp We need your support to keep this column lively and interesting. Pictures and news reports, however brief, are always welcome. Please take a moment to send me an email about what you've been up to lately.



---