Shipmate Column
July-August 2013
---
CLASS OF 1963
Pres: CAPT W. Spencer Johnson IV, USN (Ret.)
Sec'y: Michael H. Shelley
164 Sweetwater Lane, Pisgah Forest, NC 28768
h: 828-862-4245 e: nstar@citcom.net
Web site: http://www.usna63.org.


For any classmate you can go to the Classmates Page and enter his name to read his current biography if available.
---
---

&nbsp "I propose three cheers for those we leave behind us and for the Class of 1963." With these words by the president of the Class of 2013, the Naval Academy graduation ceremony on 24 May concluded under gray skies at the Navy-Marine Corps Memorial Stadium. The occasional showers did not reduce the excitement and pride felt by the members of the great Class of 2013 and their families. As the mentor class for the Class of 2013, we share their pride, understand their sense of accomplishment, and join them in looking toward their bright future of service and continued growth.
&nbsp The President of the United States began his speech at the ceremony by acknowledging the support and patriotism of Naval Academy faculty and staff, the parents of the graduates, and "the members of the Class of 1963 -- veterans who've guided these midshipmen along the way..." The full text of his speech can be seen in the Another Link in the Chain section of our web site.
&nbsp Twelve of our classmates took part in the ceremony by distributing new Ensign and Second Lieutenant bars engraved with our class numerals and theirs along with a coin featuring the '63 and '13 class crests to each new graduate as they came down the ramp from the stage. (Link in the Chain coins were also presented to the CNO and POTUS.) Wearing identical attire, including hats and embroidered crests coordinated (and in some cases procured) by our Class President Spencer Johnson, these dozen men represented us very well indeed.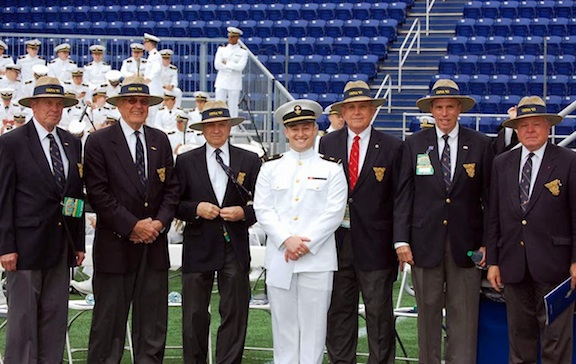 Presenters Mario Fiori, David Puckett, Dan Koczur, Jim Lloyd, Jim Ring, Spencer Johnson and 2013 President John Rex Spivey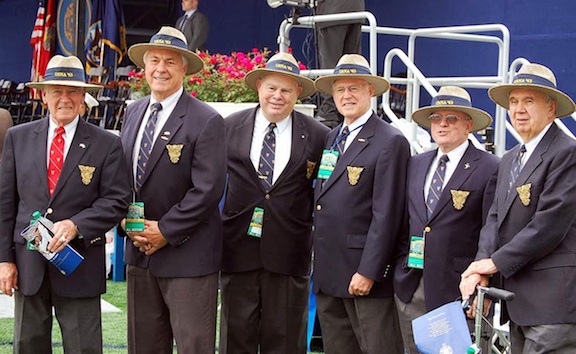 Presenters Doug Davidson, Ron Klemick, Bruce Webb, Peter Quinton, Jeff Miles, and Eli Dabich
---
&nbsp Members of the Class of 1963 participated in several events and activities in the days leading up to graduation. A tradition begun only a few years ago is the unveiling of the crest of the graduating class in Alumni Hall. Spencer Johnson was invited to speak at that event. Here is the text of his remarks:
&nbsp Distinguished members of the Class of 2013---soon to be distinguished graduates of the Class of 2013: Today is a red letter day in the history of the Class of 2013. Today your distinctive class crest takes its place with those of the classes that have preceded you from the United States Naval Academy and have taken their places as officers and leaders in the service of our country.
&nbsp You are ready.
&nbsp The Class of 1963 has taken great pride in watching you meet every challenge, leap every hurdle, weather every storm in your four years by the Severn--from I-day, through plebe year and sea trials, summer cruises, academic rigors, and triumphs on "the fields of friendly strife". You have set the bar high for all who follow you.
&nbsp You have been fired, forged, shaped, annealed, and tempered. The words honor, commitment, courage, and quality are who you now are. They are integral to everything you will do in the future. You are ready to bear the strain of a link in the chain. The unveiling of your crest today bears testimony to that achievement. You have demonstrated and earned the "special trust and confidence" that is now being placed in each and every one of you by your fellow countrymen.
&nbsp The Class of 1963 is proud and honored to be your link in the chain class. This relationship does not end with your graduation. It continues as we follow you to sea and beyond until we become but a memory. From the Class of 1963 to the Class of 2013, bravo zulu -- well done! We wish you fair winds and following seas in every course that you set, and pray that yours is truly a happy voyage home.
&nbsp Midshipman Spivey, break the crest of the Class of 2013 and God bless all those who sail under this banner.



&nbsp Two days later, on 17 May, Spencer was afforded the honor of delivering the baccalaureate address in the Jewish Chapel in the Levy Center. His address was in essence the telling of a true sea story appropriate to the occasion. The text is posted in the ALITC section of our web site.
---
&nbsp The ongoing transfer of swords from Class of 1963 owners to Class of 2013 recipients reached a peak of activity as graduation approached. Roger Mehle sent this report about the transfer of his sword:
&nbsp On May 15, just a few days before our Link-in-the-Chain class was to graduate, I presented my sword to Midshipman Joseph Rizzo, Class of 2013. I had solicited the 24th Company firsties (my company on graduation) to see whether any prospective Naval officer would like to have the sword, and Joe stepped forward. Joe, whose dad is a graduate of the Class of 1974 (but no longer has his sword), will soon be the newest Ensign on board a DDG homeported in Norfolk. He says he's planning to give the sword -- when the time comes -- to someone in the 24th Company of the Class of 2063, and that he'll invite me to attend! In this photo, Joe is pictured on my right, and Joe's roommate, now 2LT Conn Wiseman, USMC, is on my left. Were we ever that young and good-looking?

Roger Mehle transfers his sword



&nbsp The following Wednesday, two days before graduation, eight 1963 swords went to new owners during a ceremony at Alumni House. The donors of these blades were Al Griggs, Daryl Rabert, Satch Baumgart, Bo Kearns, Chuck Adams, Mike Pero, Donn McCrory, and Skip Wright. Not all of them could attend, so Doug Davidson, Dick Jones, David Puckett, Bruce Webb, and Spencer Johnson filled in for them.
Skip Wright flanked by sword recipients. Pero, Davidson, Johnson, Puckett, Jones, and Webb in the rear


&nbsp I believe that our classmate Pat Waugh holds the distinction of being our first classmate with both a child and a grandchild who are USNA graduates. I received this brief note from Pat in mid-May:
&nbsp I am not attending graduation this year, as I am my wife's primary personal caregiver. I really wanted a graduation day picture with Steve '86 and Nick '13, but it was not meant to be. My old roommate, Peter Browne, did present his sword to Nick a few days ago. He and Jackie will attend graduation and raise a cheer for me. Nick will follow his father as an aviator, but in the Navy, not the Marine Corps.
&nbsp The transfer of swords has not been a part of the Another Link in the Chain program in past years. We can hope that our precedent will be followed by all of the ALITC senior classes in years to come. I believe that I know who among us originated the idea. I plan to confirm that and present a complete recap of '63 to '13 sword transfers in an upcoming Shipmate report.
---

&nbsp Now I turn to unfortunate news that we have lost another classmate. Gil Barbe has written to inform us that Henri Berckenbosch passed away in Waremme, Belgium, on 26 March 2013. No other information is yet available. Both Henri and Gil came to the Naval Academy as foreign nationals from Belgium.
---
&nbsp We remember and honor our classmates who were lost in the service of our nation. This came from Jim Ring:
&nbsp Today, May 27th, is the 46th anniversary of the day that Jim "Kelly" Patterson was shot down over N. Vietnam. After two days on the ground with a broken leg, he has never been heard from again. His brother, Luck, is still searching for him. I always try to visit him at the Wall around this day and leave a small American flag. It is a foggy misty morning. Here is a picture.

At The Wall



---
&nbsp George Emery shared with me the news that his book "In Their Own Words: The Navy Fights the War of 1812" was published by the Naval Historical Foundation on 1 May. Presenting a stirring collection of contemporary letters, newspapers and broadsides of the War of 1812, the book brings to life the challenges, successes, and disappointments of the war at sea. For more information about, and to purchase, this timely book, visit the Foundation's web site at http://www.museumstore.navyhistory.org and click on "War of 1812."



---
&nbsp Class of 1963 Foundation fundraising chair Ken Metviner asked me to remind you about the Striper Recognition Plaque to be installed in the '63 Center for Academic Excellence at the Academy. A qualifying gift or irrevocable bequest will assure permanent recognition of your support. The plaque will list the major donors, arranged by "striper" levels. Here is your chance to wear as many stripes as you want! The qualifying levels are shown below.
$100,000 6 striper
$63,000 5 striper
$37,600 4 striper
$18,900 3 striper
$12,600 2 striper
$6,300 1 striper
$2,500 MPO

For more information, contact Ken at kmetviner919@aol.com .
---

&nbsp Jim DeFrancia received a high and uncommon honor when the Secretary of the Navy presented him with the Department of the Navy Distinguished Civilian Service Award on 31 December. Here is the text of the citation:
&nbsp For exemplary service while serving as Member of the Secretary of the Navy Advisory Panel from February 2010 to December 2012. Mr. DeFrancia's acute strategic acumen and experience enabled him to provide expert analysis and recommendations to the Secretary of the Navy in the areas of energy, shipbuilding and defense industrial base, Asia-Pacific engagement, intelligence organization, and related maritime issues. Devoting countless hours to ensure our continued national security, he synthesized information from over 80 subject matter experts and provided superb advice on a number of complex, high-visibility issues facing the Department of the Navy. His foresight and proactive leadership highlighted emerging technologies and policy suggestions that will help shape the Navy of the future. Mr. DeFrancia's exceptional initiative, professionalism, and total dedication to duty reflect great credit upon himself, and are in keeping with the highest traditions of the Department of the Navy.
---
&nbsp Steve Coester, our energetic and innovative Webmaster, has established a '63 weddings page on our web site. The intent is to present a wedding photo and a current photo of each couple. Click HERE to see the first images to be posted. To add your photos, send them to Steve at scoester@cfl.rr.com . If you were married in the USNA Chapel and remember the time, include that because Steve will try to put the photos in chronological order. He says that if you want to include more than one marriage, feel free to do so.
---
&nbsp Bill Hillgaertner sent this news about his recent rendezvous with some Fourth Company mates.
&nbsp On the evening of May 14, Maureen and Pat Wright, Mike Harman, and I got together for an early dinner in Vancouver WA. Pat and Maureen had put their daughter on a plane and had expressed a desire to me to enjoy some Pacific Northwest seafood. Mike and Sandy Harman were taking them to lunch the next day.
&nbsp Pat asked me how long it had been since he and I were together and I couldn't remember. He thought it was when I was Police Chief so that could be between 20 and 30 years ago. Mike and I used to run into each other about every 10 years, always in one mall or another.
&nbsp "But still when two or three shall meet...We'll pledge the Blue and Gold." Which is what we did, drinking a toast to old friends, old memories, and old days at the Academy. I think we got caught up on each others' progeny and what they were doing. We are still turning out "Quality" from the sounds of it.

Mike Harman, Bill Hillgaertner, Pat and Maureen Wright




Wright, Harman, and Hillgaertner



---
&nbsp Tom Robertson reports on his visit to a '63 vintner. (I'll bet you didn't know we have one of those among us!)
&nbsp I had some great fun at the end of March with Bob Tieslau at his Amador County, CA, farm. Julie and I were in the Golden State for her annual hang-out with high school friends. I took the opportunity to visit my cousins in San Francisco, then spent most of a week with Bob and Marjun on the farm. Bob planned a work project for us; never a problem finding one. So we finished a huge deck rework on the farm house they built themselves thirty years ago. As long as we kept working, Marjun kept cooking. My input was pro bono, but my commission came by consuming vast quantities of their '09 Zinfandel. Since their wines are bottled without those nasty preservatives, we were ready to answer the bell each morning. Bob and I shot pool every evening in his vast shop, coming out even, thanks to accounting made a bit shaky from the zinfandel. Bob had a disc operation and it was great to see how it restored him back to top work condition. Good thing, because there's plenty more projects there. I don't expect we'll see Bob and Marjun at the 55th. That's grape harvest time!!

Tieslau and Robertson in the heat of battle




Bob and Marjun Tieslau



---
&nbsp For some time now, I've been hearing about an exchange of a photo of "The Kindly Old Gentleman." I have learned that this does not refer to Santa Claus or even Rear Admiral Kirkpatrick. Here's the scoop, as recounted by Larry Marsh.
&nbsp Mal Wright and I have been exchanging the photo since May 1977, which was the time we both took command of USS WILL ROGERS (SSBN 659). Mal was CO, BLUE Crew; I was CO, GOLD Crew. In the course of working together in command for almost four years, we made 13 SSBN turnovers with one another....and, including those times, we also made many, many more turnovers of the infamous photo of Admiral Rickover (aka KOG..."The KINDLY OLD GENTLEMAN). We just kept surprising and doing it to one another following command and up to the present day. As you know, it has been an item of sincere fun, a vehicle to keep remembering our past at sea and in command in our nuclear Navy, an enjoyment for our crews, who all know "the story", and it has kept Mal and me together.
&nbsp The latest turnover occurred the weekend of 4-7 April in Portsmouth, New Hampshire, near the Portsmouth Naval Shipyard, where we held an "all crews" WILL ROGERS reunion. We try to have such a reunion at various locations every several years. Anyway, the HGR photo turnover occurred as Barb and I arrived at our Residence Inn Hotel room in Portsmouth the evening of 4 April. As we hopped into bed, we were immediately joined by none other than the infamous, ever watching, and unpredictable Admiral Rickover...or at least his photo and memory, which were secretly hiding under the covers! It was a complete surprise; and, to this day, I do not know how Mal pulled it off. I thought most hotel rooms were pretty secure. The cake cutting photo, featuring me and HGR, was taken at our big hotel Reunion Banquet that Saturday night....also a surprise...and "HGR strategic strike #2" for the weekend by Mal. But, fear not, I shall get him back. As we always say...."stand by...HGR really belongs with you because he likes you so very, very much!"

Larry Marsh with his KOG cake



&nbsp Some interesting background information provided by Mal can be seen on our web site by clicking HERE.

Supplementing that history, Mal sent this photo of one of the surprise exchanges of the Rickover image:
&nbsp Here is a photo from 1994 when Larry received the Admiral Rickover picture from then Secretary of the Navy John Dalton (USNA '64). The photo shows Larry, Barb Marsh, and Secretary Dalton. The Secretary's EA helped me with this by having the photo blown up in the Pentagon Graphics organization. Of course, the original picture was also presented at this time. Secretary Dalton was the second SECNAV to have a hand in this on-going exchange. In 1991, Secretary Larry Garrett did one too.



---
&nbsp Thanks to Phil Rooney for this note and photo:
&nbsp Jan and I went over to Anne and Skip Wright's home in Bethesda, MD, for a small reception for one of Skip's PG School Monterey meteorology professors who was his thesis advisor. Skip's daughter took the attached shot of Skip, Spencer, me and Skip's dog Avery. It was GREAT to get together!

Johnson, Wright, and Rooney



---
&nbsp Our 50th Reunion is now less than three months away. If you haven't yet submitted (or updated) your current biography for our web site, procrastinate no longer! Just send your text, with a photo or two if you wish, to Webmaster Steve Coester at scoester@cfl.rr.com .

I'm looking forward to seeing you in Annapolis!



---