Shipmate Column
July-August 2014
---
CLASS OF 1963
Pres: CAPT W. Spencer Johnson IV, USN (Ret.)
Sec'y: Michael H. Shelley
164 Sweetwater Lane, Pisgah Forest, NC 28768
h: 828-862-4245Κ e: nstar@citcom.net
Web site: http://www.usna63.org.


For any classmate you can go to the Classmates Page and enter his name to read his current biography if available.
---
---
&nbsp It is my sad duty to tell you that our classmate Dave Shute passed away peacefully at his home on Memorial Day, 26 May. His widow, Beth, can be contacted at 510 Ridgeview Court, Sellersville, PA 18960-2886.
---
&nbsp Another year is complete at USNA. The Class of 2014 has graduated and been commissioned and there are, for a few weeks, no Plebes. The Herndon climb is always well publicized, both before and after the event. The Annapolis Capital ran an article about the tradition, highlighting our classmate John Truesdell, who reached the top to end our climb. The article stated that '63 still holds the record for the shortest elapsed time (12 minutes) for a greased monument. Over the years, vegetable lard (Crisco) has replaced grease, perhaps making the climb a less difficult challenge. Even so, the Class of 2017 took more than two hours to complete this year's ascent. The newspaper article can be seen by clicking HERE .
---
&nbsp The Class of 1963 Foundation is being dissolved after four decades of remarkable activity benefitting the children of our deceased classmates, and also supporting the Class of 1963 Center for Academic Excellence and a few memorials. The Board and officers of the Foundation had their final meeting in early May, and I received two reports soon afterward. Here is the first, sent by Will Settle.
&nbspJane and I just returned from a delightful weekend at Wild Dunes on the Isle of Palms, SC, where the trustees and officers of the United States Naval Academy Class of 1963 Foundation, Inc., held their final meeting. Now that the Foundation is about to be wound up, its assets and continuing functions will be transferred to the Class of 1963, pursuant to new by-laws that have been drafted by Spencer Johnson, our Class president and a member of the Foundation's Board of Trustees. As one of its final acts, the Foundation has transferred $625,000 to the Naval Academy Foundation, earmarked for the Class of 1963 Center for Academic Excellence.
&nbsp Having served as secretary for these past 40 years, I have mixed feelings about its shutting down, although one thing I shall not miss is taking down and writing up minutes of the thrice yearly meetings of the Board. Those attending the Isle of Palms weekend were David Puckett, Bruce Webb, David Robinson, Dick Jones, Jim Koehn, Jim Ring, James DeFrancia (whose firm owns the resort and showed us much hospitality), Ken Metviner, Kent Maxfield, Mike Krause, Spencer Johnson, and I. To this list must be added the spouses as well.
&nbspThis note from Jim DeFrancia provided some additional information.
&nbspWe have distributed some $840,000-plus to children of deceased classmates in direct scholarship assistance since inception, and another $160,000-plus in various other memorial contributions (e.g., Vietnam Memorial, Navy Memorial, Submarine Memorial, USS Liberty Memorial, etc.) as well as some funding in assistance to widows. So, we actually raised and distributed over $1 million in our 40 years of efforts.
&nbspWe have also left $20,130 in trust to the Class of 2013 for assistance in advancing a similar program as they mature.
&nbspThe formalities of winding up the Foundation are being addressed by me, as Treasurer, Will Settle as Secretary, and David Puckett as President. We expect to conclude dissolution and final tax return by year end.
&nbspOur meeting weekend at Wild Dunes Resort in Charleston included a tour of Fort Sumter, a tour of The Citadel, and also of the raised remains of the CSS Hunley. These intellectual activities were interspersed with golf, superb food, and lots of sea stories enhanced by good wine!
---
&nbsp Jim Ring tells us about a noteworthy social event in late March.
&nbspWe were fortunate to be the guests of Lew and Lynn Blackwell at their lovely home right on PGA West in LaQuinta, CA. While there, they and Chuck and Linda Spadafora put together a mini reunion and dinner at the Blackwells' on March 25. Several classmates have places in the area and one, Doug Tozour, was visiting from South Carolina. The attendees were: Lew and Lynn Blackwell, Chuck and Linda Spadafora (co-hosts), Doug and Gail Tozour, Denny and LuAnne Vaughan, Jim and Kate Ring, Dick and Helen Anderson, Dave and Lana Moore, John and Barb Bender, Mike Rubel, John and Betty Middleton , and Tim and Valerie Cook.
&nbsp Thanks, Lew and Lynn and Chuck and Linda for a great time!
&nbsp Here are several pictures taken by Dave Moore .

Spadafora, Tozour, Cook, Vaughan, and Moore




Anderson and Blackwell




Vaughan and Cook




Bender, Middleton, Rubel, and Ring




Spadafora and Anderson




Cook, Bender, and Middleton



&nbspIt was great to catch up with classmates you see for a few minutes at reunions but don't have an opportunity to talk to. Doug and Dick were in the same battalion during the first two years, so I saw a lot of them in classes. John was in my company for all four years and we roomed together First Class year with Jim Patterson and Lee Cargill. Lee and John took turns on Brigade staffs so there were only three of us in the room at any time, especially since I was the Right Guide of the First Platoon (hey, don't laugh - it was an important position - I had to find the company block on the parade field during our parades; fortunately, no one moved them). Denny and I did a lot when he was stationed in DC as an Admiral and the last member of the class on active duty. Mike was in my plebe summer group and in the short boxing match during plebe summer, he punched me so hard in my nose, that, despite the shouts of the coach to get my head up, I never did. I got to know Dave at the Academy because we were one of the few with four names, so he had DBA on his uniforms and I had JEP on mine.
&nbspWhile there, John Bender recounted a story about a rescue of a Navy pilot who was shot down about 100 miles into North Vietnam. John was flying a SAR helicopter and was vectored to the pilot to attempt a pickup. It was a joint effort with the Air Force. He was first on the scene and remained in a hover until his window was shot out and one of his crewman was killed. He then broke the hover and remained in the area providing fire suppression. The Air Force copter came in behind and made the pickup. Last year he received a call from a man who asked him what he was doing on July 18, 1967. John said he was in the Gulf of Tonkin. The man said that was the day John rescued him and he was calling to thank him. The man sent him a card with a picture of his entire family at Christmas with a note that none of them would be there, if it wasn't for him and the Air Force pilot. Great story! John was awarded the Silver Star for his rescue. You can see his citation on our web site by clicking HERE .
---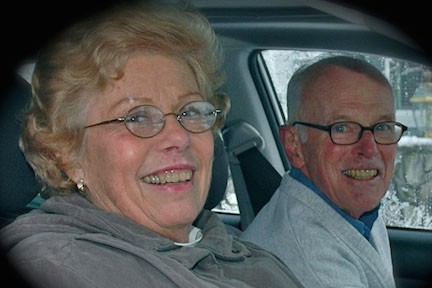 Barbara and Joe Strasser


&nbspBarbara and Joe Strasser celebrated their 50th wedding anniversary on 13 June. They met in high school, and were married in 1964 at St. Josephs Catholic Church in Collingswood, NJ. They also celebrated 21 moves, more than 65,000 miles traveled, 4 children, and 8 grandchildren. Joe and Barbara currently reside in Delaware, where they are enjoying their retirement. Congratulations!
&nbsp This news was sent to us for publication, as a surprise to her parents, by the youngest of their four children, Mary Long.
---
&nbsp Be on the lookout for Pete Deutermann's latest novel, Sentinels of Fire, to be published on 15 July. His third book set during World War II, it's about the destroyer radar picket line at Okinawa in 1945.



---
&nbsp San Diegans Dottie and Bill Hughes had a great get away from home this spring. Here's Bill's account:
&nbsp In early April, Dottie and I took a cruise from San Diego to Fort Lauderdale through the Panama Canal. The trip through the canal and a shore tour of the new locks under construction were amazing. The old locks are a marvel of 100 year old engineering and the new locks, scheduled to open late next year, or early 2016, are gigantic. This trip should be on everyone's bucket list.
&nbspAfter arriving in Fort Lauderdale, we drove up the coast for a scheduled '63 Sixth Company rendezvous at Jary and Sue Lewis' beautiful home on one of the PGA golf courses in Port St. Lucie. En route, we stopped at a drug store in Jupiter for some supplies. As we walked up to the checkout counter, there was a distinguished looking gentleman checking out. Dottie said, "That's Chuck Maclin!" I said, "No way". Then he spoke and that soft southern drawl was unmistakable. It was almost as big a surprise as the time we ran into Joe Fossella in front of the Duomo in Florence! So after a few laughs and hugs it was off to Chuck and Marion's condo to enjoy the view and have a late morning beer. We then proceeded to Jary and Sue's where that evening they prepared a wonderful dinner for us, the Maclins, and Tony and Hilda Desantis who had flown in from Texas that afternoon. Lots of old stories were retold over a bottle of wine or two!
&nbsp Pictured left to right in the photo below are Tony, Hilda, Jary, Sue, Marion, Chuck, Dottie and me.

Sixth Company in Port St. Lucie, FL



&nbsp The next day we drove north to New Smyrna Beach for a reunion of five '63ers and wives who all had lived in Charleston, SC, at the same time during our first sea tour on a submarine. In New Smyrna, George and Pat Emery had a rented condo in the same building as their son Robert and his wife Amy. As we arrived, Tom and Julie Robertson and Zimm and Linda Zimmerman were being greeted in the parking lot by George and Pat and shortly thereafter Jary and Sue showed up. Through lunch on the inland waterway, cocktails in our (mysteriously upgraded) suite in our motel, and a great dinner at the best restaurant in New Smyrna, we laughed so hard our sides ached retelling and embellishing the same old sea stories. The Robertsons and Zimmermans headed back north that night and after breakfast the next morning with the Emerys and Lewis' we headed to Orlando to spend Easter with a niece. It had been a great two days of memories!!
&nbsp Here are pictures of the former Charleston folks. In the couples group are (left to right, top to bottom): Pat, Julie, Tom, Dottie and Sue; Zimm, Jary Linda, me, and George. Standing in front of the bar sign are (left to right) Jary, me, George, Zimm, and Tom.






---
&nbsp Tom Morgan checked in to say that a few members of the 24th Company were able to get together in Annapolis a few weeks ago. He sent this picture shows the attendees. From left to right are Tren Ward, Roger Mehle, Grayson Redford, Kitty Redford, Tom Morgan, Judy Morgan, Norm Shackelton, and Priscilla Ward.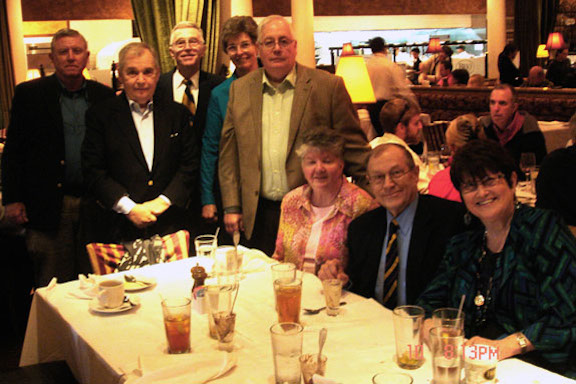 24th Company group in Annapolis
---
&nbsp In mid-May, Zoe and Bob LaGassa completed a four-month around the world cruise aboard the Cunard liner Queen Elizabeth 2. They departed New York City in mid-January and returned there 119 days later. The ship transited the Panama Canal and made port calls at San Francisco and Honolulu before continuing west to many stops including South Pacific islands, Australia, New Zealand, Japan, China, Vietnam, Singapore, India, Dubai, Israel, Italy, Spain, Portugal, and England.
&nbsp Throughout the cruise, Bob maintained a richly illustrated online blog detailing their travels, experiences, and impressions. As the cruise progressed I enjoyed following his frequent reports, uploaded as he was able to obtain reliable internet access. Though the cruise is over, he will be keeping the blog available online for an indefinite time. I encourage you to visit his extensive and interesting travelogue by clicking HERE .
---

&nbsp The Naval Institute has published an article on its web site titled, "The U.S. Navy and Marines On TV." It provides a very interesting summary of more than 20 series dating back to 1952's Victory at Sea and ranging from Men of Annapolis and Navy Log through Gomer Pyle to today's NCIS. Numerous video clips are included. It's worth a few minutes of your time. To see it, click HERE .
---
&nbsp See you here next month.



---