Shipmate Column
July-August 2015
---
CLASS OF 1963
Pres: CAPT W. Spencer Johnson IV, USN (Ret.)
Sec'y: Michael H. Shelley
164 Sweetwater Lane, Pisgah Forest, NC 28768
h: 828-862-4245 e: nstar@citcom.net
Web site: http://www.usna63.org.


For any classmate you can go to the Classmates Page and enter his name to read his current biography if available.
---
---
---
&nbsp This has been a very busy springtime for many of us, and I have a lot of things to share with you. Sadly, though, we will begin with the news that we have lost another of our classmates.

&nbsp RADM John J. "Jack" Donegan, USN (Ret.) , passed away on 11 May. His widow, Joanna, may be contacted at 620 Halton Road, Apt. 2102, Greenville, SC 29607. Please see his obituary and other information in the Last Call section of our web site.
---
&nbsp Mario Fiori sent this report about a recent interment:
&nbsp Captain Joseph Lederhaas (USN, Ret.) was interred with full military honors at Arlington National Cemetery on 7 May. It was a beautiful day and the church service and burial ceremony were very moving. Here are some photos from that day. In the group photo are Cathy Lederhaas with 12th Company guys (L-R) Mario Fiori, Jim Czerwonky, Kent Maxfield, and Bob Bennett, plus classmate Dick Kuntz.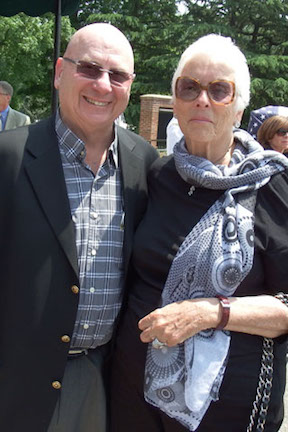 Satch Baumgart and Cathy Lederhaas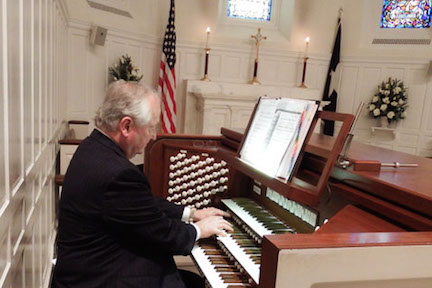 Jim Czerwonky at the church organ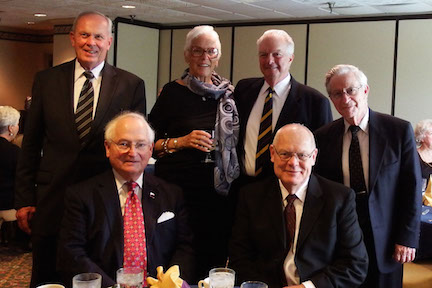 At the reception
---
&nbsp I told you last month that Niles Iannone had died on 16 April. Mike Bonsignore attended the memorial service and shared this report.
&nbsp Here is a picture taken after the memorial for Niles in Savannah on April 23. The weather was beautiful and the Savannah Symphony Choir filled the church with wonderful music as a tribute to the years that Niles dedicated to the group. Harry Hirsch, Bernie Grabowski, Billy Bradford, and I were there to represent the 23rd Company. Steve Leisge contributed a beautiful wreath from our mates. We wish Niles eternal peace and Mary a full life ahead with endearing memories of her husband of 51 years. We will maintain contact with her for all the support and love she requires. God Bless them both. Hug your loved ones and live well every day.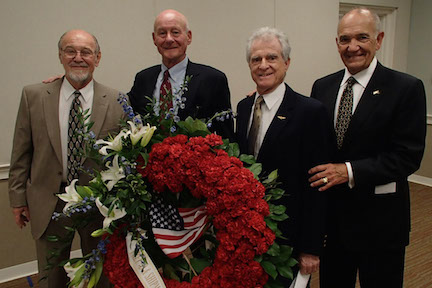 Grabowski, Hirsch, Bradford, and Bonsignore
---
&nbsp Another of our USNA companies staged a reunion this spring. Bill Hughes reports:
&nbsp In mid April, several members and wives of the Sixth Company gathered in Sonoma, CA, for three days of sightseeing, wine tasting, and retelling of old sea and USNA stories. We all had a great time thanks to the planning and hospitality of Sonoma residents Bo and Patric Kearns, as well as the great weather and the beauty of Sonoma in the spring. One of the most interesting forays was to the Jack London State Park (a former 1,400 acre farm) where London lived, pioneered environmentally friendly farming, and wrote many of his novels. He died on the farm at the age of 40, having lived life to the fullest. In addition to the Kearns , the attendees were Chuck and Lorna Frazer, Pete and Jackie Brown, Mike Biro, Tony and Hilda Desantis, Ernie Freeman, Janet Gushue, Bill and Dottie Hughes, Don and Ramona Lachata, Mike and Grace Lents, Chuck and Marion Maclin, Joe and Theresa Morra, and Clyde Van Arsdall. Several others had planned to join us but had to cancel for a variety of medical and family reasons, so we decided to try to do it again next year, possibly somewhere in North Carolina in the fall.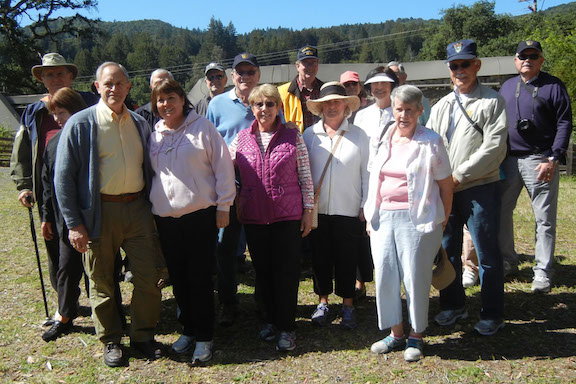 Sixth Company in Sonoma, CA
Wine Country Touring
---
&nbsp Long-time Albuquerque resident Mike Blackledge submitted this account of a USNA alumni visit to the historic site where the first atomic bomb was detonated.
&nbsp By now, the Class of 1963 is well familiar with 70th birthdays. This year marks the 70th birthday of the nuclear weapon. Many think that first explosion occurred over Hiroshima, but it actually lit up the pre-dawn desert of White Sands, NM.
&nbsp Under the guidance of USNA Alumni Association New Mexico Chapter President CDR John Kennard ('93), an eight-car caravan met up at the General Store in tiny San Antonio, NM, at 1000 on Saturday, April 4. The rendezvous was for a tour of the Trinity site, the name assigned by Robert Oppenheimer to the location of the world's first nuclear test explosion. Due to physical security requirements, the Trinity site is only open to the public two days each year, the first Saturdays in April and October. Because CDR Kennard is assigned to the Defense Threat Reduction Agency and has offices inside the White Sands Missile Range Stallion Gate, he was able to provide a custom tour to the group of chapter members and their families. Our group was part of a record crowd of over 5,500 public tourists attending the open house commemorating the 70th anniversary of the dawn of the nuclear age on July 16th, 1945.

At the Trinity nuclear site



&nbsp Pictured from left to right in this photo are Dick and Patti Blackledge Blide, Bonnie and Mike Blackledge, and John "GG" Kennard '93. My sister Patti was Navy's 1958 Cotton Bowl Queen. Also in our party were Beth Paiz, the daughter of our late classmate George Nolan, and her family. The obelisk in the left rear marks the site of the tower that held the gadget. A full photo essay of the trip is on display at the NM Chapter web site, www.newmexico.usnachapters.com, which I maintain.
---
&nbsp You wouldn't usually associate income taxes with a classmate, but Bob Harper did. He and Joel Gardner paid an April visit to tax professional Al Sherman at his Fairfax, VA, office the week before tax day. They all showed in proper Navy Blue. Note that Al, our class treasurer, wore a sweater with our '63 crest embroidered on it.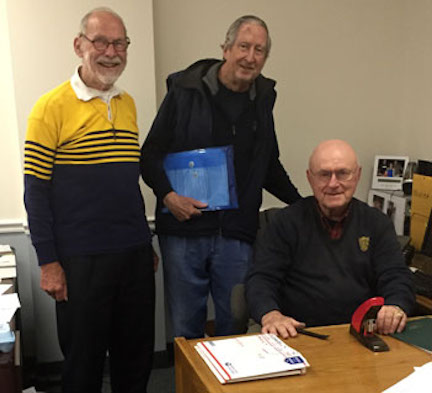 Harper, Gardner, and Sherman
---
&nbsp Jim Metcalfe has retired from his many years with the Department of Justice but he hasn't slowed down much, professionally or socially. Here's his latest travel report:
&nbsp I was down in the Tampa Bay Area for some training at Stetson Law School for law professors who teach trial skills. As you know, I am an adjunct professor at Regent Law School in Virginia Beach. In planning the trip I saw that Fran and Tom Reemelin live just a few miles south of Tampa Bay. I called and arranged to visit one evening after classes.

Metcalfe and Reemelin



&nbsp First, I must say their home is beautiful and comfortable. I could see dropping in about November and staying until May. From their schedule of visiting classmates I am afraid that there would not be room. But the one evening was a delight. Fran whipped up a grouper casserole or some such delicious fish dish. They also had house guests from their old neighborhood in Virginia.
&nbsp Tom is his ever lively self. I have known him since we were cadets together at Culver Military Academy. I bet he could still wear his old cadet and midshipman uniforms and probably run a few plays in football or lacrosse. We had a great evening reliving highlights of our lives and talking about children, grandchildren, and classmates. Too soon I had to go "back ship" or at least back to my hotel.
&nbsp On my way to Tom and Fran's I called our classmate Fred Wielandt in Indianapolis. Fred was also a Culver classmate. He and math did not do well and he departed "Mother B" in Fall 1960. Fred graduated from Indiana U., was commissioned through AOCS and served as an NFO, retiring as a CDR. He flew in Willy Fudds, did a tour in country in Vietnam and became an ASW NFO in S3's. Fred has had some real health challenges for at least ten years, spending three of the last four months in and out of hospitals. But when I talked to Fred his voice was strong and his humor sharp as a scalpel. He has not lost his touch.
---
&nbsp Randy Orlowski tells us of a chance encounter and offers some useful advice.
&nbsp I remember reading some time ago about two of our classmates meeting by chance on a vacation cruise. Well, it's happened again. My wife and I were on a trans-Atlantic cruise this May and waiting to leave the ship in Cobh, Ireland, for a day trip when I bumped into Speed Leeper. He and his wife, Janet , were on board and actually staying on beyond my schedule for an extended cruise around the U.K. A few days prior I was in the ship's gym and a woman asked what year did I graduate. She was Bob Tieslau's sister, Karen. So if you wear your USNA gear, you're bound to connect with someone no matter where you go.
---
&nbsp Our accomplished author, Pete ("P.T.") Deutermann, has told me that his latest novel will appear this summer.
&nbsp A new one is coming out in July, called "Cold Frame." It tells the story of a Washington Metro cop who inadvertently bumps up against the NSC committee that develops the War on Terror's controversial Kill List, which contains the names of prominent foreign terrorists who are marked for assassination by American covert forces. He discovers that the official running this NSC committee has decided to expand its reach, to now include political enemies of the Kill List. He and his fellow city cops then experience "interesting times."



&nbsp Cold Frame will be Pete's 17th (by my count) published book -- all released by major publishers. I have read and enjoyed them all. I think you'll find them engrossing and entertaining. See www.ptdeutermann.com for a complete listing. (No, I am not his agent or publicist.)
---
&nbsp Jim Ring wrote with some facts about Gonzaga alumni.
&nbsp I recently spoke to Tom Buckley, my classmate from Gonzaga College High School in DC, and our classmate from Navy. As I pointed out previously, we had seven Gonzaga grads who started and finished with the Class of '63. Tom pointed out that we had another who was in our high school for two years but didn't graduate because his father was an Admiral and they moved to Omaha, NE. He finished his high school at another Jesuit High School, Creighton. This classmate, well known author Pete Deutermann, is the eighth Gonzaga attendee. He wrote about Gonzaga in his book "Official Privilege." Another writer who attended Gonzaga, but moved before graduation because his father, "The Great Santini," changed duty stations is Pat Conroy (The Citadel '67). He wrote about his time at Gonzaga in his book "My Losing Season." Two politicians who are graduates are Pat Buchanan and Martin O'Malley.
---
&nbsp Several of our submarine force classmates came together for several days on the South Carolina coast. Tom Robertson tells us about their time together.
&nbsp A brief impromptu Florida rendezvous in spring 2014 evolved into a wonderful week at the Isle of Palms off Charleston the first week of May 2015 for submarine classmates and original wives. Contributing to the happy mayhem were Bill and Dottie Hughes, Lew and Sue Lewis, George and Pat Emery, Zimm and Linda Zimmerman, Tom and Julie Robertson. The rented beach house was spacious enough to accommodate our various peculiarities, though a head count was necessary now and then. Events great and small were well remembered, with better recall for items of more ancient vintage. Individual culinary specialties marked each day, with ample toasts to the many others who have shared our common journey. What has been an occasional gathering in the past now will become more regular, the Lord willing. We're on the schedule for next spring, same time, same place. Whenever two or ten shall meet...
&nbsp We have received two photos from the South Carolina week. Zimm sent this picture from the flight deck of YORKTOWN at the Patriots Point Naval and Maritime Museum.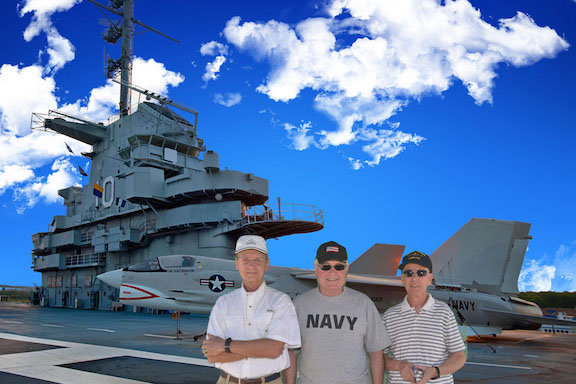 Tom Robertson, George Emery, and Zimm Zimmermann



&nbsp George supplied this snapshot showing Tom, Sue Lewis, Pat Emery, Linda Zimmerman, Zimm, and Julie Robertson.



---
&nbsp Dick Augur sent this news of '63 leadership in the desert southwest.
&nbsp Art Weidner moved from Maine to Southern Arizona on a permanent basis three years ago. His new local yokel buddies out of the Class of 63, Len Eaton, John Truesdell, Dick Augur, and Bill Brinkley promptly arranged that he be elected President of the Tucson Chapter of the USNA Alumni Association. This picture shows Art, in his 23rd Company fishing shirt, acting Presidential as he introduces our host, the owner of the White Stallion Ranch, as our speaker for the Chapter's Annual Spring Social Saturday night on May 23rd.
---
&nbsp Let's talk about the Class of 1963 web site. Thanks to the fine work of consecutive Webmasters Bill Kennedy, Mike Blackledge, and Steve Coester, we have an impressively broad and content-rich site. If your only recent visits to the site have been to the Shipmate columns and the Hot News page, spend some time exploring the other sections. Look at the Pride and Tradition section for the many sea stories, articles, reminiscences, and other content there. (Additions from Dirck Praeger and Dick Jones are noteworthy.) Move on to the Classmates section for a variety of content. Browse through the Current Biographies to see what others have done in their careers and are enjoying these days. If your Current Biography is missing or needs to be updated, simply send your text and photos to Steve Coester (scoester@cfl.rr.com) and he'll take care of your entry. One other thing: Enjoy seeing the many wedding-and-now photos by clicking HERE , then contact Steve to add your own to the growing collection.
---
&nbsp And a bit more while we're looking at the internet side of things. I signed up for Facebook to keep up with my grandkids. Since then, I have found it a very good way to stay in touch with our USNA classmates. Recently, I saw a 1963 photo of several of our lacrosse team classmates on Gary Baldwin's Facebook page. Wanting to share the photo in Shipmate, I contacted him for permission and some background information. Gary's response:
&nbsp I can't take any credit for the Facebook post. My oldest son was giving me advice on the Facebook page we have for our ministry and insisted for certain reasons I update my life and sign up personally on Facebook. He went through a batch of old photos and suggested the lacrosse picture as background. It is a picture of those of us on the team as First Classmen at practice in the spring of '63. It had been given to me by George Tracy, and I've had it under my desk mat for years. Seated are Dud Hendrick, Don MacLaughlin, and Sonny Glassner. Standing are Joe Fossella, Ted Willandt, George Tracy, Gary Baldwin, John Newton, and Bill Oatway. Those of us who remain had a nice reunion during the 50th Reunion with a gathering of '63 football and lacrosse players in town. Great memories of some really fine men. All is well here with Joan and me, still enjoying the great life and health we have been given.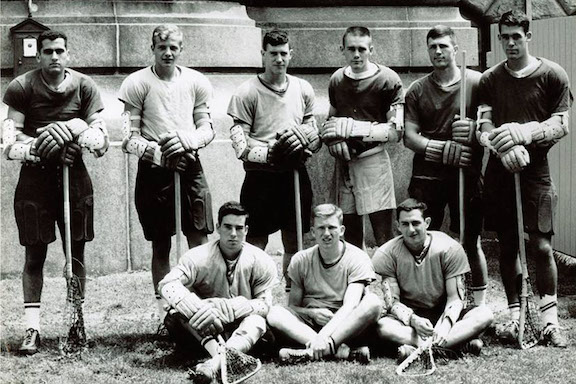 '63 lacrosse teammates
---
&nbsp That wraps up things for this month. Enjoy your summer but don't forget to send your news and photos to me to be shared with our classmates. Thanks!



---