Shipmate Column
July-August 2016
---
CLASS OF 1963
Pres: CAPT W. Spencer Johnson IV, USN (Ret.)
Sec'y: Michael H. Shelley
164 Sweetwater Lane, Pisgah Forest, NC 28768
h: 828-862-4245 e: nstar@citcom.net
Web site: http://www.usna63.org.


For any classmate you can go to the Classmates Page and enter his name to read his current biography if available.
---
---
---
&nbsp Two months having passed since our last installment of USNA '63 current history, I have a lot to share with you.
---
&nbsp I regret to begin with the sad news that our classmate John W. "Jay" Gowens died on 21 April. He was predeceased by his wife, Mary Ann, in 2013. His obituary can be seen by clicking HERE . Jay's son, Lance Gowens, can be contacted at 3805 Dalwood Drive, Suwanee, GA 30024
---
&nbsp Here's a submission from Jon Harris, following up our recent report about transportation of dependents in the late 1940's and offering a recap of his father's service in the pre-war years and World War II.
&nbsp I'm writing in response to Ken Sanger's story of being on the USS GENERAL H. W. BUTNER (AP-113), along with his much-later-to-be roomie, Dave Shute, when they were seven or eight years old, being transported from Hawaii to San Diego. In a unique twist of my dad's career as a navy Chief Commissaryman, and because he had served entirely on battleships during the war, he was lent to the army for duty on the Butner for the transport missions in 1948-49. It likely was the same cruise that Ken and Dave were on that had begun in Shanghai, China, evacuating the last of the U.S. citizens prior to the fall of Shanghai to the Chinese Communists. During the time in port for that mission, my dad purchased two gorgeous fully carved (all four sides and the top) teak wood chests. Each scene is of some level of domestic or outdoor activities in the basic Chinese art style depicting life likely in a distant past.

The Harris Family chest



&nbsp When he returned home to Long Beach where we lived during that time, he told my brother and me that the first one who married would get his pick of the two chests. Since Patty and I, a decade and a half later, beat brother Jerry and Brenda to the altar, we got the choice and that beautiful chest has been our prized coffee table for the past 52 years.

USS NEVADA



&nbsp My dad enlisted at 17 in 1934 and served on the USS PENNSYLVANIA until the Pacific Fleet was moved to Pearl Harbor. He was then transferred to the USS NEVADA and was there, moored just aft of the ARIZONA, when the attack began (which was three and a half months after I was born). After the NEVADA was raised, repaired, and refitted in Bremerton, Washington, he was assigned back on her as she was transferred to the Atlantic Fleet, and, in June of 1944 was the only Pearl Harbor battleship at Normandy during the D-Day bombardment.
&nbsp When he retired in 1953, he was again assigned to an army post, Fort Mason in San Francisco, just for the first couple of my seventh grade months. During that time I attended Marina Junior High School. Some may remember that, a quarter of a century later, in response to the 1989 "World Series Earthquake," the operational headquarters for the civil response was located at the Marina Jr. High.
---
&nbsp Thanks to Lew Blackwell for submitting this Marine Corps news.
&nbsp On 23 April, I attended the Marine Corps Heritage Foundation Awards dinner at the USMC museum at Quantico . Chuck Spadafora was recently appointed as a new Director of the Foundation taking over from our friend Peter Kump (Notre Dame '64). The Commandant , Gen Robert Neller, a great supporter of USNA, had some very nice things to say about Chuck. BZ, Chuck!

Spadafora, Neller, Kump



---
&nbsp Len Eaton checked in with me from his home in Arizona.
&nbsp Here is the latest news from Green Valley in Southern Arizona, where Art Weidner, John Truesdell, and I enjoy life.
&nbsp On April 29, Art, who is President of the USNA Alumni Chapter in Tucson, and I went to La Posada, a continuous care retirement community located in Green Valley. The purpose of our visit was to meet and converse with two elder graduates of the Naval Academy. We met with Alan Lee, Class of 1944 and A. Jack Richter, Class of 1947. Alan Lee was born in Long Beach, CA, the son of a Naval Aviator. He entered the Naval Academy in 1940 and graduated in three years on June 9, 1943. Alan became a Naval Aviator and flew 58 different aircraft for the Navy. He saw duty with VOVCS, FASRON and Patrol Aviation. Jack Richter, from Missouri, entered the Naval Academy in 1943 with the Class of 1947 and graduated in three years on June 5, 1946. He was commissioned a Second Lieutenant in the Marine Corps and spent the balance of 1946 at Basic School. After Basic School, Jack served with the 1st Marine Division in Tientsin, China, from 1947 to 1949. Returning to the U.S. in late 1949, he resigned from the Marine Corps. Less than a year later, in 1950, he was recalled to active duty as a result of the Korean Conflict. He served with the 8th Engineering Battalion in Camp Lejeune until 1952 when he again left active duty. Alan and Jack thoroughly enjoyed reminiscing with us about their time living in Bancroft Hall. Art took this picture to share with you.

Lee '44, Eaton '63, and Richter '47 in Green Valley, AZ



---
&nbsp Tom Robertson sent this report of the latest annual springtime gathering of five of our submariner classmates and their wives. He, Bill Hughes, George Emery, and Zimm Zimmermann provided several photos from the assembly, including those with Tom's text below.
&nbsp Five '63 sewer pipe sailors and their Fab Five original wives conducted their third annual assembly with a rendezvous on the Isle of Palms, SC, the first week of May. Present and periodically accounted for were George and Pat Emery, Bill and Dottie Hughes, Lew and Sue Lewis, Zimm and Linda Zimmerman, and Tom and Julie Robertson. The venue was the same as before with ample space for activity, and occasional inactivity. The "Silent Service" was hardly silent with old tales being retold -- and at times retold again.

Submariner couples Lewis, Zimmerman, Robertson, Emery, Hughes



&nbsp Uninterrupted reading in a porch rocker proved challenging as some worked on finishing Pete Deutermann's latest chiller, "Cold Frame."

Zimmerman and Robertson




Visiting the replica of the Confederate submarine HUNLEY




Lewis and Zimmerman demonstrate 19th century pre-nuclear propulsion



&nbsp Apparently our longevity has many benefits, not the least being the combined culinary synergy. We dined and sipped well, ending up even with a delightful surplus. Either we're consuming less or, more likely, buying more stuff. The stresses of national election food fights were left pretty much behind as we enjoyed the more pleasant aspects of food and good companionship.
&nbsp As all headed for summer camp in the four corners of the country our schedule was set for next year: same place, same time -- Kentucky Derby time. Our classmates and their ladies were well remembered as it always is "when two or more shall meet... "
---
&nbsp By now, Tom Robertson and Zimm Zimmermann have finished reading Pete Deutermann's "Cold Frame." I just heard from Pete, who passed this news about the impending publication of his latest novel.
&nbsp My new book is coming out in early August; called "The Commodore." It's the story of a destroyer CO who fleets up to division and then squadron command after the Imperial Japanese Navy depopulates the navy's senior ranks in those bloody days around Guadalcanal in 1942-43. He does extremely well -- until he doesn't, and therein lies the tale. It'll be available in all the usual formats.



&nbsp Susan and I are enjoying rural life on our pony breeding farm here in the Piedmont of North Carolina as our 47th wedding anniversary approaches. My daughter, who lives on the adjoining farm, is a lawyer in Greensboro. She was a RIO in F-14's for a while, and she's married to an Air Force C-130 pilot who worked in the special operations world for 20 years. My son retired from the Coast Guard after 20 years service, with 10 in the navy and then the final 10 in the Coasties as a SAR pilot. He's married to another Coast Guard SAR pilot and they have two little ones complicating their life these days out in California. You know you're getting old when your children have retired from active duty! I'm working now on my 20th novel, another Washington, DC, adventure. I asked my editor when I'd know it was time to quit. When you send one in and we send it back, he said. Can't ever complain about a lack of clarity in the publishing business, I guess.
---
&nbsp Here is John Newsom's report about a recent Vietnam War related event.
&nbsp It was my pleasure to be invited to the dedication of the Vietnam/American War Monument at the New Jersey Vietnam Veterans' Memorial, in Holmdel, NJ (exit 116 Garden State Parkway) on April 30, the anniversary of the fall of Saigon. The memorial honors the 1,563 New Jersey casualties of the war. Touring the museum and the ceremony brought back memories of colleagues, both Vietnamese and American, who served together in the "interest of freedom." This photograph shows Captain Tran, Major General Martin USAF, and Dr. John Newsom reflecting on times past and hope for the future. The ceremony brought to my mind the sacrifice that our classmates and all the others made during those troubled times.

At the New Jersey Vietnam Veterans' Memorial



---
&nbsp Our Webmaster, Steve Coester, just shared a photo taken on a historic day in 1969. You may recall that he spent many years at the Kennedy Space Center working for major aerospace firms to prepare and launch manned and unmanned spacecraft.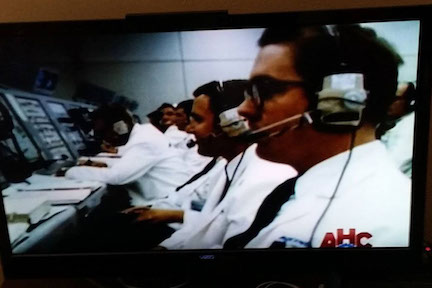 Launching Apollo 11
&nbsp I just received this picture from an old Apollo friend after all of these years. The second face from the right is me at my launch console during the Apollo 11 countdown on July 16, 1969.



&nbsp This image shows me on a recent tour at KSC standing by Atlantis' main engines that were part of my Main Propulsion System. A couple of weeks after my tour with Bruce Webb, Jackie and Peter Browne asked for my personal touch. We had a really nice day and both of them were full of good questions, which showed they were really interested. Unfortunately, no photos were taken. Afterward, they came down to the house for some time with Yvonne and me.
---
&nbsp Jim Penrod has an extra copy of the 1963 Lucky Bag and offers to send it to any classmate or other person who would like to have it. If you're interested, contact me by email at nstar@citcom.net and I'll put you in touch with him. Jim told me that he is now fully retired and spends much of his time "traveling, reading, taking care of grandchildren, and trying to play a little golf and stay in decent condition and health." That sounds good to me.
---
&nbsp After years of daily wear, your USNA ring may need some professional attention. Each issue of Shipmate includes one or more advertisements offering to replace or resize class rings. Bob Van Buren recently made several inquiries about having his ring resized and found that things are not as simple as they might seem. You may remember that our 1963 rings were made by Dieges & Clust, an established and much-respected jewelry firm which is no longer in business. After some sleuthing, Bob found that the Herff-Jones company will resize USNA rings for a flat fee of $329.00. They can be contacted by phone at 703-368-9550. Although ads in Shipmate offer free resizing, that applies only for rings from the 1980's or newer. The mailing address for resizing services is 9264 Corporate Circle, Manassas, VA 20110. Depending upon the type of setting, insure the ring for at least $2,500
---
&nbsp It was good to receive this brief message from my 4th companymate Jack Carroll.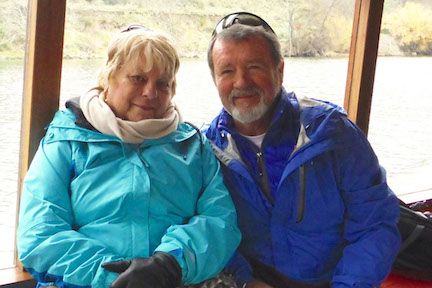 Sue and Jack Carroll on the Douro River in Porto, Portugal
&nbsp It's been a wonderful and busy year for my wife, Sue, and me. We celebrated our 50th wedding anniversary with a three week trip to Spain and Portugal. Barcelona was our favorite city, although each place we visited had its own charm. In addition, our three sons and their families put together a great anniversary celebration for us in Los Angeles. We got to see most of the eight grandchildren, ranging in ages from 5 to 25. For sixteen years (and counting), we have been residing in Lake Wildwood, CA. It's a little piece of heaven that we enjoy every single day!
---
&nbsp Larry Marsh provided this example of why it's a good idea to wear some USNA identifying apparel when you travel.
&nbsp Recently, Barb and I unexpectedly met Belva and Don Sheaffer on an American Queen Steamboat cruise on the Mississippi from Memphis to New Orleans. Don spotted my USNA shirt one evening at dinner, and we soon found out we were classmates. In fact, we had tables immediately behind each other at dinner. Small world. It was a great river trip with many interesting and educational shore tours as well, including the Vicksburg Civil War Battlefield. A good time was had by all.

Marshes and Sheaffers



---
&nbsp Jim Ring passed this photo he received from Mary Jo and Jack Dranttel. Pictured are 16th Company folks who reside in Florida. Left to right are Tom and Carolyn Smith, Sandy Mullen, and Jack and Mary Jo Dranttel, at the Dranttels' house for dinner before the Smiths went north for the summer.



---
&nbsp Thanks to everyone who submitted news and photographs to be enjoyed by our classmates and other readers. Now it's your turn.



---