Shipmate Column
July-August 2021
---
CLASS OF 1963
Pres: CAPT W. Spencer Johnson IV, USN (Ret.)
Sec'y: Michael H. Shelley
27 Cambridge DR, Brevard, NC 28712
h: 828-506-2201 e: nstar@citcom.net
Web site: http://www.usna63.org.


For any classmate you can go to the Classmates Page and enter his name to read his current biography if available.
---
---
---
&nbsp The passing years continue to thin our ranks, and I am sorry to report the recent loss of three of our classmates. Please visit the Last Call section of our web site to see obituaries and other information about these men.

Wilton J. Smith, Jr. , passed away on 24 April. Jerry's widow, Linda, can be contacted at 247 Hacienda, Carmel, CA 93923.
---
Arthur E. Walther died on 27 April. Art's widow, Peggy, can be contacted at 19129 North 84th Drive, Peoria, AZ 85382.
---
Eugene G. Kreinik died on 13 May. Jerry's widow, Kathi, can be contacted at 425 South St., Apt. 3902, Honolulu, HI 96813.
---
We also learned of the passing of Bernie Kelley's wife, Jo, on 28 April. Bernie can be contacted at 1820 Rittenhouse Square, Philadelphia, PA 19103.
---
&nbsp Writing from New Hampshire, Bob LaGassa tells us of his recent downsizing move and a visit from a 2nd Companymate.
&nbsp As he has done in recent years (except COVID-ridden 2020), Jim Penrod made his first of two semi-annual pilgrimages east from San Francisco this May. He has family, and a wheelchair bound sister living in the Colchester, VT area near Burlington to whom he brings his brand of Calvin Coolidge cheer. While there, he also visits our classmate Bill Fitzgerald's grave; he and Bill were 2nd Companymates. I made his visit list in 2018 when I contracted Leukemia. He visited me at the Dartmouth medical center, with a celebratory bottle of Napa Valley wine and we were almost thrown off the premises.
&nbsp Jim, Derek Simmons (my USNA "wife") and I have maintained a daily internet argument for several years. We are stimulated by Derek's libertarian views, Jim's "blue-dog" Democrat ripostes and my naive conservative equivocation. Nothing is resolved, we debate on and are happy to have someone pay attention to us, periodically bringing other classmates into the argument. It has been a binding experience, most times!

Bob LaGassa and Jim Penrod




Jim with Zoe LaGassa



&nbsp Zoe and I recently downsized and moved to an "elderly" condominium in New London, NH, which proved beneficial during the pandemic. We hope my treatment will allow travel this year to visit our son David's (USNA '91) family in Palm Coast, FL. Our days of world voyaging on CUNARD's Queens are memories, as are the Road Trips about USA: we passed our 2007 Corvette road machine on to grandson A.J., who is a Firstie at the Air Force Academy, soon of the Space Force. Number two grandson Matt is a sophomore at Rollins College in Orlando. Our third grandson Sam may seek a Naval Academy appointment so perhaps he'll have his name engraved on the family sword.
&nbsp Jim and his wife Susan will spend the next few weeks visiting friends and middle son's family in Massachusetts, then finish up with a soiree to NYC where Jim got started as a lawyer many decades ago. They will duck the current flack there (Hey, they are from the SFO Bay area!), absorb the culture, and then return home to the Piedmont region across the bay. Then do it again this fall. Thanks for the pick-me-up, Jim.
---
&nbsp It was good to receive this note and photos from Bill Sheehan in early May.
&nbsp Joyce and I are still in Waterford, CT, and I am in my seventeenth year on the Waterford Board of Finance. Due to my spouse's health conditions I have had to reduce my volunteering to Waterford Town Government Board of Finance, the State of Connecticut Nuclear Advisory Council (NEAC), and Serving as a Lector at my Parish Church. After ten years, I stepped down as Chairperson of NEAC in 2015 but remained a member.

'63 Plebes polishing the cannon



&nbsp I recently digitized some pictures I found of our time at USNA. I am sending two that you might find useful. I apologize for the light leak on the cannon polishing picture taken our plebe year before the Army-Navy game. The Fifteenth Company Officer was Major Walt Adams so the First Class made the plebes move a cannon from the front of Dahlgren Hall to the third deck office of the Major. My memory says that, although we used the Bancroft Hall elevators to bring the cannon to the third deck, the Academy had to bring a crane into Tecumseh Court and remove the window in his office to get the cannon out since the elevators were not supposed to handle the weight of the cannon. The second picture was taken during Second Class Summer, I believe at either Pensacola or Key West.

Aviation summer 1961



---
&nbsp Steve Duncan alerted me to a YouTube video produced by the Naval Historical Foundation titled, "Brown Water Bluejackets, Vietnam: The Navy in the Mekong Delta." Noting that a classmate appears prominently in the video, Steve said,
&nbsp One of the panelists, a remarkedly fit and good-looking Vice Admiral, looked very familiar to me. At first, I assumed that he was a hired actor, but the more I heard him speak with an unmistakable Texas drawl, the more I realized that I did know this guy - our classmate David Robinson!
&nbsp To see the video, search the title on YouTube or click HERE .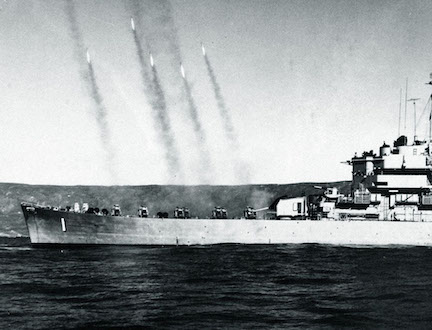 USS Carronade (IFS-1)



&nbsp Steve had authored a three-page article in the November 1983 issue of Shipmate about the four rocket equipped ships of Inshore Fire Support Division 93 which operated off the Vietnam coast to provide high intensity bombardment of enemy targets. You can see it by clicking HERE.
---
&nbsp


Jim Metcalfe advised me that a lengthy article about our classmate Jim Patterson's shootdown over North Vietnam in 1967 appeared in the Spring/Summer issue of Windscreen, the journal of the A-6 Intruder Association. Our web site contains a large collection of information about Jim's last mission and his uncertain fate. You can see it by clicking HERE.
---
&nbsp Several former members of the Board of the Class of 1963 Foundation and Foundation supporters came together for a weekend reunion on the South Carolina coast in early April. Jim DeFrancia sent this account of the weekend's events.
&nbsp Fourteen of us gathered at the Wild Dunes Resort north of Charleston for a mini-mid-cycle reunion of sorts. We all enjoyed a long weekend, April 8-12. The attendees were those who had been long involved in our Foundation efforts, including a couple of generous supporters. The weekend was organized by Jim DeFrancia and centered at the Sweetgrass Inn, a new hotel he and his partners has just opened a few days before. (We were a "training exercise" as the staff was working out the bugs for the true grand opening a few weeks later!)

The Sweetgrass Inn at Wild Dunes



&nbsp Ron Terwilliger hosted for afternoon golf and then dinner at the Daniel Island Club on Friday night. Then Jim hosted golf on Saturday followed by a low country BBQ dinner at the Boardwalk Inn (also at Wild Dunes). Otherwise, the days were filled with an array of individual activities.
&nbsp Attending (in addition to Ron and Jim) were Dave Puckett, Will Settle, Ron Klemick, Jim Koehn, Kent Maxfield, Spencer Johnson, Mike Krause, Dave Robinson, Jim Ring, and Pete Carrothers - all with spouses. Joining us solo were Doug Tozour and Mike Rubel.
&nbsp Needless to say, there was a lot of wine, a good bit of spirits, and some most enjoyable sea stories!
---
&nbsp As mentioned above, golf was a popular activity during the weekend. Jim Koehn supplied two photos that indicate unique aspects of one round. The alligator, as far as we know, has no name; Jim said he was friendly. The name of the enthusiastic golfer whose trousers split, probably during a powerful drive, will not be mentioned here. Decorum prevents publication of the view from astern as shown in Jim's dramatic photo.

A reptilian course hazard



&nbsp Mike Rubel sent a photo and this note:
&nbsp This picture shows Doug Tozour and me contemplating a long drive over the snake/alligator infested marsh. It was a great weekend with Ron Terwilliger hosting us to golf and a wine paired dinner at his golf club. By the way, Covid be damned! Charleston was wide open and roaring!

Doug Tozour and Mike Rubel



&nbsp Jim Ring sent this picture of three couples who came for the weekend and had brunch together. Left to right are Jim and Kate Ring, Pete and Nancy Carrothers, and Kathy and Mike Krause.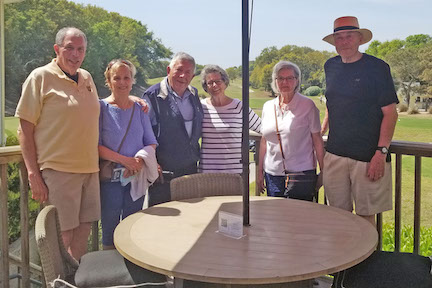 Brunch on the Isle of Palms
---
&nbsp I received an email from Charlie Minter in early May telling about his recent travel to Florida to look at real estate and engage in a friendly fishing competition with a companymate
&nbsp Carol and I have been in Florida for the past two weeks looking at possible places to relocate. We love Bremerton, WA, but the past Winter was unusually rainy and cold. Carol longs for a warmer climate. Also, we no longer need our big house. The market is hot so it's a good time for us to sell. The first week we spent with my brother Mike and his wife Kay looking in Punta Gorda and Venice. The second week was with Dick and Helen Anderson in The Villages and now in the Bradenton area. Still no decision but narrowing down.
&nbsp Mark Reemelin, son to Tom and Fran, is Andersons' and our longtime friend and potential realtor. His son Carter is just getting started as a professional fishing guide and, with Mark, has an awesome boat and an amazing knowledge of the local waters. His boat-handling and fishing skills will make him a great success I'm sure. Mark and Carter took us out this morning for about five hours of great fishing. I did catch the tarpon and it did indeed put up a great fight, jumping a number of times. Both Dick and I also caught a good number of snook and a couple of catfish. A great time was had by all. I will let Dick elaborate.

Dick Anderson, Charlie Minter, and Carter Reemelin with Charlie's tarpon



&nbsp Having seen Charlie's account of the expedition, Dick Anderson responded with this note and photo.
&nbsp I want to confirm that Charlie hooked and landed this less than trophy size tarpon. He did release the fish; however, it would serve as good bait for my 150 lb. Yellow Fin Tuna caught off the coast of Kauai. It was great to spend the time on the water with Charlie and the son and grandson of our late classmate and fellow traveler, Tom Reemelin. Just have'n fun in the sun!

Dick Anderson and his tuna



---
&nbsp Thanks to all of this month's contributors for sharing such an interesting variety of information and photographs. Now it's your turn to help us keep this news exchange going so well. I hope to hear from you soon.



---