Shipmate Column
July-August 2023
---
CLASS OF 1963
Pres: CAPT W. Spencer Johnson IV, USN (Ret.)
Sec'y: Michael H. Shelley
27 Cambridge DR, Brevard, NC 28712
h: 828-506-2201 e: nstar@citcom.net
Web site: http://www.usna63.org.


For any classmate you can go to the Classmates Page and enter his name to read his current biography if available.
---
---
---
&nbsp As I prepare this report in late May, Commissioning Week for the Class of 2023 has just concluded. We can't deny the facts, but it hardly seems possible that 60 Academy classes have graduated since we tossed our caps into the air on 5 June 1963. Godspeed to '23 and welcome aboard to the soon-to-be-formed Class of 2027!
---
&nbsp We have learned of the death of Eric A. Turner on 20 June 2022. His widow, Connie, can be contacted at 19 Porter Road, Littleton, MA 01460.
---
&nbsp John F. Morgan passed away on 3 April. His son, Christopher Morgan, can be contacted at 16640 N. 106th Way, Scottsdale, AZ 85255
---
&nbsp Patrick W. Johnson died on 14 May. His widow, Ginny, can be contacted at 4404 Holter Court, Jefferson, MD 21755.
---
&nbsp I am sorry to report the death of Harlan Ullman's wife, Julian, on 8 April. Her obituary is posted with Harlan's current biography on our web site. Click Here. Harlan can be contacted at 1245 29th Street NW, Washington, DC 20007.
---
&nbsp Jim Ring sent this report about the interment of Joel Warshaw .
&nbsp On a beautiful Monday, April 3, our classmate and 16th Companymate was laid to rest at Arlington National Cemetery. Company Classmates Paul Revere, Lee Cargill, Cliff and Edna Barney, and Jim Ring joined Classmate Bruce Webb , Joel's family members, and many people from his hometown in Ohio and the Police Force where he had served. Afterward, his family members hosted a luncheon at Ft. Myer Patton Hall during which several spoke of their time with Joel. It was truly a celebration of his life.
&nbsp One thing I learned about his life was really startling. Shortly after his arrival at Meridian, MS, in June 1964, three students who came to Mississippi for a civil rights protest went missing. Joel and the other student aviators rode with the local police to search for the bodies. The man that Joel was riding with turned out to be one of the ones later charged with the murders.

After Joel Warshaw's interment at Arlington



&nbsp In this photo taken at the luncheon are Cliff Barney, Lee Cargill, Zeb Zobenica, Bob Oetting, Jim Ring, and Paul Revere . Cliff, Lee, Jim, and Paul were all in the 16th Company with Joel. Zeb was a Marine close friend of Joel's in Flight School who was seriously injured in an F-4 crash before he could deploy to Vietnam. Bob was an A-6 pilot in Joel's squadron in Vietnam.
---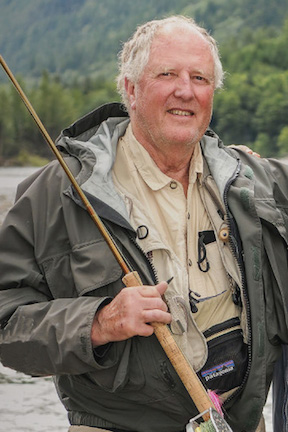 Pete Soverel


&nbsp In Edmonds, WA, on 25 March, our classmate Pete Soverel was the honoree at a celebratory gathering honoring his lengthy conservation service. For decades, Pete has been a prominent and effective environmental activist for salmon and steelhead conservation. He is a widely published author on conservation issues and has held leadership positions in several prominent regional and national conservation organizations.
&nbspThe event was sponsored by The Conservation Angler, a non-profit organization focused on protecting and restoring populations of wild fish that migrate from freshwater rivers to the ocean and back to spawn. A highlight of the evening happened when Luke Wilson, Pete's grandson, read a letter from Washington Governor Jay Inslee. Noting that the steelhead and salmon found in the Northwest's rivers and streams are an integral part of the region's identity, the Governor recognized Pete for his tireless work to protect them. Inslee also wrote: "Those who don the uniform of our Armed Forces demonstrate a profound sense of duty, a remarkable commitment to public service, and tremendous grit. On behalf of a grateful state and nation, thank you."
&nbspA full, illustrated report on the celebration and Pete's efforts over many years was published by the Wild River Press. It is linked from Pete's biography on our web site. You can see it by Clicking Here.
---
&nbsp Here's a reminder about the hundreds of classmates' Current Biographies posted on our web site. They are valuable records that are preserved for current and future use. Time and again, they have been useful to survivors and have sometimes been the source of information not available elsewhere. If you have not submitted your biography, please take a few minutes to do so now. The content and format are up to you. If you have already submitted your biography, check it now to see if anything should be added or updated. Send your submissions to our Webmaster, Steve Coester , at scoester@cfl.rr.com.
---
&nbsp It was good to receive this news from Al Breen , one of my Plebe Summer roommates long ago.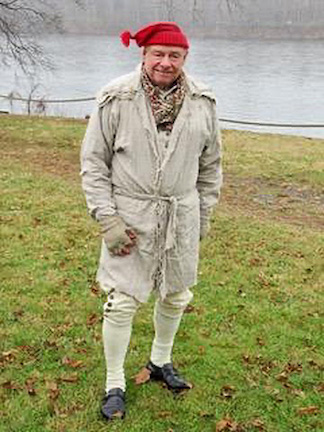 Al Breen, Revolutionary War reenactor
&nbsp Here I am in my last sailor suit. This past December, I participated in the 75th reenactment of "Washington crossing the Delaware"" in Washington Crossing Park, PA.
&nbsp This event commemorated one of two events credited with saving the Revolution in 1776.
&nbsp In the first, relatively unsung heroes Col. John Glover and his Mariners manned the Durham Boats that carried 9,000 troops safely out of certain capture by the British during the Battle of Long Island.
&nbsp Then on Christmas night, Col. Glover's mariners manned the boats carrying Washington and his men, with junior officer James Monroe carrying the flag, across the icy waters of the Delaware river during a ferocious nor'easter. The Battle of Trenton ensued, and the entire Hessian garrison was captured, thus saving the revolution for another day.
&nbsp I think this will be my last permutation, having worn uniforms of the United States military since I was 17 -- active duty, reserves, Coast Guard Auxiliary and, lastly, intrepid Mariner -- for a total of 64 years.
---
&nbsp This travel report came from Jim Stageman in early April.
&nbsp Sandy and I just returned from a few days enjoying the warmth and sunshine of Alabama's gulf coast. On the way back home, we had the opportunity to spend an evening with Charlie Musitano at his home in Huntsville, AL. Despite a disability, Charlie still works full-time as the owner of Jersey Instruments, manufacturing precision gem-cutting instruments for worldwide distribution. We had a great time catching up and I really enjoyed his hospitality. Here are two pictures of Charlie and me, one showing us enjoying an old Academy favorite, strawberries and ice cream, for Sunday breakfast.

Charlie Musitano and Jim Stageman Photo




Remembering a favorite USNA breakfast



---
&nbsp We should recognize that the difficult work of planning and preparing for our 60th reunion this year has been done by a small team, not a full committee as might be expected. The point man and coordinator is Bill Earner , capably assisted by his wife, Jennifer. Bob Forster provides major help with planning and arranging the tailgate, while Spencer Johnson has coordinated with the headquarters hotel and keeps all of us informed about the reunion through his "Irish Pennants" email broadcasts. Thanks to these volunteers!
&nbsp Our reunion will begin on Thursday, 19 October, with a golf tournament and possibly a pickleball outing depending on interest and the availability of local courts. Company events will consume Thursday evening. Friday will be a full day including a class Memorial service in the Academy Chapel at 1100, a presentation by the Superintendent in Alumni Hall at 1330, a P-rade at 1600 and the class dinner at about 1830. Among the activities will be time for a quick stop at the Mid Store. Saturday will bring a class tailgate party inside the stadium and the football game against USAFA. Saturday evening activities will be optional. Our weekend will conclude on Sunday with a no-host brunch at the Doubletree.
---
&nbsp Age brings some physical changes for all of us, but we adapt and keep going. Lew Blackwell has supplied this story about his adaptation at a much younger age and recently.
&nbsp We live in a world where everything seems to be changing faster than we can absorb. There are, however, a few things that have not changed.
&nbsp I reported to USNA in June 1959 for my pre-entrance physical. During the eye exam, my left eye, even corrected, could not read the 20/20 line. The doctor informed me that if my vision was not 20/20, I would be declared physically unqualified. As a final attempt, he led me to a small side room consisting of one chair and one wall eye chart and said, "Rest a few minutes and we will try one more time." To my naive surprise, the chart was one of those used in the examining room. I debated for a few seconds the ethics of the situation but decided nonetheless to memorize the 20/20 line. Very shortly, the doctor led me back to the examining room and after shining his spotlight on all the other charts "luckily" landed on the one from the small room. I slowly and correctly read off the memorized line letter by letter.
&nbsp I had not thought about this for many years until very recently, during an eye exam, I was confronted with the same chart. The examiner was impressed as I read off the 20/20 line very quickly after struggling with the 20/30 line. I had to admit that I still remembered the line from 64 years ago! So, not everything changes.
---
&nbsp Providing a personal example of multigenerational military service, Jim Metcalfe tells us about his son's retirement from the Naval Reserve earlier this year.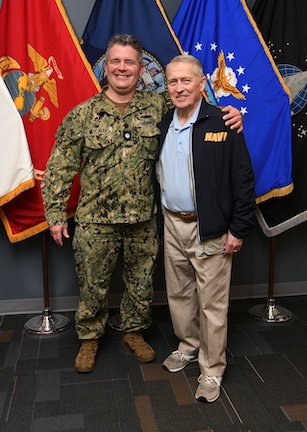 "Jimbo" and Jim Metcalfe



&nbsp The 90 years of naval service by three generations of Metcalfes, all of whom served in combat, was recognized at the ceremony. The earliest was Cdr. E. C. "Red" Metcalfe, USNA '22, who was killed in the battle of Savo Island on 9 August 1942. Jim retired as a Capt., USNR, in 1991. James (Jimbo) is a 1994 NROTC graduate of the University of Virginia.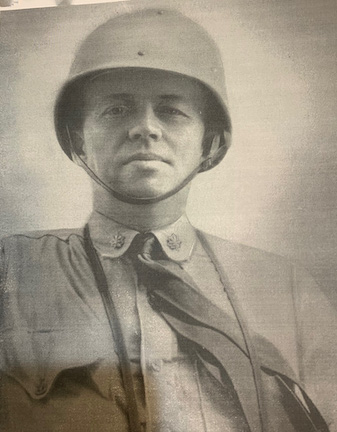 "Red" Metcalfe '22



&nbsp Information about many of our classmates whose families include multiple Naval Academy alumni and others who served in uniform is preserved in the Pride and Tradition: Genealogy section of our web site. Click HERE to see it.
---
&nbsp We'll end our report with this good news from Jim Ring about the grandson of his late 16th Companymate Frank Davey .
&nbsp Elaine Davey texted me in early April to say that her and Frank's grandson Max was accepted at the Academy in the class of 2027. Frank's brother and his son are also graduates. They are definitely an ALLNAV family. Frank, who died of ALS in 2016, would have been very proud of Max!

Elaine Davey and USNA '27 grandson



---
&nbsp Have a fine summer with family and friends. I'm looking forward to seeing you at our reunion only a few months from now.



---