Shipmate Column
June 2019
---
CLASS OF 1963
Pres: CAPT W. Spencer Johnson IV, USN (Ret.)
Sec'y: Michael H. Shelley
164 Sweetwater Lane, Pisgah Forest, NC 28768
h: 828-506-2201 e: nstar@citcom.net
Web site: http://www.usna63.org.


For any classmate you can go to the Classmates Page and enter his name to read his current biography if available.
---
---
---
&nbsp I am sorry to begin this month's column with the news that we have recently lost two of our classmates and two Class of 1963 spouses.


&nbsp Our classmate Robert A. Schaefer died suddenly from an apparent heart attack on 8 March. Bob's widow, Julie, can be contacted at 1129 Brandy Station, Richardson, TX 75080.
---

&nbsp Julian M. "Skip" Wright passed away on 17 March from complications of Multiple Sclerosis. His widow, Anne, can be contacted at 5735 Bradley Boulevard, Bethesda, MD 20814. Placement of his ashes at the USNA Columbarium will occur at 11:00 on 11 April, followed by a reception at the USNA Officers Club.
---
&nbsp I learned of the 19 March death of Janet Gushue, the widow of our classmate Bill Gushue, who passed away in 1992. A steady supporter of USNA '63, she attended many class events in San Diego and played an active role in the two reunion committees there. Her son, Brian, can be contacted at 3161 Mt. Tami Drive, San Diego, CA 92111.
---
&nbsp We were also saddened by the death of George Tracy's wife, Kay, on 16 March. George can be contacted at 14613 Newtonmore Lane, Lakewood Ranch, FL 34202.
---
&nbsp In early March, Dave Moore sent this recap of his recent visit to some familiar, though much changed, places in Vietnam.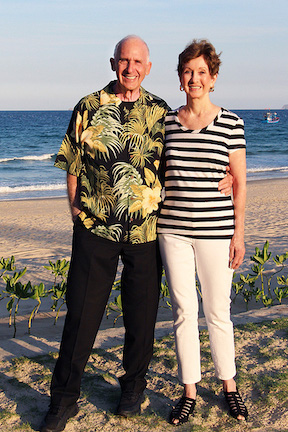 Dave and Lana Moore at Cam Ranh Bay
&nbsp To celebrate our 50th, we returned to Vietnam to revisit spots we knew in '68 when Lana was a USO Director and I was an advisor to a Vietnamese Navy Junk Group on Binh Ba Island immediately south of the Cam Ranh peninsula. Saigon may be Ho Chi Minh City now, but the old name is seen and used everywhere. We stayed at The Rex Hotel and visited The Caravelle Hotel; both have been expanded and greatly upgraded but still have their famous rooftop bars. There are new skyscrapers, the tallest of which is 81 floors, and designer clothing stores. A new metro-subway system is under construction. The city is abuzz with capitalist fervor. The Vietnamese are so polite and friendly. The traffic in the streets is not. A little more government to curb the horde of two-wheel vehicles and to clean up the sidewalks would be welcomed.
&nbsp We then went to Cam Ranh Bay, where there is massive construction of beachside resorts at "Long Beach," the north end of the Peninsula. We stayed at The Anam Resort, which is unique as it is a beautiful low-rise development in harmony with nature. We highly recommend it. The morning sunrises over the warm South China Sea inspired our best Robin Williams impersonation.

Good Morning, VIETNAM!



&nbsp We avoided all sites that were war related. Those who have a history with Vietnam would thoroughly enjoy the country and the gracious people there
---
&nbsp Another traveler to distant places was Gaylord Hopkins, who returned from a February visit to Down Under and sent this note and photo:
&nbsp Barbara and I managed to cross off another of our Bucket List items. Last month we took a cruise from Auckland, NZ, to Sydney, Australia. All to hold a Koala. The 16-hour flight to and from was no fun, but the trip was amazing. We even managed to catch the flu (along with a lot of other passengers) and were quarantined to our room for three days. Fortunately, we didn't miss anything we had planned. In the "It's a small world" department, I met the Plebe of my Plebe from the class of '69 who was on the cruise as well. After the cruise was over, we stayed an extra two days in Sydney to go to the Ferndale zoo to hold a Koala. However, in the past year New South Wales State had restricted holding a Koala since they had an outbreak of Chlamydia. As the zoo guide said, "Try explaining to your friends how you got Chlamydia from a Koala." So, we were allowed to touch, not hold the koala. I am pleased to report that the southern hemisphere looks just like the northern hemisphere.

Touch, but don't hold!



---
&nbsp Our final travel report this month comes from Jim DeFrancia, who has been very much in motion in recent months.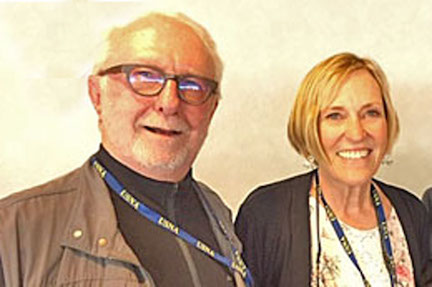 Jim and Cynthia DeFrancia at the 55th reunion
&nbsp Cynthia and I made a "classmate loop" of the mid-Atlantic in late January. We started with an overnight in Baltimore as guests of Sonny and Lori Glassner, who were marvelous hosts. Then we moved north to Delaware to see Joe and Barbara Strasser. Joe was my roommate for three years, but then became a striper First Class year and moved into other quarters while I passed the time as a mustering petty officer and under restriction for class A offense! After that, it was back to Annapolis to see Spence and Andrea Johnson, and also enjoy a dinner with Tom Quinn ('62) who was a companymate and later served on the staff of RADM Lee Kimball when I was Admiral Kimball's aide. We finished the trip with dinner with Roger and Colette Mehle in Washington.
&nbsp We found all generally well and in good form, although Joe is having some health issues and was about to move into an assisted care facility, and Spence braved the cold with double pneumonia to join us when we were in Crabtown.
&nbsp Our next contact was with Doug and Charlsie Davidson in mid-February. They were ski vacationing with grandchildren in Breckinridge, CO, and we drove over for the day from our home in Steamboat Springs. They are quite at home on Spring Island in South Carolina, where we had visited them last Fall, and looking great in the mountain air!
&nbsp The next stop was a recent weekend with Mike and Sheila Bonsignore in Santa Barbara, CA. Their new home there is nothing short of spectacular, and Sheila's collection of art is museum quality! They were marvelous hosts on all accounts. Other news is my recent election to serve as Vice President of the USS Colorado Submarine Association. This is the continuing organization that follows from the earlier Commissioning Committee, on which I also served. The mission is now to support the crew and their families, and the Boat as requested. The Colorado is now active in the fleet after commissioning last year.

USS COLORADO (SSN-788)



&nbsp I remain active in my company and currently am pursuing a new hotel development in Aspen. Cynthia and I are much enjoying life on the ranch here in Steamboat. I am engaging in local civic affairs and Cynthia is active with our church, her quilting group, and her horses.
&nbsp We took a holiday trip with daughters, granddaughters, nieces, and grandnieces to Italy for the New Year and had a marvelous time in Rome and Florence, with day trips to Lucca, Pisa, and Siena. Our son, who lives in Vienna, joined us, so it was the two males with 10 lovely ladies!
&nbsp We're planning to make a football game or two this autumn and look forward to seeing classmates in Annapolis. Classmates traversing Colorado are always welcome to call on us!
---
&nbsp Ken Sanger clued me in to a useful new feature being developed on the USNA Alumni Association web site (www.USNA.com). Once you have signed in to the site, scroll down and click on the Alumni Directory. Then, after agreeing to the Usage Agreement, scroll down to the bottom of the page where you can check out the map-based lookup now under development. You can search by alumnus name to find a person or you can search by city to find alumni residing there. The latter feature is a great way to find other USNA folks near you. Give it a try!
---
&nbsp To wrap up this month, here is a photo from Facebook of Mike Rubel and his youngest grandson, Bodhi Rubel. It's a good example of the joy of grandfatherhood.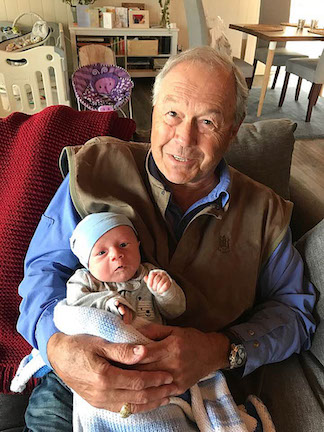 The senior and most junior member of the Rubel clan
---
&nbsp That's all for now, folks. Keep sending your news and photos from your travels and other activities. Have a terrific summer!



---