Shipmate Column
June 2022
---
CLASS OF 1963
Pres: CAPT W. Spencer Johnson IV, USN (Ret.)
Sec'y: Michael H. Shelley
27 Cambridge DR, Brevard, NC 28712
h: 828-506-2201 e: nstar@citcom.net
Web site: http://www.usna63.org.


For any classmate you can go to the Classmates Page and enter his name to read his current biography if available.
---
---
---
&nbsp It has been only a month since our last column, and this report is unusually brief. Fortunately, all our news is good. I hope you will enjoy seeing it. Maybe our next Shipmate column will include a submission from you. That would be good.
---
&nbsp Our classmate Erwin "Skip" Templin has been memorialized in a permanent exhibit at the USS Hornet Sea, Air & Space Museum in Alameda, CA. Thanks go to Matt Robins (USNA 2004) for sending this information and photos from the dedication ceremony.
&nbsp The USS Hornet Sea, Air & Space Museum in Alameda, CA, recently completed an extensive restoration of a Grumman US-2B Tracker aircraft in their collection. To commemorate the ship's service during the Vietnam War and honor the sacrifices made by Hornet crew members, the museum has fittingly restored their Tracker in the markings of an S-2D Tracker from Anti-Submarine Squadron 35 (VS-35) that went missing, presumably due to hostile fire, in the Gulf of Tonkin early in the morning of 22 January 1966 while flying a surface reconnaissance mission from the Hornet (CVS-12). Among the lost crewmen was LT(jg) Erwin B. Templin, Jr. , from the Class of 1963. The museum held a memorial service and dedication ceremony for the restored aircraft on 22 January, the 56th anniversary of the loss incident. A two-minute video released before the ceremony can be seen HERE . The photos below were taken at the event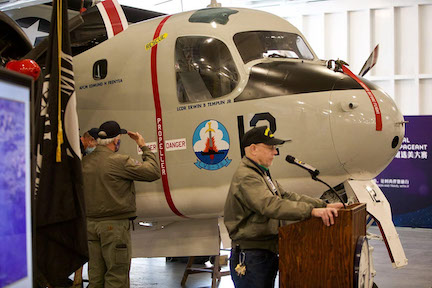 Memorial service for USS Hornet losses in the Vietnam War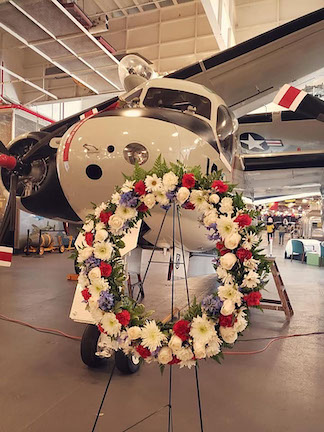 Memorializing the S-2D crew members from VS-35.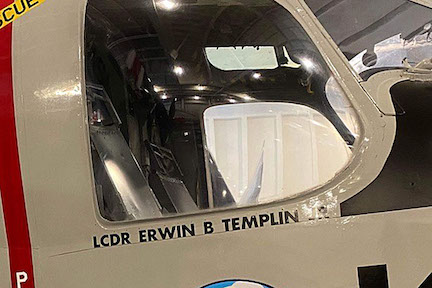 Skip Templin's name on the aircraft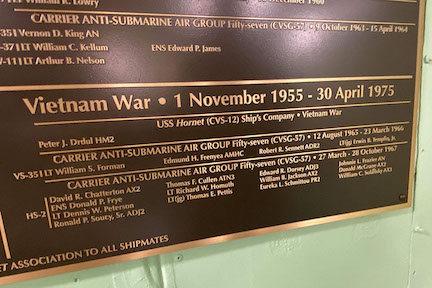 USS Hornet's Vietnam war losses
---

&nbsp 60th Reunion information: In a 17 March email, Class President Spencer Johnson provided information about hotel reservations at the Doubletree Hotel for our 60th reunion in Annapolis next year. I am repeating it below in case you missed the email or did not save it for reference.
&nbsp The block of rooms for our reunion 19-22 October 2023 will be open for reservations one year (365 days) prior to our reunion date. You can reserve a room beginning 19 October 2022, but not before. Attempts to reserve a block room before that date will not be successful. Room rates quoted ($249.00/day) may change in the months ahead so consider them notional for now. More will be forthcoming as reunion plans shape up in the months ahead
---
&nbsp Our children and grandchildren continue to be a great source of pride and admiration for their character and accomplishments. The latest example I have seen of this came from Nick Nerangis , who sent this news of his grandson's success on professional hockey ice.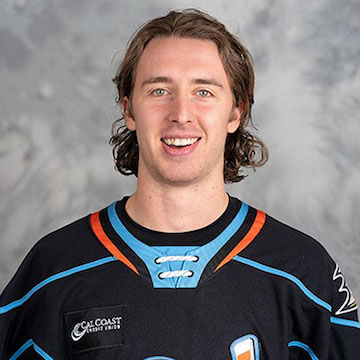 Alex Limoges
&nbsp My grandson Alex Limoges was twice nominated for the Hobie Baker award in hockey during his four years at Penn State as captain of the team. That is the Heisman Trophy of hockey. Alex is now playing in the American Hockey League (AHL) for the San Diego Gulls, an affiliate of the NHL Anaheim Ducks. He is doing a great job with the Gulls and we're hoping that he will move up in the near future. His mom is our daughter Lisa Limoges. We are of course extremely proud of Alex and our other six grandchildren.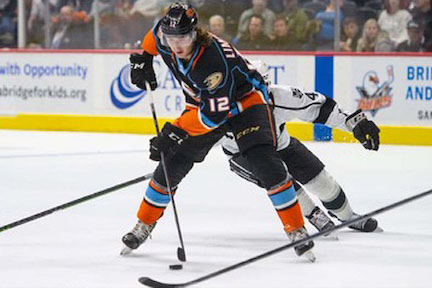 Alex Limoges in the AHL Gulls win on 12 March
---
&nbsp To many people, springtime means baseball. One of those is Jim Oakes , for whom it also means pickleball. He sent this note about his March visit to the Phoenix area.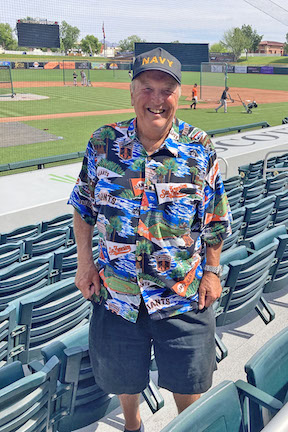 Jim Oakes in Scottsdale, AZ
&nbsp I got a tour of the San Francisco Giants Scottsdale Stadium spring training facility from a friend who runs the operation there. I have a "hobby job" working in Guest Services for the Giants at Oracle Park in San Francisco. Lynn and Lew Blackwell were scheduled to come to Phoenix to see a couple of Cactus League games, but the delayed start of spring training threw off their plans. Wearing my NAVY hat, I was surprised how many folks said, "I was in the Navy too" or "Thanks for your service."
&nbsp My main reason for coming to Phoenix was to play in two major Pickleball tournaments to try to qualify for the National Pickleball Tournament in Indian Wells, CA, in November. I came in third in the 80-plus category in the Southwestern Regional Championships which puts me in the lottery for the nationals. I have another tournament on April 2nd, the $60,000 Legacy Gold Ticket Qualifier in Mesa, AZ. If I win that I'm automatically in Nationals. If I come in 2nd or 3rd, lottery again.
---
&nbsp Steve Coester filed this report about a rendezvous with Ann and Tom O'Brien in mid-March.
&nbsp Tom and Anne O'Brien met Yvonne and me and our daughter Yvette Miller at Grills on the River here in Rockledge, FL, for a great get-together, catchup and lunch. Tom and Ann had spent the week in Orlando and while there met up with Ollie and Sandy Donelan in Tampa. They were on their way home to Port Orange and detoured over to the Space Coast to meet up with us. It is always a pleasure to see these old friends and great people.

Tom and Ann, Steve, Yvette, and Yvonne



---
&nbsp We'll end this report with some happy news about the continued expansion of our multigenerational USNA '63 family. Lee Pekary's wife Pat sent a photo with this note in early March:
&nbsp With all the sad news lately, Lee asked me to share this week's birth of our great-granddaughter, Selah Eliza Pekary who is already a Navy fan. Her parents are Josiah and Mackenzie Pekary.

Selah, the youngest member of the Pekary clan



---
&nbsp That's all for now. Please take a moment to send me an email about your recent activities and any contacts you have had with our classmates. We need your help to keep our Shipmate reports full and interesting. Thanks!



---