Shipmate Column
June-July 2017
---
CLASS OF 1963
Pres: CAPT W. Spencer Johnson IV, USN (Ret.)
Sec'y: Michael H. Shelley
164 Sweetwater Lane, Pisgah Forest, NC 28768
h: 828-862-4245 e: nstar@citcom.net
Web site: http://www.usna63.org.


For any classmate you can go to the Classmates Page and enter his name to read his current biography if available.
---
---
&nbsp I am sorry to report the loss of our classmate Richard W. Mister, who passed away on 5 March 2017. Dick's widow, Dee, can be contacted at 560 River Gate Road, Chesapeake, VA 23322.
---
&nbsp I reported last month that Donn McCrory's wife, Pam, had passed away this February after a short illness. Jim Metcalfe told me that he and Lisa were among the many who attended a celebration of her life on March 19 at the Greenbrier Golf Club in Chesapeake, VA, where Pam, a fine golfer, had spent so many happy times. Pete Carrothers flew up from Texas for the occasion. Jim sent this photo of the three 1st Companymates.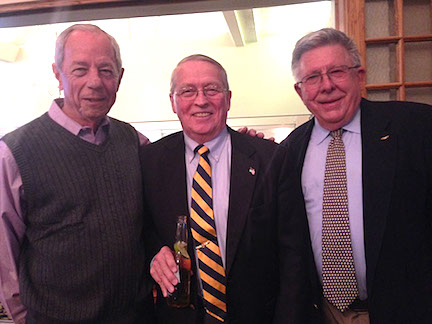 Donn McCrory, Jim Metcalfe, and Pete Carrothers
---
&nbsp Thanks to Spencer Johnson for sending this picture of five of our classmates in formal attire.
&nbsp This photo shows Spencer Johnson, Will Settle, Kent Maxfield, Bruce Webb, and Mario Fiori at the Military Order of the Carabao annual wallow held in Washington, DC, on February 4th of this year. The Military Order of the Carabao was formed during the Spanish -American War to honor those stationed in the Philippines through the Philippine Insurrection and after. Members today are drawn from a much larger venue of service.

At the Carabao Wallow in Washington




---

&nbsp From Ken Sanger comes this tale of inter-service assistance and heroism during the Vietnam War and news of a recent reunion.

&nbsp On the night of 21 July 1969 I had to jettison an A4 Skyhawk into the jungle of Laos. I also jettisoned myself but, unlike the aircraft, I was rescued by an Air Force Jolly Green crew.
&nbsp It was the last launch, and my third hop, of the day from ORISKANY (CVA 34). My wingman was a nugget (an inexperienced pilot). At about 2300, we were working with a FAC who had placed flares on the ground near the Ho Chi Minh trail in Laos (that country we weren't bombing). The nugget was supposed to be a mile behind and 1,000 feet above me but lost situational awareness and was much closer. I was just making my first run and was in ninety degrees of bank when I felt the plane shudder and immediately go into a violent series of rolls while on fire. I think he took off part of a wing. I ejected at an estimated 360 knots and my radio was torn away. I didn't know my wingman had hit me until I met him on the rescue helo. I thought a SAM or gunfire had got me.
&nbsp After settling down during the peaceful parachute descent, I soon realized that since I lost my radio during the violent ejection, I was going to have to get my act together to either get rescued or start walking to Thailand. (The Navy was short on funds, so we were provided with only one radio and no beeper.) Since my radio was history, no one knew right away if I were alive. There was another section of squadron aircraft overhead. Knowing that, I pulled out my pencil flare while in the chute; I had nothing else to do! The standard issue flares were red, just like standard issue tracers! I somehow had learned that Sears sold green flares that fit the military pen. I bought a bunch. I fired off a few, hoping they would be seen and recognized. They were. When the others got back to the ship they convinced the air wing commander that I was alive and to hold off sending a MIA report.
&nbsp The crew of an Air Force Jolly Green rescue helicopter made the rescue the next day. After plucking me and my wingman from the jungle floor, they flew us to Nakhon Phanom, Thailand, where we were debriefed, patched up, and sent back to the ORISKANY and our squadron, VA 192 - The World Famous Golden Dragons. I have come to accept that my luck in surviving over 400 combat missions, 600 carrier landings, and a night in the Laotian jungle may be the reason I can't win the lottery!
&nbsp A friend (Roger Keithly, classes of '64 and '63) recently commented on my jungle camping experience. That got me to thinking I might be able to find and thank the crew who made it possible for me to write this today. I contacted the head of the Jolly Green Association and he put me in touch with someone who could help. In about six hours from my first email, I had the names of the crew members, five formerly secret reports of the Air Force efforts to get me out, and a photo of a happy, young, Yankee Air Pirate and the crew who risked their lives for me. I am in the middle.

Ken Sanger and his USAF rescuers



&nbsp The next day, I received the name and contact information for Jerry Jones, the pilot of the helo. On 27 March, 2017, I met Jerry at his home in Carlsbad, CA. We spent two and a half hours talking mostly about each other and filling in details of the rescue from each of our perspectives. The memories of the day of the rescue were amazingly clear for each of us. He recalled being awakened at about 0200 and told that they had a rescue scheduled for first light in a heavy threat area and then being told to go back to sleep! He didn't!
&nbsp He let me know that there were a major road and a few small towns less than two miles away. A helo had been shot down in the area a few weeks before while on a rescue mission. The crew and pilot were rescued, making the pilot one who had been shot down twice in a very short time! That was why they were a bit nervous about picking me up, since I didn't have a radio and they couldn't be certain at first that I hadn't been captured and the bad guys had my flares.
&nbsp The courage of the rescue crews was remarkable. There were known anti-aircraft gun sites in that area that could unleash a high volume of fire. The Air Force guys were willing to effect a rescue under conditions that could easily mean sudden death. A hovering helo is an easy target and the guns could have been hidden from view. That is heroism!
&nbsp Here are two photos showing Jerry and me, then and now. The first was taken at Nakhon Phanom after the mission. In the second, we are holding a framed copy of the same image at his home.

Ken Sanger (left) and Jerry Jones (right)




USN-USAF reunion 48 years later



&nbsp Jerry mentioned that everyone was very disappointed that the Navy was so damned efficient. A party was planned that afternoon/evening for all involved -- Sandy's, Sawdust, Jolly's, and the rescued -- but the ORISKANY's COD arrived to haul us back to the boat, where we had a welcome back cake waiting!

&nbsp Ken sent me a copy of the USAF mission reports. Reading them, I was impressed that so many aircraft of different types participated in the rescue mission. Ken estimates that over 50 pilots and aircrew members were directly involved on scene.

---

&nbsp Felix DeGolian told me about a tribute to our heroic classmate Rick Trani, a SEAL who was killed in Vietnam, written by his sister and posted on a Naval Special Warfare web site. You can see it by clicking HERE. After reading it, I revisited Rick's Last Call page on our web site and was impressed by the accounts of his combat service. See them by clicking HERE . Rick's decorations included the Silver Star, Legion of Merit, and two Bronze Stars.

---

&nbsp Steve Coester is a welcoming and enthusiastic host for classmates passing through the Space Coast of Florida. Here's his full account of a recent visit and tour.

Savage, Browne, Springer '64, Coester, Metviner, Johnson. In the rear are Space Shuttle solid rocket boosters and external fuel tank.




&nbsp On February 27, I escorted four of our classmates to the Kennedy Space Center: Spencer Johnson, Ken Metviner, Peter Savage, and Peter Browne. We were joined by Bob Springer USNA '64, one of our 53 USNA astronauts for one of my most memorable tours. Bob flew the Space Shuttle twice: on Discovery in 1989 and on Atlantis in 1990. It was a special treat for all of us to have him give us his first-hand experiences in space. Bob's enthusiasm was infectious as we stood by Atlantis enthralled by his stories. I had thought that Bob and I would think about the Space Shuttle from two opposite perspectives with him considering it as his transportation to space so he could get on with his mission of releasing satellites, walking in space, etc., while to me the Space Shuttle itself was the main objective, and getting it safely off the pad was the important thing, not the mission itself. Well, Bob surprised me. He stressed that as a pilot and an engineer he was in love with the "aircraft" and he was quite knowledgeable about the technical details of the orbiter and could discuss it in detail as well as all the glory stuff. We spent at least an hour more at Atlantis than I usually do. Thanks to Bob for doing this for us. Following Atlantis we rode the Shuttle Launch Experience, which Bob agreed was a good simulation of what the actual liftoff and ride to Space feels like.

Viewing the Space Shuttle Atlantis



&nbsp After Atlantis, Bob left us and we four had lunch at the visitors' center cafe and had a chance to talk about the things "when two or more shall meet." It was an interesting group of guys who followed very different paths to very successful lives. After lunch, Peter Browne left us as I had just taken Jackie and him for a similar tour last year. The rest of us then took the tour bus past the Vehicle Assembly Building, the Firing Room where I had helped launch all the Apollo moon missions, Skylab, and 84 Space Shuttle missions. We saw the Shuttle mobile launcher, the crawler, which is the largest self propelled, tracked vehicle in the world, and the launch tower, being built for the next generation Space Launch System (SLS) rocket. We rode past Pads 39A & B, the historic launch sites for all the above mentioned vehicles as well as the site of this February's SpaceX commercial flight -- the first such in the history of those pads.
&nbsp We went next to the Apollo Saturn Center where they learned all about the Apollo program, saw a simulation of the Apollo Launch Control Center with the actual consoles we manned during those moon missions and a demonstration of the last nine minutes before liftoff. Then into the main hall where a complete giant Saturn V rocket is on display. It is a jaw dropping experience when you enter and above you are the five giant F-1 first stage engines , the largest ever manufactured with 1 1/2 million pound of thrust each. The whole stack extends 363 feet and one just has to wonder how it ever got off the ground. Also on display are a complete Apollo capsule, Skylab, space suits, moon rocks, and many other things. Finally, a great presentation of the Apollo 11 first moon landing. The more you learn, you see how heroic all our astronauts were and how many close calls there really were for them.
&nbsp Finally, we saw the recently opened Apollo 1 memorial which is a well done tribute to astronauts Grissom, White and Chaffee who lost their lives in a capsule fire on January 27, 1967. It was the first time I had seen that exhibit.
&nbsp By then it was almost 1700 so we called it a day with still more we could have done. I think everyone was as tired as me by then but it had been a great day. I have taken classmates, friends, and family to KSC about eight times in the past year and I still get a thrill and learn something new every time I go. I love being able to add to others' experience and educate them about what we as a nation have accomplished.

---

&nbsp Also from Florida came this February note from Ollie Donelan:

&nbsp I was invited to the local USAFA parents club meeting to meet LTG Michelle Johnson, Superintendent of USAFA. I was invited because I helped a current USAFA cadet, class of 2017, with recommendations and because his grandparents are good friends of ours. LTG Johnson is a 1981 USAFA graduate, was the wing commander, a Rhodes scholar, and still is the second all-time leading scorer for women's basketball at Air Force. Needless to say, she is an extremely accomplished officer and an impressive individual. I told her that I would submit her picture for Shipmate, so here it is.

Ollie Donelan and the USAF Superintendent




---

&nbsp Vern Von Sydow has been inducted into the "Legends" category of the Bucks County, PA, Sports Hall of Fame. The Hall's web site summarizes his athletic career, noting that he was a standout player on the league champion football team at Pennsbury High and was the catcher on the three-time league champion baseball team. He played football at Navy, starting on the offensive line for two years and playing in the 1960 Orange Bowl. He played two years of military football in Pensacola, FL, while undergoing flight training, subsequently becoming the team's offensive line and linebackers coach. In his retirement Vern coached at Mar Vista High School in San Diego for 11 years.

---

&nbsp In other sports news, Daryl Rabert checked in to tell us about a golf event on the Georgia coast.

&nbsp I just wanted to report that two old Marines still know how to compete in the game of golf. Doug Tozour was my guest at my golf club's Member-Guest event on St. Simons Island, GA, in March. When it looked like the two old Marines were down and out of the finals, we rallied to come from behind and win our flight. Doug and I played extremely well, after a not so good second day to pull it out. We were eliminated from the shootout, but were happy to be flight winners.
&nbsp During the Member-Guest event we had the opportunity to have dinner with two Class of '71 grads who were also in the event in a different flight. They were Steve Dmetruk (St. Simons Island) and Dan Nelson (Scottsdale, AZ). As you can see from the photo, we still know how to drink great wine and enjoy life.

Flight winners Tozour and Rabert




Rabert '63, Dmetruk '71, Tozour '63, Nelson '71




---

&nbsp I noticed a fine picture of Judy and Jim Koehn on Facebook recently. Here is Jim's response to my request for details about the occasion.

&nbsp The photo was taken on November 19 at the wedding of our granddaughter in Maryland; her new married name is Katie (Stuck) Winfield. She is a schoolteacher in Frederick, MD, and her husband, Anthony, is a financial analyst with Sinclair Broadcasting. They are both great kids and their future is really bright! You may recall that Katie's sister (MacKenzie Stuck) passed away from a medulloblastoma cancer several years ago following three difficult surgeries by Dr. Ben Carson.

Jim and Judy Koehn with the bride and groom.




---

&nbsp Lew Blackwell tells us of a late winter gathering in Southern California:

&nbsp Lynn and I took advantage of a visit by Jim and Kate Ring as well as a rare appearance by Larry and Cynthia Astor to have a class dinner at our home in La Quinta, CA, on March 3. Larry is a full time ski instructor at Copper Mountain in Colorado and is in plebe year shape. Also present were our good friends Jim and Pam Williams; he's an ex USNA instructor and former air squadron mate of Larry's. The other 63ers were Navy Dave and Lana Moore, Mike and Jan Rubel, Chuck Spadafora, and Dick and Helen Anderson -- just back from a month in Guatemala helping kids in school. Dick was SOPA.
&nbsp The only issue with these get togethers is that separating fact from legend is becoming an increasing problem for many of us.

&nbsp Lew sent this photo of the happy group. Left to right are Chuck Spadafora, Lana and Dave Moore, Cynthia and Larry Astor, Pam and Jim Williams, Jan and Mike Rubel, Lynn and Lew Blackwell, Jim and Kate Ring, and Dick and Helen Anderson

At the Blackwells' home in La Quinta




---

&nbsp Alan McAnally reported that this spring brought a couple of very pleasant California encounters and gatherings.

&nbsp Terry and I had occasion to visit family in Carmel, and we knew that John and Christina Castro had just recently moved from New Jersey to a lovely new home in Carmel Valley. As we were all Northeast people since we were young, we had a great time talking about our adjustments to the West Coast. Between kids in California and the weather, it sure is nice.

Alan McAnally, Cristina Castro, Terry McAnally, John Castro



&nbsp A few weeks later, Joe and Suzanne Collins came on their annual two-week trip to Coronado. We used the occasion to have a mini 21st Company reunion and had a very pleasant cocktail and dinner party at our house in La Jolla. John and Betty Middleton, as well as Jim and Pat Fontana, were able to join us for an evening of laughs and old tales. Good times!

Alan McAnally, Joe Collins, Jim Fontana, John Middleton




Terry McAnally, Betty Middleton, Suzanne Collins, Pat Fontana




---

&nbsp Mike Blackledge has been conducting research to determine which Prep School his father (Allan Blackledge USNA '20) attended in 1915-16. In the process, he learned that James Cheevers, the Senior Curator of the Naval Academy Museum, had done some research on the history of prospective students for the Naval Academy using area preparatory schools to study for the extensive entrance examinations used by the Academy until 1959. (He confirmed another first for us: The Class of 1963 was the first that did not take an Academy-administered entrance examination, submitting scores from the College Board examinations instead.) A copy of Mr. Cheevers' research findings has been posted in the Pride and Tradition section of our web site. You can see it by clicking HERE

---

&nbsp Whew! That was a long report - just the kind I'd like to provide for you every month. Please help me do that by sending your news and photos to the email address at the top of the column. Thanks!






---