Shipmate Column
Member Serve 2013
---
CLASS OF 1963
Pres: CAPT W. Spencer Johnson IV, USN (Ret.)
Sec'y: Michael H. Shelley
164 Sweetwater Lane, Pisgah Forest, NC 28768
h: 828-862-4245 e: nstar@citcom.net
Web site: http://www.usna63.org.


For any classmate you can go to the Classmates Page and enter his name to read his current biography if available.
---
---
---
&nbsp With regret, I begin this month's report by informing you of the loss of two of our classmates.


&nbsp Thomas R. Sheridan passed away on 20 June in Boring, OR. His widow, Virginia, can be contacted at 21927 SE Donna Ct., Damascus, OR 97089.


&nbsp Paul V. Roundy died on 24 June in South Miami, FL. His widow, Evelyn, can be contacted at 848 Brickell Key Drive, Apt. 1204, Miami, FL 33131. His son, YNC(SW/AW) Nathaniel Roundy, can be contacted at 5709 Surveyor Road, Fort Belvoir, VA 22060.
---
&nbsp Have you submitted your registration for our 50th Reunion? The deadline is 31 July. Registration packets were mailed to all classmates this March. If you can't find yours, click HERE to see the complete packet at USNA63.org. Don't miss out!
---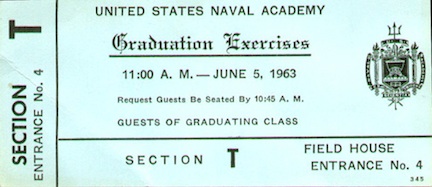 Image provided by Mike Blackledge


&nbsp I am sure you remember that then-Vice President Lyndon B. Johnson spoke at our graduation ceremony in the Field House. I doubt that any of us remember what he said. Here's a chance to refresh your memory. Don McAlister obtained copies of the speech notes from the Johnson Presidential Library; these have been posted on our web site and you can see them by clicking HERE.
---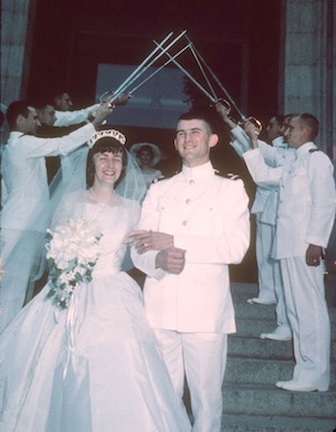 5 June 1963


&nbsp The 50th anniversary of our graduation on 5 June was followed closely by several Golden Wedding Anniversaries. Congratulations to the many couples who observed this notable event in their lives together. Take a look at the "Weddings, Then and Now" page in the Classmates section of USNA63.org by clicking HERE . Photos are already posted there for 5 June (Hull) and 6 June (Turner, Hood, Cole), plus others from later dates. To add you own photos, just send them to Webmaster Steve Coester at scoester@cfl.rr.com. And while you're at it, send him your new or updated Current Biography. Many classmates have done that in recent months; now it's your turn.
---

&nbsp Now that the Class of 2013 has graduated and received commissions, the donation of swords by members of the Class of 1963 has likely come to an end. We don't know for sure how the donations originated (though Chuck Stone and Don Jacobs seem to have been the earliest donors) but the idea was attractive and spread quickly, leading to personalized presentations in various settings across the country. To date, 29 of the new graduates have received Navy or Marine Corps swords from our classmates. These are the generous donors we know of: Chuck Adams, Bruce Alitt, Satch Baumgart, Frank Bennett (two swords), Peter Browne, Pete Carrothers, Sam Garde, Al Griggs, Gary Hosey, Dave Hull, Don Jacobs, Pat Johnson, Bo Kearns, Steve Longo, Charlie Lueth, Jim McClure, Donn McCrory, Roger Mehle, Dave Meyers, Bob Miller, Mike Pero, Daryl Rabert, Phil Rooney, Pete Soverel, Chuck Stone, Roger Tetrault, Bruce Webb and Skip Wright. If I have omitted anyone, please tell me.
&nbsp Although not an organized effort, the donation of swords to our 50-year juniors was in the spirit of the Another Link in the Chain program. There was no precedent, so '63's innovation and initiative set a fine example for other classes to follow.
---
&nbsp Let's give a nod, a BZ, and a pat on the back to program coordinator Ron Klemick and class president Spencer Johnson for their tireless work in ensuring that the Another Link in the Chain program for 1963 and 2013 was not only a success but something very special for both classes, creating a lasting and beneficial bond for many years to come. Because of Ron and Spencer, '63 has raised the bar for all mentor classes that follow behind us. The enthusiastic participation by many of our classmates has also been a major element of the program's success. We can be confident that when the time comes, members of 2013 will remember their ALITC experience as they reach out to the Class of 2063.
---
&nbsp Here is a report from Jim DeFrancia relating to the ongoing effort to locate John Paul Jones' most famous command.
&nbsp This is a photo of Cynthia and me, with Steve Maconi of the Naval Academy Foundation, taken aboard the French frigate Aquitaine this April during its port call in Norfolk.

Aboard the French frigate Aquitaine



&nbsp Centered in the photo is a model of the Bon Homme Richard, from the Naval Academy Museum, which was being picked up by Aquitaine and transported as a gift to the French Naval Academy in Brest. The reason for the gift is to express thanks to the French Navy for their assistance in our continuing search for the wreck of Bon Homme Richard. I was invited as a representative of the Class of 1963 for our support, and as a personal contributor to the effort.
&nbsp The occasion was a reception aboard Aquitaine for presentation of this model and remarks by the French Ambassador to the U.S. Remarks were also given by Prof. Melissa Ryan of USNA, who has instructed the course on historic shipwrecks in the Oceanography Department at USNA, and who has spearheaded the USNA efforts to assist in this search effort.
&nbsp Prof. Ryan was the faculty rep for Midshipman participation in the on-site search efforts in 2010 and 2011, supported by donations from members of '63 and from our Class Foundation. The U.S. Navy has had 12 different commands involved to one degree or another in assisting with equipment, research, and survey needs, but not all needed funding is available from USN budgets.
&nbsp Also attending were several Midshipman from the French Club at USNA, and a number of other officers and dignitaries from various NATO nations.
&nbsp The multi-national search continues, and the task has now been further assisted by donated technology and efforts from the ocean search firm Odyssey Marine, which has located a number of historic wrecks. USNA students also continue to participate and assist.
&nbsp Oh, and the French cooks aboard Aquitaine make terrific eclaires and desserts, to accompany the fine French Champagne served. Our USN mess specialists seem to top out at chocolate chip cookies!
---
&nbsp Ray Kutch sent this notice for his former football teammates:
&nbsp Please advise any of the guys that played 150# football during our days at USNA that I would like to have a small reunion with any of them who might be interested during our 50th reunion this fall. Those who would like to join in should get in touch with me at rjkutch@comcast.net. There will probably a couple of guys who could still make weight like Dugas and Van Buren; then again, they never had any trouble doing that 50 years ago. I wouldn't even be able to make weight for the Sprint Football, which I understand is now 172#. I look forward to seeing you all at the reunion.



&nbsp This is a photo of the '63 attendees at the most recent meeting of the Portland, OR, Alumni. Dave Lutes (L) and Art Roper (R) joined me for the picture.
---
&nbsp I enjoyed receiving this note from my Fourth Companymate Jim Koehn who relayed some fascinating information about the father of our companymate George Grider.
&nbsp I haven't sent you much over the recent past but our lives have been fine recently and the future looks bright. Judy and I are still in Henderson, NV, where our lives are busy with a variety of activities. Judy manages a church thrift shop, had back surgery in November 2012, and continues the recovery process. I am on a number of boards, am responsible for the future development of our Diocesan strategy, and spend my free time playing golf and poker with friends. Travel continues as we are headed to central Oregon for a month during the heat of the summer followed by a 15 day Alaskan trip, and then on to the 50th.
&nbsp On another topic, our local chapter of the Academy Alumni Association meets monthly and I have been driving a '43 grad, Captain Ken Ruiz, to the meetings. He's been a real friend over the past decade and an extraordinary source of information about his career. Ken served in submarines during WWII and worked closely with George Grider's father in POLLACK.
&nbsp Following the end of the war he transitioned to the aviation community, skippered an A-4 squadron and ultimately had command of BON HOMME RICHARD during Vietnam. The stories he has to tell are terrific as he was a true hero during both conflicts; he knows the people and events that we all learned about in our USNA days. One of his books, Luck of the Draw, is in print and may be of interest to our classmates, especially the submariners and history buffs. At lunch I asked him if he had ever heard of or knew a CAPT George Grider and he spent 15 minutes telling me about him, later giving me a written narrative.
&nbsp CAPT Ruiz's narrative covers POLLACK's seventh war patrol, emphasizing the sinking of the Japanese ship Bangkok Maru, a converted light cruiser carrying 1,200 troops and thousands of tons of supplies intended to reinforce the island of Tarawa. The loss of these men and supplies may have significantly influenced the outcome of the battle there. To read this account, click HERE.
---
&nbsp When I was in San Diego on family business this May, Phillip Marsden graciously arranged a luncheon bringing together a great group of local classmates, plus three wives who kept things from getting out of control. As always, Phillip had his camera and arranged for a photo of the group. Here's his report: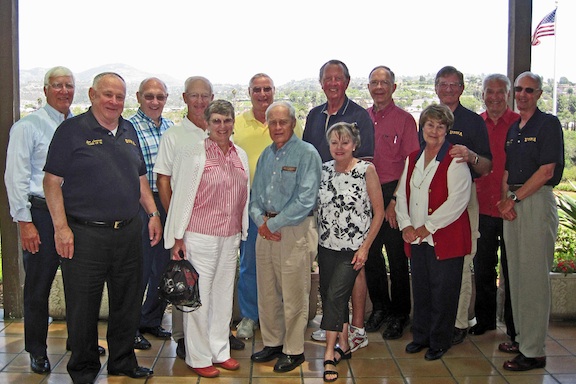 San Diego luncheon group
&nbsp Mike Shelley's visit to San Diego gave his San Diego classmates just the excuse they needed for a luncheon. Hosting Mike were Don Jacobs, Alan McAnally, Jim Lasswell, Chuck and June Stone, Jerry Harken, Vern VonSydow, Jim and Pat Fontana, Lee and Sue Cargill, Dave Meyers and Phillip Marsden. The Photo shows the handsome group assembled at the Admiral Baker Clubhouse on a beautiful San Diego afternoon. A good time was had by all as we look forward to the 50th Reunion this fall.
---
&nbsp Precisely observing the 50th anniversary of our graduation, John Peterson sent this envy-inducing communication from aboard his boat in the eastern Mediterranean on 5 June.
&nbsp Jim Oakes and I are on board Cadenza moored in the harbor of Grikos at the south end of the Greek island of Patmos. He joined me about a week ago and we have been cruising Greek islands in the eastern Aegean, eating goat and octopus as well as other Greek delectables.
&nbsp We have been celebrating our official 50th anniversary most of the day and capped it off with some prosecco which I opened in military fashion with a meat cleaver, lacking the proper saber or Naval Academy sword. Almost by coincidence and thanks to the seven hour time difference, it happened at the same time as our hat toss fifty years ago. The weather isn't cold enough for his jacket, but Jim wanted to have something 'Navy' to wear for the picture.

Celebrating our 50th in Greece



&nbsp The picture below shows us at lunch today at the north end of Patmos, sitting at a table on the beach eating stuffed zucchini blossoms and tzatziki. Jim logged a lot of dietary firsts this trip. That is not Cadenza in the background.



---
&nbsp Here's a fine, historic photo from George Emery, who said,
&nbsp Spring cleaning produced a good one. This shows some of the 24th Company on Hundredth Night, 25 February 1963. The characters left to right in the "front row" are John Gowens, Bob McCracken, Tilden Reid, Jerry Johnson, and George Emery. Behind are Tom Brandt at the left and an unidentified fellow who may be one of our '66 plebes.

24th Company Hundredth Night



---
&nbsp A great Army game photo surfaced this June. Taken with a camera smuggled into the stadium by Jud Pearson, it shows President Kennedy flipping the coin before the 1962 Army game. That's Steve Hoy standing between JFK and Admiral Kirkpatrick.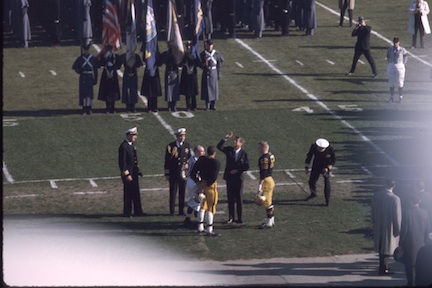 JFK tosses the coin before our fourth consecutive victory over Army
---
&nbsp Isn't it fun to see photos from our Midshipman days? Look through your albums and shoeboxes of pictures sometime; you never know what will turn up. As related by Jim Ring, an Academy related artifact he recently uncovered led to a noteworthy 1963 magazine article by one of our classmates.
&nbsp In the process of moving from Alexandria, VA, to Rehoboth Beach, DE, I came across a letter from Admiral Kirkpatrick to the parents of '63, and maybe to all the parents of midshipmen, in which he extolled the response to a Harper's magazine article that said the Academy wasn't living up to its requirements to train Midshipman to be Naval Officers. It included a copy of the three-page response in the April 1963 issue of Shipmate that refuted each statement in the article. Titled "Annapolis -- The Rebuttal of a Young Sea Dog," it was written by none other than Midshipman 1/c James DeFrancia, who sent me this background information:
&nbsp "The article that you cite I remember well. It saved me from getting thrown out for too many demerits! Charlie Kirkpatrick loved it. He sent it to the parents of all four classes, and to all members of Congress and the DOD leadership. It was also published in the Naval Institute Proceedings (which paid me!). From those distributions, it was picked up in a few other publications around the country. I ended up with sacks of fan mail, met a couple of hot babes, and developed a relationship with ADM Thomas Moorer. --- To say nothing of the USNA Administration cutting me some slack with my 135 demerits then in hand. Reading it 50 years later, it actually still rings true!"
&nbsp At my request, Jim DeFrancia provided a copy of his article to be shared with you. A copy is now in the Pride and Tradition section of our web site. Click HERE to see it. Don't overlook Admiral Kirkpatrick's comments introducing Jim's text.
---
&nbsp That's all, folks! Remember that we're depending on you to submit news and other material to share among our classmates. Pull your oar, please!



---