Shipmate Column
MemberServe 2016
---
CLASS OF 1963
Pres: CAPT W. Spencer Johnson IV, USN (Ret.)
Sec'y: Michael H. Shelley
164 Sweetwater Lane, Pisgah Forest, NC 28768
h: 828-862-4245 e: nstar@citcom.net
Web site: http://www.usna63.org.


For any classmate you can go to the Classmates Page and enter his name to read his current biography if available.
---
---
---
&nbsp Regretfully, we begin this month's report with news of the loss of three members of the Class of 1963 family.


Our classmate Donald J. Duelfer passed away on 20 May. His widow, Barbara, can be contacted at 3461 Honeysuckle Road, Bethlehem, PA 18015. Don's obituary is posted on our web site. Click Here

I have learned of the death of Peggy Jones, wife of our classmate Thomas H. Jones, who passed away on 29 April. Tom can be contacted at 4562 Tompkins Lane SE, Salem, OR 97301.

We are also saddened by the loss of Anna Dennis, widow of our classmate Jake Dennis, on 26 May. Anna's daughter, Mrs. Kelly Schiebel, can be contacted at 1867 Cedar Rock Mt. Road, Asheboro , NC 27205-1826.
---
&nbsp Mike Harman has established quite a family connection to the Naval Academy. He supplied this recent image which demonstrates their multi generational tradition.
&nbsp This is a picture at our number two grandson's graduation from NAPS. In the picture left to right are me '63, Tim '20, my son Todd '92, and Ryan '17. Who would have thunk it, three generations and we have one more at home who is considering the Academy. Also, we are very proud of Ryan being elected Captain of next year's wrestling team.

Three generations of the Harman family



&nbsp Ryan's accomplishment is especially noteworthy because, as you may recall, Mike was the Captain of Navy's '62-'63 wrestling team. Quite a family!
---
&nbsp Once the sea is in your blood... Kate and Jim Ring embarked on a transatlantic crossing on 19 April aboard the cruise ship NORWEGIAN JADE. Here is Jim's account of their voyage.
&nbsp I have wanted to get back to sea on one of the transatlantic cruises for some time and, when we acquired a Home Exchange in Venice, and the cruise ended in Venice, Kate agreed.
&nbsp In the Navy, I crossed the Pacific five times (two nonstop) and, in high school, I had a summer job on a ship that crossed the Atlantic twice on its way to the Med. It really was great to get back to sea, just cruising and not going into one port after another. The best parts were no Mid Watches, having air conditioning, and not running out of fresh water. My first ship, MOORE (DD-747), ran out of fresh water and had no air conditioning - mighty hot in the forward J.O. quarters in the Gulf of Tonkin.

Norwegian Jade



&nbsp JADE was our home for 19 days, 12 of them at sea. We left Miami for St. Thomas, then straight to the Madeira Islands, then Barcelona, Majorca, and Malta before ending in Venice. JADE was a perfect home; it was our floating, all-inclusive resort. One deck up was the pool, a bar, and the buffet, where you can eat most of the day. We spent a lot of time in the open area back aft, relaxing and reading. We read a lot of books and I spent a lot of time on our balcony looking out at the sea. There was entertainment in the afternoon, and each night there was a show on the main stage. The weather was perfect, in the low 70s, and the seas were calm.
&nbsp The other bonus was that 70 percent of the crew were Filipino. I always loved the Filipino stewards we used to have in the Old Navee. They always had a smile on their face as they took care of us. These Filipino crew members were the same.
&nbsp After we arrived in Venice, we had home exchange for a week in a nice one bedroom condo close to the Rialto Market and the Rialto Bridge. I would strongly recommend transatlantic cruises and also home exchanges. So far, we have exchanged our home In Rehoboth Beach, DE, near the Atlantic for six weeks in Paris, three weeks in Prague, a week in Vermont and in San Francisco, and we are headed to Sausalito in September for two weeks on a houseboat.
&nbsp Here is a picture of Kate and me in San Marco Square in Venice. What a great time we had! Kate was a lot better stateroom mate than the ones I had in the Navy.

Jim and Kate Ring in Venice



---
&nbsp When he retired from many years working in our space program, Steve Coester remained in his home in Rockledge, FL, near the Kennedy Space Center. As you've seen in past issues, Steve has provided tours of KSC for many members and friends of the Class of 1963. Here is his account of a recent visit.
&nbsp After years of working via email with Luck Patterson on our web site memorial page for his brother -- our classmate Jim Kelly Patterson -- we finally had the chance to meet. He was accompanied by his friend Jim Wade, an ex-Seabee and combat photographer.
&nbsp They were eager for one of my personal tours of the Kennedy Space Center and two more enthusiastic space nuts one couldn't find. We had a blast and I was asked more good questions than I could answer. Just as we entered the Visitors Center at 0900, I noticed the resident astronaut walking toward us. She saw my USNA cap and shirt and stopped us. She is Wendy Lawrence, USNA Class of 1981 and the first female grad to fly in space. She was very gracious and we chatted quite a while. It was a pleasure to meet her. The other highlights of our visit were the Atlantis Space Shuttle exhibit which just blows one's mind and the Apollo-Saturn V Center. I spent years crawling in and over the Atlantis and launching her and it is bittersweet to see that beautiful bird in a museum.
&nbsp After the nine hours at the space center they came to our house to meet Yvonne. Here's a photo of Luck on the left, me, and Jim.



&nbsp Our web site's extensive Last Call memorial page for Jim Patterson can be seen by Clicking HERE . Included is this picture of Jim and Luck taken in Vietnam. Luck was a Marine Officer stationed there. Instead of going to Hong Kong, Jim spent his R & R from flying combat missions over the North with Luck in Vietnam.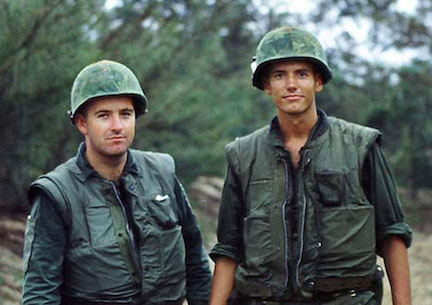 Jim and Luck Patterson
---
&nbsp Ollie Donelan sent this mid-June photo from St. Petersburg, FL. Melinda and Bob Nobbs were in town for a convention, and they joined the Donelans for lunch. Pictured here are Sandy Donelan, Ollie, Bob, and Melinda.



---
&nbsp This is an unusually brief report. Please help sustain our news exchange by sending me some news, and perhaps some photos. Do it now, while you're thinking about it. Thanks!



---