Shipmate Column
March 2004
---
CLASS OF 1963
Pres: Stephen M. Duncan
Sec'y: Michael H. Shelley
25 Sweetwater Lane, Pisgah Forest, NC 28768
h: 828-862-4245 e: nstar@citcom.net
Web site: http://www.usna63.org.
Remember that you can click on any underlined Classmate's name to view his Current Biography.
---

Webmaster Note: I've changed the format a little for older eyes making classmate quotes larger and in italics. Comments invited to scoester@cfl.rr.com .
Steve
---

&nbsp I'm pleased to announce an important change to the Class of 1963 web site. Content has been added and the address for the site has been changed to the previous location: www.USNA63.org.

The site brings back almost all of the content that we used to have under the auspices of the founding webmaster, Bill Kennedy, who died last July. It includes the dynamic search tool that lets you type in a classmate's name and be taken to his Lucky Bag biography. Also, the Site Map, Foundation, Pride and Tradition, Class News, and Gold Pages sections have been restored.

The Class thanks Chip Rosenthal, who was a close friend of Bill's, for providing server space and technical assistance for getting USNA63 back online in all its former glory. Our webmaster Steve Coester has been working tirelessly with Chip over the past several months to restore the full site content. We think you'll be pleased with the results.
---

&nbsp I reported last month that Charlie Gosnell had died in December. Bob Forster has provided some interesting information about Charlie's father and Charlie's appointment to USNA.
&nbsp It's a very interesting coincidence - Charlie's dad was killed at Pearl Harbor manning his gun mount on the USS SHAW on 7 December 1941. Charlie passed away on 7 December 2003, almost within the same hour that his dad was killed, adjusting EST to Hawaiian time. Charlie was raised by his grandparents in Wilmington, DE. Shortly after his dad's death at Pearl Harbor, Charlie's mom wrote President Roosevelt and asked that Charlie be granted an appointment to the Naval Academy when he graduated from high school. (That had been one of his dad's last desires, expressed to the family just before Thanksgiving 1941 - just before he shipped out to Pearl.) His dad was a twelve-year veteran of the Marine Corps and the Navy. President Roosevelt referred this to the Navy Department, and the request was approved. Charlie was designated to receive a Presidential appointment to the Academy if he met the academic and physical requirements for admission at the time of his graduation from high school. Charlie graduated from high school in 1957 and joined us all in July 1959. His family plans to scatter his ashes at Pearl Harbor on 7 December 2004.
---

&nbsp Roger Milos is the latest to stake his claim to being our classmate with the most grandchildren.
&nbsp I recently received my Shipmate and noted the grandchildren challenge. I have to report that Ellen and I have upped the ante considerably. We have 15 grandchildren to date and two daughters have yet to contribute. Unfortunately, our latest grandchild was stillborn in March. We have 14 bloodline grandchildren and my oldest son adopted his second wife's daughter. I'm not sure we are done yet but we already have set a lofty goal. We had pretty good odds to start.

Ellen and I have two sons and four daughters. Both of my sons are Navy veterans in the nuke program and electronics. They are hard headed like their old man and distained the commissioned officer route in favor of enlisted technical training. I even had a nomination to USNA lined up for the older boy after he enlisted, but he turned it down to continue the nuke path that he chose earlier. He made it through the program and completed two sea tours on attack boats with electronics C school sandwiched between tours. The younger son completed nuke school in Orlando but left the program in the prototype phase. He completed his time as an electronics tech at the communications station north of Pearl in Hawaii. Their training has served them both well.
---

&nbsp Roger looks like the man to beat, but he's not alone at fifteen. Dick Buelow has fifteen within his blended family. Some others among us have ten or more. With only three of my own, I have great respect for the grandparents who do so well in managing so many birthdays and such a volume and variety of Christmas presents. Think about all the future school graduations to attend and weddings to dress up for! There are busy times ahead.
---

&nbsp Just before the 40th Reunion, the Class received a communication from a member of the Class of 1979. The writer describes the positive impact that Dan Cunha had on his life. Dan, you may remember, died in an automobile accident in 1996.
&nbsp I'm Tim Nugent from Clovis, CA. Way back in 1975, I received a last minute appointment to the Naval Academy after being accepted to NAPS. At 17 years old, of course I accepted. "Who needs a prep school?" After failing and leaving Plebe year, I realized the Admissions Board really did know what they were doing in offering me a year at NAPS before entrance to the real deal. Unfortunately, a California high school education did not always give a candidate good preparation.

I remember Dan Cunha as the Professor who never gave up on me, and taught me to never give up on myself. I spent Christmas vacation studying calculus with him at his home in an effort to pass and stay with the class of '79. We would take a break, have lunch, and throw the ball with his kids. In those moments, Dan taught me what life was all about.

Dan's words, "Mr. Nugent, if you have to leave, you leave with dignity and honor," came true. That's the way I made it happen, and left with the commendations and recommendation of the Academic. Board. I left with my head high, knowing I did my best. Dan Cunha left a mark on my life I still carry today. He was a great mentor.

Recently, I was accepted to medical college at this old age of 45. I'm a good nurse, and I think I'll be a great Doc. My cousin Jim Ervin '80 and I were shooting the bull, and he told me "Write the Commander, of course he'll remember you. Trust me, Tim, he'd love to hear from you!" That's how I found out about Dan's accidental death. I wish I could have been there for him when he was in need. We lost a good one. I wish all of you fair winds and following seas.
---

&nbsp Ending the year in style before heading to England for Christmas, Jim Metcalfe submitted these accounts from two of Navy's football games.
&nbsp Lisa and I attended the Navy-Delaware game at the regular homecoming on October 25th. It was another "good" game that Navy lost. There were very few members of '63 there. In addition to Carla and Jeff Miles, I remember seeing Forrest Siburt, Bruce Webb, and Fern and Ian Sargent. Judy and Jerry Jordan were in from Hawaii to visit their daughter, Julie '07, who is a plebe.

Our carefully laid plans to travel from Virginia Beach to Philly for the Army game were thwarted by a winter storm. Making only part of the trip, we enjoyed the hospitality at Jan and Phil Rooney's "sky box" in Fairfax, VA. Jan collected our tickets at the "gate" and we got through security with a cooler of beer and lots of chow. At halftime she served up her special "white chili" made with chicken and white beans. And Navy looked great on TV. We couldn't have had a better time! We'll be off to England for Christmas to be with daughter Megan, her husband David, and grandkids Matthew and Adam. Son Jimbo, now in his last year at Richmond Law, will join us there. David's 86 year old widowed grandmother, who lives in Hampton, VA, will go with us too.
---

&nbsp Here's an interesting news item supplied by the cooperative efforts of two companymates. The photo came to me from Sonny Glassner and the narrative was supplied by Phil Marsden: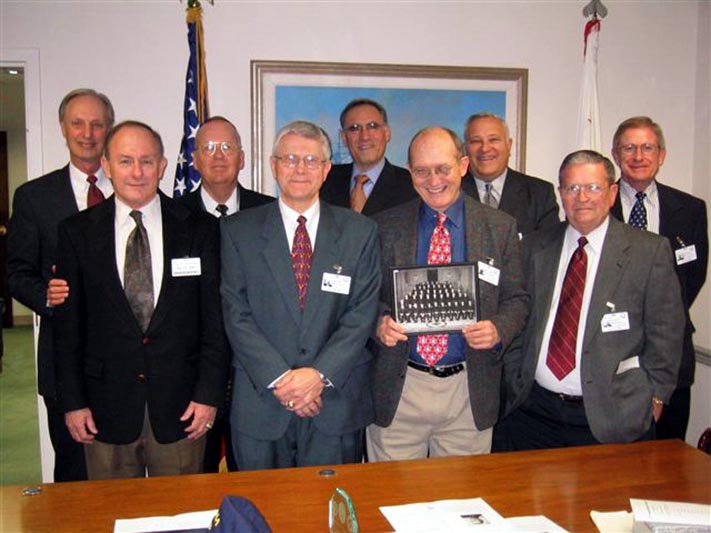 Ninth Company visits Secretary Tom Hall
&nbsp On 16 December, nine members of the 9th Company met for lunch in the Pentagon. Our host was Tom Hall, Assistant Secretary of Defense for Reserve Affairs. Left to right in the picture are myself, Sonny Glassner, Tom Hall, Bob Tanis, John Aucella, Charlie Lynch, Charlie Minter, Jim Killian, and Glenn Laury. Mal Schantz and Murph McCloy had planned to be with us but were unable to attend because of last minute complications. Charlie Lynch is holding a copy of our plebe year company photo and we spent much of the lunch trying to figure out who some of those people were. It is amazing how much everyone looks alike when you are all skinny, have crewcuts, and half of you have your eyes closed! Tom was a wonderful host and we had a great time swapping sea stories and recounting what the Academy experience meant to each of us.
---

&nbsp Here's a survey of news about several of our classmates in the central California coastal area, courtesy of Dave Moore, one of our most faithful and consistent contributors. (Maybe his example will inspire you to send me some news from time to time. I sure hope so.)
&nbsp The Monterey Group has continued its quarterly luncheons. In August Frank Pinney gave us a tour of his new Big Sur Fire Brigade firehouse. Then he took us to the top of a ridge jutting above the Pacific where his company is building a truly unique home, a free form concrete roof covered with sod, glass and copper sides, huge beams, a wine room lined with stainless steel and its own power systems. The linen closets are probably the only square corners in the building. We can all be proud of a classmate who has accomplished so much with plebe year mechanical drawing.

At the December lunch, John Peterson was absent as he was sailing across the Atlantic Ocean. His place was taken by Mike Moore who came down from Morgan Hill. Kathi and Chuck Calvano will be leaving next summer for a three-year position in London. Chuck will be assigned to the Office of Naval Research Global Field Office in London as Associate Director for Systems Engineering and Ship Systems. That office reaches out to researchers in Europe and elsewhere, helps them develop their ideas and share them with appropriate, interested scientists or developers in the US. I was then just starting the process of moving to La Quinta, CA, where I can really learn about thermodynamics on a personal level. John Pfeiffer, Reed Farrington, and Frank Pinney were also there to lend a touch of class.

Mike Moore had an interesting history to share. He left USNA in first semester of 2/c year because he and Connie had gotten married. His two-year education at USNA allowed him to go to work immediately with Rohr in San Diego. He later worked for Collins Radio, Harris Corporation, and JPL and became an expert in very large antennas such as those used by NASA and some federal agencies. Mike finally got his degree in 1975 from Rollins College in central Florida. Although he never returned to the Navy after leaving USNA, he has remained close to it. Mike put a great deal of effort in campaigning for the US government to change the USS LIBERTY death paperwork (DD-1300) from non-combat to combat so that classmate Steve Toth and USNA grad Philip Armstrong '53 could have their names placed in Memorial Hall. Steve and Phil were posthumously awarded the Silver Star and Navy Cross respectively. Although the documents were never changed, their names are now in Memorial Hall. Mike and Connie have two kids and four grandchildren; they can be reached at MMoore8425@aol.com .

And in other 14th Company news, Frank Holmes has been promoted to Director, Idaho Nuclear Technology and Engineering Center. Its primary mission at this point is the cleanup of legacy waste and preparation for spent fuel disposition once there is a licensed repository.
&nbsp Dave also told me about a 12 January article in the Monterey Herald which reported on Chuck Calvano's upcoming reassignment to London and recapped his notable career in systems engineering and ship design. A faculty member at the Naval Postgraduate School for 13 years, Chuck is now associate director for education at the Meyer Institute of Systems Engineering there. You may recall that he spent a year in England in 2000-01 as a visiting professor at the Royal Military College of Science near Oxford.
---

&nbsp Phillip Marsden sent a brief report about a major social event for some of our Southern California classmates
&nbsp We had another great turnout in December to watch Navy's victory over Army, hosted by June and Chuck Stone at their fabulous villa in northern San Diego County. The attendees included Susan and Ross Anderson, Lee Cargill, Bob Easton, Pat and Jim Fontana, Nancy and Charlie Helsper, Maureen and JJ Hogan, Karen and Steve Hoy, Donna Kaup, Kay and Ted Krohne, Janet Gushue, Helen and Dick Anderson, Betty and John Middleton, Steve Longo, Pattie and Dave Meyers, Sally and Win Orgera, Jay Roberts, Grant Telfer, Sandi and Jim Thornton, Gail and Vern VonSydow, Elizabeth and Rich Wilson. We all had a great time comparing 40th Reunion stories while basking in the glow of Navy's convincing victory.
---

&nbsp And so ends another good report, thanks to those good fellows who contributed news for your enjoyment. Now it's time for you to return the favor by sending me your news to share in an upcoming issue of Shipmate. We're counting on you, sir!


---