Shipmate Column
March 2008
---
CLASS OF 1963
Pres: CAPT W. Spencer Johnson IV, USN (Ret.)
Sec'y: Michael H. Shelley
164 Sweetwater Lane, Pisgah Forest, NC 28768
h: 828-862-4245 e: nstar@citcom.net
Web site: http://www.usna63.org.


For any classmate you can go to the Classmates Page and enter his name to read his current biography if available.
---
&nbsp Class of 1963 participation in Army-Navy game events of 2007 was the most extensive since we graduated. The prime mover for the heavily attended '63 functions in Baltimore was Steve Leisge, who planned, publicized, and orchestrated a terrific weekend for everyone who could be there.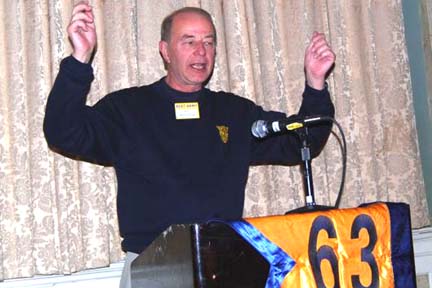 Steve Leisge


This comment from one of our classmates pretty well sums up the weekend experience:
&nbsp It was the BEST time! A REAL reunion! Guys I hadn't seen in years from the west coast, as well as local guys who took the opportunity to come. IT WAS SUPER! Kudo's to Steve Leisge! Really!

Happy after beating Army again



---
&nbsp These folks were among the more than 120 people who carried the Class of 1963 banner and spirit into "Charm City" and were certainly among the loudest supporters of the Navy team and the Brigade of Midshipmen:

Dolly and Tom Batzel, Lynn and Lew Blackwell, Sheila and Mike Bonsignore, Bill Bradford, Elise and Vern Browne, Judy and Pete Chaney, Sue and Ben Cole, Carole and John Conroy, Mary and Patrick Curtis, Anna Dennis, Sandy and Ollie Donelan, Natalie and Steve Duncan, Jennifer and Bill Earner, Sue and Bob Easton, Jana and Len Eaton, Laura and Dick Elsworth, Sharon and Bob Forster, Sherry and Don Freese, Sue and Charles French, Kathy and Sam Garde, Ted Healy and grandson Jack, Barb and Harry Hirsch, Karen and Steve Hoy and grandsons Nick Hoy, Stephen Hoy, Daniel Perez, and Thomas Hoy, Andrea and Spencer Johnson, Jill and Wes Jordan, Lillian Karson and son Chris , Jo and Bernie Kelley, Sandy and Ron Klemick, Kathy and Mike Krause, Janice and Dick Kuntz, Jim Lamb, Jim Lasswell and Cindy Jensen, Barbara and George Leever, Steve Leisge, Kathleen and Flak Logan, Steve Longo and Carol Racine, Pattie and Dave Meyers, Carla and Jeff Miles, Robbie Newton and Robin Russell, Grace and Pete Optekar, Sandy and Randy Orlowski, Sheila and Dick Ortwein, Bill Palafox and Mary Lu Dempsey, Joanne and Ben Redd, Kate and Jim Ring, Jan and Phil Rooney, Julie and Bob Schaefer, Will Settle and Edgar Adams, Arlene and Forrest Siburt, Nick Sim and Anna Ossler, Linda and Chuck Spadafora, June and Chuck Stone, Kathy and Erwin Storz, Grant Telfer, Joanne and Jack Thorn, Sandi and Jim Thornton, Gail and Vern VonSydow, Anne Marie and Pete Vreeland, Vicki and Roy Warren, Art Weidner and daughter Greta, and Chet White.

I have received scores of photographs from classmates showing events during the big football and fellowship weekend. A few samples are included below, while many more can be seen on photo service web sites. To see more of the images, click on the links below to be connected to the online photo albums.
Steve Leisge's photos (6 images)






Steve Hoy's photos (26 images)





Mike Krause's images, Album 1 (66 images)





Mike Krause's images, Album 2 (89 images)





Phil Rooney's photos (104 images)





Folks from the 23rd Company enjoyed cocktails and dinner at the Annapolis home of Barbara and Harry Hirsch on Friday evening.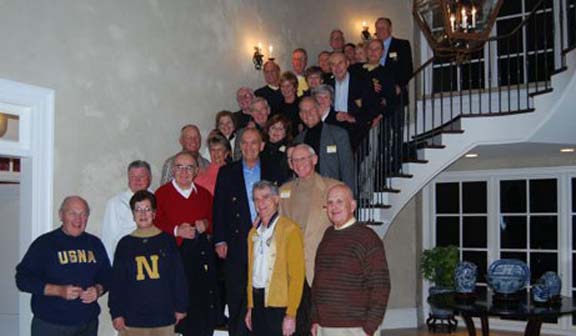 23rd Company at the Hirsch home


I heard from Fred Kaiser that the 12th Company held a mini-reunion in the midst of the weekend's events.
&nbsp I'm sure you'll receive a number of photos from classmates who witnessed the recent victory, but will any others feature the "63 - Go Navy!" banner that we hung on the stadium railing by our end zone seats? Pictured in this photo from left to right are Bill Witcraft, Ron Wills, Bob Bennett, Fred Kaiser and Klara Kaiser.

12th Company sez Beat Army!



---
&nbsp The fun and action of the weekend were shared at a distance by some of our Southern California classmates. Here's a brief account from Phillip Marsden:
&nbsp San Diego '63ers who did not travel back east to attend the Army-Navy game got together to celebrate the Navy victory. Sue and Lee Cargill, Dottie and Bill Hughes, Pat and Jim Fontana, Marirose and Karl Kozak, Jerry Harken, Phillip Marsden, and Bill Hughes' old shipmate Ralph Grutch '55 and his wife Winnie joined over 350 alumni at a local sports bar for the game festivities. It was a noisy, rambunctious affair as the Navy team capped off another great season.

San Diegans together for the big game




At the sports bar



---
&nbsp Demonstrating the enduring value of our First Class year after-dinner speaking requirement at the Academy, Steve Duncan addressed those present at the '63 Victory Dinner in Baltimore on Saturday evening.
&nbsp I want to thank you very much for welcoming Natalie and all of our spouses into the Class of 1963. Those of us who have experienced the strength of the bond that unites the members of the Class know very well the High Honor which is involved in becoming a member of this unique fellowship.

Some 112 years ago, another group of college men gathered. The group was the graduating class of Harvard College. The speaker of the day was Justice Oliver Wendell Holmes, Jr., who would soon become one of the greatest jurists ever to sit on the United States Supreme Court.

Holmes was a Civil War veteran who had received serious wounds in combat on 3 separate occasions. As he looked out at the audience, he reflected upon his experiences. He expressed his feelings with these words:

...the joy of life is living,...to put out all one's powers as far as they will go;...to ride boldly at what is in front of you, be it fence or enemy. As for us, our days of combat are over. Our swords are rust. Our guns will thunder no more....Whatever of glory must be won in the council..., never again in the field. [But], we have shared the incommunicable experience of war; we have felt, we still feel, the passion of life to its top.

The members of the Class of 1963 have also advanced boldly at whatever has been put in front of us. We have shared the experience of war. We have faced and mastered professional challenges. We have conquered major tragedies and disappointments. We have climbed life's mountains and enjoyed the view from the summit.

We too have felt -- and still feel -- the passion of life to its top -- including wins over Army in all of our four years at the Academy and a smokestack from which the words "'63 sez BEAT ARMY" could never be erased.

Classmates! I propose that we close the evening by singing Navy Blue and Gold. But first, I propose that you stand and join me in a toast to "the United States Naval Academy Class of 1963 -- Quality '63"
The Alma Mater
---
&nbsp The victory over Army closed yet another exciting, winning season for Navy's football team. The capstone of this year's campaign was Navy's appearance in the Poinsettia Bowl on 20 December. Demonstrating yet again the dependable presence of the Class of 1963, a large group of our classmates and their ladies came from across the country to cheer for Navy and enjoy some extended social time together. Phillip Marsden filed this illustrated report:
&nbsp The Class of 63 turned out in force to cheer on Navy in the 2007 Poinsettia Bowl here in San Diego. Class festivities included a private dinner Wednesday night, a class of 63/64 tailgate arranged by JJ Hogan, and the large Alumni Tailgate prior to the game against Utah on Thursday night. The Wednesday night dinner was set up by Chester White and those in attendance included: Susan and Rich Andrews, Lynn and Lew Blackwell, Bob Forster, Sonny Glassner, Nancy and Charlie Helsper, Dottie and Bill Hughes, Marirose and Karl Kozak, Steve Leisge, Phillip, Edith and Max Ricketts, June and Chuck Stone, Gail and Vern VonSydow, Vicki and Roy Warren, Betty and Rich Wilson, Betty and John Middleton, and Chester with Katie Law. This photo shows the assembled group.

Dinner group in San Diego


The photos below show classmates at the other tailgate activities prior to the game. Unfortunately, Navy came out on the short end of the score but we were treated to a spirited, well played game by both teams with a whirlwind finish typical of Navy games this year.

Sonny Glassner, Jim Thornton, John Ryan, Dick Andrews, Jerry Harken




Dave Moore, Dave Myers, Steve Leisge, JJ Hogan




Dick Anderson, Grant Telfer, Steve Hoy, Roy Warren




Dick Earnest and Bob Sutton '64, Mike Bonsignore, Vern Von Sydow, Rich Wilson




Jim Thornton, Chuck Stone, Sonny Glassner, JJ Hogan, Mike Bonsignore, Steve Hoy




John Middleton, Karl Kozak, Bill Hughes



---
&nbsp Mike Blackledge told me that he and Bonnie Nolan drove from Albuquerque for the game, staying in San Diego at the award winning Heritage Park Inn operated by our classmate Charlie Helsper and his wife Nancy. Other '63 folks staying at the Inn included Bob Forster, Helen and Dick Anderson, Lana and Dave Moore, and Sharie and Ron Saqui.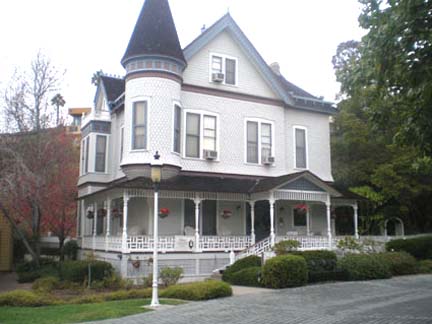 The Heritage Park Inn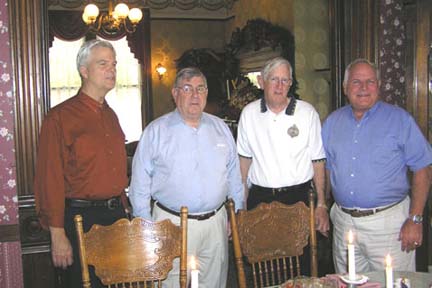 Blackledge, Forster, Helsper, and Anderson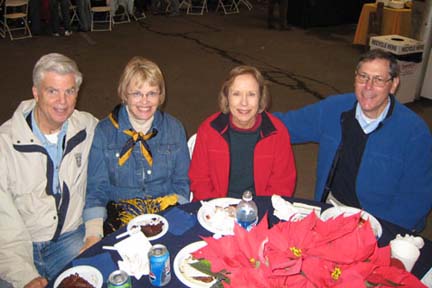 Mike Blackledge, Bonnie Nolan, Sharie and Ron Saqui
---
Still very active in competitive swimming, Gaylord Hopkins has also maintained his ties to the Naval Academy swimming program. He sent this news about his latest visit to USNA.
&nbsp Barbara and I went to Annapolis for the Army-Navy Swim Meet on November 29th. The Navy Coach, Bill Roberts, asked me to present the trophy which my father donated with my name on it as an "in honor of" back in 1975. It recognizes the winner of the Army-Navy swim meet each year. The team that wins it gets to keep it for the next year. Navy has won the meet every year since 1991, this year by the largest margin in the history of the series. This picture shows me presenting the trophy to Mike Lowhorn '08, the Navy Swim Team Captain.

Gaylord Hopkins presents the trophy


A lot of people on the plane up from Florida were going to the football game and thought it was strange to be going to a swim meet. However, it was a last minute thing, otherwise we would have probably sent for football tickets. While waiting to leave at the Tampa airport we ran into Dick Kell who was on his way to Norfolk to see his granddaughter. He's still working part time at the Space Center and enjoying both his work and life in general. It was good to spend the little time we had together to catch up.
&nbsp Gaylord is still a phenom in the water. You may remember my report a few months ago that he was ranked #1 in the world for the 1,500 meter and 800 meter freestyle events for the Masters 65-69 age group, and #1 in the U.S. for the 200 meter backstroke. Wow.
---
&nbsp Peter Featherstone sent this recent photo and a brief note.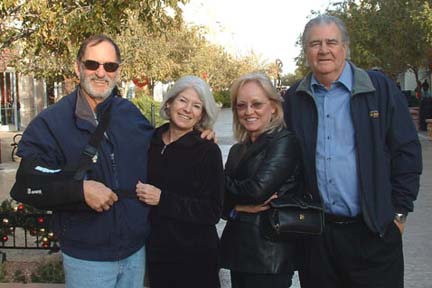 Featherstones and Shutes
&nbsp Charlotte and I met Beth and Dave Shute while we were in Las Vegas visiting my brother in December. We got together for lunch in Henderson, where we caught up on the details of their time in Costa Rica. Dave spends his spare time on his casino chip collection, which apparently is pretty extensive. Beth is still involved with her butterfly art prints and website. Apparently we just missed our Fourth Companymate Sonny Langley, who was in town on his annual sports book pilgrimage. Beth and I have a new web site at http://voyagesoftis.com/ where you can read all about our adventures on our Grand Banks trawler 'Tis.
---
&nbsp As you make your preparations for our 45th Reunion this April, here's some timely information from the Class of 1963 Foundation.
&nbsp Recently, we have had some questions about the custom-design 1963 neckties offered by the Class Foundation, their design and symbolism.

The basic colors are blue and gold for the colors of the Naval Academy. We also added red for the Marine Corps, pale blue for the Air Force, and a small black stripe between the red and pale blue for the Army. This was done to recognize members of the Class of 1963 who upon commissioning served in the sister branches of the armed services. The main blue and gold stripes are six units wide and each of the three smaller stripes is one unit wide. That way you get a combination of 6 and 3, for the Class of 1963. There is then a 12-unit drop in Navy blue and the pattern repeats itself.

Class ties, both four-in-hand and bow, are available as well as scarves and cummerbunds. The price of each item is $63.00 or if you order any three items the discounted price is $163.00 and if you order all four the price is $200.00. Orders can be placed with Ms. Dawn Strom, c/o Lowe Enterprises, P.O. Box 12393, Aspen, CO 81812.
---
&nbsp Foundation president David Puckett sent this news of a new memorial to our classmates who died in the line of duty.
&nbsp This is a rendering of a plaque to be placed on Chapel Pew 63 in the USNA Chapel. This plaque, like all the actions of the Class Foundation, are meant to memorialize our Class. The plaque was made possible by donations from Audrey and Jim Williamson, several donors to the memory of Kit Karson with the designation of his wife Lillian, and the remainder from the general funds of the Foundation. We anticipate that it will be in place by our reunion.



---
&nbsp Bill Anderson sent this news-filled letter in January recounting his contacts with four of our classmates on the East, Gulf, and West coasts.
&nbsp We have a summer home on Deer Isle in Maine and this year, for the first time ever, we spent Christmas there. Real snow, unlike the rain in Seattle! I found an article by Dud Hendrick in the island newspaper about the peace vigil that he and others keep every Monday on the island, so on December 24 my wife and daughter and I joined him and about six others on the side of the road for a period of silence and meditation and a welcome to the Prince of Peace. It also brought back memories of long periods spent at parade rest, except the temperature was about 15 degrees. Some cars would honk, some would slow down and look. Dud was in good form. We had to run off to a lessons and carols service at 5pm but it was good to see him again.

Dud Hendrick (center) and the Andersons


Around the first of December, Lanny and I were in San Francisco to play in a national bridge tournament. Thousands of players, fortunately of all levels of ability including ours (very low). We even won some trophies one day for being "the best of the worst". We had arranged to meet Jim Penrod for dinner on Sunday but he thought I said Saturday, so we ended up just having a good chat on the phone. He will be coming back for the 45th.

Before we left Seattle to go to Maine, I called Al Key in Point Clear, AL, and had a long chat after many Christmas cards over the years. He and Alice Craig have seven children and 8 and 1/2 grandchildren!! His son, Watt, has written a novel that is doing well and is available on Amazon.com. You may have noticed that the Mobile played a big part in the PBS series about WW II. Turns out that Al used to date the daughter of one of the veterans they interviewed on the show. Al is still puttering about at his office but he and Alice Craig are planning to attend the 45th too.

Denny Vaughan and I are probably having lunch downtown tomorrow. He has gotten involved in delivering old ships to Mexico to be scrapped (doesn't hurt that they end up near Acapulco). Another topic at lunch will be the next step in Bill Pawlyk's future. Mario Fiori and Denny have been constant in their visits and aid to Bill -- maybe there's something I can do too.
---
&nbsp And that's it for this month. Our mail buoy is empty, riding high in the water. We need to hear some news from you. Please don't disappoint us.

We'll see you in Annapolis next month!



---