Shipmate Column
March-April 2014
---
CLASS OF 1963
Pres: CAPT W. Spencer Johnson IV, USN (Ret.)
Sec'y: Michael H. Shelley
164 Sweetwater Lane, Pisgah Forest, NC 28768
h: 828-862-4245 e: nstar@citcom.net
Web site: http://www.usna63.org.


For any classmate you can go to the Classmates Page and enter his name to read his current biography if available.
---
---
---
&nbsp If you're reading this on our web site, the chances are that it's still winter outside your window. Some of us have endured severely cold weather this year, while others who are lucky (or smart) enough to be in mild climates have probably had just another ho-hum season. Wherever you are, there are probably some of our classmates not too far away. Link up with them for a warming drink or two. It's a good way to get through the Dark Ages, as we used to call these cold, stormy times between Christmas and April.
---
&nbsp Our news begins with the loss of two more members of the Class of 1963.


&nbsp Peter Browne has sent the sad news that our classmate William (Bill) "Roger" Burns died on 9 November following a lengthy battle with bone cancer. His widow, Stella, can be contacted at 189 North Blue Sage Lane, Layton, UT 84040.
---

&nbsp We have just learned that Vern Browne died on 17 January from complications of the cancer he had quietly fought in recent years. His widow, Elise, can be contacted at 2801 Hawthorne Road, Tampa, FL 33611-2827.
---
&nbsp I learned recently that another of our classmates has attained flag rank in a foreign navy. This email from Helmuts Feifs '66 brought some surprising news:
&nbsp On the 19th of November, 2013, in St. Petersburg, FL, after an excellent address in honor of "Lacplesu Diena" to many veterans of the wars for Latvian Independence and their surviving families, Latvian Rear Admiral Andrejs Mezmalis, Retired, USNA Class of 1963 was presented with the Brigade Flag by Helmuts Feifs, Class of 1966. Admiral Mezmalis is the major architect of the resurgence of the Latvian military into the modern force for peace that it is today. He was enjoined to fly the flag in Riga, Latvia, when Navy beats Army and on other auspicious occasions.
&nbsp We congratulate Andy for his accomplishments and will now raise our official total of Class of '63 flag officers to 21, including both him and Peruvian Navy Rear Admiral Guillermo Devoto.
---
&nbsp Congratulations to Bob Harper and Annemarie Ritchie, who were married in the Naval Academy chapel on Saturday, 4 January. Among the classmates and wives attending were Andrea and Spencer Johnson, Lynn and Dave Ebert, Betty and Jerry Mulholland, Virginia and Brev Moore, Al Sherman, Carol and Charlie Minter, Eileen and Eli Dabich, and Lou and Mike Shelley. The very cold air and the snow covered ground did absolutely nothing to dampen the happiness and enjoyment of the day.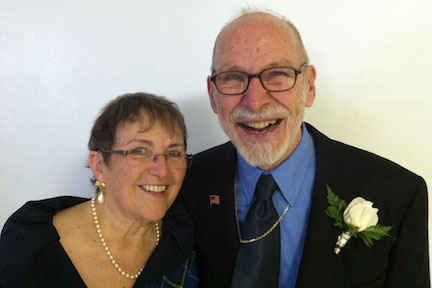 Newlyweds in Annapolis
---
&nbsp The Council for Advancement and Support of Education (CASE) has published an excellent article about the 1963-2013 Another Link in the Chain program in the January 2014 issue of its journal, "Currents." I encourage you to read the article on the CASE web site by clicking HERE .
---
&nbsp Here's a nice photo from our 50th Reunion submitted by Fred Kaiser:
&nbsp During our Sunday Brunch at the 50th I gathered three other SEALs along with myself for a group photo. To my knowledge, there were six of us from the Class of 63 who eventually became SEALs. The other two were Rick Trani, who was KIA in Vietnam, and Larry Graham, who I believe did not attend the reunion. The four of us in the photograph are Grant Telfer, myself, Bob Newton, and Ed Gill. It is interesting that Grant, Bob, and I all came from the original 12th Company. We all look exactly like we did when we completed BUD/S training.

Class of 1963 SEALs at the 50th Reunion



---
&nbsp Continuing a very long-standing tradition, a large group of our Southern California classmates and their ladies assembled on 14 December to watch the Army-Navy game. Also continuing a tradition, the indefatigable Phillip Marsden sent his annual report about the event.
&nbsp Karen and Steve Hoy were this year's hosts as a large turnout of the Class of 1963 gathered at their lovely home in Murietta. It was a beautiful, sunny day that added to the good cheer and camaraderie. Attendees included Dick and Susan Andrews, Janet Gushue, Jerry Harken, Maureen Hogan, Bill and Dottie Hughes, Donna Kaup, Karl and Marirose Kozak, Ted and Kay Krohne, Alan and Terry McAnally, Dave and Pattie Meyers, John and Betty Middleton, Win and Sally Orgera, Dick and Sheila Ortwein, John and Pam Pfeiffer, Jay Roberts, John Ryan, Mike Rubel, Chuck and June Stone, Grant Telfer, Jim and Sandi Thornton, Vern and Gail Von Sydow, Roy and Vicki Warren, Rich and Betty-Ray Wilson. Our custom is to present a gift to the hosts for their gracious hospitality. This year our gift provider, Vern, surprised Steve Hoy with a beautifully framed copy of the Shipmate cover showing Steve with president Kennedy at the 1962 Army/Navy game coin toss. A great time was had by all as we cheered another Navy victory!

Army-Navy game day in Southern California



Thanks to Lew Blackwell for sending this news of yet another victory achieved by members of the Class of 1963.
&nbsp The Class of 1963 entered a team in the Army-Navy Classic Golf Tournament held at the Admiral Baker course in San Diego the day before the Army-Navy game. The team consisted of myself, Max Ricketts, Mike Rubel, and Jim Thornton. I am very pleased to report that we won the low net championship. We each received a Navy sweatshirt as a prize. I will have inserted in each team member's Retired File the following citation;

"Well done to all for a great effort. As team captain, I couldn't be prouder of how each of you performed under very difficult conditions. Your commitment ,determination and willingness to fight on despite the odds is a testament to your character and devotion to duty. Well Done, BZ, etc. "

Army-Navy Champion golfers in San Diego



&nbsp The primary focus of tournament was to raise funds for the USNA Foundation. The field consisted of 40 teams from USMA and USNA representing classes from 1956 through 2003.
&nbsp Team member Max Ricketts added these remarks about the event:
&nbsp The truth be told, this victory for USNA '63 was in large part due to the remarkable captaincy and decision making of Lew Blackwell in guiding our team through the very hostile terrain of the Admiral Baker North Course in San Diego. The Class of 1962 was in the foursome following us and sincerely remarked they were simply in awe of our team's incredible skill [at least that's what I thought they said]. To make it fair to the other teams, next year we're going to drink a few glasses of wine before teeing up.
---
&nbsp Lou and I visited our son Aaron and his family in San Jose, CA, for two weeks over Thanksgiving. By a happy coincidence, the Navy-San Jose State football game was played two days after our arrival. Aaron (USNA '97) provided game tickets and we enjoyed tailgating with his classmates. We felt lucky to be there to witness Navy's 58-52, three-overtime victory. As we exited the stadium, I was hailed by Jerry Huss and we were able to have a brief conversation in the outgoing tide of Navy fans. He was the only classmate I saw there, and I have not heard from anyone else who might have been at the game.
&nbsp A few days later, I received this email from Jerry:
&nbsp It's always enjoyable to run into a '63 Classmate, and particularly so upon leaving Spartan Stadium after a most exciting Navy triple overtime victory over San Jose State. We had both watched Navy's last second victory over Pitt at our 50th Reunion in Annapolis just a few weeks before, and I didn't think that game could be topped for excitement.
&nbsp I don't know of too many classmates in the San Jose area. I play golf about once a week with Ed Hartford who lives just up the road in Mountain View, and we're trying to coax Dave Moore to travel from Sacramento to join us. I've met up with my 13th Companymate Gary Thomas who resides up in the Sierras in Truckee, and hopefully we'll get in some skiing together this winter if snowfall permits.
---
&nbsp The USNA Alumni Association posted several photos from the 30 December Armed Forces Bowl on its Facebook page. One of them appears below, showing three '63 couples enjoying Navy's victory over Middle Tennessee State. Left to right are Judy Chaney, Catherine Lloyd, Rebecca Robinson, Jim Lloyd, Pete Chaney, and David Robinson. I've heard that Jerry Jordan was also at the game.



---
&nbsp While you're still on our web site, take a few minutes to do some exploring. There is a wealth of content here, not all of it about the Class of 1963, and surely some things you have not seen. Be sure to visit the 50th Reunion section by clicking HERE
---
&nbsp That's all for now, folks. Stay warm and happy, wherever you are. And take a minute or two to send me an email about what you've been doing and who you've seen. We're interested!



---