Shipmate Column
March-April 2015
---
CLASS OF 1963
Pres: CAPT W. Spencer Johnson IV, USN (Ret.)
Sec'y: Michael H. Shelley
164 Sweetwater Lane, Pisgah Forest, NC 28768
h: 828-862-4245 e: nstar@citcom.net
Web site: http://www.usna63.org.


For any classmate you can go to the Classmates Page and enter his name to read his current biography if available.
---
---
---
&nbsp In the two months since our last class news report, we have learned of the deaths of six of our classmates, good men all. I am always sad to report the loss of men whose brotherhood with us has endured for so many years, and whose memory and positive influence continue to be with us and many others. We extend our condolences to their families.
&nbsp Essential details about each loss are provided below. Please take a few minutes to review their obituaries and other texts in the Last Call and Electronic Lucky Bag sections of our web site by clicking HERE .
---
&nbsp Traian Benchea passed away on 30 November in Thibodaux, LA. He had been predeceased by his wife, Doreen.
---
&nbsp Richard G. Bachmann died on 17 December. His widow, Susan, can be contacted at 3220 Glenridge Court, Palm Harbor, FL 34685.
---

&nbsp Birney T. Pease passed away on 4 January. His widow, Barbara, can be contacted at 5555 N. Ocean Boulevard, Apt. 19, Ft. Lauderdale, FL 33308.
---
&nbsp Arthur D. Clark died on 19 January. He had been predeceased by his wife, Merle, one year ago
---
&nbsp Reed M. Farrington passed away on Christmas Day, 25 December. He was unmarried, and I have no information about his next of kin to share with you.



&nbsp Only a month earlier, in late November, Mike Rubel had visited Reed at his home in Big Sur, CA, and then filed this brief report:
&nbsp I visited Reed at his bucolic abode in Big Sur. It is quite rustic -- note the ivy growing inside the house. I brought dinner and a bottle of scotch, both of which we attacked with vigor. I told him to save the rest of the scotch for my next visit. He responded with a smile, " Good luck with that!"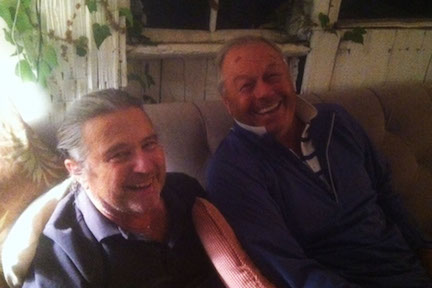 Reed Farrington and Mike Rubel
---
&nbsp We recently learned that Luis Adriasola, our Chilean National classmate, had died in Santiago on 28 December 2013. His roommate, Jack Fischer, wrote a fine text that will appear in the Last Call section of Shipmate magazine in the near future. Here's an excerpt:
&nbsp Luis arrived in Annapolis with what could kindly be described as a loose command of the English language. Recognizing this, the academy arranged private lessons for him on Saturday afternoons from an English professor in town. It turned out that the professor, not much interested in the proposition, turned the task over to his 18-year old daughter.
&nbsp Although that arrangement benefited Luis in other ways, it did not result in much improvement in his English. That deficiency led to countless plebe year Abbott and Costello-like encounters with upperclassmen. Lively recounts of his plebe year misadventures are a centerpiece and source of great merriment and fond memories when 16th company classmates meet and old tales are retold.
---
&nbsp Concluding the sad news in this report, I just learned of the death of Marguerite Spence Gunn, wife of our classmate William T. Gunn , on 18 January. Bill can be contacted at 3700 Moon River, Austin, TX 78746.
---

&nbsp Jim Ring sent this report of an encounter at the Vietnam Veterans Memorial in Washington.
&nbsp A few days before Veterans Day, I visited the Wall with Benno Gerson '61. I spent some time visiting with my roommate, Jim "Kelly" Patterson and left a flag by his panel, 20E. While I was there, a group of about 20-25 plebes came walking by in running gear. They were there to see the Wall and some of the other monuments in the City. I introduced myself as a grad and took them to panel 20E to tell them the story about why Jim was on the Wall. They listened intently and several thanked me after I was finished. It was an amazing occurrence that we could be there at the same time, so I could pass on this information about one of their predecessors, who was a grad like they hope to be one day.
---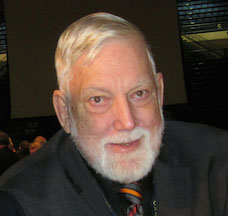 Dick Wyttenbach


&nbsp I was surprised to hear from Dick "Rhino" Wyttenbach that he had moved from Guam to Lake Oswego, OR, in November. He bought a seven bedroom home there and is living with his granddaughter and her five children. Dick has laid claim to having the largest number of GREAT-grandchildren among our classmates: five in Oregon and one in Guam. Wow!
---
&nbsp Another year, another football victory over Army. Navy's winning streak will end sometime, but in the meantime we continue to celebrate and savor every triumph. Our Southern California classmates and their ladies assembled again this year to watch the game and enjoy a before-and-after party together. Phillip Marsden submitted this after-action report.
&nbsp We had a great turnout for this year's contest! Sue and Bob Easton were our hosts and they provided us with wonderful hospitality including treating us to a lovely day and a beautiful San Diego view. Attendees included Chuck and June Stone, Vern and Gail Von Sydow, Lew and Lynn Blackwell, Miller and Connie Detrick, Steve and Karen Hoy, Karl and Marirose Kozak, Bill and Dottie Hughes, Alan and Terry McAnally, Grant Telfer, Donna Kaup, Maureen Hogan, Janet Gushue, John and Betty Middleton, Jim and Pat Fontana, Win and Sally Orgera, Jerry Harken, John and Terri Ryan. Vern presented Class of '63 certificates of appreciation to the three hostesses of our A/N game parties over the years - Karen Hoy, June Stone and Sue Easton. And to his surprise, Vern received a mounted 1963 Class crest as a token of our appreciation for all he does for our Class and for our community. By any measure, Vern personifies what it means to be "Distinguished Graduate" of the Class of 1963.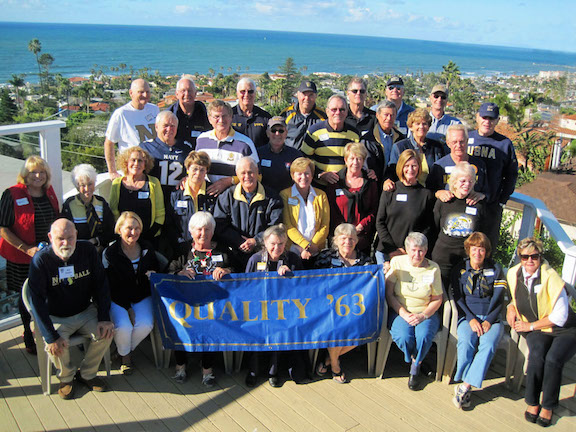 At the Army Game party in San Diego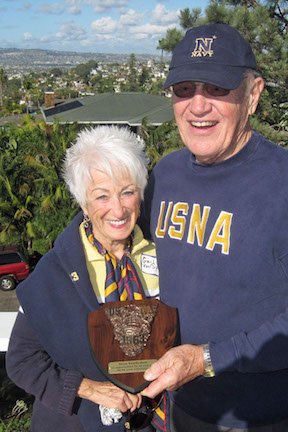 Gail and Vern Von Sydow
---
&nbsp The "Wave Tops" email newsletter from the Naval Academy Alumni Association recently announced that a film made in Annapolis in the mid-1960's (ca. 1965) can be seen on YouTube. Titled "Mark," it is a wordless movie about a young boy roaming the streets of Annapolis and eventually making his way to the Academy. There is no real plot but there are many scenes in town and in The Yard that show just how things were in our time there. Note the long-gone business signs along Maryland Avenue, for example. You can see it by clicking HERE.
&nbsp A more recent video I highly recommend consists of scenes from a drone flying over Annapolis and the Academy in October and November of 2014. The close-up aerials of the chapel are marvelous to watch. You can see them by clicking HERE.
&nbsp With the USNA chapel in mind, here is a photo that Jim Koehn took in late December of 2014. The plaque was installed, appropriately, on pew number 63 several years ago



---
&nbsp That's all for this month, folks. Don't forget to send me news about yourself and our classmates. Please do your part to help keep this news exchange full of interesting content. I need your help!



---