Shipmate Column
March-April 2022
---
CLASS OF 1963
Pres: CAPT W. Spencer Johnson IV, USN (Ret.)
Sec'y: Michael H. Shelley
27 Cambridge DR, Brevard, NC 28712
h: 828-506-2201 e: nstar@citcom.net
Web site: http://www.usna63.org.


For any classmate you can go to the Classmates Page and enter his name to read his current biography if available.
---
---
---
&nbsp As happens too often, we begin our report with news of the loss of several classmates. Please honor them by visiting the Last Call section of our web site to read their obituaries and other information preserved there.

&nbsp We have learned that J. Warren Alford passed away on 16 January 2021. He was predeceased by his wife, Kirsten. We do not have contact information for his next of kin.
---
&nbsp Robert L. Norton died on 29 November. We do not have contact information for his widow, Jacqui.
---
&nbsp Bruce W. Gunkle passed away on 7 December. We do not have contact information for his widow, Sherilyn.
---
&nbsp Melvin L. Bunnell passed away on 10 December. Mel's wife, Glynda, had predeceased him on 9 November. Condolences can be sent to his daughter, Susan Mercer, at 43 Wheatland Circle, Lebanon, PA 17042.
---
&nbsp Robert E. LaGassa died on 29 December. Bob's widow, Zoe, can be contacted at 332 Parkside Road Unit 8, New London, NH 03257..
---
&nbsp Austin E. Chapman passed away on 5 January. His widow, Caroline, can be contacted at 504 Wilderness Road, Tryon, NC 28782.
---
&nbsp Richard G. Wakefield died on 17 January. Rick's widow, Linda, can be contacted at 86 Plum Tree Circle, Newville, PA 17241.
---
&nbsp We learned of the death of Bob Kottke's wife, Jan, on 26 October. Bob can be contacted at 2851 Hihimanu Street, Kihei, HI 96753.
---
&nbsp The funeral service for our gallant classmate Mike Cronin was held at Arlington National Cemetery on 6 December. Jim Metcalfe provided this account.
&nbsp There was a huge turnout including many of our classmates and a number of former POW's. Mike was given full military honors and a missing man flyover. It was a moving tribute for a very brave warrior.






&nbsp We are all in admiration of the organization and thought that went into all the planning and execution of the ceremonies at Arlington and the reception at the DAR Headquarters in Washington. It was a great tribute to Mike. His wife Jackie deserves our thanks for all she did to make it happen. Jan Rooney took this picture of a group of '63 men at the reception. Seated are Phil Rooney, Jeff Miles, Jim Metcalfe, and Forrest Siburt. Standing are Kent Maxfield, Bob Nobbs, Jim Ring, Eli Dabich, Jack Colyer, Ollie Donelan, Bob Forster, and Mike Bracy.

After Mike Cronin's funeral



---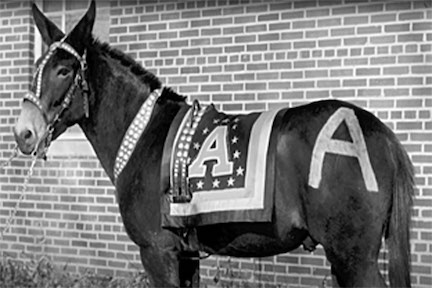 The objective


&nbsp Austin Seay has broken his long silence and revealed the untold story of a well-planned but unsuccessful attempt by '63 conspirators to steal the Army mules in November 1962. Very few of our classmates know that the operation occurred. Austin prepared two accounts of the exploit, "Assault on a Fortress" and "The Back Story of the Mule Caper," which have been posted in the Pride and Tradition - Midshipman Memories section of our web site. Click HERE to see them. Austin sent this preface to the story:
&nbsp I have been sitting on this story since Veterans Day weekend 1962. There were seven midshipmen from the Class of 1963 who made the trip to West Point: Dick Arvedlund, Bo Kearns, Chuck Maclin, Ned Walsh, Ross Anderson, Tony Nargi, and me plus six civilians. I recorded the details of the event in a letter to my mother a few days after our attempt to steal the mules. Only two of us escaped, Dick Arvedlund and me. The other five were Class A'd, but had their demerits expunged before graduation due to good behavior. It is a story the class never really heard about due to the brass wanting to keep it under wraps. It is time the story was told.
---
&nbsp Members of the Sixth Company held a mini-reunion in late 2021. Thanks to Chuck Maclin for sending this report on the event.
&nbsp Twenty-one members and brides of the 6th Company '63 gathered at Gibson's Lodgings at the foot of Prince George Street in Annapolis from 31 October through 4 November to celebrate 62 years of camaraderie and friendship. Attending were Dick Arvedlund, Lionel and Sandee Banda, Bob and Sharon Borlet, Jim and Kathy Carter, Bill and Dottie Hughes, Mike and Grace Lents, Jary and Susan Lewis, Chuck and Marion Maclin, Joe and Theresa Morra, Dirck and Marcia Praeger and Dick and Marian Williams. Plebe year saw us in the 2nd Company; we transferred to the 6th Company after Youngster year, where (with a few exceptions) we remained through graduation. The reunion theme focused on visiting, dining, and sharing a cocktail or three. Of course, we toured the Yard, the Class of 1963 CAE and historical sites in Crabtown. All commented that the restaurant food and service were superb. As always, it was difficult to say farewells! Fair Winds! Left to right in the group photo below are Borlet, Hughes, Arvedlund, Williams, Praeger, Carter, Lewis, Morra, Maclin, Banda, and Lents.

Sixth Company reunion



---
&nbsp Two weeks later, our classmates in the Eighth Company arrived in Annapolis for their own mini-reunion. Dave Bingemann filed this account from their time together.
&nbsp We had a fine time together for several days, 18-23 November. All told, attending were 12 classmates and 8 spouses/friend. Plus, our son Jarrett and two grandsons surprised me and joined us for the weekend. A huge "BZ" goes to the Pattersons, the Earners, and Dick Kell for putting together such a great reunion. We had good weather, fabulous food, fun sailing, and a wonderful tour. We were lucky enough to have picked a parade and game weekend. On a more somber note, we were also able to attend the inurnment at the Academy of our companymate Chuck Calvano and to support Kathi and their family. We never got a group picture of all of us, but these two include everyone except Jennifer Earner and Marylyn Augur. Pictured cruising under sail are, front to back: STARBOARD -- Bernie Patterson, Al Breen, Earl Buck, Celeste Buck, Mary Bingemann; MIDSHIPS -- Bill Hahn, John Boley, Margarette Boley, Hugh Shall, Dave Bingemann; PORT -- Matt Small, Betty Small, Linda Ferguson, Mike Spear, Lynne Kleinfeldt, Rick Kleinfeldt.

Underway in Annapolis


Shown in front of Bancroft Hall are Earl Buck, Dick Augur, Dave Bingemann, Al Breen, Bill Earner, Bernie Patterson, Mike Spear, Hugh Shall, and Bill Hahn.

8th Company in Tecumseh Court



---

&nbsp Faithful correspondent Phillip Marsden sent this report after a lively '63 group watched Navy's thrilling victory over Army on 11 December.
&nbsp Classmates, what a game! A healthy sample of the SoCal contingent gathered at Lew and Lynn Blackwell's lovely condominium party room overlooking Petco Park in San Diego. The Blackwells were wonderful hosts providing great eats, a lovely venue, perfect weather, and a game for the ages. The photo below shows the attendees proudly gathered in front of our banner.

Army game party in San Diego



&nbsp The party crowd included Lew and Lynn Blackwell, Phillip Marsden (photographer), Steve and Karen Hoy, June Stone, Betty Ray Wilson, Win and Sally Orgera, Vern and Gail Von Sydow, Grant Telfer, Ted and Kay Krohne, Dave and Patti Meyers, Lee Cargill, Jay and Helane Roberts, Jerry Harken, Lee Tillotson, Ron Wills and guest, Mal Bruce '59. Also attending, but not in the photo, was a guest of the Blackwell's, Arlene Inch.
---
&nbsp Zimm Zimmerman provided this photo of '63 attendees at the Army Game in MetLife stadium in New Jersey. Shown are Keith and Sandy Reynolds, Mary Ann Nichols, and Steve Leisge. Thanks for cheering Navy to victory!



---
&nbsp Our final news item relating to the 2021 Army game was supplied by Bob Harper
&nbsp This picture was made at a post Army game victory celebration in Virginia Beach with Tom Hammond '64 and Tung Pham '89. Tom sponsored the entire Pham family from Vietnam into the U.S. and motivated both Tung '89 and Tommy '96 into USNA and successful Navy careers. Tom ran cross country with my roommate Max Ricketts. Carol and I were fortunate enough to sponsor both of the Phams as midshipmen and remain great friends still.

Bob Harper, Tom Hammond '64, and Tung Pham '89



---
&nbsp A steady supporter of this news exchange, Mike Rubel sent these two pictures from a few months ago.
&nbsp This photo of Jan and me was taken at a function for Oceana, an organization that studies and implements programs to clean up the ocean and beaches around the world.



&nbsp The picture of Ron Terwilliger and me is from a dinner with Ron and my daughter just after Labor Day at a great steak house on Long Island. We were celebrating their birthdays although Ron's was back in the early Spring.



---
&nbsp Classmates in the Washington, DC, area gather periodically for lunch at the Army-Navy Country Club in Arlington. Jim Ring sent these photos from the September event.



&nbsp Left to right in this photo at the table are Jim Ring, Phil Rooney, Steve Leisge, Forrest Siburt, Lew Blackwell, Keith Reynolds, Jim Czerwonky, Mario Fiori, Dan Koczur, Denny Conley, and Ed Brady.



&nbsp Shown here after the meal are Jim Czerwonky, Keith Reynolds, Steve Leisge, Dan Koczur, Denny Conley, Jim Ring, Forrest Siburt, Lew Blackwell, Mario Fiori, Bob Forster, and Ed Brady. Phil Rooney had departed before this image was made.
---
&nbsp Keith Reynolds has supplied a photo that Eli Dabich passed to him recently. It appears to have been taken at evening meal on 7 July 1959, the day the Class of 1963 entered the Naval Academy. Pictured, starting at the top center and going clockwise are Eli, Clay Dugas, Jack Hood, Unknown, and Keith. Jim Kuneman is at the end of the table next to Scotty Boyd '61. Can you identify the three unnamed classmates? I found that the picture appeared in the 1961 Trident Calendar. Do you remember those?



---
&nbsp Soon after Christmas 2021, several of our classmates engaged in an exchange of entertaining emails about Youngster Cruise experiences in 1960 and First Class Cruise in 1962. I combined extracts from six of the emails into a document "Midshipman Summer Cruises" which has been posted in the Pride and Tradition - Midshipman Memories section of our page. Click Here to see it. The contributors are Dave Thornhill, Tom Taylor, Neil Smart, Dave Lutes, Jim DeFrancia, and Doug Tozour. Read about holystoning, bilge cleaning, Riviera beaches, shore excursions, a medevac, European girls, and more.
---
&nbsp I remember, and perhaps you do, seeing USS KITTY HAWK (CVA-63) under construction at the New York Shipbuilding yard in Camden, NJ, as we crossed the bridge into Philadelphia for football games during our Plebe and Youngster years. Then and for many years after, we were proud to see 63 as her hull number. KITTY HAWK was commissioned in 1961. Her first Commanding Officer was CAPT (later ADM) William F. Bringle, who was Commandant of Midshipman when we entered the Naval Academy.
&nbsp KITTY HAWK was decommissioned at Bremerton, WA, in 2009 after almost 49 years of service. She was the Navy's last oil-powered aircraft carrier. In 2019 she was sold to International Shipbreaking Limited of Galveston, TX. KITTY HAWK left Bremerton under tow on 15 January 2022. Too large to pass through the Panama Canal, she will be towed around South America into the Atlantic, then northward to Galveston where she will be broken up. The transit is expected to take about four months.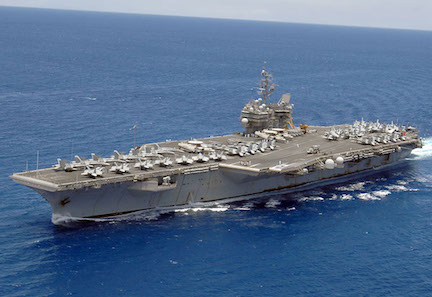 USS KITTY HAWK (CVA-63/CV-63)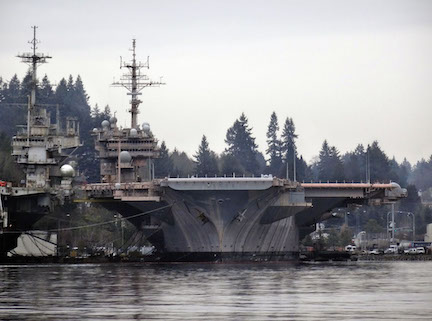 In decommissioned status at Bremerton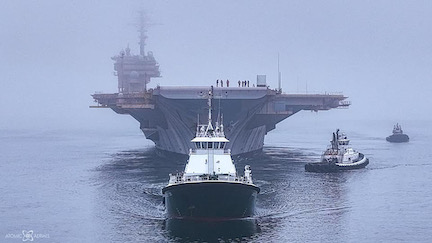 Under tow from Puget Sound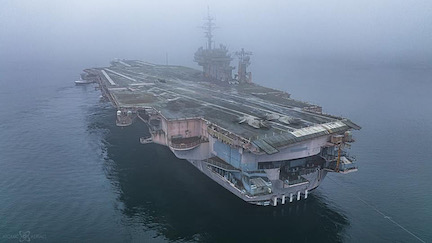 Under tow. Note the ship's screws on the flight deck
---
&nbsp Thanks to those who contributed to this month's column. I hope you will follow their good example and contact me with news of your own. We'd love to hear from you.


---