Shipmate Column
March 2005
---
CLASS OF 1963
Pres: CAPT W. Spencer Johnson IV, USN (Ret.)
Sec'y: Michael H. Shelley
25 Sweetwater Lane, Pisgah Forest, NC 28768
h: 828-862-4245 e: nstar@citcom.net
Web site: http://www.usna63.org.
For any classmate you can go to the Classmates Page and enter their name to read their current biography if available.
---

&nbsp Our new class president, Spencer Johnson, has issued this letter to the class.
&nbsp Dear Classmates,

This is the first of many letters to you as your newly elected and much honored class president. I hope to have a continuing dialogue with each of you and your families as we plan class activities and further the strong bonds we all established while at the Naval Academy and in subsequent years of service and continued association.

I would like to take this occasion to extend our collective sincere thanks to Steve Duncan for seven years of selfless dedication and tireless effort as our class president. Steve has represented us well and forcefully to the Naval Academy and other graduates through the Alumni Association. He has been instrumental in guiding our efforts through both the '63 Class Foundation and the class organization to increase class cohesion, to memorialize our deceased classmates, and to ensure that the special needs of classmates and families were met. His leadership has been dynamic, energetic, and inspirational. We are all in his debt.

One of my goals is to increase our opportunities for class social interaction. On 11 February, the sixth annual '63 Valentine's Dinner Dance will be held at the Army Navy Country Club in Arlington, Virginia. This event comprises the West Point and Air Force Academy of '63 as well. This year Air Force is the host. This well attended mid-winter gathering is always an evening of real fun and dancing. Details of the Valentine's dance can be found on our class web site (www.usna63.org) under Hot News. I hope you can join us.

Similarly, periodic class luncheons are being sponsored on a very informal basis in the Washington area and in Annapolis where a number of classmates are to be found. Tailgating at home games and away games is getting better and we will erect a tent next year here in Annapolis. I know that similar events or others occur frequently in various parts of the country wherever "two or three shall (or can) meet"so old tales can be retold and later shared with the rest of the class. Local classmates and company representatives can make a real contribution to fostering class events between reunions and many are doing so. Along these lines, the Class of '61 has had real success with cruises scheduled between reunions. This is one idea I hope to explore

Speaking of reunions, our 45th occurs in 2008. The home game schedule has just been tentatively penciled-in with four home games played in Annapolis. The best weekend for us appears to be 30 September, a date that does not conflict with '58's 50th reunion, the comprehensive USNA Homecoming weekend, and the Annapolis power boat show, all of which occur on 18 October. While a reunion committee has not yet been formed, I will take initial steps to reserve as much as I can now for the weekend of 30 September. One idea is to replace the class dinner with a large extended cocktail and heavy hors d'oeuvres gathering that will allow us all to circulate amongst a larger group than a seated dinner allows and other events will permit. Please mark your calendars now for the weekend of 30 September 2008.

In December, Eli Dabich and I had a two-hour meeting with Professor Bowman of the Class of '63 Academic Excellence Center, which we endowed with a $1.2 million dollar gift at our 40th reunion. The Center conducted counseling and tutoring for over 1,000 midshipmen in the recently completed fall semester, three times the number assisted the previous year. Professor Bowman reports to the Academic Dean and the Superintendent frequently on the Center's activities and progress. The core of the Center's program to develop individual study habits and skills has also been extended on a trial basis to the Naval Academy Preparatory School in Newport, Rhode Island, in an effort to instill these academic survival skills early. There is no doubt that the '63 Academic Excellence Center has the continuing attention of top leadership and will continue to make a signal contribution to the pursuit of academic excellence at the Academy. The class has made a major difference with its gift, one that is having effect and that impacts a very large number of present and future midshipmen.

A just received letter from George Watt, President and CEO of the U.S. Naval Academy Alumni Association, thanks the class of 1963 for its purchase of donated seats to the great Emerald Bowl that put Navy over the top in this most successful football season since we were Midshipmen. He says in part , "Thanks to you and your classmates, we were able to send over 1,600 midshipmen to the game as well as Sailors, Marines, Soldiers, Airmen, Coast Guardsmen, and Reservists with their families, thus providing the critical support needed for the long-term future of the Navy football program. The Class of 1963, as members of the Extended Brigade, helped to spotlight the midshipmen and enhance national awareness for the Naval Academy."BZ, '63.

Finally, I have attended two meetings of our class foundation and am much impressed by the efforts of our classmates engaged in seeing to the needs of the descendants of our deceased classmates and other activities to memorialize those of us no longer present for muster. Dave Puckett is doing a superb job in leading the '63 Foundation efforts. I commend you to his recent letter on our web site. Remember that the '63 Foundation is all of us and your interest and participation are of paramount importance now as in the past.

The Class of 1963 officers are all looking for you input and ideas. We need them. Let us hear from you.

Spencer Johnson, President 410-626-7934
poohbear41@comcast.net

Jim Ring, Vice President 703-823-0561 jep.ring@1963.usna.com

Mike Shelley, Secretary 828-862-4245
nstar@citcom.net

Al Sherman, Treasurer 703-273-8634
shermana@erols.com

Please give us a call or send an e-mail.

Quality '63

Spencer
---

&nbsp What a great season for Navy football! The final game in the 10-2 campaign was the Emerald Bowl in San Francisco, attended by several of our classmates and their ladies. Local resident Jim Oakes stepped forward and coordinated communications and planning for '63, with assistance from Bob Miller. Here is Jim's account of the opening event:
&nbsp On Wednesday, 29 December, I hosted a dinner for the Class of '63 in San Francisco for the Emerald Bowl at a private club called the Villa Taverna. Attendees included: Bob and Chris Miller, Gail and Craig Barton, Margarette and John Boley, Arlene and Forest Siburt, Sue and Ben Cole, Susan and Jim Penrod, Art Weidner, Lew Blackwell and his firstie, Angelo Karampalas, Bob Forster, Gail and Vern Von Sydow, Vicki and Roy Warren, Eileen and Mark Schwing, Chet White, Ginnie and John Dolby, Bob Easton '64 and his daughter Lara, John Newton and his guest Pat Leicher, and Arlene Inch with Jim Oakes. The rain failed to dampen our spirits and in between our gourmet meal we drank several toasts to the anticipated Navy victory the next day.
---

&nbsp Ben Cole supplied these snapshots from that evening.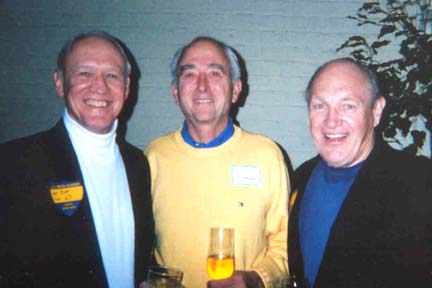 Ben Cole, Art Weidner, Vern Von Sydow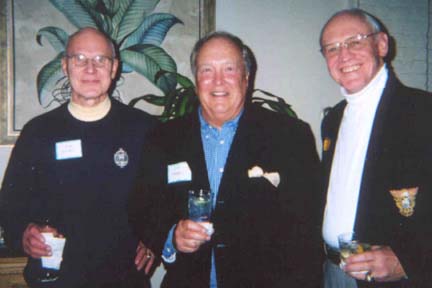 John Boley, Jim Oakes, Ben Cole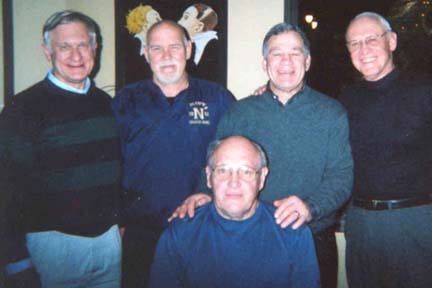 Erwin Storz, Bob Easton, Vern Von Sydow, Pete Optekar, Ben Cole

&nbsp Don Freese also provided images from the tailgate and the stadium.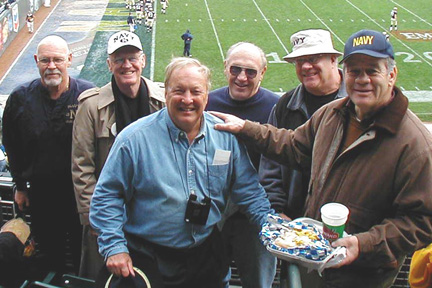 Bob Easton '64, Ben Cole, Jim Oakes, Vern Von Sydow, Mark Schwing, and Pete Optekar before the game.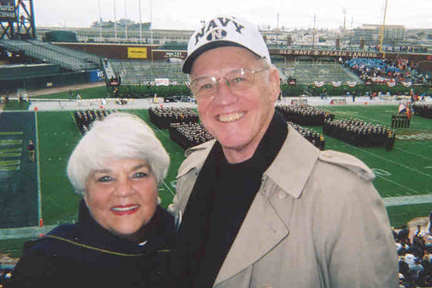 Sue and Ben Cole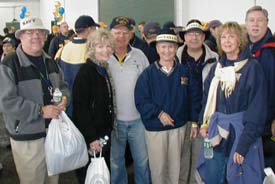 Tailgaters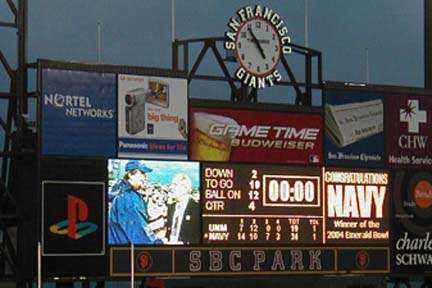 The scoreboard sums it up
---

&nbsp John Newsom prepared an account of Bucks County, PA, Army-Navy game spirit and social activity involving our classmates.
&nbsp The day broke beautifully for the 2004 game. Whenever two or three shall meet... it's time for a party.

Bucks County, PA, spirit on display


The longball hitters from the class of '63 got in some extra innings by starting the pre-game party early -- Vern Shotts, John Conroy, Bernie Grabowski, and me in my full dress blue bravo midshipman uniform. The cap and shoes fit much better than the uniform, which seems to have shrunk over the years.

Informally dressed guys with uniformed John Newsom


As the party progressed, other USNA alumni joined the festivities and are pictured in this snapshot: John Newsom, Bernie Grabowski, Lee Pantas '90, Jorge Brealey '74 (who came from Costa Rica for the game), John Conroy, and Vern Shotts.


It was a great game and the party continued when we all returned from the stadium in Philadelphia. Search and rescue produced Jim Tolbert and John Castro for the post-game muster to celebrate another Navy victory. This snapshot shows (standing) John Conroy, John Newsom, Dave Honhart, and Fred Storz; in the front row are Jim Tolbert and John Castro.

Celebrating after beating Army


Still standing at the end of the evening with John Conroy holding up his sign (and the rest of us), we took our parting shots. Pictured left to right in this final photo are John Newsom, John Castro, Dave Honhart, John Conroy, Lee Pantas '90, Vern Shotts, Jorge Brealey '74, and Fred Storz.

'63 sez Beat Army!


We have a year to recover and get ready for the next game. If anyone can get Ed Shields to come to the party, Dave Honhart's beer will be waiting for you.
---

&nbsp One of the most enjoyable parts of the Class of 1963 web site is the Pride and Tradition section. We have just added some interesting reminiscences to the Midshipman Memories collection there. These came from Dirck Praeger, Norm Shackleton, and Jim Ring. Dirck remembers an encounter with LCDR Jack "Black Jack" Scoville '49, then considered by the Mids to be the terror of Bancroft Hall. Webmaster Steve Coester found and contacted the legendary Black Jack, who responded with an anecdote from his viewpoint. I'm sure you will enjoy reading these accounts, and I encourage you to send me a story or two from your own memory bank.
---

&nbsp From Virginia Beach, frequent contributor Jim Metcalfe sends this news of our classmate Merrill Dorman:
&nbsp I went to a Naval Order of the U.S. dinner on 7 December in remembrance of Pearl Harbor. Norfolk residents Dee and Merrill Dorman were there. A submariner who retired as a Captain, Merrill is a senior engineer with EG&G. As most submariners will know, Merrill literally wrote the book on operating submarines under the Arctic ice. He is still getting aboard the boats. He recently examined a sub from bow to stern to evaluate its damage control and obviously enjoys keeping his hand in the business. Dee is librarian at Norfolk Collegiate. They also have an All Navy family. Daughter Libby is married to CDR Tim Trampanau '89, who is stationed in Stuttgart. Their son Ben, a VMI graduate and LCDR, is a submariner and the sub scheduler on the SUBLANT staff. Their daughter Alice is married to LTJG Barnard '01, the MPA on an SSN.
---

&nbsp Last month I announced an addition to the"Gold Pages" business directory on the 1963 web site - a new classification for "Good Works/Charities" to include information about such organizations headed by our classmates. Since then, we have added Global Involvement through Education, whose president is Dick Guffey. To learn about this organization, visit our Gold Pages or go directly to its web site at www.globaliedu.org .
---

&nbsp Larry Marsh tells us that members of the 20th Company in the Washington, DC, area held their "very traditional" annual Christmas dinner again in 2004. This year marked the 20th consecutive year the companymates have held the event! Larry provided two photos taken that evening.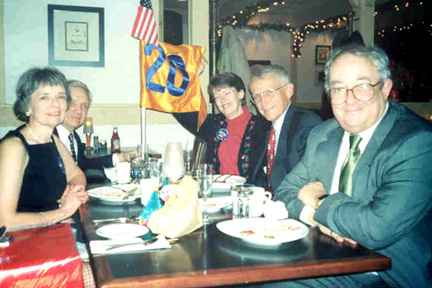 20th Company's 20th Christmas dinner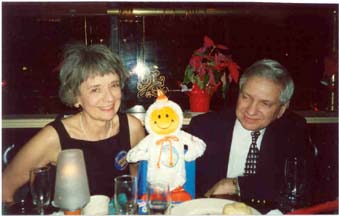 Karen and Dan Koczur and the dancing chicken

&nbsp The first shows Karen and Dan Koczur, Barb and Larry Marsh, and Charlie Robbins. In the second, Dan is shown with the Christmas gift he has always wanted -- a Christmas chicken that does the chicken dance on command. He played with this treasure all evening.
---

&nbsp Peter Featherstone's New Year's greeting brought a nice picture of his family, which I'm including here. It shows Charlotte, their son Reid, and Pete after the Thanksgiving Day game between the two high schools in Norwalk, CT. The big trophy is given to the annual winner of this rivalry.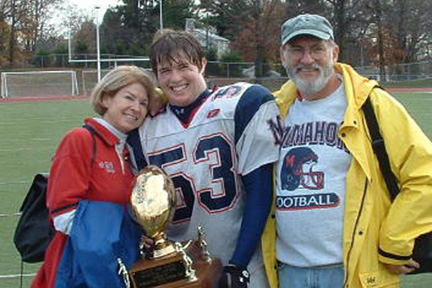 The Featherstone family
---

&nbsp Jim Koehn submitted this snapshot of himself and Fourth Companymate Dave Shute taken in Las Vegas after an Army-Navy party there. Jim's USNA 63 license plate is clearly visible between them.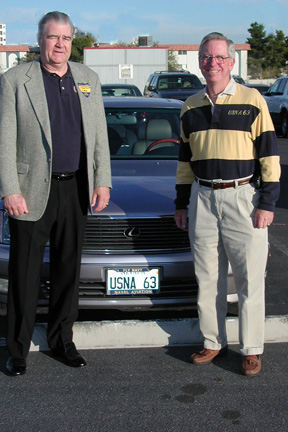 Dave Shute and Jim Koehn in Las Vegas
---

&nbsp In December, Yvonne and Steve Coester received a visit from Ann and Tom O'Brien, who were in the Jacksonville, FL, area to spend time with their children during the holidays. Steve says that
&nbsp Ann and Tom found time to drive the two and a half hours down to Rockledge with a dual purpose. First, they dropped in on us for a leisurely lunch and a tour of the area and lots of catching up. Then, they visited another Academy friend, Mike Bordy '65, who recently moved to Viera just a couple of miles from our home.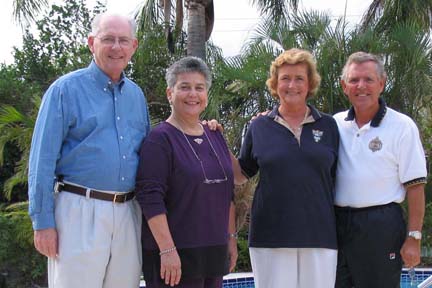 O'Briens and Coesters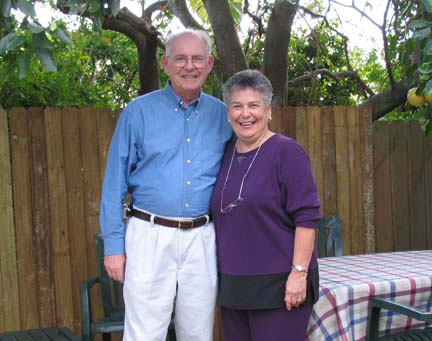 Tom and Ann O'Brien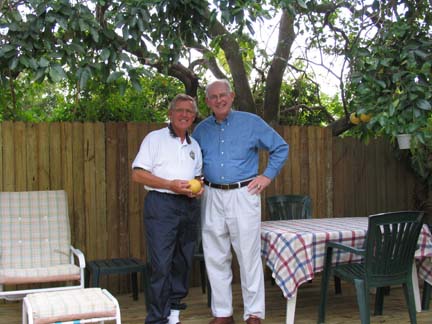 Steve and Tom
---

&nbsp Steve and Yvonne Coester also skied at Breckenridge, CO the week before Christmas. Their son Dean and grandson Stephen joined them. Here's a photo of Yvonne and Stephen on the slopes and one in Dean's Parker (Denver) apartment.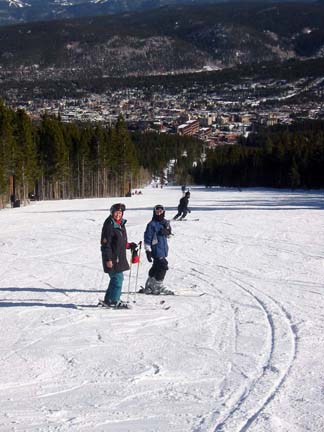 Yvonne and Stephen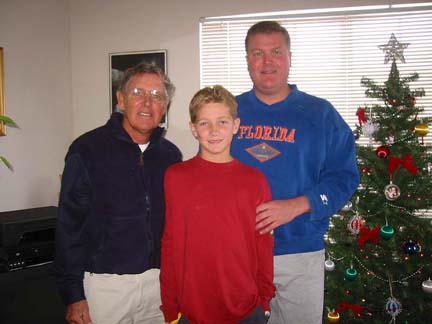 Three generations of Coesters
---

&nbsp And that's all for now, folks. Please take a minute soon to send me a note or an e-mail saying what you've been up to lately. We'd all like to hear from you.



---