Shipmate Column
March 2018
---
CLASS OF 1963
Pres: CAPT W. Spencer Johnson IV, USN (Ret.)
Sec'y: Michael H. Shelley
164 Sweetwater Lane, Pisgah Forest, NC 28768
h: 828-862-4245 e: nstar@citcom.net
Web site: http://www.usna63.org.


For any classmate you can go to the Classmates Page and enter his name to read his current biography if available.
---
---
&nbsp It is my sad duty to report the death of our classmate Frederick Peter Haeni, who passed away on 26 November. His widow, Jane, may be contacted at 32 Longhill Road, Deep River, CT 06417-2110. You can read Pete's obituary in the Last Call section of our web site by clicking HERE .
---
&nbsp I have received a report that our classmate Eddy Joe Mascitto died on 30 April 2017. Other details and family information are not available.
---
&nbsp Bruce Webb sent this account of the latest assembly of his 17th companymates:
&nbsp On the 17th of November, Jerry Mulholland and I flew to Detroit on our way to South Bend for the biennial Dave Riley Memorial 17th Company get together for the Navy-Notre Dame Game. We flew into Detroit and drove up to Warren, MI, to have lunch with our companymate, Tom Locke. He is doing fine in retirement and looks younger than Jerry or me!

Locke, Mulholland, and Webb



&nbsp We then proceeded down to Michigan City, IN, where we met up with our companymates from the 17th company. This has been a biennial event for Notre Dame's home games set up by Dave Riley back in the 90's. We managed two nights of dining, telling lies (some of which were true, according to Phil Gubbins), and enjoying the camaraderie of old friends, as arranged by Mike Obsitnik. The game with Notre Dame was a good one with Navy competitive until the last two minutes. It rained throughout the game and reminded us of our plebe year when we stood in the rain for the whole game. But we won the party afterwards!
&nbsp The participants appear in this picture. Back row L to R: Jim Richards, Jack McDonald, Jerry Mulholland; front row: Mike Obsitinik, Phil Gubbins, Jerry Jordan, and Bruce Webb.

17th Companymates



---
&nbsp Thanks to Gwen Wyttenbach for sending this note and photo.
&nbsp It was great to see the latest Shipmate column today. I always love reading about and seeing what your old classmates are up to. It reminded me that you might enjoy seeing this picture of Andrea and Spencer Johnson and Barbara and Joe Strasser along with me and Jim and Rosi Stark. Jim (USNA '68, I think) was at the Fletcher School of Law and Diplomacy with Joe, Spencer, and Dick). We were having a get-together lunch on December 4th over in Annapolis at the Severn Inn.

Starks, Gwen, Strassers, Johnsons



---
&nbsp Dave Bingemann filed this report on the 8th Company's annual reunion.
&nbsp The latest reunion of the Terrible Tenth (later the 8th Company) was held this Fall. Since 1994, we have been holding Company mini-reunions almost annually somewhere in CONUS in between the five-year homecomings in Annapolis. We try to split our get-together's equally between the two coasts, and usually have roughly 50 percent of us attending each event.
&nbsp This year, 14 of us out of 31 gathered 9-13 October in Miamisburg, OH, near Dayton, hosted in fine style by Lynne and Rick Kleinfeldt. We thoroughly enjoyed three full days of tours. The first day was spent in Dayton in the morning at the Carillon Historical Park, where we learned all about the historical significance of Dayton, home of the Wright Brothers and NCR, and in the afternoon at the National Museum of the USAF, where we were able to observe static displays of over 350 aircraft and spacecraft, everything from the Wright Brother's first plane to the XB-70. The second day was spent in the Cincinnati area touring the Krohn Conservatory Fall Floral Show, then after, a BB Riverboat dinner cruise on the Ohio River. On the third day, most went to the Dayton Art Institute, while a number of us toured and six of us actually got to fly in a 1911 replica of the Wright Brothers first contract plane built for the Army for WWI, the Wright "B" Flyer. What an experience! Most all dining was at small local restaurants, some of historical significance. We all had a wonderful time, but most importantly during our get-together, we all enjoyed good fellowship and the hospitality of the Kleinfeldts. We all discovered that Dayton has a lot to offer, and it was just a real pleasure to visit.
&nbsp Those attending were of course the Kleinfeldts, plus the Augurs, Bingemanns, Boleys, Breens, Bucks, Calvanos, Dickersons, Earners, Ellisons, Pattersons, Ollie Doherty, Hahn, Kell and Sandy Blagini, and Schall. With spouses and friends, we numbered 27 strong. We all had a terrific time. Here are two photos of the group. One was taken on the carousel at Carillon Park; the other shows the six of us after flying in the Wright "B" Flyer: L to R, the Boleys, the Bingemanns, Kell and Sandy.
&nbsp In 2018 we go to the West Coast and will reconvene at our 55th Reunion in San Diego.

8th Company reunion in Dayton, OH




Wright flyer Aeronauts



---
&nbsp Our busy actor, the versatile Nick Nerangis, has provided this summary of his acting background and recent highlights. He's having quite a third career after being a naval officer, then a McDonald's franchisee and business developer.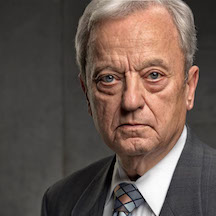 Nick Nerangis
&nbsp I've started on a very satisfying run. I have won three best actor awards in international film festivals in the last two years. I have been a granddad, cuckolded rich guy, and psychotic serial killer. I have been lucky enough to now be signed by a major talent agency and am looking forward to having national representation.
&nbsp Acting has always been my passion, having begun in New York at the age of six as a child performer/dancer. I did not work on stage at the Naval Academy since not being a slash, I preferred to graduate. I did form a PR singing group in the nuclear fleet around the world cruise in 1964. I returned to acting with the Children's Theatre of Richmond, VA, doing eight seasons with them. I also briefly taught classes in make-up, having been a guest clown on occasion for two years with the Ringling Brothers and Barnum & Bailey Circus. Upon moving to Winchester, VA, I joined the Little Theatre there and was noticed and asked to attend Shenandoah University's theatre program. That led to becoming a regular cast member at The Wayside Theatre in Middletown, VA, an equity house. Film work followed. I have the pleasurable benefit of not competing with all those young women and handsome dudes. I have also worked on "The West Wing," "House of Cards," "America's Most Wanted," and many other television series.
&nbsp One of my first significant film roles was in a low budget film entitled "A Little Off The Top," in which I played a respected businessman who went insane and became a serial killer of seven people. (They all deserved it!) I won my first best actor award for that performance at the World Music and Independent Film Festival. My latest highlight was the recent opening in Los Angeles of my new film, "Spent," in which I have the lead male role. I'm living my dream and having fun, and now with a well-known agent, I feel it is just beginning. I'm spending my "retirement" pursuing acting in film and television and loving sharing with Kathy, my three children and our seven grandkids, watching them grow into adults.
&nbsp Nick mentioned his latest film, "Spent." It has been well received around the festival circuit, and is now streaming on Amazon. It can be seen for free on Amazon Prime and on pay-per-view without Prime. I've watched it and I think you'll enjoy it also.
---
&nbsp Continuing their long-established tradition, members of the '63 family in the San Diego area convened to watch the Army-Navy game on 9 December. Phillip Marsden supplied this account.



&nbsp As the photo shows, we had a wonderful turnout for this year's game party. Lynn and Lew Blackwell hosted our affair in their condominium's elegant party room with its sweeping veranda overlooking Petco Park (home of the San Diego Padres baseball team) and the downtown Gaslamp District. Besides our gracious hosts and my lovely wife Martha, attending were Dave and Patti Meyers, Charles and Nancy Helsper, Karl and Marirose Kozak, Alan and Terry McAnally, Jerry and Rowena Harken, Win and Sally Orgera, Steve and Karen Hoy, Bill and Dottie Hughes, Lee and Sue Cargill, John and Betty Middleton, Janet Gushue, Rich Wilson, Dick Andrews, Vern Von Sydow, Ted Krohne, Grant Telfer, Maureen Hogan, and special guests Chuck and June Stone. Spirits were high as we tried to help Navy pull out a victory. An interesting note is that we kept hearing cheering at inappropriate times during the afternoon game. We finally discovered that local Army alumni had gathered at a watering hole facing a veranda bordering the condominium! They got to sing second. We will get them next year!
---
&nbsp Jim Lasswell sent this picture from an Army game event. With him is Malik Harris '13, a member of our Link in the Chain class.



&nbsp Responding, I asked Jim to provide an update about his activities. He provided this full overview a day later.
&nbsp My last update was around the time of my marriage to Cindy Jensen in 2007. Since then we have both continued working, Cindy as a Civil Servant working for SPAWAR Systems Center Pacific; supporting the Depot as a Contract Support Manager. I have continued to run the company that my late wife Kathy and I started in 1997. We were able to meet with many Companymates and Classmates during the midterm reunion and look forward to the reunion next year.
&nbsp Both of us sense the end our working days and have begun to pare back a bit. In 2016, we took a Uniworld river cruise with an old shipmate Gerry and Gail Nifontoff on the Rhine (Castles on the Rhine.) We started in Amsterdam and ended up in Basel Switzerland. In 2017, we took a trip to London, Paris and Normandy. We were lucky with the Normandy tour (a one-day jaunt from Paris) to have an 11-person van with all the others cancelling and two guides who knew everything possible about the invasion. A wonderful day beginning on the Omaha beach to the spectacular view from Pointe du Hoc to all the emplacements and museums. Of course, we left Paris with a bit of wine remaining and enough food to support life for a short period of time. We have decided that this vacation travelling is worth doing.

At Pointe du Hoc



&nbsp I mentioned that both of us have been considering retirement. We have continued to enjoy our respective jobs and looked at pulling the plug when Cindy's twin daughters complete college near the end of 2019. Cindy has come to enjoy her role at SSC-PAC and truly enjoys working for her Class of '90 boss, Adam Bovshow. I, on the other hand, have enjoyed my time at INDUS Technology, starting with Kathy and me and no funding, growing to over 220 people. A good exit strategy from a Small Business with contracts won as a Small Business or Service Disabled Veteran Owned Small Business is very problematic. In addition, my previous work with the Ogden Corporation taught me a great deal about acquisitions and divestitures and the damage the activity causes to key employees. Fortunately, I was able to work out a leveraged buyout transfer to one of my employees. Bottom line is that the company, and our key employees, remained undamaged and, for a couple of years, I will be able to continue working part time as an advisor to the new owner. This will enable my glide path, reducing hours working, while continuing to interface with the Defense community and the associations that I love to work with. We already have plans for another river cruise from Budapest to Prague with some tourism through Bavaria. There are some side bets about whether I will really pull away from the day-to-day work, but travel has become a new obsession. Speaking of obsessions, I have dug into playing Duplicate Bridge again and play frequently when I am not at Poker Tournaments.
---
&nbsp Just as I was completing this column, I received an email from Jack Hood, who had attended the Military Bowl at the frigid Navy-Marine Corps Memorial stadium in Annapolis
&nbsp We made it to the game despite the single digit wind chill and had a great time. My son John, granddaughter Katie, and her friend Matt joined me for the second time in three years to celebrate Navy in the local bowl game.

John, Jack, and Katie


I talked to Eli Dabich, my plebe summer roomie, and the local '63 Annapolis contingent at the alumni tailgate. The food and drink they put out could not be rivaled anywhere in the stadium. The game started out just as the game two years ago did with Virginia returning the opening kickoff 98 yards for a TD. That was it for Virginia. Navy dominated totally and at half time we were all resembling ice cubes so called it a day with Navy up 28-7. They made it 35-7 before we cleared the stadium and ended up with a 49-7 thumping of Virginia. We are all thawed out now and savoring the final victory of the year.
---
&nbsp Watt Miles forwarded some vintage midshipman photos he had received from Bill Runkle this December. Here are two of them. If you can name the unidentified person, please tell me.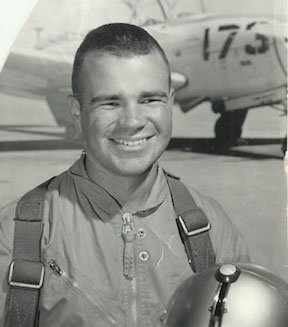 Bill Runkle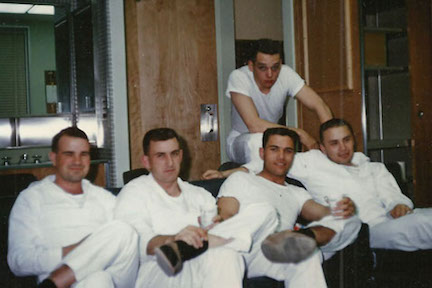 Bill Runkle, Stan Smiley, Dick Bachman, Austin Lett (rear), and ?
---
&nbsp Thanks to all the folks who took a minute to send news to be shared with you. Now it's your turn, so I hope to hear from you soon.



---