Shipmate Column
March 2020
---
CLASS OF 1963
Pres: CAPT W. Spencer Johnson IV, USN (Ret.)
Sec'y: Michael H. Shelley
27 Cambridge DR, Brevard, NC 28712
h: 828-506-2201 e: nstar@citcom.net
Web site: http://www.usna63.org.


For any classmate you can go to the Classmates Page and enter his name to read his current biography if available.
---
---
---
&nbsp We have a full column this month but begin with two losses in the '63 family.

&nbsp Our classmate Thomas J. Mikulis passed away on 13 December. His widow, Doris, can be contacted at 264 Godfrey Drive, Norton, MA 02766.


&nbsp Linn Bowman, wife of our classmate Teb Bowman, died on 1 December following a lengthy illness. Teb can be contacted at 11506 Big Canoe, Jasper, GA 30243.
---
&nbsp Steve Leisge provided this report about a memorable weekend in November.
&nbsp On 21 November 2019, Cdr. (Ret) Chester Benny Cole was interred at Arlington National Cemetery with full military honors. Benny passed on 27 August 2017 after an extended illness. The service and ceremony were attended by his lifelong wife and partner, Sue, their daughters (Debbie, husband Michael, daughters Ana, Alexis, Arlena and Lorrie, husband Hal, daughter Ava) and 40 of Ben's relatives, classmates, and spouses; many traveled from across the country to honor Ben's memory, his service, and his comradeship. Following the service, all attended a luncheon at the Ft. Myer Officers Club where many fond memories and stories about Ben were shared.

After Ben Cole's interment



&nbsp Seated in this picture of mostly 23rd Company guys are Zimm Zimmermann, Keith Reynolds, Sue Cole, Steve Leisge, and Bob Maier. Standing are Jim Ring (16), Bob Nelson, Dick Ellsworth, Wes Jordan, Mario Fiori (12), Felix Degolian (19), Forrest Siburt (1), Dick Ortwein, Bill Palafox, Bill Bradford, Steve Hoy, and Spencer Johnson (7) .
&nbsp Ben, being a member of the 23rd Company, would have applauded the Company for staying in form by using the occasion of so many company-mates together to create a party. Twenty-five companymates and spouses drove to Annapolis for a mini reunion and to continue our celebration of Ben's life. Memories, dinner, and some imbibing were shared at the Graduate (formerly Loews) Hotel. The next day we had a tour of USNA guided by a docent, Bob Cepek, from the Class of '64. We saw the new buildings, plus some still under construction, and noted that the diggers and fillers are still running neck-and-neck. The tour included a thirty-minute briefing by Bruce Bukowski, Dean of the CAE; not only was the briefing very informative, but we were all impressed with the facility and the success of this program that our class created and continues to support. That evening was dinner in the Alley at the O' Club. Saturday, we continued with a catered tailgate with the season ticket regulars and members of the Class of 2013. After the game we repaired to McGarvey's at the City Docks to dine on excellent seafood. All in all, we sent Ben off in grand ceremonial style and refreshed our friendships with companymates.
---
&nbsp Jim Ring reported on a significant observance at the stadium that weekend.
&nbsp I was honored to be invited to the Honor Our Fallen Heroes Ceremony at the Navy-SMU football game. The event honored graduates who were killed in combat or in the line of duty. The '63 honoree was Rick Trani, who was killed while a SEAL in Vietnam. At the lunch before the game, Felix Degolian, Peter Browne, his wife Jackie, and I met with Rick's daughter, Cathy, and her two sons, Max and Sam. Felix had been Rick's roommate during plebe year and Peter had been his roommate during two other years. Cathy and her children were very pleased to meet with classmates who knew Rick personally, so she could learn more about her father, who died when she was four. She had been to some SEAL reunions and found out about her Dad while there, but she had little contact with the Academy and '63 other than the college grants from the Class Foundation. After lunch, we went to the class tailgate, where she met with more classmates who could tell her personal stories about her Dad. Satch Baumgart told her about his working with Rick while both served in Vietnam. After that, Felix, Cathy, her two sons, and I went onto the field where all the families of the Fallen Heroes were introduced. I think it was very meaningful for Cathy and her sons.
&nbsp Cathy told me that Rick had come home from a tour in Vietnam and within a few weeks, he was ordered back. He was injured on a patrol by a land mine and lay in the hospital for about 10 days before he died from either an embolism or a blood transfusion from the wrong type of blood.
&nbsp The day meant a lot to Felix, Peter, Cathy, her sons, and me. Cathy and her sons live just up the road from Annapolis in Baltimore. Here is a picture taken before we were introduced on the field. From left to right are me, Felix, Cathy, and her sons.

Before the ceremony



&nbsp Commenting on the ceremony, Felix added,
&nbsp Each fallen alumnus was mentioned, and family and friends were recognized. During a 1st quarter time-out we were all escorted to the south end zone line where we stretched from sideline to sideline and the collective group was recognized. When the crowd realized that fallen grads who gave their lives for our country were being honored the cheer was amazing. I was proud to be there. Cathy was overwhelmed.
---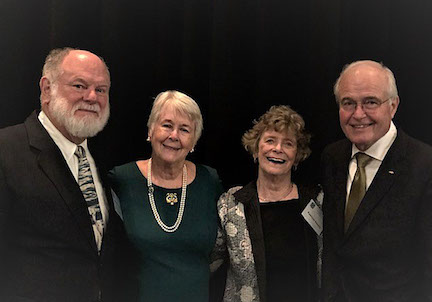 Dormans and Emerys


&nbsp Merrill Dorman tells us about an honor conferred on a fellow '63 submariner.
&nbsp This is a picture of me, Dee, and Pat and George Emery at the Naval Submarine League Annual Symposium Banquet on 7 November in Crystal City, VA. The occasion was George being honored as the 2019 Distinguished Submariner for his lifetime of dedication to the Submarine Force. His 33-year naval career on five submarines culminating in his appointment as Commander of US and Allied Submarine Commands, Atlantic, by President Clinton in 1993 is well documented on the Flag page of our class web site. Following retirement he continued to play an active role within the submarine community serving as a director of the Naval Submarine League, a member of the Secretary of the Navy's Advisory Subcommittee on Naval History, and as Vice President of the Naval Historical Foundation. From 2004 to 2014 he Chaired the annual Submarine Technology Symposium, the premier conference of its kind bringing military and industry together in a classified forum to tackle the detail challenges of the ISR and ASW missions of the Submarine Force.
&nbsp I routinely attend the Annual NSL Symposium to promote the Dolphin Scholarship Foundation for which I am the Secretary and Treasurer on the Board of Directors. DSF annually awards about $400,000 in educational support to dependents of qualified submariners. Visit us at www.dolphinscholarship.org for more info or just to donate.
---
&nbsp Mike Krause supplied this news of the December alumni luncheon in New York City.
&nbsp Congratulations to all the attendees and guests for making this year's Christmas Luncheon at the historic Union League Club a memorable success. We welcomed visiting classmates Kent Maxfield and Steve Leisge from DC and Spencer Johnson from Annapolis. Also joining us were Joel's Gardner's daughter Ellen '89, Scott Wilson's son Gordon '91, Spencer's brother Charlie '66, and Bob Campbell's son David.

New York City Christmas luncheon


Shown (L-R) in this picture are Gordon Wilson '91, Charlie Johnson'66, Rob Black, Scott Wilson, Spencer Johnson, Chris Munger, Kent Maxwell, Ken Metviner, Robbie Newton, Bill Palafox, Jack Colyer, Mike Krause, Steve Leisge, David Campbell, Joel Gardner. Present but not pictured were Ron Terwilliger and Ellen Gardener.
---
&nbsp Here's some news from Chicago, sent by Fred Kaiser.
&nbsp On November 15th I was invited to attend a luncheon put on by the Chicago chapter of the Alumni Association. I rarely have the opportunity to attend these events, but I thought this one would be special with USNA Superintendent Vice Admiral Sean Buck being the speaker. He was in town for the Notre Dame game the following day. The event was held at the Chicago Yacht Club and it was well attended. Klara and I enjoyed having the opportunity to meet both Astronaut James Lovell and Admiral Buck. My hip replacement surgery took place the following Monday at the Captain James A. Lovell Federal Health Care Center in North Chicago. I mentioned to the Captain how pleased I was with the facility. Admiral Buck gave an excellent talk. He discussed the Academy as it is today and his priorities during his term as Superintendent. He spoke about the retention rate of the Midshipmen and said that one of the biggest contributors to high rate was the assistance that was provided to the Midshipmen by the Center for Academic Excellence. Our son Chris graduated from the Academy in the class of 1992 and was a classmate of the current Commandant, Thomas Buchanan; they also went to Sub School together. We are very proud of Chris, who is currently the CFO for PIXAR Animation in California.

Fred Kaiser and VADM Buck




Fred and CAPT Jim Lovell



---
&nbsp Continuing a long-established tradition, many of our Southern California classmates came together to watch the Army-Navy game and -also a tradition - celebrate a Navy victory. Phillip Marsden filed this report:
&nbsp Lew and Lynn Blackwell were our hosts at their downtown condo for a gathering of the SoCal Navy faithful. On a beautiful, sunny San Diego day, we enjoyed cheering on Navy's stirring victory over Army after a three-year drought. As shown in this photo, our hosts were joined by Lee and Sue Cargill, Tim and Valerie Cook, Steve and Karen Hoy, Phillip and Martha Marsden, John and Betty Middleton, Dave and Patti Meyers, Bill and Dottie Hughes, Karl and Marirose Kozak, Ted and Kay Krohne, Win and Sally Orgera, Vern and Gail Von Sydow, June Stone, Jay Roberts, Grant Telfer, and Jerry Harken. Spirits were high as we enjoyed catching up with old friends who never tire of hearing our sea stories.

Beat Army in San Diego



---
&nbsp Speaking of the Army game, Jim Metcalfe sent a text and photo from the stadium just before the fourth quarter began.
&nbsp Ed Brady's daughter saw my Navy '63 hat and pointed me out to Ed. My son, Jim (U.Va. NROTC '94 and a Navy OGC attorney and Navy Reserve CDR.), took the picture. Ed was in the Army's 82nd Airborne after our graduation. Later, in Vietnam, he was in a Ranger outfit and later in a classified program. He and his wife now live in the McLean, VA, area. It was great to see him after many years.

Jim Metcalfe and Ed Brady at the Army game



---
&nbsp Thanks to Steve Coester for sending this information about his former teammate, Lee Pekary.
&nbsp Lee was one of the greatest racket men in USNA history. He was an All American in squash and played varsity tennis for three years, being captain and number one player in 1963. Recently he has had some health challenges and tennis teammate Lanny Cox reached out to the Navy tennis coach for some mementos for Lee. The shirt Lee is wearing in the photo below was sent by the coach in recognition of Lee's contribution to Navy tennis. Lanny was on the tennis team youngster and segundo years; but was injured first class year and couldn't play. The only two lettermen from our class on the '63 tennis team were Lee and me. We were undefeated doubles partners that year.




Lee with his great-granddaughter



---
&nbsp Another 1963 company reunion was held this fall. Mario Fiori reports:
&nbsp The 12th Company had its 46th reunion at USNA for the South Florida game weekend October 18-20. We had a wonderful dinner at Brios in Annapolis. In this photo are the guys, with the names of their wives attending in parentheses. In the front row are Steve Roberts (Josette), Mickey Favor, Ron Wills, Fred Kaiser (Klara), Bill Witcraft, and Dave Greeneisen (Christy) . In the back row are Bob Bennett (Linda), Roy Warren (Vicki), Al Griggs (Sally), Mario Fiori (Susan), Jim Stageman (Sandy), Jim Czerwonky (Pat), and Charlie McCarthy (Anita) . Also with us were Lori Kate Smith and her son, Casey. I believe that Casey has come to every 12th company reunion since he was born in 2005. I remember passing him around when he was under one year old. Gary and Lori Kate sure did trust us! On Saturday we went to the '63 Tailgate party and on Sunday we had Brunch at the Fioris. A great weekend!

12th Company reunion



---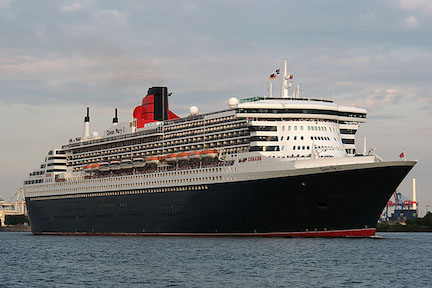 RMS Queen Mary 2


&nbsp Jim Spruance has announced his return to sea.
&nbsp It is time to update my friends on my exciting news: I have a job and will be going back to sea aboard the only ocean liner in the world, the Cunard flagship RMS Queen Mary 2. I will be employed as a social host for 47 days on the ship's World Cruise departing Brooklyn, NY, on 3 January 2020 en route Hong Kong. That is, as in North Atlantic winter crossing, the Med, Suez Canal, Indian Ocean, Straits of Malacca, etc. My duties, at a minimum, include being a "gentleman dancing host" every evening for four hours. It is a good thing I invested in those "teenage knees." What are the odds that I will be the oldest crew member?
---
&nbsp Jim Ring describes this photo from a mid-November evening.
&nbsp Eileen and Eli Dabich came into our town, Rehoboth Beach, DE. They got us together with Kathy and Sam Garde, who live in nearby Milton, DE, for Happy Hour at a local restaurant. From left to right are me, Eli Dabich, Eileen Dabich, Kathy Garde, Kate Ring, Sam Garde. A good time was had by all.



---
&nbsp We had a lot of news to share this month. Let's keep up the participation in our news exchange. We need to hear from you, sir.



---