Shipmate Column
March-April 2021
---
CLASS OF 1963
Pres: CAPT W. Spencer Johnson IV, USN (Ret.)
Sec'y: Michael H. Shelley
27 Cambridge DR, Brevard, NC 28712
h: 828-506-2201 e: nstar@citcom.net
Web site: http://www.usna63.org.


For any classmate you can go to the Classmates Page and enter his name to read his current biography if available.
---
---
---
&nbsp I am sorry to begin this month's report by telling you that we lost five members of the Class of 1963 family as 2020 ended and 2021 began. I urge you to visit the Last Call section of our web site to see their full obituaries and other information about their lives. Also, view their Midshipman photos and profiles in the virtual 1963 Lucky Bag in the Classmates section.

James Ronald Hand passed away on 22 December 2020. Ron's widow, Frankie, can be contacted at 1605 Cottonwood Valley Circle South, Irving, TX 75038.
---
Don Gilbert Palen died on 31 December 2020. His companion, Carole Berren, can be contacted at 44 Bliss Mine Road, Apartment 1, Middletown, RI 02842.
---
John M. Hood died on 3 January 2021. Jack's widow, Ginger, can be contacted at 21045 Cardinal Pond Terrace, Apartment 402, Ashburn, VA 20147.
---
Ronnie R Radford passed away on 23 January. Ron's widow, Nancy, can be contacted at 21 Lighthouse Avenue, St. Augustine, FL. 32080.
---
We also learned of the death of Pete Savage's wife of 56 years, Katherine, on 11 January. Pete can be contacted at 962 Marco Drive NE, St. Petersburg, FL 33702.
---
&nbsp Soon after our web site was established in 1999, volunteers from each of our 24 USNA companies became the key contact persons for class communications and business. Dubbed "Company Webmasters," they have relayed information to their companymates and passed news and information up the line to class leadership. As key links in our class chain, they have also performed the vital task of keeping up with their companymates' contact information and submitting updates for the class roster.


Most of the original volunteers still serve as Company Webmasters. We are grateful to them for being key links in the '63 chain for so many years. Here are the names of our Company Webmasters: John Pfeiffer (1), Bill Anderson (2), Frank Hilton (3), Mike Shelley (4), Watt Miles (5), Bill Hughes (6), Phil Rooney (7), Dave Bingemann (8), Phillip Marsden (9), Bob Forster (10), Ed Gill (11), Mario Fiori (12), Pete Vreeland (13), John Dolby (14), Chris Munger (15), Jim Ring (16), Jack McDonald (17), Steve Coester (18), Doug Zanzot (19), Gary Baldwin (20), Alan McAnally (21), Chuck DiBari (22), Zimm Zimmerman (23), Tom Morgan (24) . Many thanks to these men for their service to their companymates and the Class of 1963!
---
&nbsp Here's a note from Mario Fiori telling of a source for photos and other information about American service members who were lost in the Vietnam war.



&nbsp I received a request for money by the Vietnam Veterans Memorial Fund and got totally sidetracked from the work I was doing. They have a photo of every person named on the Vietnam Memorial on their web site (www.vvmf.org), so I looked up my companymates Chuck Marik and Ken Buell. The VVMF exists to honor all who served, preserve the memories of those who left us, and educate current and future generations. Take a few minutes to visit the site. It will be time well spent.
&nbsp To see the Wall of Faces on the VVMF site and search for an individual, click HERE.
---

&nbsp From time to time I am asked about the status of Shipmate subscriptions for widows of our classmates. If you are a Life Member of the Alumni Association (62 percent of us are), your subscription will continue after your death until the passing of your widow. If you are an annual subscriber, the remainder of your subscription can be transferred to your surviving spouse or another family member.
---
&nbsp Thanks to Bob Harper for sending this account of his holiday travel and visits with friends and family.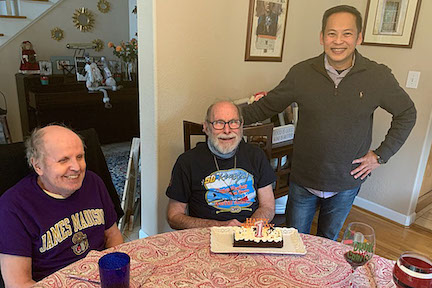 Hammond '64, Harper '63, and Pham '89
&nbsp This picture shows Tom Hammond '64, me, and Tung Pham '89 at Tung's home in Virginia Beach. The occasion was my New Year's Eve birthday and a few days' visit with daughter Laura nearby. Tom and I were in 17th company together. He was also a teammate of my roommate Max Ricketts on the indoor and outdoor track and cross-country teams.
&nbsp In September 1985 I wandered over to Parent's Weekend at the Academy and was surprised to see Tom, a bachelor, near Tecumseh. Turns out he was living in San Diego, had sponsored a Vietnamese family into the U.S., and motivated their boys towards USNA. (Two eventually came and graduated; we sponsored both.). As the family couldn't afford to come east for Parents Weekend, Tom came so Tung would have a friendly face. Tung accepted us Harpers as Tom's friends (despite my pranks and because of Carol's cooking) and we have become great family. His brother Tommy came to USNA a couple of years afterward and just made a super bond even better. Tom Hammond is now in Virginia Beach and enjoying frequent visits to the Pham household.

Kayaking in Virginia Beach



&nbsp Here is another picture from my Virginia Beach visit. I went kayaking with Laura on Lake Smith in balmy 63-plus-2-degree weather. All is well here at our home in Frederick, MD, although our place in Winter Harbor, ME, really suits this Maineiac better.
---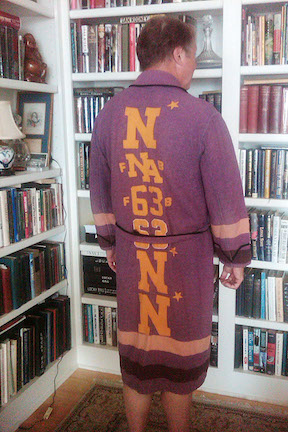 Ron Klemick's B-robe


&nbsp Here is the rest of the story of the mystery '63 Army B-robe. In the November-December 1963 Shipmate column was a photo of an unidentified man wearing a B-robe festooned with N-stars and 63's. I had seen the picture quite by accident while looking for a photo of the Philadelphia Memorial Stadium. It was included with our column in an attempt to identify the original owner. Soon after the digital version of our column appeared on our web site I heard from Ron Klemick, who said the B-robe had been his and was lost in a move many years ago.
&nbsp I traced the photo to the Pinterest web site where I learned that it had been posted by someone named Gerry Motl. Fortunately, it was easy to determine that Gerald Motl is a member of the USNA Class of 1968. I tracked him down and confirmed that he is the gentleman in the picture. Gerry is an avid collector of USNA football memorabilia and had bought the B-robe on Ebay more than ten years ago.
&nbsp I put Ron and Gerry in contact and a transfer of the B-robe was arranged. In a subsequent email, Gerry told me, "I'm happy to say that Ron was able to receive his hard-earned and well-deserved B-robe. We could have used Ron in the Army-Navy game this year!"
---
&nbsp That's all for this month. Don't forget to send me news about yourself and our classmates. Please do your part to help keep this news exchange full of interesting content. I need your help. Thanks!



---