Shipmate Column
March-April 2023
---
CLASS OF 1963
Pres: CAPT W. Spencer Johnson IV, USN (Ret.)
Sec'y: Michael H. Shelley
27 Cambridge DR, Brevard, NC 28712
h: 828-506-2201 e: nstar@citcom.net
Web site: http://www.usna63.org.


For any classmate you can go to the Classmates Page and enter his name to read his current biography if available.
---
---
---
&nbsp The inexorable passage of time is wearing more heavily on us. We have received the somber news of the recent deaths of eight of our classmates. They are noted briefly below. Please be sure to read their obituaries and other information about their lives and careers in the Last Call section of our web site by clicking HERE.

Charles F. Helsper passed away on 17 December 2022. We do not have contact information for his next of kin.
---
George R. Leever died on 22 December 2022. George's widow, Barbara, can be contacted at 2714 Tannenbaum Road, Drasco, TN 72530.
---
Donald E. Grant passed away on 22 December 2022. Don's sister, Cathy Weir, can be contacted through his stepson, Tyler Nokes, at 1622 SW 25th Street, Redmond, OR 97756.
---
Bruce D. Alitt died on 23 December 2022. His widow, Barbara, can be contacted at 10504 Sea Palms Avenue, Las Vegas, NV 89134.
---
James K. Williamson died on 28 December 2022. Jim's widow, Audrey, can be contacted at 6419 S Miller Way, Littleton, CO 80127.
---
James P. Newberry died on 4 January. Jim's daughter, Julie Newberry, can be contacted at 6965 Hillwood Circle Dallas, TX 75248.
---
Richard F. Kleinfeldt passed away on 8 January. Rick's widow, Lynne, can be contacted at 195 Montgomery Lane, Springboro, OH 45066.
---
Richard W. Buelow passed away on 18 January. We do not have contact information for his next of kin.
Adding to our sadness were the deaths of two Class of '63 wives.
Elnora "Babe" Price, widow of our classmate Robert Price , passed away on Monday, 21 November 2022. We do not have contact information for her next of kin.
Linda Zimmerman, wife of our classmate Sherwood Zimmerman , died on 30 November 2022. Zimm can be contacted at 705 Nevins Place, Cary, NC 27519. Bob Maier sent a photo of himself, Zimm, and Tom Robertson taken after Linda's service.
---
&nbsp Pete Soverel shared this remembrance of Don Grant:
&nbsp On January 13, I attended the memorial service for our class-, company-, and roommate Don Grant. Don died, suddenly and unexpectedly, in December. As many of us already know, Don was a Renaissance man - intellectual, nuclear submariner, Army jump qualified, private pilot, commercial pilot, instructor pilot, engineer, fly fisher, and so on.

Whatever Don did, he was all in. I remember as a firstie, I was confined to Bethesda Naval Hospital with some serious medical issues. My roomies, Don, Ray Kutch and George Emery, would collect my lesson plans, give them to Marion Joy (later Soverel for 60 years) who would deliver them to me at Bethesda Naval Hospital where I was confined for about two months (March-April) First Class year. I worried about the Steam exam since I would have almost no class time between return from Bethesda and the exam. For the first time in my life, I actually studied like mad on the materials that Marion brought me. Back at the Brigade a few weeks or so before exam week and graduation, I took the Steam final - incredibly I finished before the buzzer. Don went down to the Rotunda to get our exam results. Don said, "Steam - go check for yourself." I did. Don, in his usual low-key manner, noted, "Pete, you sold yourself short for four years here. Don't do it again." I'd like to think I haven't, due in large part to Don's firm admonition.

More recently, Don has been an enthusiastic supporter of salmon and steelhead conservation and the adventure fly fishing trips we took together. Fifteen years ago, I invited Don to join me on a fly-fishing trip for Alaskan Chinook. Don: "I can't fly cast." Me: "I can teach you." Don: "OK." For the next 12 years, Don came annually to fly fish Chinook; became an enthusiastic member of the Clark-Skamania Fly Fishing Club; was a strong supporter of the Kamchatka Steelhead Project; and joined KSP expeditions several times. Imagine the Russian FSB's wondering what we were up to: Don Grant nuclear submariner and me, advisor to two Presidents, conducting steelhead research in the "Evil Empire." Don loved it.

Don Grant - "On Patrol." Run silent, run deep, roomie.
---
&nbsp Steve Leisge sent this pre-game photo from the 2022 Army-Navy game.



&nbsp In this picture, L-R, are Keith Reynolds '63, me, John McKay (Austin Peay grad, retired O-6, long-time friend of Keith), and his son John III. You'll note the coffee cups: we were striving for warmth but eventually exchanged them for beer. The cold was not bad until sun set behind the stadium. We maintained warmth later by shouting at the coaches to do something different offensively.
---
&nbsp Meanwhile, in Southern California, members of the Class of 1963 continued their long-standing tradition of watching the Army game together. Phillip Marsden provided this report.
&nbsp Twenty-three of our classmates and friends gathered on 10 December to cheer on a valiant Navy team. Although the underdogs, the Navy team acquitted itself well and almost pulled out a victory in an exciting game. Attendees included Bill and Dottie Hughes, Dave and Pattie Meyers, Dave's daughter Monica Meyers, Ted and Kay Krohne, Win and Sally Orgera, Vern and Gail Von Sydow, Jay and Helane Roberts, Joe and Teresa Morra, Ron Wills with his son Eddie '93 and grandson Trevor ('22 NROTC UW), Donna Kaup, Mike Rubel, Grant Telfer, and Lee Tillotson . The group enjoyed the chance to get together; we look forward to other opportunities to assemble in 2023.

Beat Army party in San Diego (Can you spot Gail Von Sydow?)




Monica Meyers and Vern Von Sydow



---
&nbsp Thanks to both Bob Harper and Jim Ring for sending news about the service for Peter Browne at Arlington National Cemetery on 13 December.



&nbsp Peter's ashes were placed with his son Joshua. It was a very fine ceremony to include a horse drawn caisson, a Navy honor guard, a band, a bugler, and a rifle salute. Several of our 1963 classmates were present. The picture below, taken at the Army/Navy Country Club after the ceremony, shows Dick Arvedlund, Chuck Maclin, Jim Ring, Bob Harper, and Dick Williams. John Aucella, Dirck Praeger, and John Kelly also attended but missed the photo op.

After the service for Peter Browne



&nbsp Bob Noted that Peter was a member of Terry's Team that represented '63 in several of the challenging Multiple Sclerosis annual bikeathons in Northern Virginia. The team (honoring our MS-stricken classmate Terry Abell ) included Mike Cronin, Joel Gardner, Brev Moore, Dave Robinson, Jay Gowens, John Aucella, and Bob. They set the record each year for the oldest average team age and set their final record of 70 years before retiring the team in 2011.
&nbsp I looked in my Shipmate files and found this photo of Terry's Team from May of 2006. Pictured are Brev Moore, John and Carroll Aucella, Peter Browne, and Bob Harper.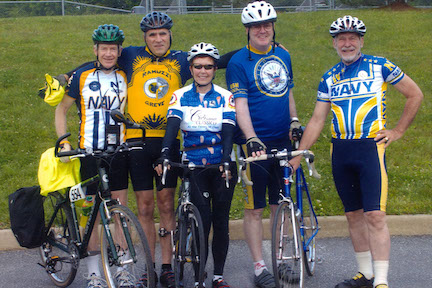 Terry's Team 2006
---
&nbsp It was good to hear from Bill Sheehan , who sent this illustrated news in early December.
&nbsp It has been some time since I did an update for Shipmate. My son surprised me last night with an "early Christmas present" and insisted that I open it. So I did and wore it today. While the picture of the front is not very flattering, it certainly matches how I felt after today's overtime loss to Army.





Right now, I am sort of an across town bachelor. My wife, Joyce, is in a nursing home due to dementia after she reached a condition that I could not handle at home. I have reduced my outside activities to just my position on the Town of Waterford's Board of Finance (entering my 20th year on the board), the State of CT's Nuclear Energy Advisory Council (It only meets quarterly now and by Zoom since COVID started), and being a Lector for my Catholic Church as well as the Chair of the parish Finance Committee (Not a heavy lift since the Pastor and the local bishop make the decisions). Joyce and I will celebrate our fiftieth wedding anniversary in May of 2023, assuming both of us live that long. She still recognizes me but sometimes I am not her husband. Her one connection to reality is her dog, CHAOS (for what he caused when he was a puppy), a ten-year-old Shi Tzu. We visit her every day and anything I do is planned around that visit
---
&nbsp After seeing Jim Metcalfe's discussion of our Midshipman cruise boxes in last month's class column, Jim Koehn sent this photo and note about his own.
&nbsp On reading the recent Shipmate article about Teb Bowman and cruise box races, I felt that I needed to share a photo of my box. I still have it in the garage, filled with miscellaneous junk that has no other home. One of my 30-year-old granddaughters has staked a claim to it whenever the time comes; why, I do not know!

Jim Koehn's cruise box



&nbsp An earlier mention of cruise boxes appeared in our class column for May-June 2012, which you can see in the Shipmate section of our web site. Noted as still having their original boxes were Alan Merkel, John Peterson, Jim Koehn, Chris Munger, and Doug Zanzot .
---
&nbsp


Our 60th Reunion Committee is already working to prepare a grand weekend for us in Annapolis the weekend of 19-22 October. Put that on your calendar now. We'll enjoy seeing you among us then!



---