Shipmate Column
May 2007
---
CLASS OF 1963
Pres: CAPT W. Spencer Johnson IV, USN (Ret.)
Sec'y: Michael H. Shelley
164 Sweetwater Lane, Pisgah Forest, NC 28768
h: 828-862-4245 e: nstar@citcom.net
Web site: http://www.usna63.org.


For any classmate you can go to the Classmates Page and enter his name to read his current biography if available.
---
&nbsp We have lots of news and photos this month. With a 2,000-word limit for the magazine (photos counting for 100-200 words each), I have to do a lot of text editing and omit many pictures from the print version of our news exchange. You can see our complete report each month right here on our web site.
---
&nbsp I was surprised to learn that Kathi and Chuck Calvano will soon be concluding his multi-year "dream job" in England and returning to California.
&nbsp Kathi and I are watching the end of our three year assignment to the Office of Naval Research Global in London approach and, as always in such cases, with mixed emotions. The lure of going home is always present, but we've had so many interesting and exciting experiences here that we know we will miss much of it. The job has taken me to something like 21 countries and Kathi has accompanied me to about 17 of them. It will be good to see a decrease in the hectic pace (I hope), but we'll miss London's "something interesting to do every weekend" atmosphere and the chance to see so much of the world. By the way, anyone interested in traveling vicariously to many of these places might want to take a peek at: http://ckcalvano.blogspot.com/. [ Sec's note: I looked there and was blown away by Chuck's illustrated blog. Don't miss it! ]

Last year I was made the Chief Scientist of the command, with scientists and science advisors in offices here in London as well as in Tokyo, Singapore and Santiago, Chile -- and with 23 major commands around the world. Assuming responsibility for the science program for the command, in our role as the international node for the Office of Naval Research, is what has made this last part of our assignment both busy and very rewarding.

We've had a chance to see Jennifer and Bill Earner a couple of times while here (and hope also to see Bill Ellison this March), have had visits from Margarette and John Boley and from Mick Favor. And our first visitors on our arrival in July of 2004 were Lillian and Kit Karson. We still find it hard to accept Kit's loss; Lillian recently wrote us a note from the liner/cruise ship Queen Elizabeth II, her refuge away from home.

My assignment here ends on 10 July and we have booked passage from Southampton to New York on the Queen Mary 2. We'll probably spend a couple of days in New York, then make our way across country, stopping in Chicago and Phoenix to visit two of our daughters and my mother. On our return to Monterey, we hope Kathi will resume employment with the Defense Manpower Data Center there, where she was an IT Analyst before we left -- and I'll probably work with the Naval Postgraduate School in some capacity. We'll miss London, but it will be good to be home.
---
&nbsp We extend our sympathies to Dick Kell and his family for the death of his wife, Gloria, on 21 December 2006. Dick can be contacted at 11736 Wheatfield Loop, Hudson, FL 34667.

&nbsp Brev Moore sends word about the upcoming appearance of the USNA '63 bicycle team, riding again to raise funds to support Multiple Sclerosis research.
&nbsp I want to inform everyone that the USNA 63 team led by Bob Harper will be riding again on 19 and 20 May! Skip Wright 's MS is becoming worse, so we want to be called "Terry's & Skip's Team!" As always, donations from our '63 classmates are welcome for the cause. We do want to encourage as many as possible to join us for the event. As I said last year, one can ride just about as short or long as they would like. It's a good feeling to ride with other classmates.

[ Note: You will recall that Brev and Virginia's son Robert (USNA '94), an F/A-18 pilot, passed away from cancer in 2005. ]

The highlight of this last year for me was a backpacking trip that my daughter, Happel, her husband, Dan, and I took in the Sierra Mountains on the John Muir Trail in Robert's honor. Rob and I had backpacked the first 130 miles from Yosemite south during a two week trip together in 2002. First of all, you can imagine how great it was for me to have spent two weeks with my son alone in the back country! We had a wonderful time and vowed to finish it one day together. Of course, the fact that it was our last trip together made it all the more special -- even spiritual -- to me. So, Hap, Dan, and I went out to California on 15 September and picked up where Rob and I had left off at Bishop's Pass. The trip itself was very beautiful and the weather was perfect. We hiked about 65 miles before we finished by climbing Mt. Whitney. There were F/A-18 aircraft flying overhead performing training maneuvers as we reached the summit, so we felt that Rob was there with us.

On the summit of Mt. Whitney



---
&nbsp Mal Wright checked in from his home in Poulsbo, WA, with this illustrated report:
&nbsp Phil Marsden was visiting the Pacific Northwest last week to take care of some family matters. He was able to get a free day and we went off to Stevens Pass, a ski resort in the Cascades east of Seattle, to do a little skiing. Here's a photo showing the two "Senior Skiers" at the end of a good day on the slopes. As always, it was great to see Phil and it gave me the opportunity to follow him all over the mountain. Phil is in great shape and he's a very good skier. It was hard to keep up. I'm also including a couple of photos from a visit that Phil made to the Northwest in February. One includes Bob Wildman, me, and Phil -- all 9th Companymates. The second shows Bob and Pat Wildman, Phil, my wife Lya, and me. Bob and Pat came over to Mukilteo and joined us for lunch on a drop-dead Northwest winter day (See Mount Baker in the background.). It seemed like we picked right up where we left off 44 years ago.

Senior skiers Marsden and Wright




Ninth Companymates




Apres lunch in Washington State



---
&nbsp Pat Waugh sent me a recap of his 21st Century activities, some of which can only be seen here online.
&nbsp Let's start in June 2000. I moved from Yuma to Parker, AZ, and spent three years as Controller of the Blue Water Resort and Casino, an entity of the Colorado River Indian Tribes. The day before Thanksgiving 2003, I had a stroke. I had two brain surgeries at St Joseph's in Phoenix, one to fix the problem and one to remove my occipital flap that had become infected during the initial operation. I didn't get released until late January. I had to re-teach myself to walk and chew gum, but my recovery was more or less full.

To complete my therapy, and continue to buy groceries, I took a job as a desk clerk at the Best Western Inn in Parker. A year later, I was managing it. Now, I am still officially its manager, but I also am tasked with the payroll and HR of my owner's ten other hotels. It keeps me hopping.

Bill Campbell, my plebe summer roommate, stops by occasionally. He has a vacation home on the river at nearby Miraleste Shores. He's riding a big Harley-like bike; I'm not sure of the real brand. Although he's sporting a short gray beard, the devil still dances in his eyes, just like it did in the days when we somehow got an address list of the Plebes' parents, and sold them official personalized Midshipman stationery to give to their Plebes at Christmas.

I went back to PAX River last June to attend my son Steve's (USNA '86) retirement from the Marine Corps. He had finished his second, non-consecutive three-year tour with NAVAIR, interrupted by a tour as XO of MAG 13 in Kuwait/Iraq. The singing of Navy Blue and Gold was especially poignant, as was the obligatory "Beat Army" afterward by many of the attendees.
---
&nbsp Frequent (and much appreciated) contributor Zimm Zimmerman sent this note about his recent visit to San Diego.
&nbsp Linda and I enjoyed the excellent hospitality of Dottie and Bill Hughes at their San Diego home. (Their home barely survived the fires that swept down the canyons a few years back, when more than 200 homes burned to the ground around them.) We picked citrus in their backyard and Dottie put on some wonderful lamb chops. We had a grand time - one picture shows the excellent eggs benedict that the Hughes whipped up. Bill says, " Remember, if you don't have the egg yolk, you can't emulsify the hollandaise." We tasted many wines in Temecula Valley, on our way back from Palm Springs, where we saw a great Follies Stage Show. We visited the War Memorial atop Mt. Soledad in San Diego, where the anti's are trying to get the large cross removed. Also, we toured the Air & Space Museum and Wild Animal Park -- all the above in three days, so it required several bottles of wine to keep us fueled.

Hughes and Zimmermans




Eggs Benedict for four, please



---
&nbsp Thanks to Jim Ring for passing a note from Pete Carrothers.
&nbsp I'm spending this year as "Nancy's husband" as she takes over the reins for the Lakewood Yacht Club Ladies Association. I have thrown my name into the hat for re-election this spring to our Clear Lake Shores, TX, City Council. I have had a great two year term and we will vote soon on eliminating our city property tax, after five years of reducing it. We annexed a large tract of land back on the mainland that includes a Home Depot and a Super Target. Those businesses plus the ancillary pads generate enough sales tax to support our little island community without imposing a property tax as well. We spend almost 30 percent of our revenues on parks and beautification projects. Keeps me plenty busy and the pay (one dollar a year) is a big motivator.
---
&nbsp While cleaning out some old boxes, Don Freese found two pictures from 1959. He asked me to share them with you. The first was taken at the Rock Island Arsenal Officer's Club Swimming Pool on 1 July 1959. Left to right are Brian Kenney (turned back to '65), Don, and Stan Smiley. The second image is a bit fuzzy so it appears in our Shipmate column at USNA63.org and not in the magazine. It shows Dick Bachmann and Don, suitcases in hand, leaving their hotel for Gate Three on 7 July.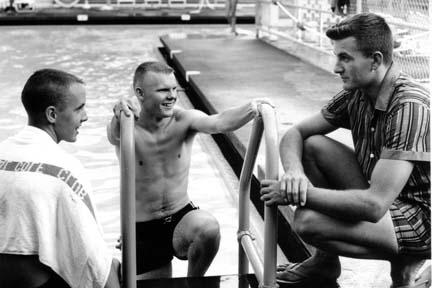 Soon-to-be Midshipmen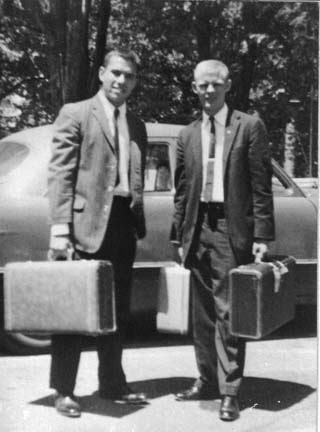 Induction Day 1959
---
&nbsp That's all, folks! See you here next month.



---