Shipmate Column
May 2008
---
CLASS OF 1963
Pres: CAPT W. Spencer Johnson IV, USN (Ret.)
Sec'y: Michael H. Shelley
164 Sweetwater Lane, Pisgah Forest, NC 28768
h: 828-862-4245 e: nstar@citcom.net
Web site: http://www.usna63.org.


For any classmate you can go to the Classmates Page and enter his name to read his current biography if available.
---
&nbsp Tom Robertson has passed the information that Jack Reed will be interred at Arlington National Cemetery on Wednesday, 28 May. There will be a memorial service at 1245 in the Ft. Myer Old Post Chapel followed by interment in the columbarium.
---
&nbsp Jim Metcalfe sent this report from his home in Virginia Beach in late February.
&nbsp Lisa and I just returned from Annapolis, where we stayed with Carla and Jeff Miles and went to the biannual Army-Navy rasslin' match and team reunion at Annapolis. Jeff and Carla did not join us at the meet as they were leaving for BWI and a Caribbean cruise the next day. Navy won 22-12 but it was a good match, closer than the score. Ron Tebben, who wrestled heavyweight and 191 at USNA, and his wife were there. He looks to be in top shape. Ron is retired from American Airlines but is still active in wrestling. He coached for many years and is now trying to start a new local high school team. Natalie and Steve Duncan were also present. Steve had just arrived from San Diego where he had been at a meeting of General Atomics. which is one of the leaders in UAV development and production (just ask the al-Qaeda leader who recently joined many of his fellow terrorists in the place that is reserved for them -- I suspect it is very hot and there are no virgins!) General Atomics also has the development contract on the electro-magnet rail gun (Steve had been to the recent first firing at Dahlgren.) and the development contract for the electro-magnet catapult and arresting gear systems that will be installed in GERALD FORD (CV-78). The rail gun shoots the projectile at about mach 7 out about 130 miles with a very small CEP. I asked Steve how that speed would affect the Hornet pilots. I gather they will not be accelerated to mach 7 off the bow. Steve claimed he and I are "close" to our rasslin' weights (137 and 130). I would not want him judging any weigh-ins! I hope more of our gang make the next Army-Navy contest in 2010.
---
&nbsp I heard from Pete Deutermann in February. Those of us who have enjoyed reading his novels (Scorpion in the Sea, The Edge of Honor, Sweepers, etc.) will welcome this news:
&nbsp I've got a new book coming out in the May-June timeframe. It's called The Moonpool, and it is set in Wilmington, NC. I think our nuke classmates will get a kick out of it. The nuclear power industry may not, however.
&nbsp You can see a full list of Pete's novels, plus other books written by our classmates, by clicking here .

&nbsp This is a good time to remind you about the Gold Pages section of our site. Included there are business listings for classmates and their family members, rental properties available to you, personal services, etc. You can find all this at USNA63.org by clicking here . To add your own listing to the Gold Pages, contact our Webmaster, Steve Coester, at scoester@cfl.rr.com .
---
&nbsp Spencer Johnson sent news about Julian "Skip" Wright, who has had MS for 40 years and was hospitalized at Georgetown this winter for a serious infection. He sent me a February letter from Skip's wife, Anne, from which I have excerpted the following:
&nbsp Our great news is that finally....after nearly four months of excruciating pain, surgery, and rehabilitation, Skip will return home soon! We just had our family meeting with the dream team of docs, physical therapists, occupational therapists, psychologists, social workers, etc. at the National Rehabilitation Hospital who have worked so beautifully together to get Skip up and walking again and ready to return to the "world of the living."

It's been a long, exceedingly difficult road, but we definitely can see a day when Skip will be driving again and walking without even a cane. His physical therapists are restricting him to his walker to ensure solid footing as he zooms around the National Rehabilitation Hospital in his USNA sweatshirt and shorts making friends with all the individuals who need his wonderful smile, hugs, and encouragement.

Skip's amazingly positive attitude and words of wisdom have lifted the spirits and given hope to so many people -- both staff and patients -- at Georgetown University Hospital and the National Rehabilitation Hospital over the past two months of care. He is a most extraordinary human being who has never allowed MS to rule his life! He is a fighter who never complains, not ever, no matter what he is asked to endure. His docs and I are urging him to write about his journey with MS once he is stronger. We believe that it's a story that families suffering with MS or any chronic disease need to hear.

You can reach Skip by phone on his cell at 301-717-6306. The best time to reach him is from 5:00 - 8:00 PM.
---
&nbsp This month's photo shows Don Freese and Gaylord Hopkins at a February meeting of the Tampa, FL, Chapter of the Alumni association.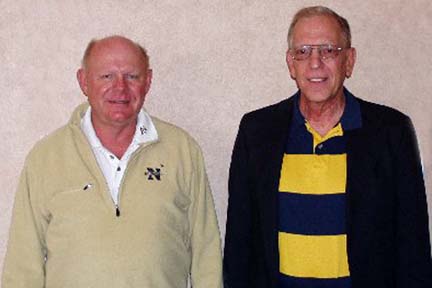 Freese and Hopkins
---
&nbsp Scotty Wilson advised me that he has cancelled his plans to attend the 45th Reunion - but for the best of reasons.
&nbsp Patty and I planned to be there, but recent developments changed our plans and I have canceled our Annapolis reservations in favor of Florida that weekend. We and our family, including all seven grandsons, will be in Jacksonville for our son's Change of Command ceremony. CDR Gordon Wilson ('91) will be sworn in as CO of VP-45 on Friday April 25th.

This was an unexpected acceleration of his CO track. He had been screened for command on his first go-around while on 7th Fleet staff in Yokosuka. He transferred to NAS JAX in Nov 2006 with a planned progression which would have had him reporting to VP-45 about this time as prospective XO in VP-45 on track to become CO sometime next year (2009). In the interim he was serving as XO of VP-30, the Fleet Replacement Squadron.

Then late last summer, a sequence of events left an opening in the XO billet while VP-45 was deployed in the Med/ Mideast. He reported to VP-45 in Sigonella as XO this past September. Now it has been confirmed he will take command next month -- on the same weekend as the Class of '63 reunion. So, please give me a pass on the Reunion. I have a valid excuse.
---
&nbsp Thanks go to Jim Ring for preparing this account of a '63 luncheon near the Pentagon this winter.
&nbsp On a snowy 17 January, the Class of 1963 had a luncheon at the Army Navy Country Club in Arlington, VA. One of our many classmates extraordinaire, Mario Fiori, spoke us about "How to Get Things Done in Government," an oxymoron to some. I had asked him to speak because of his interesting and varied career both in the Navy and after retirement, during which he has had heavy interaction with the civilian federal service. His career highlights show very responsible positions during which he was a change agent.

Mario's talk focused on his Civil Service positions after retirement and provided insight into how the civil service can accomplish tasks and how the politicos can manage. He showed that keeping within budget, delivering what was promised on schedule and under estimated costs can be done. Accepting some mistakes is required in industry and must also be accepted in government. Government managers are often held to impossible financial requirements and are doomed to fail. Secretary of Energy (Admiral) Watkins hired quite a few 0-6 Navy retirees to help him repair a nuclear weapons program that clearly did not maintain the same nuclear standards as the Navy. In late 1992, Mario requested and was placed in charge of SRS Savannah River, a significant challenge. It included managing a $2.4 B annual budget and a large industrial area. This was his first time not only to run a civilian government staff of over 500 persons but also to oversee four government contractors: Westinghouse, Wackenhut, the U.S. Forest Service, and the University of Georgia Ecology Lab.

Mario provided a few examples of how the government and contractors worked together to accomplish things: overhead reduction of 35 percent over the first two-plus years; learned that neither the contractor nor the government staff could be independently successful, nor could either fail without the connivance of the other; learned that there were many tools available to modify and improve contractors' performance; hired outside consultants to train government staff on how to monitor but not direct the daily activities of the contractor; started measuring productivity while downsizing the workforce from 24,000 to 18,000 and simultaneously increasing the number of major programs; found lots of wasted resources and abuse including unneeded vehicles and laptop computers; to downsize and continue to receive Community support, gave unneeded computers to local schools and provided grants of equipment to industry; and finally, started up an aluminum window manufacturing system with 900 employees in the poorest neighboring county, thereby increasing Community support.

In 2001, Mario was nominated and confirmed as Assistant Secretary of the Army for Installations and Environment including Safety and Health. The job was to ensure that our serviceman had facilities that were up to date and housing was satisfactory. Fighting for budgets and military construction and operations and maintenance money was the principal problem. 9/11 caused dramatic changes. He learned that for over 200 years the generals were in charge of their own garrisons but had very few uniform standards of performance. It turned out that the Base Commander had sole authority over where the budget was spent. Found big differences in living and working facilities between Ft. Lewis in WA (excellent) and at Ft. Stuart in GA (substandard). However, in two years, they implemented major changes in housing and in garrison operations. Finally established a new agency, the U. S. Army Installation Management Agency (IMA). This was a major change that most of the flags didn't want. However, it was established and, even with major budget constraints, the facilities are all rising to uniform improved standards across the 170 or so garrisons in the U.S., Japan, Korea, and Germany. In 2007, it was named one of the best places to work in the Federal Government.

Mario left Federal Service in Jan 2004, after many major accomplishments. We are fortunate to have classmates like him.

Classmates and spouses attending were Norm Shackelton, Tom Morgan, Steve Leisge, Jim Ring, Roger Mehle, Spencer Johnson, Wilson Harris, Carla and Jeff Miles, Tom O'Brien, Al Sherman, Forrest Siburt, Bruce Webb, Pat Curtis, John Aucella, Richard Kuntz, and Betty and Kent Maxfield. This was Tom O'Brien's last lunch before he and Ann move to Jacksonville to be closer to their grandchildren. They will be missed. Forrest is improving slowly from his back operation last year.
---
&nbsp That's all the news for now. Look for lots of interesting tales and photos from the 45th Reunion in our next report.



---