Shipmate Column
May 2021
---
CLASS OF 1963
Pres: CAPT W. Spencer Johnson IV, USN (Ret.)
Sec'y: Michael H. Shelley
27 Cambridge DR, Brevard, NC 28712
h: 828-506-2201 e: nstar@citcom.net
Web site: http://www.usna63.org.


For any classmate you can go to the Classmates Page and enter his name to read his current biography if available.
---
---
---
&nbsp I'm preparing this month's report in late February, smack in the middle of what were once called The Dark Ages at the Naval Academy. Do they say that any more? By the time this column appears in Shipmate, springtime will be half over. As these Dark Ages near an end, we are ready for a return of balmy weather, green leaves, and flowers here and there. We have passed through a tough year and have earned the relief that will surely come. May that be soon.
---
&nbsp Again this month, I must tell you of the loss of members of the Class of 1963 family.


&nbsp I am sorry to report that our classmate John R. Middleton passed away on 1 February. His widow, Betty, can be contacted at 12 Rue Grand Vallee, Newport Beach, CA 92660.
---
&nbsp We learned that Bill Karpinski's wife, Patrice, passed away on 18 February. Bill can be contacted at 14435 North 15th Street, Phoenix, AZ 85022.
---
&nbsp I received news of an honor afforded to our classmate Tom O'Brien on 14 February.
&nbsp Captain Tom O'Brien, USN (Ret.) was recently honored by the Quilts of Valor Foundation for his service in the U.S. Navy's submarine branch covering more than 27 years. The mission of the Quilts of Valor Foundation is to cover all combat service members and veterans touched by war with comforting and healing Quilts of Valor (QOV). The Quilts are stitched with love, prayers, and healing thoughts. Members who have been wounded or touched by war are awarded this token of appreciation that unequivocally says, "Thank you for your service, sacrifice, and valor." The quilt was presented to Tom by QOV member and retired naval aviator CAPT Bill McCamy at Tom's Orange Park, FL, home, with his wife, Ann, the immediate family, and grandkids looking on. CAPT McCamy gave a concise history of the Foundation and its evolving mission. He presented a beautiful, patriotic-themed quilt that will be treasured as a keepsake and valuable memento within the O'Brien family for years to come.

Tom and Ann O'Brien with the Quilt of Valor


In accepting this wonderful quilt, Tom thanked Bill and the Foundation for this unique recognition of his service while recounting a few of the most memorable moments of his two command at sea tours in USS JOHN ADAMS (SSBN 620), then homeported in Charleston, SC, and in USS CANOPUS (AS 34), a submarine tender/repair ship then homeported at Naval Submarine Base, Kings Bay, GA. USS JOHN ADAMS served as one of the primary deterrent launch platforms should the National Command Authority decide to defend against a nuclear attack upon the Unites States. USS CANOPUS and her 1,300 member wardroom and crew executed her mission to repair and restock pre-TRIDENT SSBNs following their latest patrols and to prepare the ships and their dedicated crews for their upcoming deterrent patrols during highly concentrated 28-day upkeep periods.
&nbsp Here are two additional photos taken at the time of the presentation.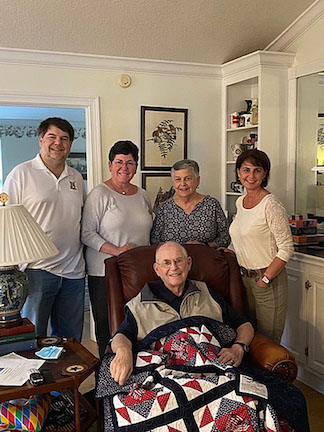 Tom and Ann with their children Elizabeth, John, and Mary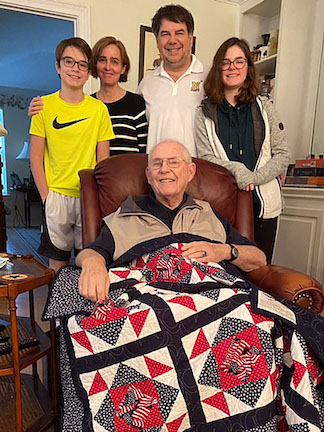 Tom with son John (USNA '89), Julianne, and grandchildren Megan and James
---
&nbsp Finding free time in our lives more often now, many of us have begun to think about what personal stories and other information we want to preserve for our family members and others. Our classmate Mike Blackledge has used his pandemic-imposed isolation productively to complete a compilation of family history and other information. He sent this account of his project:



&nbsp Being locked down for much of this past year finally provided the freedom from distractions to complete my anthology of family information, photos, and stories. Six years in the compilation, the result is a 644-page softcover volume: Blackledge Stories....and other BS. Now available from Amazon, the book is also offered at cost on my web site, BlackledgeBook.org. This book is a companion to a much larger and more scholarly work, the 3,300-page three-volume work Blackledges in America which three of us published in 2002 with a 2nd Edition issued in 2013. This 2020 softcover companion provides extended family stories and classmate anecdotes. It includes contributions from classmates Ken Sanger and D.B.A. Moore, classmate memories from 22 November 1963, and P.E. anecdotes during our Academy days.
&nbsp The book's appendix provides helpful suggestions about things that face us all, such as what to do with family heirlooms and setting up a "Turnover Notebook" with information critical for your survivors. The book contains the never-before-published "History of USNA Prep Schools and Entrance Examination" by James W. Cheevers, retired senior curator of the USNA Museum, in which he notes that our class was the first for which the exam was not a requirement, as the Academy finally accepted SAT college board exam results. Captured in the appendix is a transcription of the 1922 U.S. Naval Academy Entrance Exam; of the 1,216 candidates who took the exam in April 2016 (including my father), only 452 passed. If you attempt the exam, you will see why Prep Schools were de rigueur for applicants.
&nbsp One chapter in the book is titled "A Century of Service" and documents the family's military involvement from April 1916, when my father, Allan Blackledge (USNA '20) passed the USNA entrance examination, until September 1, 2014, when my (now deceased) son LtCol Douglas Faust Blackledge (USAFA '92) retired from the U.S. Air Force.
&nbsp This is my legacy publication, and I encourage each of us to write our own collection - without waiting for another pandemic.
---
&nbsp


Since you may have some free time these days, take a minute to review your Current Biography on our web site. An update may be in order for you. Click HERE to go to the site. Submit your updates to Webmaster Steve Coester at scoester@cfl.rr.com.
---
&nbsp With so little text this month we have room for a few pictures from our photo archive. See if you remember these younger men and women.
&nbsp The first picture is undated, probably around 1990, and was taken at Point Loma in San Diego. If someone knows what the occasion was, please tell me.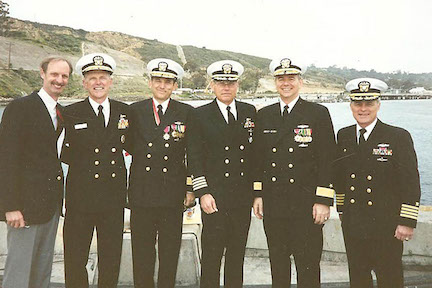 Phillip Marsden, Joe Strasser, Dave Oliver, Art Walther, Karl Kaup, Chuck Stone



&nbsp The next picture of classmates was taken at June and Chuck Stone's home in Escondido, CA, at a 2005 dinner party welcoming Mallory and Felix DeGolian who were visiting from Atlanta. Pictured are Rich Wilson, Felix, Jim Fontana, Phillip Marsden, Ted Krohne, and Chuck.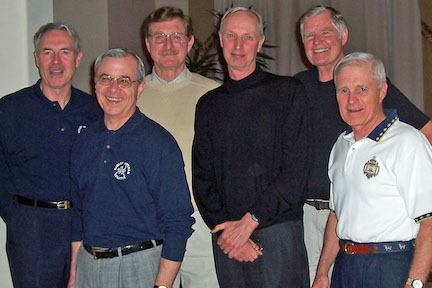 Dinner guests at the Stones' home



&nbsp For many years, several of our classmates came together as Terry's Team to honor our classmate Terry Abell by riding in the annual Northern Virginia bikeathon to raise funds to fight multiple sclerosis. This photo shows some members of the 2006 team: Brev Moore, John and Carroll Aucella, Peter Browne, and Bob Harper.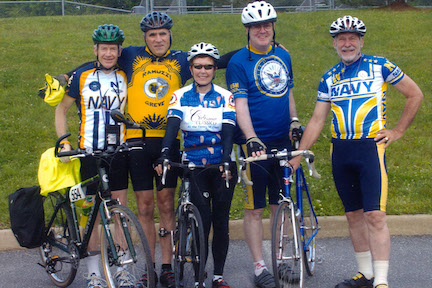 Terry's Team bikeathon riders in 2006



&nbsp This image comes from a meeting of the Class of 1963 Foundation Trustees at Jim DeFrancia's home in Aspen, CO, in January 2007. Left to right are Doug Davidson, visiting friend Guy Zeller, David Puckett, Al Griggs, Mike Rubel, and visiting friend Jim Kaufman.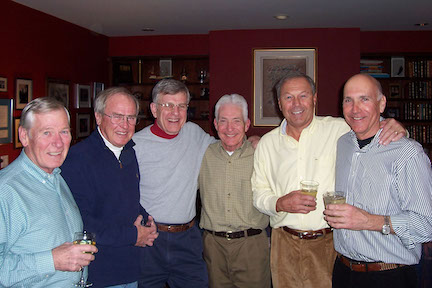 Class Foundation Trustees meeting in Aspen



&nbsp This picture from a class picnic presents a large number of classmates, wives, maybe a girlfriend or two, and three children. I think it was taken in 1970-71. If you know when and where this picnic happened, please tell me.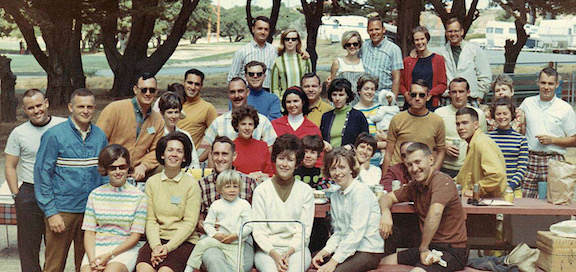 A Class of 1963 picnic somewhere, sometime...



&nbsp Our last photo this month was taken on the occasion of Rich Wilson's retirement from the Navy on 5 June 1997 - 34 years to the day from our graduation and commissioning. The ceremony was held at the Washington Navy Yard. Kneeling in the front row are Doug Davidson, Roger Mehle, Forrest Siburt, Jeff Miles, Jim Ring, and Joel Gardner. Standing are Bill Howard, Stuart Settle, John Kelly, Denny Vaughan, Dan Koczur, Frank Edrington, Charlie Minter, Mike Shelley, Denny Conley, Satch Baumgart, Larry Marsh, Dave Byrnes, Paul Tobin, Bruce Webb, and Mel Bunnell. The four Flag Officers were sideboys as Rich was piped over the side.



---
&nbsp That's all for now. The normally low activity level of the winter months plus the social limitations imposed by the pandemic have reduced the flow of Class of 1963 information to a very low level. Let's break out of that funk. Please take a few minutes to send me an email with news to be shared with our classmates. I have many old photos that can be published but I think you'll want to read some stories also. It's your turn to speak up. Thanks!



---