Shipmate Column
May 2022
---
CLASS OF 1963
Pres: CAPT W. Spencer Johnson IV, USN (Ret.)
Sec'y: Michael H. Shelley
27 Cambridge DR, Brevard, NC 28712
h: 828-506-2201 e: nstar@citcom.net
Web site: http://www.usna63.org.


For any classmate you can go to the Classmates Page and enter his name to read his current biography if available.
---
---
---
&nbsp I have a nice variety of information to pass along this month. We appreciate everyone who submitted news and photos for your enjoyment.
---
&nbsp We note here the loss of two members of the Class of 1963 family.

John Alan McAnally passed away on 17 February 2022. His widow, Terry, can be contacted at 5625 Caminito Isla, La Jolla, CA 92037.
---
&nbsp I'm sorry to report the death of John Morgan's wife, Kay, on 26 January. John can be contacted at 9925 W. Royal Oak Road, Room 1425, Sun City, AZ 85351.
---
&nbsp Jim Fontana sent this news of a significant and permanent honor conferred on our late classmate Craig Thrasher.
&nbsp On February 26th, at the annual Navy Crew Banquet held at the Banquet Facility at the Navy-Marine Corps Memorial Stadium, the Academy unveiled a new perpetual award in honor of our deceased classmate Craig Thrasher. The plaque shown below with the image of Craig taken from a 1962 issue of Sports Illustrated will be permanently mounted in Hubbard Hall.

The Craig Thrasher Award



&nbsp This is the text appearing below Craig's image: "The Craig Thrasher Service to Rowing Award is given annually to a member of the Navy Crew alumni in recognition for their outstanding service to the rowing community."

At the bottom of the plaque is this paragraph: "This award was created in memory of Craig L. Thrasher (USNA 1963) for his extraordinary contributions to the rowing community. Craig spearheaded the creation of the Navy Masters Rowing Program and the establishment of the Navy Crew Fund. In Buffalo, New York, he formed and coached the women's program at the West Side Rowing Club, collecting numerous national and international awards. Craig was a driving force behind the design and build of the Buffalo Scholastic Rowing Association Boathouse, and with the introduction of the sport to otherwise underserved minorities. He will be remembered as an Eastern Sprints and IRA Champion, and as a finalist with the Class of 1963 Plebe Crew in the 1960 U.S. Olympic Rowing Trials."
---
&nbsp Members of our USNA companies continue to stage reunions and Zoom meetings to maintain contact, enjoy coming together, and support each other. Ken Metviner filed this account of his company's latest gathering this winter.
&nbsp In early February, we had a 24th Company Reunion in Florida at Walt Disney World, with a side trip to Gatorland. I am happy to report that no one was eaten by any of the hundreds of hungry alligators. We had dinner at The Artisan Club with classmates Dave and Judi Puckett and Bruce and Larissa Webb. Shown in the photo (l-r) are Nick Nerangis, Ken Metviner, Dick Andrews, Sandy Metviner, Desi Parks, Susan Andrews, John Parks, Betty Ray Wilson, Tom Morgan, Judy Kutch, and Ray Kutch.

24th Company reunion



&nbspWe discussed a 24th Company initiative to memorialize our companymates who pass away and whose families wish to have donations made to the '63 Center for Academic Excellence. This involves the establishment of a 24th Company Memorial Fund to receive donations from surviving companymates. The Fund has already earned a spot on the 63CAE Striper Plaque. If other companies want to set up their own Memorial Funds, contact Ken Metviner by email at kmetviner919@aol.com
---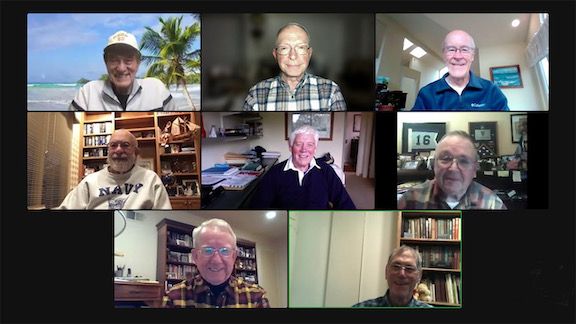 Fourth Companymates Zoom in January


&nbsp Several members of the 4th Company continued their use of the Zoom connection for a virtual get-together on 31 January. Shown left to right, top to bottom in this screen shot are Tom Meyer, Mike Shelley, Pat Wright, Doug Tozour, Craig Barton, Harry Salmon, Steve Duncan, and Ron Saqui. I asked regular participant and Sandpoint, ID, resident Ken Sanger why he was absent, eliciting this response:
&nbsp I had a treadmill test and cardiologist visit. The good news is that the doc came into the room and introduced himself. No bad news. He then said, "I have been looking forward to meeting an 81-year-old who can get through three stages of the treadmill!" Up until then, I thought I had failed. Learning that I was healthy, I took my new skis skiing the next day. I can afford skis since the mountain charges only $30 for a season pass for those over 80. Normal people pay between $800 and $1,300, depending on when one purchases. I think the idea behind charging only $30 is that we will bring our children and grandchildren to the mountain or that we will exhaust ourselves early and spend our dollars in the various shops and restaurants.
---
&nbsp Mike Blackledge sent this information about his sister, Patricia Ann Blackledge Price Blide, who died on 21 January. She had multiple connections to the Naval Academy.
&nbsp Patti graduated from Rice Institute in 1958 and earned her Master of Liberal Arts from Southern Methodist University in 1978. Her connection to the Naval Academy is unique. When Navy (nationally ranked #5) played Rice (#8) in the 1958 Cotton Bowl, Patti's sister Penny, as the Rice Homecoming Queen, was to be the Cotton Bowl Queen. When the midshipmen learned that Penny had a twin sister, and that the twins' father Capt. Allan D. Blackledge was USNA Class of 1920, they immediately requested that Patti be their queen. It came to pass, and Patti's escort for the game (won by Navy, 20-7) was Brigade Commander Chuck Larson - the same Chuck Larson who was twice Superintendent of the Naval Academy and is buried at the USNA cemetery next to his close friend John McCain.






---

&nbsp I learned of a short video about the '63 Center for Academic Excellence in which Midshipmen talk about the value of the CAE. I encourage you to see it by clicking HERE
&nbsp If you have some time to spare, click HERE to see an entertaining video about the Class of 2025's Plebe Summer last year.
---

&nbsp Tom Meyer told me about some good internet resources related to the Naval Academy. The photo sharing web site Flickr has a large collection of contemporary photographs taken in The Yard. To see them, just go to www.flickr.com and search for "Naval Academy." Tom also mentioned the information available at www.navalacademytourism.com That's a fun site to visit, and a way to connect to the Midshipmen's Store and the USNA Gift Shop to find and purchase Academy related clothing and other items. If you're into podcasts, Tom recommends that you check out "Preble Hall" in your podcast app. It's produced by the Naval Academy Museum.
---
&nbsp Our previous Shipmate column published the long-secret story of an attempt by some of our classmates to steal Army's mules in the fall of 1962. Impressed by Austin Seay's account of the operation, Tom Robertson sent him this note:
&nbsp We are all in awe of 6th Company's exploits after reading your long-held story from the archives. The rest of us were playing child's games while you guys were in training for real combat. My first inclination was that this operation had been sealed in special access files. So, I did some research and was able to come up with the enclosed citation. Congratulations, and enjoy the light.



&nbsp The uncovered "Navy Unit Commendation" recognizes the participating midshipmen for their courage, aggressiveness, intrepidity, resourcefulness, persistence, courage (a second time), gallantry, etc. However, the purported citation is signed by J. William Middendorf, who did not become SECNAV until nearly 12 years after the event. Hmmm... To read the inspiring text in the Pride and Tradition section of our web site, click HERE
---
&nbsp The photo below appeared in our '63 column last month. Taken on 7 July 1959, it shows, clockwise from the top, Eli Dabich, Clay Dugas, Jack Hood, Unidentified, Keith Reynolds, and - we now know - Jim Stageman. Jim Kuneman is at the end of the table.



&nbsp After seeing the photo, Jim Stageman contacted me to provide this additional information:
&nbsp I can help you with the photo. Allow me to introduce Cutter Crew # 303. The photo was taken at noon meal. (Note the civilian clothes) By evening meal, we were sworn in and wearing white works. I am directly across from Clay Dugas. I can't remember the name of the guy on my left. I just recall that he was from Norfolk, complete with accent, so south was "sooth" and about was "aboot." Other illustrious members of the crew included Steve Leisge, Bob Polich, Frank Butler, Ken Santucci, and Luis Adriasola. At least that's how I remember it, so buyer beware.
&nbsp I don't have much current news to report. We haven't done much of anything with the COVID going around. My only accomplishment, somewhat dubious, in the past two years has been reading all 20 books in Patrick O'Brian's "Lucky Jack Aubrey/Steven Maturin" series. I absolutely loved them. If anyone has any interest in the "ships of wood, men of steel" era, I would highly recommend them, but be warned, they are highly addictive.
---

&nbsp Here's a very nice image of USS FITZGERALD that I came across recently on the World Military Photos page on Facebook. It is captioned, "SM-3 Anti-Ballistic Missile Interceptor launched from DDG-62 USS Fitzgerald as part of the Aegis Ballistic Missile Defense system." You can click HERE to see a larger version of the picture and many more images of ships, aircraft, and other military equipment and personnel.
---
&nbsp That's all for this month. Keep in touch. We love seeing your news and photos!



---