Shipmate Column
May/June 2010
---
CLASS OF 1963
Pres: CAPT W. Spencer Johnson IV, USN (Ret.)
Sec'y: Michael H. Shelley
164 Sweetwater Lane, Pisgah Forest, NC 28768
h: 828-862-4245 e: nstar@citcom.net
Web site: http://www.usna63.org.



For any classmate you can go to the Classmates Page and enter his name to read his current biography if available.


&nbsp Let's begin this column with some long-range thinking and planning. If you haven't already done so, reserve 31 March - 3 April 2011 on your calendar. Those are the dates of the Class of 1963 Mid-Term Reunion in San Diego. The planning committee is already making arrangements for a full schedule of events such as a San Diego Harbor Cruise, a Graduation Ceremony and Parade honoring our Class at the Marine Corps Recruit Depot, and lots of time for meeting and greeting Classmates as well as multiple opportunities for sightseeing, golfing, touring, and just relaxing and enjoying San Diego. Be there!
---
&nbsp A Navy veteran named Dan Glenn has made contact to seek information about our late classmate Jerry Pinneker. Here's his request:
&nbsp I was in Jerry Pinneker's squadron when he was shot down in South Vietnam in 1966. We were good friends at the time. I am working on writing an extended story about Jerry, his family, the events of his life, and the effect it had on others for years to come. I would very much like to hear from any of his classmates who were close to him at the Academy. I'm interested in special stories or details that would increase understanding of his time there. Although I have many Academy graduate friends, my insight is limited since I was commissioned through the NROTC program. I am currently living in Colorado about two hours from Colorado Springs. I can be reached by e-mail at dglenn@2g.com or by telephone at 719-742-0272.
---
&nbsp Long-time Guam resident Dick Wyttenbach-Santos continues his active participation in government and military matters there. Here's the text of his latest update:
&nbsp I reacted quickly when I read in Shipmate that Jim DeFrancia would be involved with the Guam Military Buildup as a member of SECNAV's Advisory Panel. I swamped Jim's email system with many lengthy documents on the buildup. Sorry, Jim!

&nbsp I have been involved in the buildup for the past two years from the local Guam government perspective as the Chief of Staff for the Chair of the Guam Legislature's Committee on the Military Buildup and Homeland Security. The buildup is a $12-15 billion dollar project, with more than half covered by the Japanese, to relocate to Guam from Okinawa 8,600 Marines with 9,000 dependents and 2,000 transient Marines on any one day. All of that money is programmed to build infrastructure inside the bases. Guam's population will jump from 173,000 now by 79,000 additional people in the peak year of the buildup, 2014. Vehicles will jump from 105,000 now on the roads to 130,000. GAO has estimated that Guam needs $2.9 billion dollars for infrastructure outside the bases directly needed for the buildup. This is the main problem for the people of Guam since Guam has reached its public debt ceiling and the local government's $500 million annual budget is barely able to satisfy the current needs. Thus far, only minimal money (less than $30 million) has been obtained from federal grants and loans for the civilian buildup needs. For example, the only port needs an upgrade costing $195 million to have the throughput capacity for the buildup and a federal grant request for $50 million for starting up that project just got rejected by the federal government. So, as of now, this vital national security program is stalled: No federal money for civilian needs to support the buildup results in no buildup at all. The military needs the civilian power, waste water, roads, port, etc., upgrades in order to exist on their bases. It is as simple as that. The Committee's motto is, "If it is not win-win, we both lose."

&nbsp On a personal note, my daughter, Debbie, from Northern Virginia, joined the Iwo Jima Veterans historical tour and I went to Mount Suribachi with her in early March.
---
&nbsp In our previous Shipmate column, I shared Jim Metcalfe's news about the Army-Navy wrestling match in Annapolis on 20 February. Since then, I received this fine photo from Steve Duncan's wife, Natalie. Taken after the match, it shows, left to right, former Navy grapplers Jim Metcalfe, Jeff Miles, Ron Tebben, Steve Duncan, Jack Everett '64 and Fred Crawford '64 .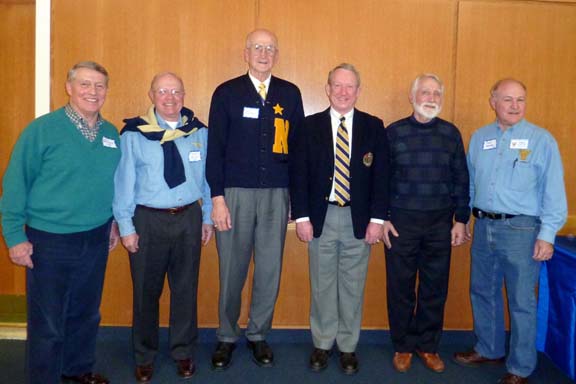 At the 2010 Army-Navy wrestling meet


&nbsp Continuing our wrestling theme for a second consecutive month, here are two historic images from The Metcalfe Files. The first shows the 1959-60 plebes who wrestled in intercollegiate meets. Left to right in the front row are Mike Harman, Joe DiFilippo, Jim Metcalfe, Frank Pinney, Ron Tebben, Clay Morse, Tom Strahan, and Eric Turner. Classmates in the back row are Andy Mezmalis at the far left and Jack Brannon at the far right. Included in the second image are, according to Jim, "just about everybody who was on the team plebe year."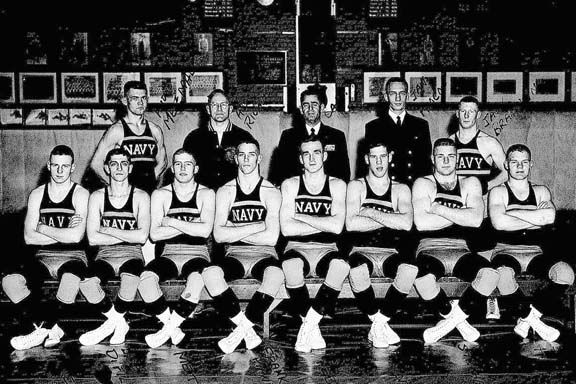 1959-60 intercollegiate wrestlers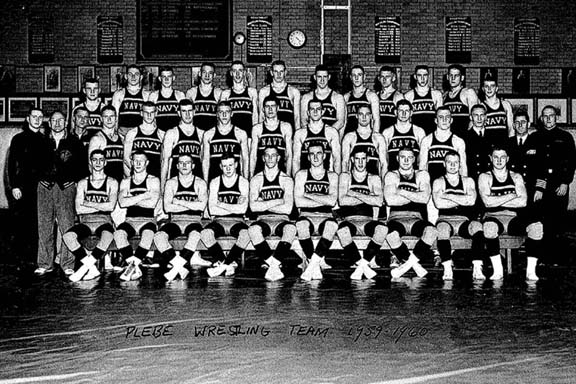 1959-60 plebe wrestling team
---
&nbsp Ben Redd touched base with me in March to follow up on an earlier conversation we had about the changing nature of Plebe Year. He sent along a picture taken on I-Day for the Class of 2013 showing cookies being distributed to some of the new plebes after the swearing-in. I learned that the cookies were probably supplied by a midshipmen parents' club rather than the Academy or the Alumni Association. Whatever, it's sure not the old Navy.



&nbsp Ben is semi-retired now, doing management consulting for the transportation industry
---
&nbsp I haven't received many communications from classmates this month (Where ARE you guys?), so we have room here for even more images from my collection of old prints. First, though, here's a picture supplied by Mike Krause showing one of our helicopter pilot classmates looking ready to take on the bad guys.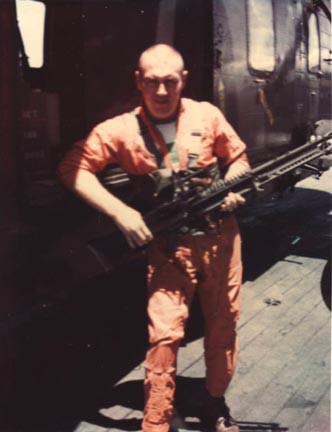 Vern Von Sydow
---
&nbsp See who you recognize in these images, all previously published in Shipmate at one time or another.



























---
&nbsp That's all for now, folks! Take a minute or two sometime soon to send me an e-mail about your recent activities and any classmates you may have seen or talked with. A digital image or two would be a nice plus. Thanks.



---