Shipmate Column
May-June 2015
---
CLASS OF 1963
Pres: CAPT W. Spencer Johnson IV, USN (Ret.)
Sec'y: Michael H. Shelley
164 Sweetwater Lane, Pisgah Forest, NC 28768
h: 828-862-4245 e: nstar@citcom.net
Web site: http://www.usna63.org.


For any classmate you can go to the Classmates Page and enter his name to read his current biography if available.
---
---
---
&nbsp With regret, I must inform you that four of our classmates have died in recent months. Brief information about them appears below. Please view their obituaries in the Last Call section of our web site.

Jimmy Ray Slaughter passed away on 21 March. His widow, Carolyn, can be contacted at 8470 Meliaceae Drive, Pensacola, FL 32514.

I just learned that Las Vegas resident Virgil Don Markus passed away on 30 December 2014. He never married and left no survivors.


&nbsp Charles D. Stubbs died on 31 March. His widow, Caroline, can be contacted at P.O. Box 3343, Annapolis, MD 21403.

Jerauld S. Prather passed away on 11 April. His widow, Barbara, can be contacted at 3512 Sandy Point Key, Virginia Beach, VA 23452.

Niles A. Iannone died on 16 April. His widow, Mary, can be contacted at 3 Skipjack Lane, Savannah, GA 31411.

In a previous column, I told you of the death of Reed Farrington in December. We have since identified his nephew, Todd Farrington, as his next of kin. He may be contacted at P.O. Box 223485,Carmel,CA 93922.
---
&nbsp Writing from his mountaintop home in Escondido, CA, Chuck Stone tells us about a visit by good friends.
&nbsp In mid-February, we had a delightful visit with Mallory and Felix de Golian. Coincidental with some business in Los Angeles, they decided that it was a good time to escape the brutal winter back east, even in Atlanta. After a few days with friends in La Jolla, they came up to Escondido, where we were joined for lunch by Pat and Jim Fontana at "Champions," a classic '50's diner in old downtown. We then returned to our home in rural north county where the flower season was in full bloom. Then we steamed up some lobsters for dinner. They headed up to LA for business and to visit "cousins" before returning to Atlanta. Here are a couple of pictures of Felix and Mallory with my fully restored 1967 Austin Healey Sprite.






---
&nbsp


In late February our Class President, Spencer Johnson, received this letter from a member of the Class of 2018:

&nbsp My name is 4/c Midshipman Estrella and I am writing to you in order to say THANK YOU! for your help, kindness and support. I am part of the class of 1963 Center for Academic Excellence and I cannot thank you gentlemen enough for your support and involvement. There is not a day that goes by that I do not go for help. You gentlemen gave so very generously your time, knowledge, and patience.
&nbsp It is because of individuals like yourselves that I am proud to be part of this amazing institution, because of those who came before me and the influence you have had in my life and others like me. As a result of your expertise and guidance, I have learned a great deal from you, and your involvement has helped me become better.
&nbsp Once again, thank you for your commitment and assistance. My gratitude for your contribution to my future success as a Midshipman is immeasurable. Thank you for your service and continued support. You guys rock!! I would like to one day repay you for your kindness! Very respectfully, Anderson Estrella, MIDN, USN
---
&nbsp A reunion of Navy's heavyweight crew alumni was held in Annapolis on 28 February with more than 270 oarsmen on hand. One of the attendees was Mike Blackledge's brother Pete (USNA '69), who provided this photo of himself with two of our classmates.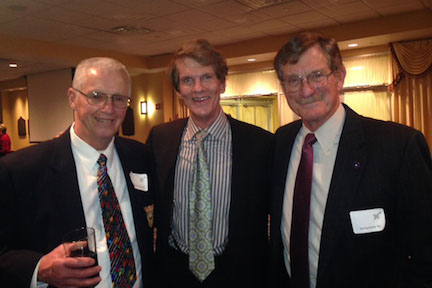 Craig Thrasher, Pete Blackledge '69, and Jim Fontana
---
&nbsp Here are two reports about our classmates in the Southern California golfing communities near Palm Springs. The first comes from Mike Rubel.
&nbsp I thought I would add to our Shipmate column by including a photo of a foursome who braved the cold and wind to complete a round of golf in the desert. It was cold when we started, 58 degrees, but warmed nicely to 70 by midday. Pictured are Chuck Spadafora, Lew Blackwell, Mike Rubel, and Tim Cook. We had a great time as usual and a post-event dinner at the Blackwells' home in PGA West. It's always good getting together with classmates, which is more special as the years roll by.

California golfers



&nbsp Lew Blackwell followed with this account of some reptilian revelry on another occasion.
&nbsp Who said 63'ers were over the hill? Jim Oakes and I were recently guests of Mike Rubel at his country club in Indian Wells ,CA. Among the evening's entertainers was a very athletic snake dancer who took an interest in Jim and with some coaxing got him onto the dance floor. As you can see, she was very impressed with Jim's continued dexterity.

Jim Oakes charms the charmer



---
&nbsp Sue and Ben Cole live in a lovely community in the foothills of the Blue Ridge Mountains near Pickens, SC. They graciously invited several classmates and their wives, all now living in North Carolina, to visit them in early March. Linda and Zimm Zimmerman and Cindy and Bob Maier spent the night of 3 March at the Coles' and were joined by Lois and Bernie Grabowski and Lou and Mike Shelley the next day. Ben was, as usual, an attentive and skilled bartender. Sue set a gorgeous table and served a most excellent lunch to everyone. To top off everything, they provided beautiful weather for our enjoyment. Here are two photos from that day.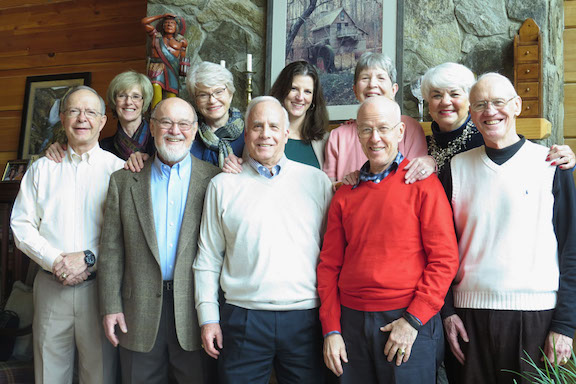 Shelleys, Grabowskis, Maiers, Zimmermans, and Coles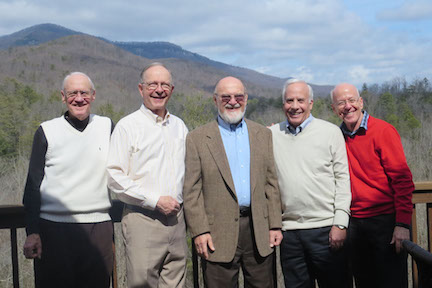 Enjoying sunshine and fresh mountain air
---
&nbsp Phillip Marsden checked in with this news:
&nbsp Jim Fontana, Max Ricketts, and I were at La Jolla Country Day School in mid February to hear Harlan Ullman discuss his latest book, "A Handful of Bullets" at a luncheon sponsored by the City Club of San Diego. Harlan gave an excellent talk that generated a lot of discussion among the attendees. Harlan and ADM Leon "Bud" Edney '57 were also invited to be guest speakers in an AP History class -- those lucky students got quite a treat!

The distinguished author




Marsden, Ricketts, Ullman, and Fontana in La Jolla, CA



---
&nbsp As I write this in late March the so-called Dark Ages are coming to a merciful close. Being kept inside by the weather does have some side benefits, though, as increased computer use has turned up some interesting motion pictures about the Navy and the Naval Academy. &nbsp Jim Koehn discovered a Lockheed Martin film about the USS FITZGERALD (DDG 62), the Arleigh Burke-class ship named for our gallant classmate Bill Fitzgerald. The nearly nine-minute production covers Bill and his heroism in Vietnam, followed by a broad survey of the ship's electronics and weapons systems. You can see it on the internet by clicking HERE .
&nbsp Another film, much older, was reported to me by Phil Rooney. Part of a three-reel documentary U.S. Navy of 1915, the film shows submarines and other warships, gunnery exercises, and aspects of daily shipboard life. It ends with a whaleboat drill, reminding me of one of the more memorable evolutions of our own Plebe Summer in 1959. To see the film, click HERE .






&nbsp Wrapping up our cinema theme for the month, do you remember the official Navy film Ring of Valor from our midshipman days? Released in 1965 and narrated by actor Robert Taylor, it includes many scenes from our Academy years. You can see it by clicking HERE . Watch closely and you may see midshipmen and others you recognize. Near the 20 minute mark you can watch plebes Steve Coester and Dick Danhof playing tennis on the Stribling Walk courts. At the 24:54 point are Jim Killian (at the right) and an unidentified classmate on Youngster cruise. Thanks to Bob Easton for calling attention to this delightful time capsule.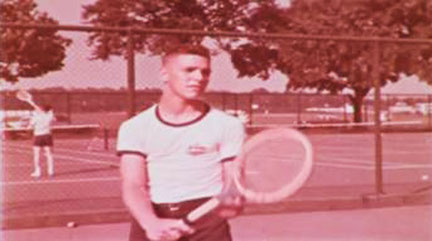 Steve Coester
Youngster Cruise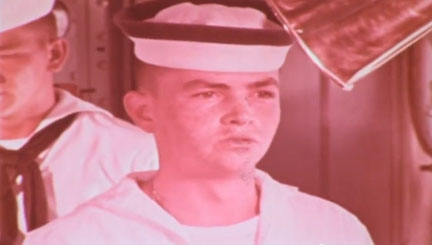 Jim Killian
---
&nbsp We'll close this month with a fine photo taken aboard FITZGERALD during an underway replenishment. Thanks to Travis Beard, who found it on the web.



---
&nbsp Thanks to everyone who contributed news and images for your enjoyment. Why don't you join them by sending me an email today to be shared with our classmates?



---