Shipmate Column
May-June 2016
---
CLASS OF 1963
Pres: CAPT W. Spencer Johnson IV, USN (Ret.)
Sec'y: Michael H. Shelley
164 Sweetwater Lane, Pisgah Forest, NC 28768
h: 828-862-4245 e: nstar@citcom.net
Web site: http://www.usna63.org.


For any classmate you can go to the Classmates Page and enter his name to read his current biography if available.
---
---
---
&nbsp Too often, it is my sad duty to inform you of the death of one of our classmates. The loss is noted briefly in our class column and more fully in the Last Call section of our web site where full obituaries are included when available. I encourage you to visit Last Call by clicking here to remember and salute the nearly 200 graduates and many other men whose names are listed there.
&nbsp Since our previous column I have learned of the deaths of two of our classmates.

&nbsp A heart attack claimed Bill Marsh on 25 January. His widow, Kay, can be contacted at 3246 Lakeness Road NW, Poulsbo, WA 98370.

&nbsp Roger Deegan passed away on 7 March. His widow, Sandra, can be contacted at 12412 232nd Terrace NE, Redmond, WA 98053.
---
&nbsp Miller Detrick sent this illustrated note in March.
&nbsp I had the pleasure recently of spending time with Chuck Greenwood '50, on his 38ft sailboat at Tampa Yacht Club, of which we are both members. You may recall that he was the Assistant Chaplain during our time at USNA. He flew Corsairs and Cougars and then went to Princeton Theological Seminary. Came back in as a Navy Chaplain. He performed many wedding ceremonies of our classmates. He had a subsequent tour as Senior Chaplain, at the Academy. He retired and then accepted the call to be the pastor of our church here in Tampa, Palma Ceia Presbyterian, for 11 years. He still sails!

Miller Detrick and Chaplain Chuck Greenwood '50



---
&nbsp Felix deGolian shared this '63 couples story with a very happy ending.
&nbsp Last summer Jim Fontana reported about a Rhone River trip six of us (deGolian, Fontana, Konold, Kuntz, Pero, and Thrasher) made with wives.... to keep us out of trouble. I don't recall what prompted it but this picture from Jim was taken the last part of the trip. We thought it was really special. The ladies whose beautiful, bejeweled hands are on display are Pat Fontana, Beth Konold, Leslie Pero, and Peggy Thrasher.



&nbsp I didn't appreciate it at the time, but I was being set up. Shortly after the picture was shared around I began getting a few subtle and subsequently not so subtle questions from the ladies regarding why Mallory could not be included in the picture. Dumb old me. Mallory and I were married four years after I left active duty so she had little tie in with Navy. At the time I didn't think a miniature would mean that much to her.
&nbsp Things have changed. In our later years we've had multiple chances to interact with classmates and my bride now feels very much a part of the bride's group. She had not said a word to me in recent years but the ladies referenced above did. And I responded. We were in Annapolis late last year which gave me a chance to visit Tilghman's. I told Mallory I was going in to get a stone in my ring replaced, a ploy I had set up with Rick Tilghman. Mallory saw through that so fast it was a joke.
&nbsp Mike and Craig, with ladies, and Jim and I were together very recently in Annapolis for the dedication of the Navy Eastern Sprint winners plaque. My report of our visit to Tilghman's was very well received. Today Mallory's miniature arrived. I can't wait to give it to her. The setting is the same you see on all four rings in the picture. An unexpected initiative prompted by four lovely ladies has produced a long overdue result.
&nbsp Oh, and Tilghman's did find the stone I wanted for my ring and it's on the way.
---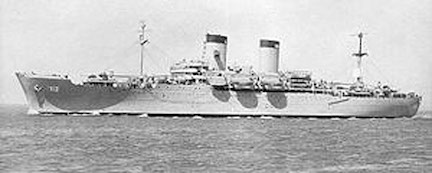 USS GENERAL H.W.BUTNER


&nbsp Ken Sanger wrote to tell us of a surprising coincidence.
&nbsp Life is full of small discoveries. My daughter was doing an internet search for a project. She was led to ancestry.com and searched ship manifests for Sanger. She found a passenger manifest that listed my mother and me aboard USS GENERAL H.W BUTNER (AP-113), sailing from Pearl Harbor to San Diego in April of 1949. She sent me the manifest page and I decided to randomly scan it. I am listed on line 15 and, to my surprise, on line 23 is my Academy roommate, Dave Shute. In four years together and many times later, we never discussed being in Hawaii at the same time, let alone "serving" on the same ship in 1949!
---
&nbsp Ron Klemick provided this news about a celebration of a notable Navy football coach.
&nbsp On 23 March a celebration of Coach Wayne Hardin's 90th Birthday was held at Ballen Isles Country Club in West Palm Beach, FL. Approximately 100 people attended, including Coach's family, teammates of Navy classes 58-66, Temple teammates from Wayne's 13 year coaching career. Bill Belichick and his lady friend were honored guests as many of us remember Bill as Steve Belichick's son; he was only 9-11 years old during our time behind the green fence.
&nbsp Roger Staubach, Tom Lynch , Rick Forzano (our defensive backfield coach), Chet Gladchuk , Bill Belichick, and selected Temple players added remarks to the evening. Wayne wrapped up the celebration with a condensed version of his coaching career which led to his 2014 entry to The College Football Hall of Fame. He does not want any more Birthday parties until #100.
&nbsp This photo shows that the Class of 1963 was well represented. Left to right are Fred Storz, Bob Schaefer, me, Roger Staubach '65, Coach Wayne Hardin, and Walt Pierce.

At Coach Hardin's birthday celebration




Sandy and Ron Klemick and Coach Rick Forzano




Ron Klemick, Roger Staubach, Coach Hardin




Ron and Sandy Klemick, Bill Belichick, Linda Holliday



---
&nbsp In other sports news, here's a photo taken in March of Jim Oakes standing between (photos of) two other tennis greats: number one-ranked Novak Djokovic on the left and number two Andy Murray.



&nbsp Jim's photo came to me with this note:
&nbsp I'm attending the BNP Paribas tennis tournament all week and enjoying the warm hospitality of Lynn and Lew Blackwell at their elegant desert palace in La Quinta, CA. Mike Rubel came over for drinks one night and told us about a fishing/shrimping trip he took and Linda and Chuck Spadafora came over for a scrumptious dinner that Lynn and Lew prepared. This is a tough life they have in the desert in the winter, but, as they say, somebody has to do it!
---
&nbsp Jerry Saber tells us about his recent visit to many parts of Vietnam.
Jerry Saber in Vietnam, 1968
&nbsp Carol, my wife, always wondered if I would ever return to Vietnam where I spent a year in country as a Psychological Warfare Officer. I spent my first seven months on the staff of Commander, Naval Forces Vietnam living in Saigon before getting a similar billet with The River Patrol Force in Can Tho where I worked with not only our personnel but also with Vietnamese who rallied to their government having been Viet Cong.
&nbsp When our parish priest, an escapee "boat person" at age 14, decided to lead a tour, I jumped at the opportunity. Our small group of 12 people spent 10 days visiting Hanoi, Halong Bay, Hue, Hoi An, and My Tho ending up in Saigon, now called Ho Chi Minh City (HCMC). Nothing looked familiar except the thousands of motorcycles that filled every street. New buildings replaced everything including where I was billeted and the compound where I worked in HCMC. Only the Cathedral and the Rex Hotel (billet for senior officers) where I enjoyed a steak dinner for two dollars once a month looked the same.
&nbsp The people were friendly, the hotels were awesome, and the food was fabulous. Unfortunately, I had lost the language capability I worked so hard to master; it was totally replaced by Japanese where I spent my last five years on active duty at our embassy in Tokyo plus an additional nine years working for defense contractors. We now lead tours to Japan where we just returned from viewing their spectacular display of cherry blossoms. Pictures from those tours fill our website at saberdesigns.cc .

Jerry and Carol Saber




At the Ho Chi Minh mausoleum in Hanoi



---
&nbsp Steve Coester shared this account of a classmate's visit to the Florida "Space Coast."
&nbsp Bruce Webb had a job presenting "Technology Transfer" to the employees at Kennedy Space Center March 15-17. Yvonne and I took him to Space Coast landmark Dixie Crossroads in Titusville for a great seafood dinner on the 16th. He picked up the check, nice guy that he is. Then on Friday morning before his flight back to D.C. Bruce and I toured KSC concentrating on the Space Shuttle Atlantis exhibit and the Apollo-Saturn V Center. Since I helped launch both of them I had lots of tales to share. There were several other tourists hanging on while I tried to explain things, and boy were they impressed by 1. two USNA grads, 2. Bruce's Naval air career and 3. my career launching rockets. Because of our time constraints it was a pretty slam bam trip, but fun for me and hopefully educational for Bruce. It is always great to see old classmates and friends. Way back then, Bruce was in 17th and I was in 18th so we knew each other well as mids. If any classmates are in the area I'd be happy to show them KSC.

Bruce Webb at the Kennedy Space Center



---
&nbsp Dave Moore sent this picture. The occasion was an impromptu lunch in Carmel, CA, that he, Frank Pinney, and John Peterson had recently. Dave noted that Frank had returned to the civilian world in 1961. Frank recently moved to Carmel Valley but is still busy building homes in Big Sur.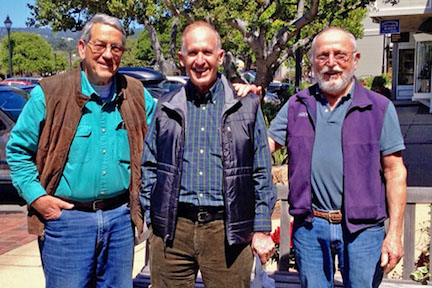 Pinney, Moore and Peterson in Carmel
---
&nbsp Hugh Schall tells us about a winter getaway in Utah.
&nbsp In late February Mike and Bonnie Spear and Georgia and I spent a week at the Canyons Resort in Park City, UT. Mike and I enjoyed skiing in both Park City and Deer Valley, while the ladies enjoyed Park City's shops and restaurants. Mike and I skied all over the mountain, but didn't conquer it. We at least achieved a draw. At our level of maturity, that is probably the best we can expect. Here is a picture of the four of us enjoying a relaxing lunch on one of our days of rest.

Bonnie, Georgia, Mike, and Hugh in Park City



---

&nbsp Noting that Navy quarterback Keenan Reynolds played in the latest East-West Shrine Game, Frank Edrington remembered being at a much earlier version of the annual charity event.
&nbsp I did go to go to the 1964 East-West Shrine game which featured Roger Staubach, Gale Sayres, and Dick Butkus. Staubach and Butkus sneaked my younger brother Peter, then close to 15 years old and the quarterback of his high school freshman football team, into the locker room after the game. Staubach gave Peter his No. 12 game jersey. Mother had to wash it three times to get the mud out. The game was held at the old Kezar Stadium in San Francisco and we had a rain storm which blew in and turned the field into a quagmire. Staubach got MVP, but Sayres actually deserved the award as he had a great second half.
&nbsp I had introduced Peter to Roger at the Cal-Navy game in Berkeley and Roger had given him his helmet chin-strap. After the Shrine game, Peter went down to ask Roger if he could have his chin strap and Roger said he was sorry, but all the players' chinstraps were going to children in the Shriners Hospital. Then he said to Peter, would you like to have my game jersey? You can well imagine Peter's response! When Peter got to the dressing room after the game, the security people wouldn't let Peter in saying only players and coaches were allowed in the dressing rooms. Butkus said BS, just get between Staubach and me and we'll sneak you in and that is what happened. Peter said Butkus was huge and had the biggest head he had ever seen on a human being. The security people couldn't see Peter.
---
&nbsp Maryland Public Television will broadcast "Maryland Vietnam War Stories," a three-hour documentary on May 24, 25, and 26. One of the Vietnam veterans to be featured in the program is Mike Cronin, who was shot down on his 175th mission in Vietnam and was a POW for six years.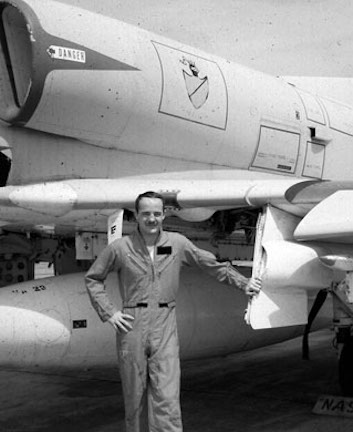 Mike Cronin



&nbsp Based on his POW experience and his law degree from Georgetown University, Mike advocated for laws to enable U.S. courts to prosecute those who commit war crimes against Americans. He conceived and was instrumental in getting The War Crimes Act of 1996 passed to provide the way to implement the Geneva Conventions and criminalize war crimes in civil courts.
&nbsp I saw an MPT Facebook post with photos of Mike and this quote: "Torture is not an effective method of getting the truth. Torture is an effective method of getting compliance. If you're tortured enough, and the guy says, 'Okay, tell me that you are a murderer,' you'll tell him you're a murderer. Or if he asks an open-ended question, what you can do is make up something. That's what happens when people are tortured. That's what I did. I either told lies or I made stuff up."
&nbsp If you're in the MPT service area, be sure to tune in to the broadcasts.
&nbsp Mike's 75th birthday was celebrated at a lively party at the Lodge at Little Seneca Creek in Boyd's, MD, on 4 March. Thanks to Satch Baumgart for giving me the link to photos from the party. Several of our classmates attended, including those in this image. Left to right are Dave Byrnes, Paul Galanti '62, Ollie Donelan, Spencer Johnson, Jim Ring, Jeff Miles, Ron Machens, Mike, Satch, Mike Bracy, and Eli Dabich.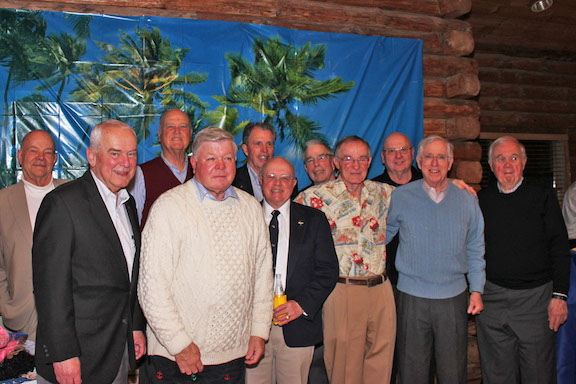 At the birthday party
---
&nbsp And so ends another good month for news, thanks to everyone who took a few minutes to send a note or email to me. Why don't you contribute something for next month's installment of our News Exchange? Do it now. It's a good way to put off mowing the grass, washing the car, or folding your socks.



---