Shipmate Column
Member Serve 2014
---
CLASS OF 1963
Pres: CAPT W. Spencer Johnson IV, USN (Ret.)
Sec'y: Michael H. Shelley
164 Sweetwater Lane, Pisgah Forest, NC 28768
h: 828-862-4245 e: nstar@citcom.net
Web site: http://www.usna63.org.


For any classmate you can go to the Classmates Page and enter his name to read his current biography if available.
---
---
---
&nbsp As I write this, Induction Day for the Class of 2018 is only two days away. It's hard to believe, but the 55th anniversary of our own I-Day on 7 July 1959 is fast approaching. Isn't it something how the new Plebes look so much younger but we don't look all that much older? The healing and deceptive powers of the mind and eyes are a blessing.
&nbsp On the occasion of this year's Herndon Monument climb, I reported to you last month that the Annapolis Capital had published an article that highlighted John Truesdell, noting that he still holds the record for the shortest elapsed time (12 minutes) for climbing a greased monument. Dick Augur sent me an article about John and the monument that was published in the newspaper in Green Valley, AZ, where he now lives. Who knew that John would have everlasting fame for his Herndon success so many years ago? It's also nice to see USNA getting good press so far from salt water.
---
&nbsp I just received the terrible news that Shelley and Cole Lindell's daughter, Maggie, passed away very unexpectedly on 26 June. Maggie was 22 and left a six month old son, Noah. The Lindells can be contacted at 21 Downing St. SW, Aiken, SC 29801.
---
&nbsp Tom Kelley has submitted two reminiscences from his time aboard KITTY HAWK (CVA-63). In the first, he recalls observing a nuclear test in the Pacific; the second concerns the rendering of honors during a fleet inspection tour and visit to KITTY HAWK by President John F. Kennedy. You can read both of these in the Pride and Tradition: Memories section of our web site by clicking HERE .
---
&nbsp In last month's Shipmate, I noted that Zoe and Bob Lagassa had just returned from a four-month, around the world cruise aboard SS QUEEN ELIZABETH. The detailed, richly illustrated travel blog that Bob produced as their travels unfolded has been available to viewers on the iCloud. Since they returned to their home in Grantham, NH, he has prepared a condensed and very interesting .pdf version which is now linked from Bob's current biography on our web site; to see it, click HERE .
&nbsp When they made port calls in San Francisco and Honolulu, Bob and Zoe visited two of his 2nd Company mates. Quoting from his text,
&nbsp We spent an overnight in San Francisco with Sue and Jim Penrod at their lovely 1910 Arts and Crafts style home in Piedmont, just outside of Oakland, CA. We viewed the bay region from the breath-taking heights of Mount Tamalpais on the Marin peninsula, enjoyed excellent dinner at a local bistro and drank some of the Penrods' fine California wines as we toasted the success of the recent 50th Reunion. In Honolulu, we spent the day with Kathi and Jerry Kreinik, seeing the beautiful local sites we'd missed in past Hawaii visits. After a stunning sunset view of Waikiki from the mountains behind the city, we completed the day with refreshments at their 39th floor condo overlooking the Honolulu harbor district.

Jim and Sue Penrod




Zoe Lagassa with Kathi and Jerry Kreinik



---
&nbsp Cindy and Bob Maier enjoyed a Mediterranean cruise with other USNA alumni this spring. Bob sent this account to me soon after they returned home.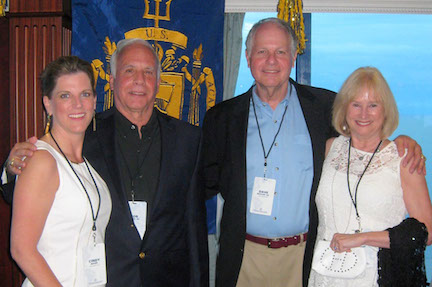 Cindy and Bob Maier, Dave and Kate Maples
&nbsp In May, after an in-flight abort and a second flight cancellation, Cindy and I missed our planned stay in Rome, but got there in time to board an alumni cruise with port calls in Italy, Greece, and Croatia. We quickly met up with Kate and Dave Maples, and began 50 years of catch-up. We each had invited close friends, and the eight of us soon began wining and dining, playing tourist (You can't go to Venice and not get into a gondola.), and laughing a lot. The ship was fairly small, so we had frequent occasion to meet the captain, the 20 other USNA couples, and folks from other alumni groups as well.

Bob and Cindy at Pompeii




Dave (left) in a Venetian gondola



&nbsp On a private tour of the bridge, we learned that during routine cruising it was manned by only one officer and two lookouts. A second officer was added for docking and getting underway. The tour took place an hour prior to leaving port, yet there was no activity taking place - quite a difference from the haze-gray days. In response to a question, the captain laughed and said he had his officers try to shoot the stars once a year, but the ship was on GPS/autopilot 99 percent of the time.
&nbsp With good weather and great friends, we all had a totally enjoyable experience. Dave and Kate live in Atlanta, and we're about four hours away in North Carolina, so we plan to continue the good times.
---
&nbsp That's all for now, folks. I hope your summer is off to a fine start. As Mom told you when you left home for USNA, "Don't forget to write!"



---