Shipmate Column
"Member Serve" 2011
---
CLASS OF 1963
Pres: CAPT W. Spencer Johnson IV, USN (Ret.)
Sec'y: Michael H. Shelley
164 Sweetwater Lane, Pisgah Forest, NC 28768
h: 828-862-4245 e: nstar@citcom.net
Web site: http://www.usna63.org.


For any classmate you can go to the Classmates Page and enter his name to read his current biography if available.
---

&nbsp I am very sorry to report that our classmate Dave Riley passed away on 5 June, the 48th anniversary of our graduation from the Naval Academy. A memorial service will be held on a date to be determined. Dave's widow, Anna, can be contacted at 115 Eastwick Court, Beavercreek, OH 45440.
---
&nbsp Steve Coester sent these interesting news items in May and June:
&nbsp Yvonne and I got a surprise call in late May from 18th Company classmate Ollie Donelan saying Sandy and he were up in New Smyrna Beach which is within spittin' distance from us in Rockledge (50 miles). Ollie suggested we meet them halfway for dinner in Titusville at the locally well known Dixie Crossroads which is famous for their rock shrimp. We had a great time with Ollie and Sandy and Sandy's Mom and friend. "Whenever two or more shall meet" means good conversation and a return to the days of our youth. Ollie has made the world's quickest recovery from a double heart bypass and was beaming because he had just shot an eighty-one. I'm trying to rehab my busted left knee, but I'm impeding progress by continuing to play tennis. Knee replacement looms in my future.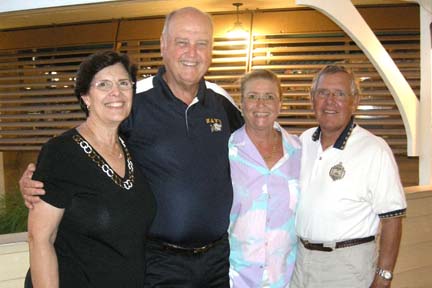 Donelans and Coesters
&nbsp This has been a USNA week for me. I attended the local Alumni Association monthly meeting to hear a talk by a USMA '70 graduate who was a field operative for the CIA talk about radical Islam. At age 69+ I think I was still the second youngest graduate there. I talked with several WWII veterans.
&nbsp Yesterday morning while I was riding my bike, I came upon a lady running. On the back of her shirt were a big N-Star and a tribute to the Class of 1963. I stopped her and it turned out she was Pam Meier, the mother of Bret Butler, USNA '13, a distance runner on the Academy track team. When I told her I was '63 she immediately commented on Bonds of Gold; she knew all about the Another Link in the Chain program. When I asked about her shirt she told me she had worn it in the Marine Corps Marathon in Washington. Later, she sent me this close-up photo of the shirt and a picture taken when Bret joined her for part of the race.

-- Marine Corps Marathon shirt worn by USNA '13 Mom




Pam Meier with son Bret Butler '13



&nbsp In a note with the photos Pam said, "The Marine Corps Marathon was my first marathon and I wanted something to provide me motivation. I joined the "Run to Honor" group which is made up of USNA Alumni. After thinking long and hard about who I wanted to honor, it just seemed natural to pick Bret's Link in the Chain. It was my privilege to run in honor of your class. I was able to qualify for the Boston Marathon, so thanks to the Class of 1963 for providing me the motivation, unbeknownst to you."
&nbsp On June 9 and 10 I attended a NASA Main Propulsion System (MPS) Technical Interface Meeting which was actually an excuse to gather as many as possible current and past NASA and contractor MPS engineers for an end of the Space Shuttle Program reunion. I was honored with the task of being the first speaker and spoke for 45 minutes to over 100 professionals about how a very small group of engineers at Kennedy Space Center went from a blank sheet of paper in 1978 to a successful first Space Shuttle launch of Columbia in 1981. The speech went over very well (standing ovation) and set the tone for two days of formal presentations and wild stories with people I hadn't seen for several years and may never see again. It was held at KSC and we got to tour the Space Shuttle hanger, the Main Engine shop and the Vehicle Assembly Building, which had been our work locations in our previous lives. Space Shuttle Discovery, which is destined for the Smithsonian, was in Bay 2 of the hangar and we were able to be hands-on with it as it is being prepared for its final (sad) voyage.



&nbsp Steve worked in the space program from 1964 until 1997, launching rockets at Kennedy Space Center and Canaveral Air Force Station for Boeing, General Dynamics, and Rockwell. His final assignment was Supervisor of Space Shuttle Main Propulsion. See his current biography on our web site for details of his participation in the Apollo, Skylab, Space Shuttle, and other programs. Quite a career.
---
&nbsp Jim Ring provided this information about the names of our classmates at the Vietnam Veterans Memorial in Washington.
&nbsp I made my semi-annual visit to The Wall to spend a little time with my roommate, Jim Patterson, and our other classmates killed in Vietnam. I would encourage all classmates to take time when in the DC area to visit our classmates at the Vietnam Memorial. To help them find our classmates on The Wall, here are the locations of their names:
Carl Doughtie
Panel 2 E
line 4
John Worcester
2E
line 126
Don MacLaughlin
4E
line 51
Skip Templin
4E
line 83
Jerry Pinneker
6E
line 26
Chuck Marik
8E
line 93
Dan Moran
14E
line36
Alex Palenscar
17E
line 59
Jim "Kelly" Patterson
20E
line 48
Bill Fitzgerald
24E
line 86
Ken Buell
1W
line 73
Stan Smiley
20W
line 27
Rick Trani
42W
line 24
---
&nbsp Some of us have experienced the impact of Alzheimer's Disease on our parents and others we know. As we begin to move through our seventies, inevitably some of our classmates and spouses will be affected by this disease. Zimm Zimmerman asked me to share the following text with you:
&nbsp The 23rd Company has experienced two companymates stricken with Alzheimer's: Ted Healy and Pete Nomura. Their spouses and primary caregivers, Karen Healy and Henrietta Nomura, have been in touch with each other, and are providing mutual support. This has been a meaningful experience for them and us. Our companymates in the 23rd are contributing to The Fisher Center for Alzheimer's Research Foundation. If any of you know of a classmate or spouse who is a caregiver for someone stricken with Alzheimer's, please let Zimm Zimmerman szimmer@cableone.net know how to get in touch with them. He will be sensitive to their privacy, but can offer to put them in touch with classmates or spouses suffering with similar responsibilities, for mutual support, if they desire.
---
&nbsp Alan McAnally tells us about the publication of a new book written by one of our classmates.
&nbsp During the Mid Term Reunion in April, Jack Saux was telling me about the upcoming publication of his book, "Clueless in New Orleans, Adventures in Adolescence." I know that he had been working on it for a while. It was just published and it is worth reading. I wanted to pass that on to you because while Jack is not bashful, he is modest.



&nbsp I just read it, enjoyed it, and would recommend it to everyone. It is oriented toward young adults and is a funny coming of age story. I'm getting a copy for my grandson. It has Jack's own unique New Orleans touch as a story teller. The New Orleans Times Picayune reviewed it recently and put it up as the hot read for the summer. One of the reviewers commented that "it leaves you smiling, wondering, and remembering the magic of it all." Get a copy; it's fun!
&nbsp Jack's second book, "The Pilot and the Fairy Princess," will be published as an ebook in the near future.
---
&nbsp Bill Hahn submitted a disc of digitized photos from our USNA years. Many of the images will be included on the 50th Reunion CD which is already being compiled. Here are a few for your enjoyment. Thanks, Bill!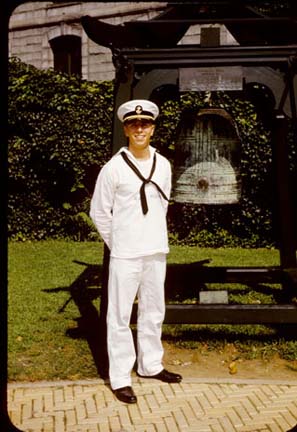 Bill Hahn, August 1959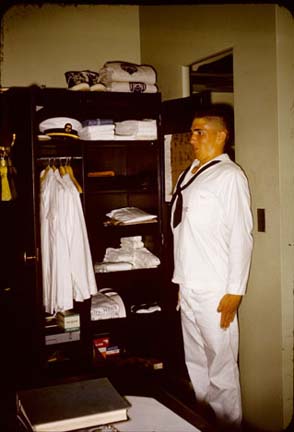 Ready for inspection, Sir!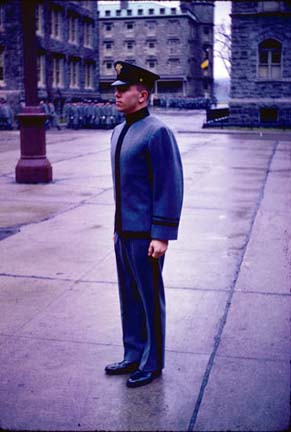 Cadet Hahn, 2/C, at West Point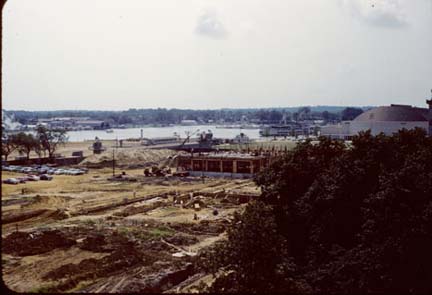 Eighth wing Under construction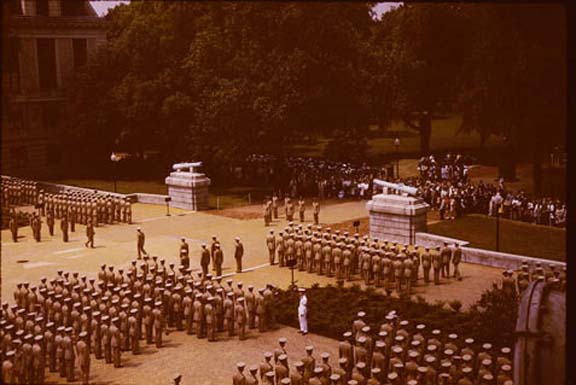 Noon meal formation in service dress khaki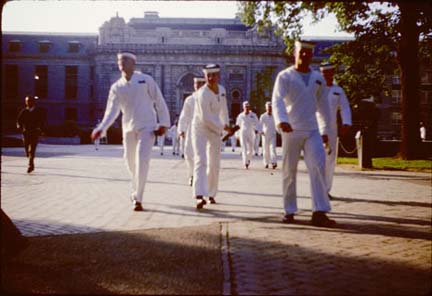 Pitching pennies to Tecumseh en route to an exam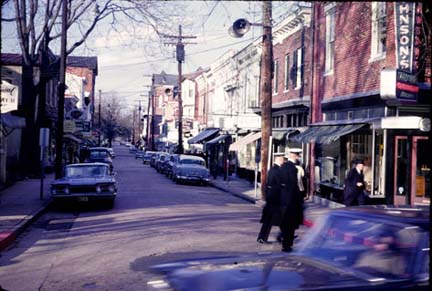 Maryland Avenue, 1962
---
&nbsp Mario Fiori sent this news about a 12th Company dinner at his home in Northern Virginia.
&nbsp In mid-June, Vicki and Roy Warren visited the DC area in their motor home. Since they could not attend our 47 1/2 Reunion, I invited several of our local 12th Companymates to dinner at our place and had a mini company reunion. Roy and Vicki left the San Diego area in February and had many adventures as they drove south through many states. They were in the DC area for a week, then continued north to New England.


From the left in this picture are Denis and Karen Meredith, Vicki and Roy Warren, Betty and Kent Maxfield, Bob and Linda Bennett, and Susan and Mario Fiori.
---
&nbsp Dick Guffey shares this news of his contacts with several of our classmates:
&nbsp I wasn't able to make it to the reunion in San Diego, but this May I enjoyed a week-long visit from Cynthia and Jim Eckert here on the Oregon coast. There was still too much snow to take them to Crater Lake National Park, but we drove down the coastline to see the Redwoods in Northern California.
&nbsp While Jim and Cynthia were here, Anne and Lee Stuart joined us for an evening. Lee roomed with Jon Warn, Railroad Smith, and me plebe year but left in January 1960. Lee found me six years ago after my son and I worked in Thailand after the tsunami. I think Lee saw a local newspaper article about my experiences in Thailand and sent me an email: "Are you the Dick Guffey who....". Lee lives about nine miles as the crow flies from my house! He retired from Lincoln County School District where he served well. Also ironic is the fact that Anne and I both have volunteered for years at the local elementary school, in the same teacher's class, without ever meeting. Anne and Jon Warn went to school together in Vallejo, CA. It was a fun evening reminiscing, as we all do, particularly because those who didn't graduate seem to have more vivid memories of some of the plebe year antics.
&nbsp I drove the Eckerts up to Portland to catch their train back across the US. We had lunch with Bill Hoberg, who has lived in the Portland metro area since leaving USNA the summer of 1961. Youngster year Bill and I roomed with Paul Jara and Gerry Collins. We have been close friends here now for a long time. In fact I wouldn't have moved here from Colorado, if Bill hadn't brought me down to the Oregon coast so many times. I really fell in love with the natural beauty of the coastline and the temperate rain forest. Bill and I have hiked many of the coast trails, and through the amazing Columbia River Gorge. Bill retired a few years ago from an executive position with Bonneville Power. He puts me up at his house and does airport limo service (and free parking) for most of my trips for Global Involvement through Education. As I travel five months a year, that is a lot of hospitality.
&nbsp Attending Jeff Niss's inurnment was more feasible thanks to our classmate, Charlie Stubbs' hospitality in Annapolis. Thanks to him I seem to make it to Annapolis annually now, instead of every five years, for reunions.
&nbsp After visiting Jeff Niss and Jim Thorell during the latter phases of their health struggles, and then their memorial services, it seems that services for classmates are getting closer together. May the Lord bless and keep you all with greater longevity!
---
&nbsp This note and photo came from John Kallestad, who wrote from his home in Blaine, MN.
&nbsp It had been over 40 years since I had connected with my track team pal Noel Bing. In March, during my two teenage sons' high school spring break, we made a bonsai run to Staunton, VA - Bing'rs home. Bing and his cool wife, Lyn, put us up for a couple of days as we rehashed some of the good old times. These days Bing carves wooden figures. He has a basement carving setup that would rival Michelangelo's. His works are fantastically super.

John Kallestad and Noel Bing



&nbsp I am raising two athletic and fun boys from my second marriage. It has kept me busy doing the usual involvement things: event driving, cooking, eating too much of my own cooking, and then doing dishes, et. al.
&nbsp I asked Bing if he wanted to race one more time, for just 20 yards. "Nope!" he flatly stated, "My running days are over." I guess if we all hang around long enough, sooner or later everything can happen, and it has for me.
---
&nbsp We'll end this month's report with a Plebe year memory from Frank Edrington.
&nbsp In recently going through my parents' stuff of many years storage (Dad was class of 1939), I found two photos and an accompanying article from the Washington Post describing our Parents' Weekend at the end of Plebe Summer in 1959. As fate would have it, I was the Plebe selected by the Post journalist for the article and photos which also covered my parents and siblings (younger sister and brother). I don't know why the Post people picked my family and me. When the Brigade got back shortly after Parents' Weekend, a number of 2nd Batt upperclassmen had read the article and remembered I had been in it. My reward from the 15th Company First and Second classmen who had read or heard of the article was a big bunch of come-arounds for being such a publicity hound. My statements that I had nothing to do with being the Plebe selected for the article fell on very deaf ears and simply resulted in more push-ups and seats on a little green bench. Welcome to Plebe Year!
---
&nbsp Thanks go to those who submitted items for this installment of our news exchange. Now it's your turn. How about sending me a note about your summer activities and a photo or two to share with our readers? Thanks!



---